GEL-RESOLUTION 7 L.E.MELBOURNE
Women's tennis shoes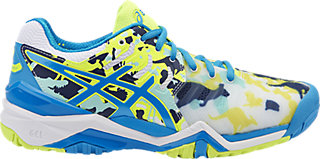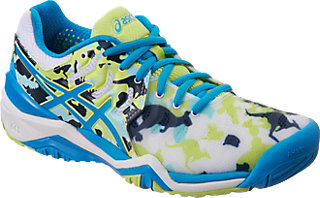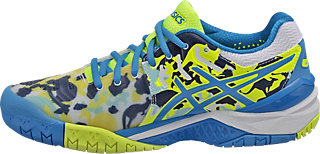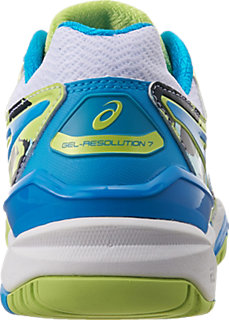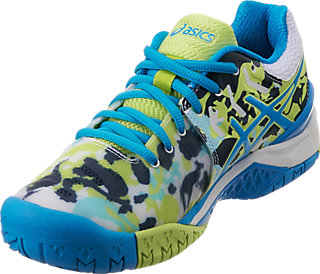 TAP TO ZOOM
Hover to zoom
Running Shoes
| MEN | | | | | | | | | | | | | | | | | | | | | | |
| --- | --- | --- | --- | --- | --- | --- | --- | --- | --- | --- | --- | --- | --- | --- | --- | --- | --- | --- | --- | --- | --- | --- |
| UK | 3 | 3.5 | 4 | 4.5 | 5 | 5.5 | 6 | 6.5 | 7 | 7.5 | 8 | 8.5 | 9 | 9.5 | 10 | 10.5 | 11 | 11.5 | 12 | 13 | 14 | 15 |
| EU | 36 | 37 | 37.5 | 38 | 39 | 39.5 | 40 | 40.5 | 41.5 | 42 | 42.5 | 43.5 | 44 | 44.5 | 45 | 46 | 46.5 | 47 | 48 | 49 | 50.5 | 51.5 |
| CM | 22.5 | 23 | 23.5 | 24 | 24.5 | 25 | 25.25 | 25.5 | 26 | 26.5 | 27 | 27.5 | 28 | 28.25 | 28.5 | 29 | 29.5 | 30 | 30.5 | 31 | 32 | 33 |
| US | 4 | 4.5 | 5 | 5.5 | 6 | 6.5 | 7 | 7.5 | 8 | 8.5 | 9 | 9.5 | 10 | 10.5 | 11 | 11.5 | 12 | 12.5 | 13 | 14 | 15 | 16 |
Back to top
| WOMEN | | | | | | | | | | | | | | | |
| --- | --- | --- | --- | --- | --- | --- | --- | --- | --- | --- | --- | --- | --- | --- | --- |
| UK | 3 | 3.5 | 4 | 4.5 | 5 | 5.5 | 6 | 6.5 | 7 | 7.5 | 8 | 8.5 | 9 | 9.5 | 10 |
| EU | 35.5 | 36 | 37 | 37.5 | 38 | 39 | 39.5 | 40 | 40.5 | 41.5 | 42 | 42.5 | 43.5 | 44 | 44.5 |
| CM | 22 | 22.5 | 23 | 23.5 | 24 | 24.5 | 25 | 25.25 | 25.5 | 26 | 26.5 | 27 | 27.5 | 28 | 28.5 |
| US | 5 | 5.5 | 6 | 6.5 | 7 | 7.5 | 8 | 8.5 | 9 | 9.5 | 10 | 10.5 | 11 | 11.5 | 12 |
Back to top
| KIDS | | | | | | | | | | | | | | | | | | | | | |
| --- | --- | --- | --- | --- | --- | --- | --- | --- | --- | --- | --- | --- | --- | --- | --- | --- | --- | --- | --- | --- | --- |
| UK | K9 | K9H | K10 | K10H | K11 | K11H | K12 | K12H | K13 | K13.5 | 1 | 1.5 | 2 | 2.5 | 3 | 3.5 | 4 | 4.5 | 5 | 5.5 | 6 |
| EU | 27 | 28 | 28.5 | 29.5 | 30 | 30.5 | 31.5 | 32 | 32.5 | 33 | 33.5 | 34.5 | 35 | 35.5 | 36 | 37 | 37.5 | 38 | 39 | 39.5 | 40 |
| CM | 17 | 17.75 | 17.5 | 18 | 18.5 | 19 | 19.5 | 19.75 | 20 | 20.5 | 21 | 21.5 | 22 | 22.25 | 22.5 | 23 | 23.5 | 24 | 24.5 | 25 | 25.5 |
| US | K10 | K10H | K11 | K11H | K12 | K12H | K13 | K13H | 1 | 1.5 | 2 | 2.5 | 3 | 3.5 | 4 | 4.5 | 5 | 5.5 | 6 | 6.5 | 7 |
Back to top
TRACK & FIELD
UK
K11
K12
K12H
K13
K13H
1
1.5
2
2.5
3
3.5
4
4.5
5
5.5
6
6.5
7
7.5
8
8.5
9
EU
30
30.5
31.5
32.5
33
33.5
34.5
35
35.5
36
37
37.5
38
39
39.5
40
40.5
41
41.5
42
42.5
43
CM
19
19.5
20
20.5
21
21.5
22
22.5
22.8
23
23.5
24
24.5
25
25.25
25.5
26
26.5
27
27.5
28
28.5
US
K12
K13
K13H
1
1.5
2
2.5
3
3.5
4
4.5
5
5.5
6
6.5
7
7.5
8
8.5
9
9.5
10
UK
10
10.5
11
11.5
12
12.5
13
13.5
EU
44.5
45
46
46.5
47
48
48.5
49
CM
28.75
29
29.5
30
30.5
31
31.25
31.5
US
10.5
11
11.5
12
12.5
13
13.5
14
Core Performance Shoes
| MEN | | | | | | | | | | | | | | | | | | | | | | |
| --- | --- | --- | --- | --- | --- | --- | --- | --- | --- | --- | --- | --- | --- | --- | --- | --- | --- | --- | --- | --- | --- | --- |
| UK | 3 | 3.5 | 4 | 4.5 | 5 | 5.5 | 6 | 6.5 | 7 | 7.5 | 8 | 8.5 | 9 | 9.5 | 10 | 10.5 | 11 | 11.5 | 12 | 13 | 14 | 15 |
| EU | 36 | 37 | 37.5 | 38 | 39 | 39.5 | 40 | 40.5 | 41.5 | 42 | 42.5 | 43.5 | 44 | 44.5 | 45 | 46 | 46.5 | 47 | 48 | 49 | 50.5 | 51.5 |
| CM | 22.5 | 23 | 23.5 | 24 | 24.5 | 25 | 25.25 | 25.5 | 26 | 26.5 | 27 | 27.5 | 28 | 28.25 | 28.5 | 29 | 29.5 | 30 | 30.5 | 31 | 32 | 33 |
| US | 4 | 4.5 | 5 | 5.5 | 6 | 6.5 | 7 | 7.5 | 8 | 8.5 | 9 | 9.5 | 10 | 10.5 | 11 | 11.5 | 12 | 12.5 | 13 | 14 | 15 | 16 |
Back to top
| WOMEN | | | | | | | | | | | | | | | | |
| --- | --- | --- | --- | --- | --- | --- | --- | --- | --- | --- | --- | --- | --- | --- | --- | --- |
| UK | 3 | 3.5 | 4 | 4.5 | 5 | 5.5 | 6 | 6.5 | 7 | 7.5 | 8 | 8.5 | 9 | 9.5 | 10 | 10.5 |
| EU | 35.5 | 36 | 37 | 37.5 | 38 | 39 | 39.5 | 40 | 40.5 | 41.5 | 42 | 42.5 | 43.5 | 44 | 44.5 | 45 |
| CM | 22 | 22.5 | 23 | 23.5 | 24 | 24.5 | 25 | 25.25 | 25.5 | 26 | 26.5 | 27 | 27.5 | 28 | 28.5 | 29 |
| US | 5 | 5.5 | 6 | 6.5 | 7 | 7.5 | 8 | 8.5 | 9 | 9.5 | 10 | 10.5 | 11 | 11.5 | 12 | 13 |
Back to top
| KIDS | | | | | | | | | | | | | | | | | | | | | |
| --- | --- | --- | --- | --- | --- | --- | --- | --- | --- | --- | --- | --- | --- | --- | --- | --- | --- | --- | --- | --- | --- |
| UK | K9 | K9H | K10 | K10H | K11 | K11H | K12 | K12H | K13 | K13.5 | 1 | 1.5 | 2 | 2.5 | 3 | 3.5 | 4 | 4.5 | 5 | 5.5 | 6 |
| EU | 27 | 28 | 28.5 | 29.5 | 30 | 30.5 | 31.5 | 32 | 32.5 | 33 | 33.5 | 34.5 | 35 | 35.5 | 36 | 37 | 37.5 | 38 | 39 | 39.5 | 40 |
| CM | 17 | 17.75 | 17.5 | 18 | 18.5 | 19 | 19.5 | 19.75 | 20 | 20.5 | 21 | 21.5 | 22 | 22.25 | 22.5 | 23 | 23.5 | 24 | 24.5 | 25 | 25.5 |
| US | K10 | K10H | K11 | K11H | K12 | K12H | K13 | K13H | 1 | 1.5 | 2 | 2.5 | 3 | 3.5 | 4 | 4.5 | 5 | 5.5 | 6 | 6.5 | 7 |
The standard (medium) width for women is B, while the standard width for men is D. Shoe boxes and labels will only identify widths other than standard. Within the shoes, wide and narrow widths are identified on the label, underneath the tongue — ie. T005N(2E).
When is additional width needed?
Visible stretching or bulging on the outsides of forefoot materials is a good indicator that additional width may be needed. These sizes are available in many of our Running and Training shoes. In some cases, men can wear women's styles to achieve a narrow fit and women can wear men's to get a wide. If this is needed, please use the references above to determine comparable size lengths.
Please note that the differences of width between narrow, standard, wide, and extra wide are usually only a couple millimeters and are proportional to the size of the shoe. Most additional width will be found in the forefoot .
| | | |
| --- | --- | --- |
| MEN/KIDS | | WOMEN |
| | 2A | NARROW |
| NARROW | B | STANDARD |
| STANDARD | D | WIDE |
| WIDE | 2E | EXTRA WIDE |
| EXTRA WIDE | 4E | |
Added to Your Cart

item(s) added to your cart

total:

Continue Shopping
In Stock
---
YOU MAY ALSO LIKE

GEL-RESOLUTION 7 L.E.MELBOURNE
Product details
Let the Australian inspired design on the women's GEL-Resolution 7 L.E. Melbourne bring a touch of Aussie pride to your next match. As you chase down every point and sprint effortlessly from one side of the court to the other the durable AHAR+ outsole works hard to keep you supported and stable, offering ultimate freedom and flexibility to switch direction in a fraction of a second.
Experience forefoot stability and improved protection from the reinforced vamps while SpEVA midsole and ASICS Gel cushions each step you take. Comfort comes from a range of features including personalised heel fit, 10mm heel drop and anti-gravel tongue to keep debris out of your shoe. A shoe that's built to last, the GEL-Resolution 7 L.E. Melbourne supports the areas that handle the greatest amount of force and ensure you play your best game every time.

P.H.F (personalised heel fit)
DuoMax support system
Rear foot and forefoot GEL cushioning system
Trusstic system
Anti-gravel tongue
AHAR+
PGuard
Flexion fit vamp
California slip lasting
FluidRide midsole
ComforDry sockliner
Clay outsole
Delivery and returns
We deliver throughout the UK, Monday-Friday, excluding UK bank holidays. Please note we do not deliver to the Isle of Man, Channel Islands or BFPOs.

Delivery methods are:
Free - Standard - 3-5 working days delivery*
£13,50 - Express - 1-2 working days delivery*
*Orders placed after 2 p.m. will not be processed until the following working day.
Merchandise purchased on asics.com may be returned for a refund within 30 days of the date of purchase, as long at it meets the necessary conditions. To see the returns conditions and information in full please visit the
Returns information
page.