When a young blind Jordanian runner asked the Dubai community for a pacer and guide to help him break his 10K personal best, I had the opportunity to see for myself exactly what the human spirit is capable of.
There are many things we take for granted when we head out the door to run. Being able to feel the pavement below. Being able to hear the noise of the traffic. Being able to see that person who has decided to walk right in front of us. That last one is pretty important. Have you ever tried running with your eyes closed? Even for only a few seconds. It feels impossible. The obstacle of loss of vision has been a challenge several blind runners have had to overcome. This is their story. 
The goal 
In addition to my role as an ASICS FrontRunner, I'm also a coach at my running club, Dubai Creek Striders (DCS). In December 2018, young Jordanian runner Hasan Tayem contacted DCS. Hasan is blind and asked the club if they could provide a guide and pacer. He wanted to run the Dubai Standard Chartered 10K road race on January 25. He had set himself an ambitious target of beating his previous personal best of 44:28 minutes.
Myself and my DCS teammate Maekele Asmellash wanted to help Hasan achieve his goal. Only one issue though. Neither of us had paced or guided before. We didn't want to let Hasan down. The first decision we made was we'd both do it, doubling up so if one of us got injured or sick, Hasan would still have one of us.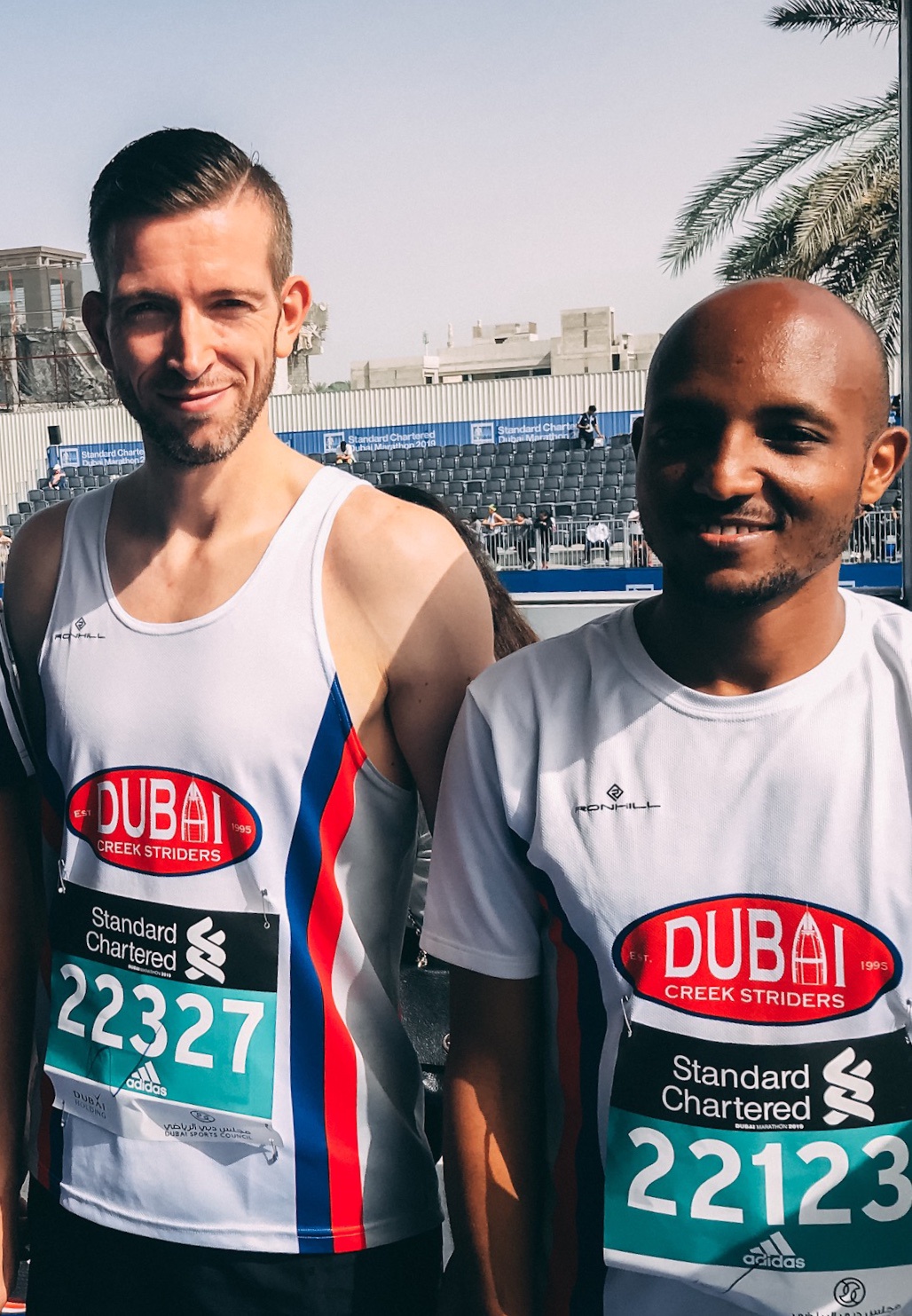 Hasan, Maekele and myself set up a three-way group chat in What'sApp. Hasan's screen reader allowed him to 'read' our messages. We also used voice messages.
The focus
Hasan's positivity and politeness was the first thing that struck me. This was someone focused on achieving his goal and exited about the opportunity. He talked about his love of running. So did we. We shared our different backgrounds and experiences. We had a Scot, a Jordanian and an Eritrean. All united by our challenge. We would all succeed together or all fail together.
The night before
Due to time constraints we would only be able to meet for the first time on the day of the race. I had a few thoughts in my head the night before. When you're running your own race, it's different. If you don't achieve your goal, it's down to you and you can live to fight another day. That's pressure of your own making. But this time I was responsible for another runner. Not only his running goal but also his safety.

The Standard Chartered Dubai 10K is a mass event with thousands of people. Many are inexperienced. It can be chaotic, especially the first kilometer. It would be critical to get Hasan through that first kilometre.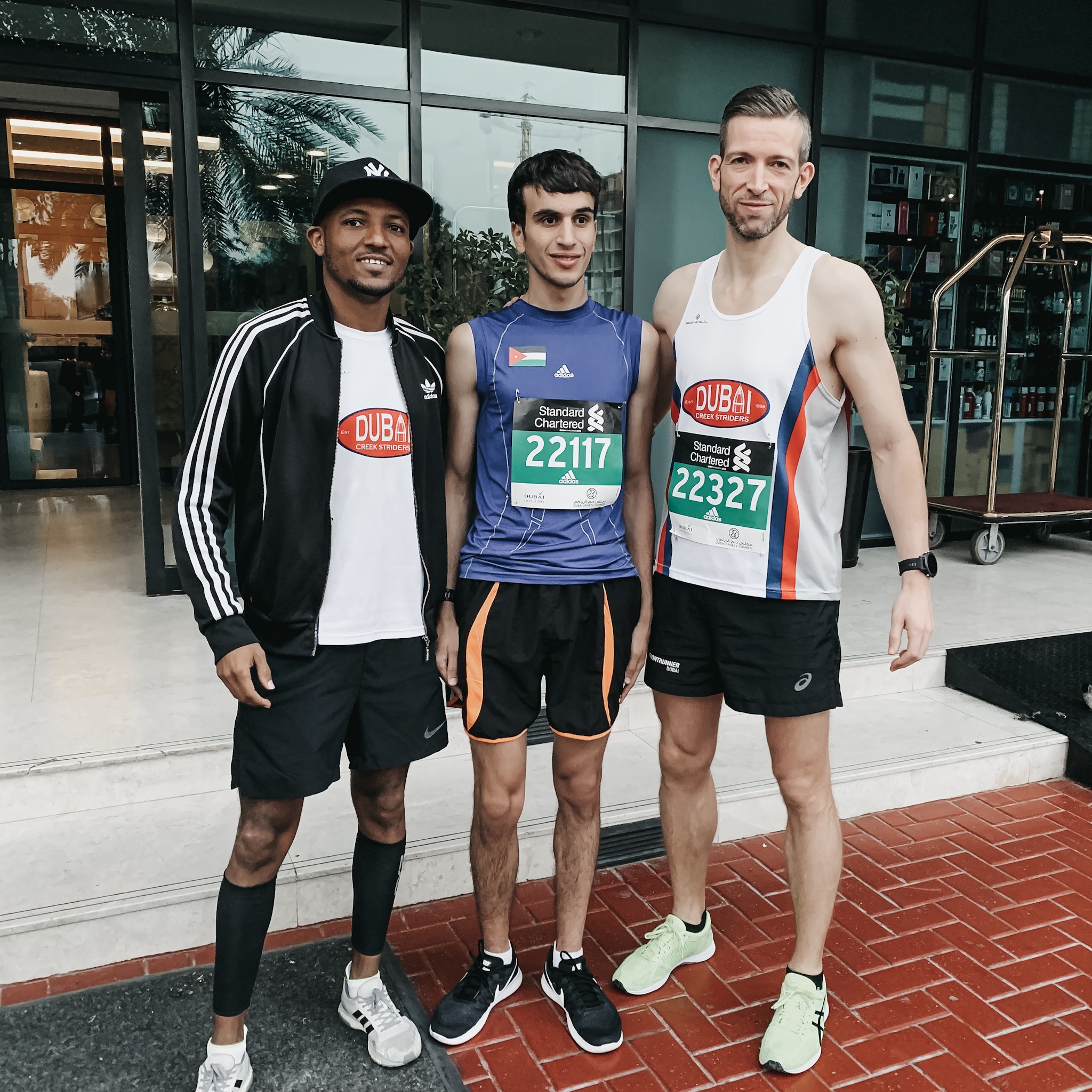 The first meeting
At 7am on a cool Friday Dubai morning, Maekele and I met Hasan for the first time at his hotel. It was a special moment after the previous few weeks chatting online. Hasan was exactly as I'd pictured him – excited, passionate and focused.
Hasan introduced us to his friend Sohail AlNashash, a marathon Paralympian. Sohail is also blind and also going for a new 10K personal best with his guide and pacer Omar. The three Jordanian's held their flag as we talked tactics about the race ahead.
The tactics...and TV interview
There are different ways to guide a blind runner. It comes down to personal preference. Hasan's preference was to link his left arm to his pacer's right arm. We'd agreed in advance Hasan would link arms with Maekele. I would sit ahead controlling the pace. I'd also try and maintain a clear path, help at water stops and warn of any bumps and turns in the road.
As we made our way to the start line we had a surprise. We ended up on live television. Hasan and Sohail spoke to the interviewer on their race goals. I even had my own ten seconds in the spotlight. I suspect that will be the first and last time I'm ever sought out for my opinion before a major televised race.
It was almost 8:30am. The race was about to start and we took our positions in the designated area at the front. Thousands were behind us. My goal was to create a clear channel in the left-hand side of the course for Maekele and Hasan to follow. The opening 500m would be the most dangerous for Hasan. Elbows would be flying, people would be pushing and many would try and sprint. These are conditions experienced runners know well.
The race
A final moment of focus and then we were off. I'd decided we'd get away quickly and then settle into a steady pace. The strategy worked. Despite a few inevitable knocks in that opening chaos, Maekele guided Hasan through the first 500m unscathed. We'd navigated the most dangerous part of the race. My worst fear of Hasan falling underneath a stream of bodies had been avoided.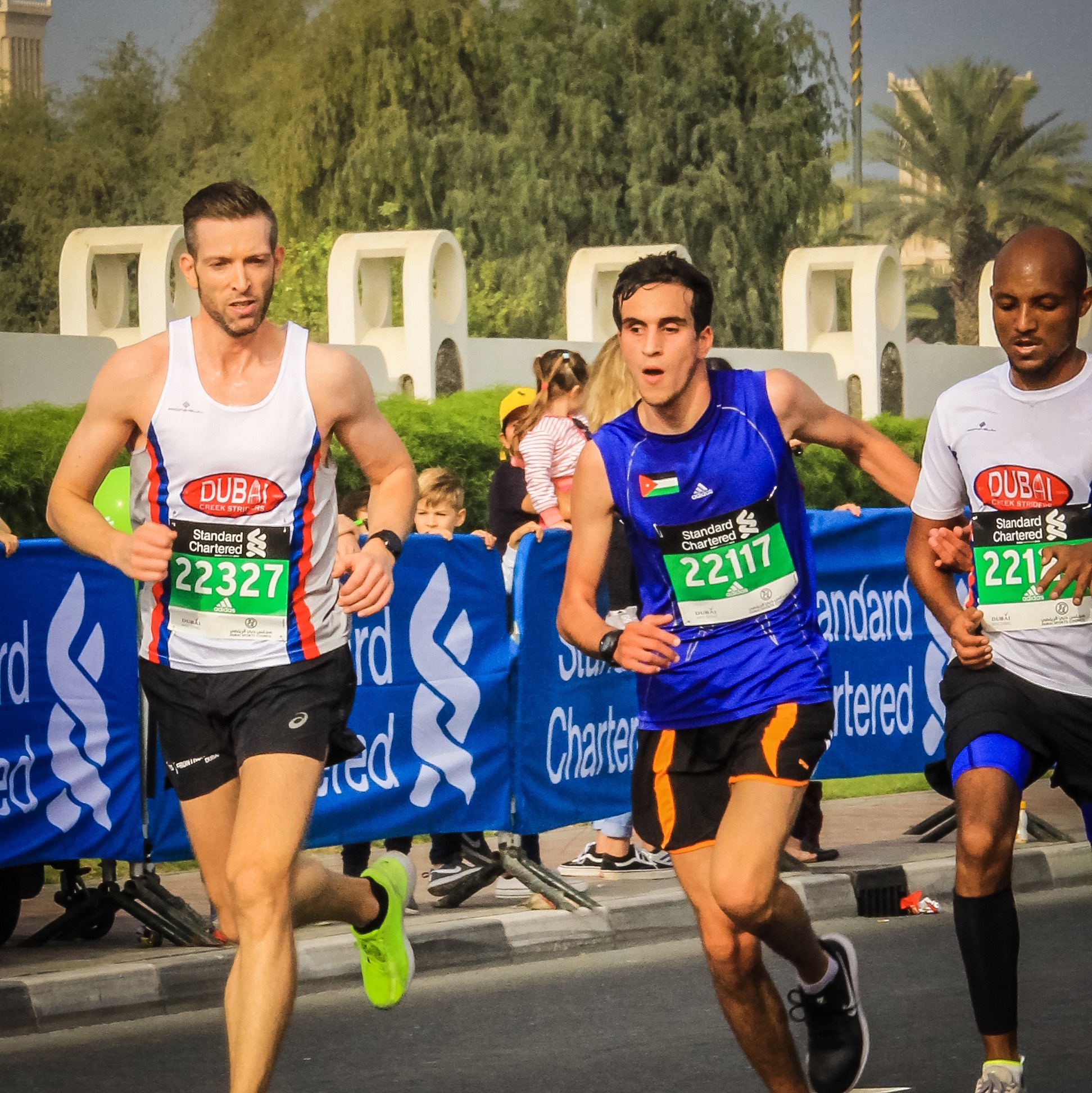 We settled into a nice pace. I spoke a lot, encouraging Hasan, keeping him updated on the times as the kilometres ticked by. Maekele remained quiet and focused, doing his job and sitting in behind me. I had to slow the pace a little between 4-6km. That was important as I wanted Hasan to finish strong. I kept him focused on his breathing and form, providing water when needed. He remained positive throughout – no negative thoughts, even when we had to slow the pace. We talked about a big assault in the last three kilometres. This would give him a good chance of getting his personal best.
As we approached the last three kilometers I asked Hasan if he wanted me to up the pace again. He was a little behind his target time and I knew he was hurting. The Dubai desert heat at 9am, even in January, can be unforgiving. Without missing a heartbeat he said, "yes, let's do it man!" I took the pace back up and could see the closing stages of the race as the crowds became denser and thicker.
Every runner knows that feeling of the last kilometre. The finish line is so close yet so far away. I told Hasan to draw on the energy from the crowd and to give it everything he had. I counted down the last few hundred meters for him…400m…300m…200m…100m…50m...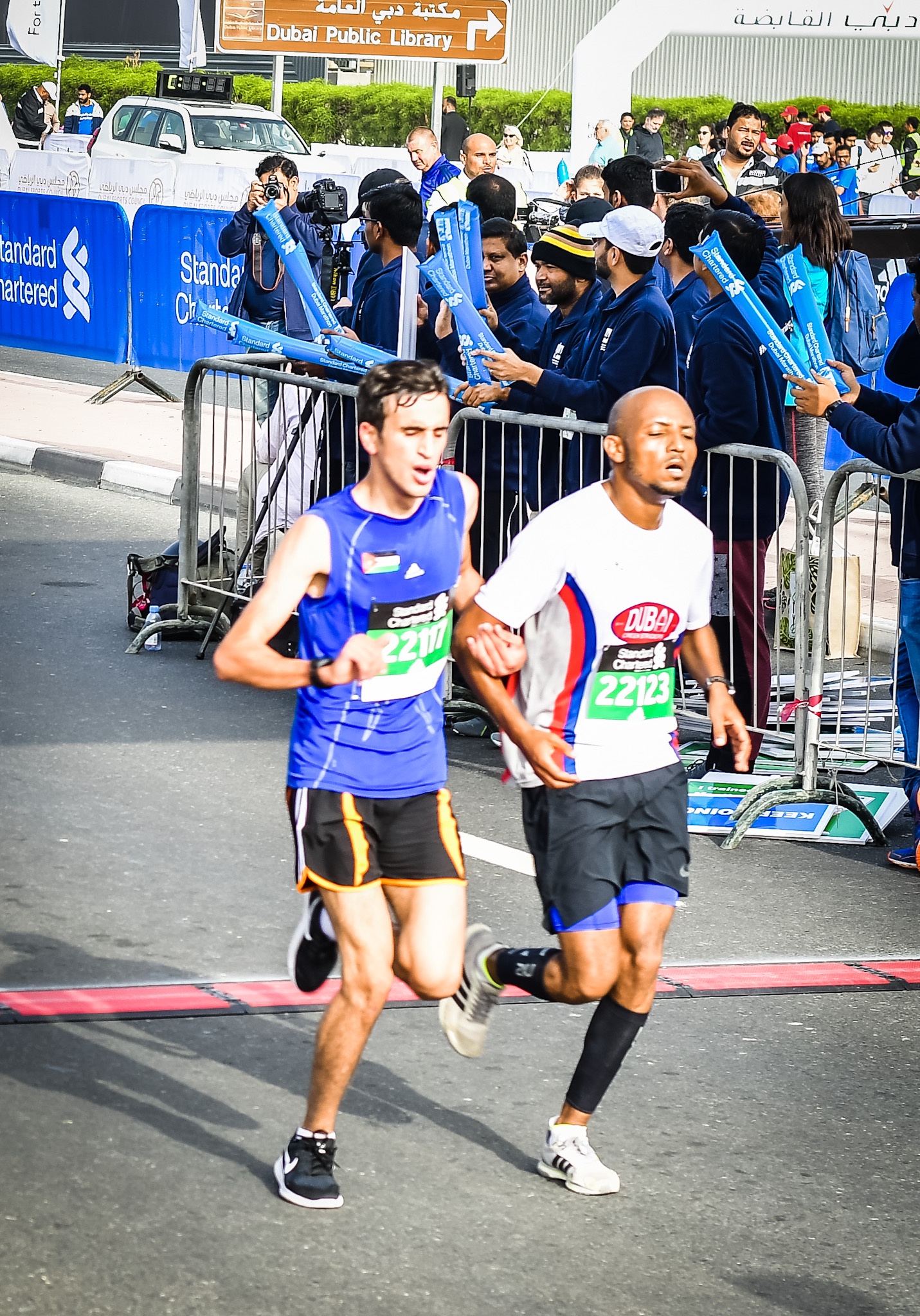 The euphoria
Hasan crossed the finish line with Maekele in a new 10K personal best time of 44 minutes and 7 seconds. He even had 21 seconds to spare. He had achieved his goal.
It was a great feeling of achievement. We all embraced in big smiles and did some obligatory post-race photos. Even better, Sohail had also smashed his 10K personal best in a time of 38:34 minutes.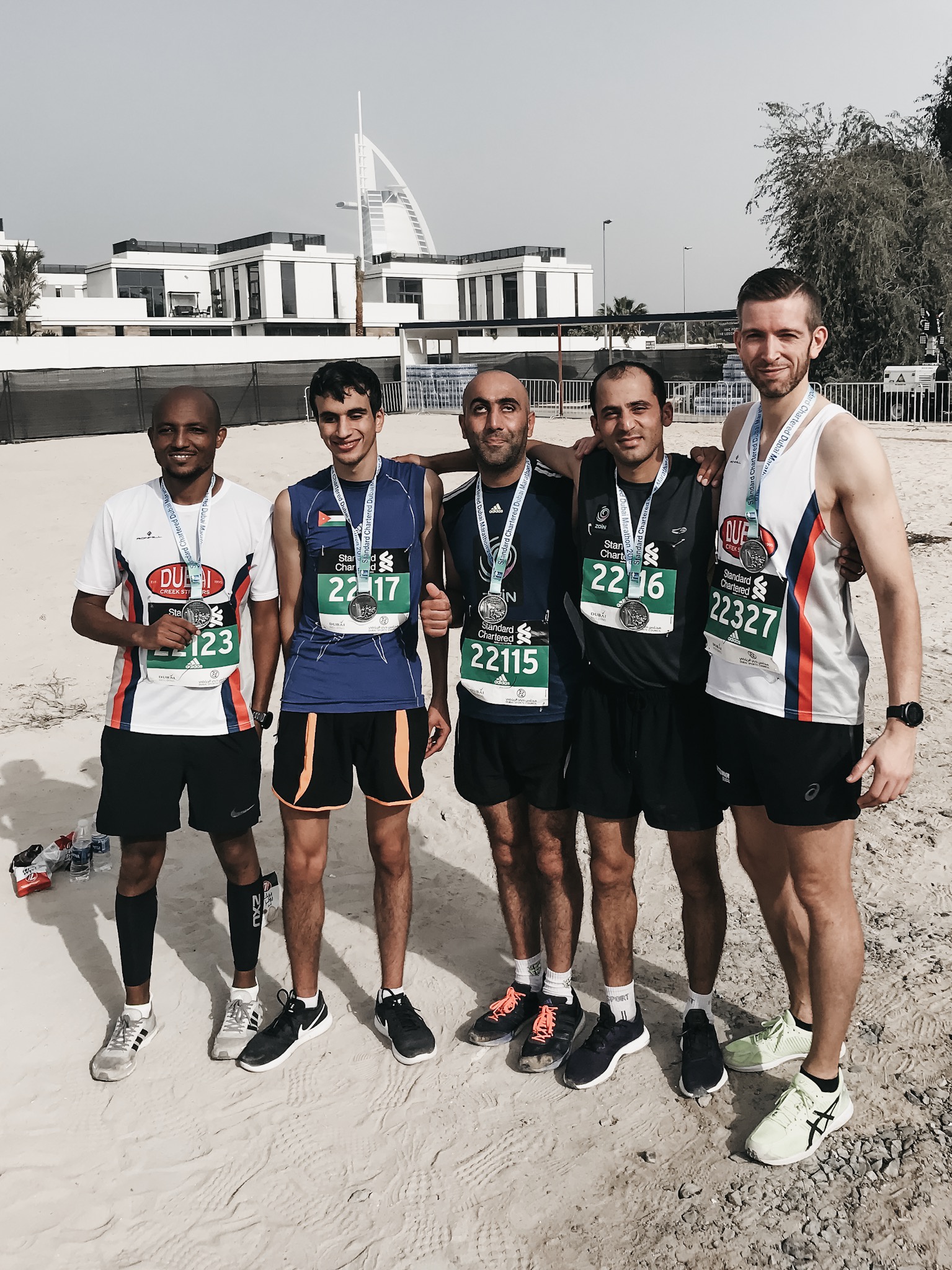 Later that day I reflected on what I'd experienced. Two runners who happen to be blind showed the world they have as much vision as anyone.
Have you helped someone like Hasan? I'd like to hear about your experiences. And if anyone visits Amman, Jordan, Hasan invites you to run with him.
written by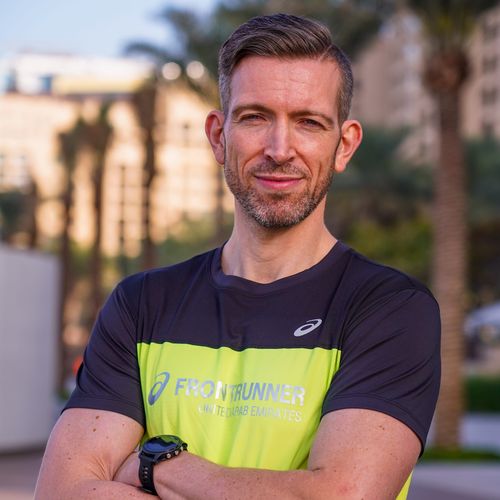 James Gibb
Senior Director at Dell Technologies from Dubai

Age group: 46
Club: Dubai Creek Striders
Coach: Lee Harris
My Disciplines