As the world begins to return to a post lockdown state we are being encouraged to avoid public transport where possible and walk, cycle, run to work (If we cannot work from home that is). Here is an update to my August 2019 blog about run commuting.
I have written about run commuting in the past, I am a massive fan of using run and bike commutes in the city to keep me off public transport and also make sure I arrive at work raring to go. You can read my previous blog here. 

In this vlog/blog combo I will cover some of the tips from the previous version but also talk about a few new ones and also some post lockdown tips you may want to consider if you are a seasoned run commuter or new to run commuting. 
Plan and prepare, Pack the night before, plan your route. Use Strava or google maps to look for heat maps or cycle paths you can run along. If you can load a route to your watch, do it.
If you live far away Build up the miles, or travel some of the journey on public transport then run the last part of the journey where you may need to get on a busy bus or train. 
Pack light, look for multipurpose items that pack down well. A light packable jacket like the Ventilate Jacket is ideal for the winter months as an extra layer. Bring light sensible clothes prepare to be cold when you have to stop running.
Invest in a good running bag. Don't be the person running along with a bag bobbing all over the place. I use the iAmRunbox Version 2.0 Pro or my ASICS Commuter Bag, look for features that include good straps, a chest strap, lots of pockets for easy access, do not go too big as you will overpack. Leave stuff at the office if you can consider everything you need to pack and pack for lightness wherever possible.
In the current climate bring a face-covering like a snood or a buff. They not only work well as a face covering but if it gets cold then they can be a scarf or a hat.
Invest in some good headphones but don't block out everything as it's not safe. Find what works for you whether it is some upbeat tunes, an audiobook or a podcast. One of my favourites is How I build this from NPR about Entrepreneurs. 
Plan your shower. If there is not a shower at the office look for a nearby gym or pool. WATER WIPES! these are my Dad-Hack item. They are brilliant and are as good as a shower in a bag also bring a microfibre towel as they are lightweight and can easily be washed in the hand basin and dried out at the office.
Keep your breakfast light. Coffee and a banana or coffee and a homemade oat bar will be plenty to get you to the office.
Enjoy the smugness that you just got yourself to the office by your own power.
Invest in shoes that are good for running on pavement, additional cushioning and also stand up to running on some slippery surfaces when wet. My go-to shoes currently are the NovaBlast(below) or the Nimbus 22


NOVABLAST
The NOVABLAST™ Modern Tokyo edition shoe from ASICS is for neutral runners who want an energized running experience. Celebrating the aesthetics and advancement of the Japanese capital, this lightweight running style is equip...
SHOP NOW
written by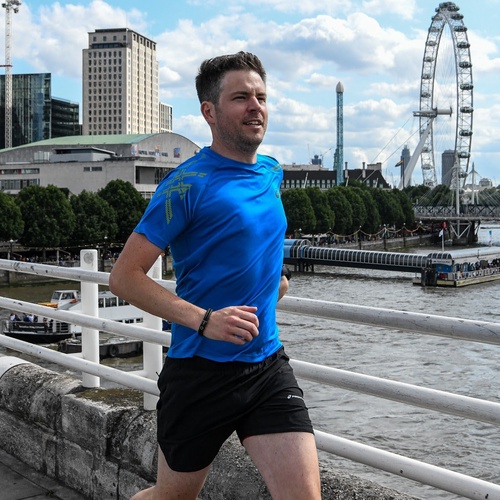 Liam McEntegart
Managing Director | Co-Founder from London
Age group: 35-39
Club: Team Zoot Europe
Coach: Me, Myself & I
MY DISCIPLINES
MY DISCIPLINES