Trail running is completely different to road running and I am falling in love with it. Here are my 5 tips for getting started.
5 tips for starting trail running
I recently had the pleasure of running trails with fellow ASICS Frontrunner Alan Li. He took us to the Devil's Bowl a 282.2-hectare attraction to the east of Hindhead in Surrey County. Alan is a coach and seasoned trail runner, so I knew that I was in good hands. He selected the destination, plotted the route and guided the way. There was so much nature, hills, rolling and flowing trails and paths. After I tackled the first hill, albeit walking I gained a sense of achievement and courage to push through and enjoy the rest of the 10km route Alan had planned. Every time I go trail running, I learn more about myself, feel challenged, have fun and come out the other side feeling stronger. The green and nature help me to relax and the focus required makes me be purposefully present.
Get the right kit
I have run a trail race on southern coast of England in December wearing shorts, a t-shirt and thin jacket. There were times on the course when I was shivering. My legs got scratched by bramble thorns and bushes because my socks were short. That day I learned very tough lessons about trail and that was wear the right kit and be prepared. Trail races can be considerably longer than road races so the weather conditions can change throughout your tine on the course. As a minimum I would recommend trail trainers, leggings or long compression socks to protect your legs a t-shirt or long sleeve top and a light jacket (waterproof) and a hydration pack. Trail event organise usual have list of minimum kit and these are a good guide for what you may need to buy to get started trail running.
Purchase trail trainers
I learned my lesson the hard way by wearing road running trainers for my first trail event. The Keyano's did not have the grip or support required for the terrain and as a result I had to work a lot harder and slipped a tripped a few times. I strongly recommend buying a quality pair of trail trainers. The ASICS trail range are great and include GT-2000 Trail, Fujitrabuco Lyte/Pro and Gel-Fujitrabuco. I suggest trying them on with socks to ensure that they are a comfortable fit. If the trainers are too small, they will hurt your feet and there will be pressure on your ankles. If the trainers are too big your feet will slip inside them, possibly get sore and you may get blisters.
Make a plan
I strongly recommend that you research your trail and plan your route before your trip. Other runners may have shared routes and ranked them so you can decide whether it is suitable for you. Signs can be few and far between and some trails start to look the same after a while and it can be easy to get lost. You can use a watch or compass to navigate and get your bearing. I would not advise using a phone as it could distract your attention from the potentially rugged terrain. Trail running can be quite fluid and covering 10km on the trail can take much longer than covering the same distance on the road. If you plan to run a distance or specific route stick to it no matter how strong the temptation is to go off and explore.
Be prepared
As a Cub Scout I was taught to be prepared and I carry that through to most of the things I do and trail running. I can appreciate the temptation to travel light but there are so many variables with trail running, I would suggest packing some just in case items. The list includes water, gels / food, a foil blanket, waterproof jacket, mobile phone, whistle and a small powerful torch. Having a separate torch is important because using your phone as a torch uses up valuable battery life. Before you leave for the trail notify someone to let them know where you are going, how long you expect to stay there and when you expect to leave. You could also arrange periodic check in times to let them know that you are okay. It is important to note that mobile phone signals can be very weak or unavailable on some trails. The key takeaway to travel light but be prepared just in case something unexpected happens.
Have a trail buddy
I have been fortunate to have run with Alan who is a coach and an experienced trail and ultramarathoner. An experienced trail runner can take lots of the hassle out of trail running. They can plot a suitable route, provide safety tips before heading out, adapt to changing weather conditions and guide the way. That does not mean that you should just turn up and follow. It is always important to take ownership of your running and safety and remain focused. Before setting out agree how you will communicate and what you will do if something unexpected happens like a sudden change in weather, becoming separated or getting injured.
I really hope that you find these tips helpful. For more trail running tips and review of kit and courses check out my teammate Alan Li's blog.
Highlights from The Devil's Punch Bowl trip
written by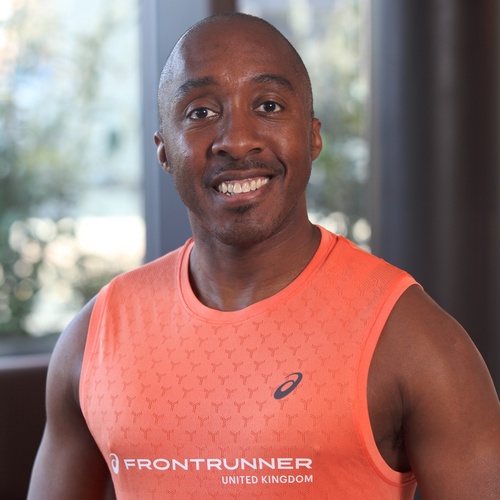 MY DISCIPLINES