I have written this blog to help others and share my ideas that have worked for me.
Nutrition
Nutrition is very important in your life and for your training. It is about doing the basics consistently and well. This is something that you have to get right and this aids improvements and helps with recovery. Eating healthy is the key and trying to stay off processed foods. I eat a lot of fresh vegetables and fruit on a daily basis. I eat much more than the recommended 5 a day from the government. In fact in the 1940s we were recommended to eat 10 a day but the government changed this because nowadays, the public won't do this. So I eat lots of fresh food and cooked meals such as chicken, steaks, salads, rice etc.
There are three key elements in nutrition when you are training: fat loss, performance and muscle gain which you need to replace with the right protein, vegetables, carbs, fruits and fat. A lot of people go wrong the day before a race and eat as much as they can but this just bloats you for race day and you are going to struggle as your body cannot process this in time. Instead try increasing your intake by a little, 3-4 days before the race. Nutrition with play key parts in your sleep, energy levels, immune function and digestion.
However the most important is when you take it. I spread my food intake throughout the day, with Weetabix in the morning, some fruit and protein snacks a few hours later, a large lunch, late afternoon snack and finally dinner in the evening. My dinner or food intake will be within one to two hours max after my sessions. However food isn't just important, fluid is for me; I just drink water and drink lots of it, well litres. I make sure I am always hydrated as your muscles need the water. On a race day I never change anything up and still have my normal Weetabix with plenty of water before the race.
Training Plan
Having a training plan is a must and having a structure to it. Being able to change it up regularly, train and do this consistently.
I train in six week blocks, where I increase my training each week and the intensity with the 6th week being harder than the first week. I then have an easy week with light training and two full compete rest days.
Rest days are important in your training; don't think of them as a rest day but an improvement day. This is where you make the gains. I have a complete rest day every week and two rest days on a key race week. If I have a key race such as the world championships, I start bringing the training back down slightly a few weeks prior in volume and intensity terms.
Don't do the same training week in week out; simply change it around on a regular basis. So for example one week do 1k reps and another week 400m reps. You should also take a week off now and again throughout the year. Lots of people train all year round and get injured; having a week off after a big race such as a marathon would do you a world of good. You don't lose much fitness having a week off. I have two weeks off at the end of the season, so I would advise having a break. Athletes like Gwen Jorgensen take a whole month off after the season.
Listening to your body
If your ill or feeling very tired don't train, do cross training or take it very easy. Don't push yourself too hard. Rest up and do not over train - this is very important, as mentioned before I have lots of rest days. The other week I raced while feeling ill and I shouldn't have and ended up prolonging the virus.
Mental Strength
This is such a hard one and it is important you have mental strength. If you believe or think you can do something you will get there. I have had many sleepless nights before a race and turn up feeling nervous and worried about races. However my key is controlling the controllable and planning what I want to achieve from my training and race. For example I train at negative splits which is very hard but I make it happen and do it. The same is at races my last mile is the fastest and I make that happen. Thinking positive and looking to push yourself to get out of your comfort zone is vital. In a race you need to have this strength as your mind plays lots of tricks. Stay focus and control what you can.
On Racing
Racing can be scary for anyone, I don't get very nervous at the big races but it is the local ones that I feel nervous about. I normally listen to music before I warm up and take my self away from people to relax and that really does help.
I really enjoy racing and I love meeting other athletes, I find when you are at a race you can push yourself which is also good training. I like racing in Aquathlon's as there is three key parts, the swim, transition and run.
Don't change up anything on the day as you will come unstuck and stick to your plan. I do quite a lot of races throughout the year and each has its own targets.
Enjoying the journey / Process
Everyone has a journey no matter what their targets are and enjoy it as you never know what it could lead you to.
I only started running 5 years ago after the 2012 Olympics and I do believe hard work will always pay off. Don't wait for it to happen, make it happen. If you are after a PB then train for it and work hard for it. It is so rewarding when that happens.
My journey is a journey I never expected, where I was sitting at my parents' house watching the 2012 Olympics. I remember thinking how hard the triathlon looked and enjoyed watching it. I was inspired, which got me into running, at that time I was swimming but not a good swimmer. I look back now at how far I have come and it inspires me to carry on and I like to inspire others. It is never too late, no matter what age you are and the more training and races you do the more experience you get. I am learning all the time and the journey has been great with ups and downs but it is how you bounce back to keep moving forward in your journey which is the key to your success. If you have a bad day in training/races do not dwell on it and just take the positives and what you can learn from it. I always take positives out on every session and race as I am still learning all the time. The experience will come in time and you will become wiser in your training.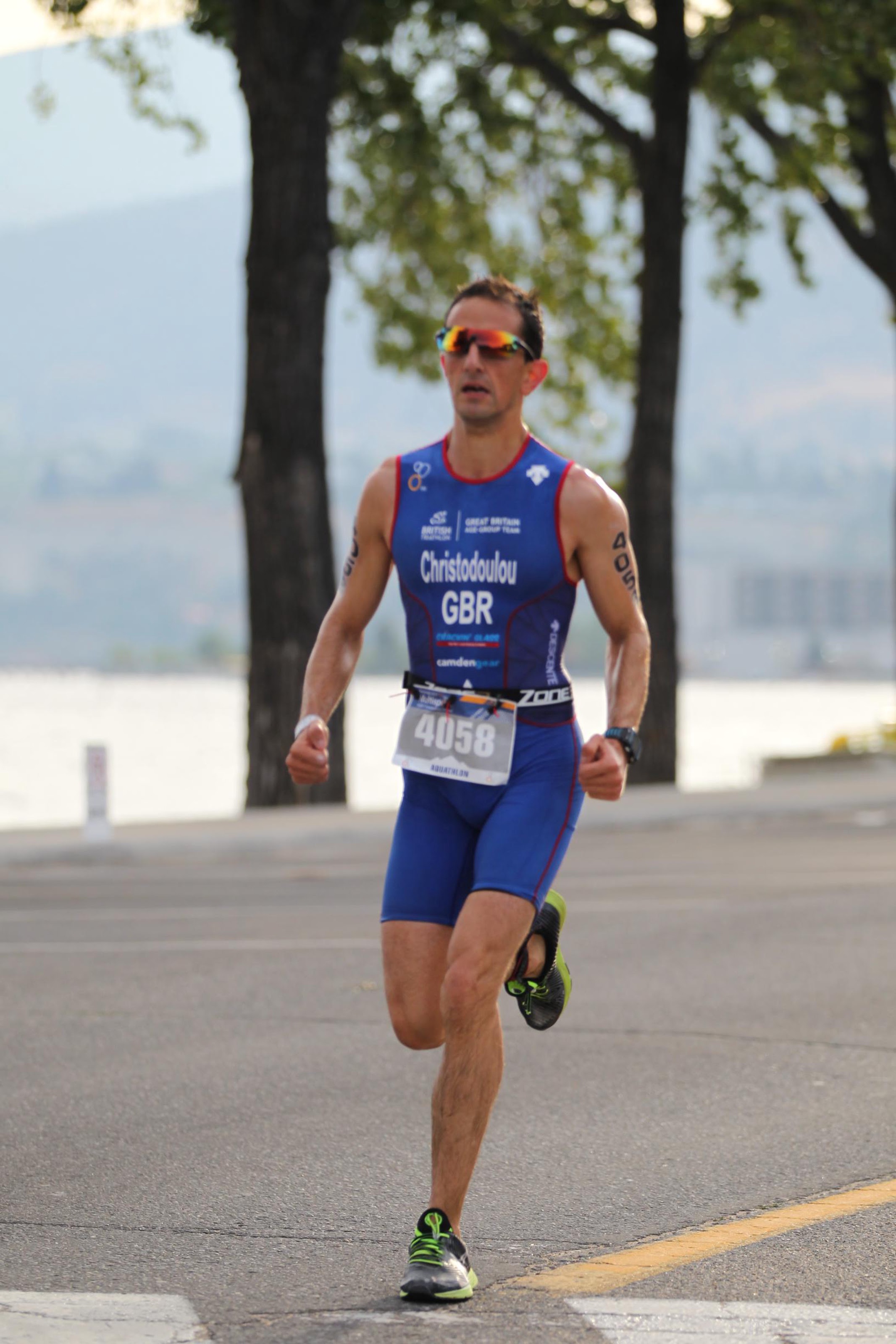 written by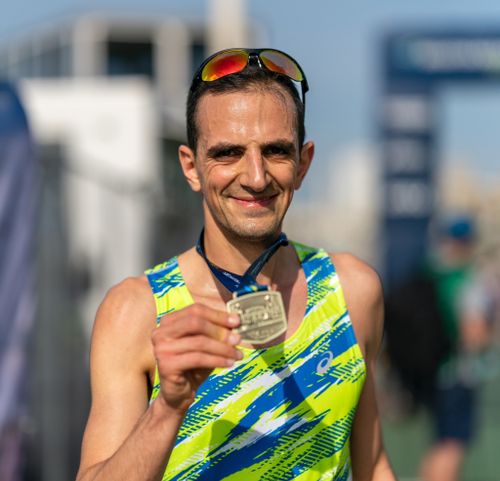 Yiannis Christodoulou
NHS Performance analyst from Canterbury

Age group: 40-44
Club: Canterbury Harriers, Ashford Triathlon Club, GB Age group team, Age group 2017 Aquathlon team captain
Coach: My self in running Level 2 coach in running fitness, Craig Coggle Strength coach, John Wood Swimming coach
MY DISCIPLINES