Half marathoner is a title I've recently added to my running CV. Having only completed my first half marathon in Swansea on the 25 June this year, I'm still enjoying the challenges this distance has to offer whilst learning a lot about myself as a runner, my stamina, nutrition tactics, race strategy and that mental battle that comes with distance running. My previous two halves have been steep learning curves and I've been lucky to learn from the best. Aaron is a half marathon machine, he's the Yoda of race strategy and knows how to attack those 13.1miles and throw absolutely everything into it and I've been lucky to have him by my side for my previous two halves, but my third outing I was ready to go it alone and push my boundaries, resulting in a shock PB that I never saw coming!
Having major FOMO from everyone running Royal Parks and Oxford half marathon, I was on the hunt for a northern race to get my teeth into whilst visiting my parents for the weekend. After some browsing I came across the West Coast Half Marathon hosted by Fylde Coast Runners and attended by my running club Red Rose Road Runners. It seemed the perfect opportunity to put my legs back into gear after Ealing half marathon and the Bear Grylls survival race. I couldn't resist.
The West Coast Half Marathon is a point to point route, starting at Preston Docks and heading through Freckleton to Fairhaven Lake, Lytham St Anne's. It was at this point I realised just how bloody far 13.1 miles is. I swear the twisting turny routes of Ealing and the casual out and back at Swansea had duped me into thinking that I was being dramatic to think 13.1miles is far. But the thought of running from Preston to St Anne's (which takes me about 30 minutes in the car) was really playing on my mind.  I promised myself I was doing it just for fun and would enjoy a McDonald's feast with my family when I finished.
Race day came and my carb loading strategy had been to eat a lot of cake the day before. Which I instantly regretted when my alarm went off at 7am. I didn't feel great in all honesty. To top it off I had been a bit over enthusiastic in the gym on Wednesday and still had some lingering DOMS. Today didn't feel like a great day to race, but seeing my team mates and catching up with old friends lifted my spirits. Standing on the start line I turned to my friend Chris and said, I just want to get 1 hour 54 and I'll be happy. Not that any greater than that is a bad time, absolutely not, but I just wanted to see progression- mainly for my own confidence. So just 1 second faster than Ealing and I would be satisfied.
We set off and as usual I went out too quick, caught in the excitement and trying to hold a conversation with team mates I hadn't seen since May. Chris pushed me on. The idea was that since I didn't feel great I'd get as much running in now, for a 'suffer buffer' later.  My plan had been for 5:24minutes a km (I'm a metric baby) but we were closer to 5:00 mins a km. I couldn't keep this up surely?! When my Garmin buzzed at just over 24 minutes for my first 5k, I was already over 2 minutes ahead of my plan. But I felt good. For the first time in days my legs felt fresh, my breathing was on point and I felt strong. My parents were following along the route, crawling along in their car with my mum hanging out of the window screaming. It really spurred me on, and I kept pushing. At about 6miles I could feel the pace catching up with me. But at this point the route took us passed the church where we held my Aunt's funeral 18 months prior. It had been her sudden death that helped propel me into running (to cope with the sadness) and I suddenly felt a surge of power and strength. I could do this. I pushed on harder, making ground on other runners ahead of me.
10 miles came, I usually would begin to fade at this point. We turned onto the seafront at Lytham and were met with a headwind. I looked at my watch, I knew I was on for a good time, I just had to hold firm and power through. I had never felt this strong at 10miles EVER. It was as if every muscle in my body was fresh and ready to respond. I kept saying to myself, "you have to push, you have to do this, you never know when you will feel this strong again." At 11miles I dared to glance at my watch. Could I go sub 1:50? Surely not?! That would require me taking 5 minutes off the PB time I had set just 14 days before.
12 miles came and my legs felt heavy, but the crowd support was amazing and I pushed on and on. As my watch clocked up 20kms at 1:44 I did the maths. I needed a 5 minute km and I would break 1:50. I had to do this. I hadn't come almost 13 miles to give up. As I turned into the last 800m I could see the finish on the opposite side of the lake. And there, down on the lakeside was my Mum. Her 5ft5 frame just creeping into view without my glasses, but boy could you hear her. She was screaming, I knew she had seen the clock. I had to do this. I kicked on not expecting my legs to have the energy to respond, but I was met with some last dregs of power. As the distance counted down on my watch I picked off other runners one by one. The finish approached and I put in the final bit of energy. Everything I had. As I came over the line and went to stop my Garmin I felt this sense of elation combined with sheer shock. I had done it, I had broken 1:50 for my third half marathon, taking off over five minutes from the time I set just two weeks before. Absolute runner's high. A brilliant day, topped off by a PB and an absolute beast of a medal.
Finish time: 1:49:15
Average pace: 5:10 mins per km
Number of post-race chicken nuggets consumed: 20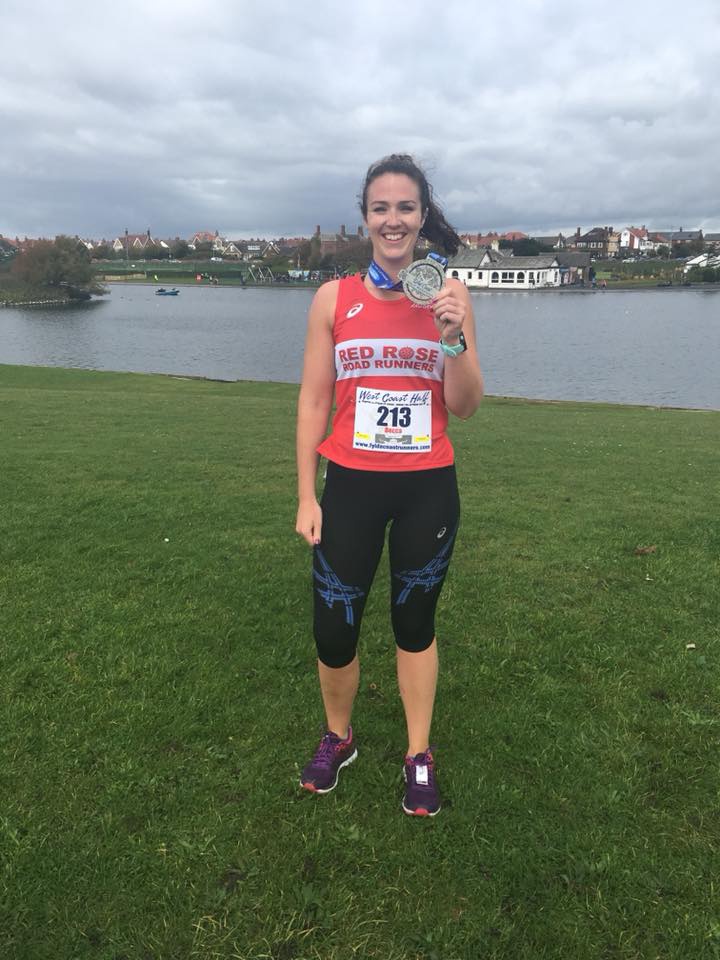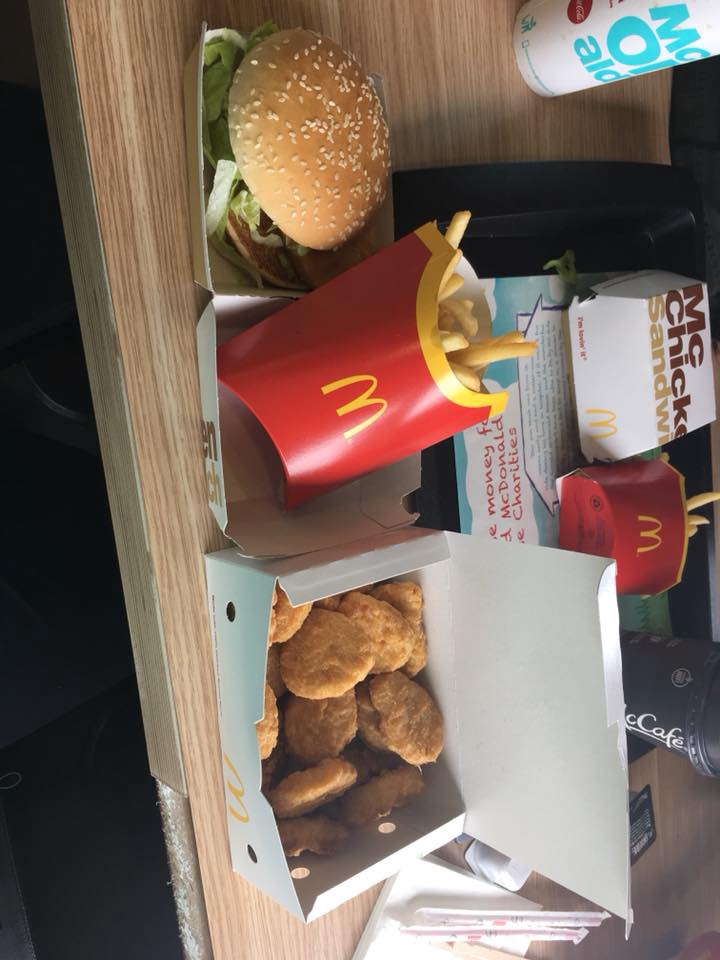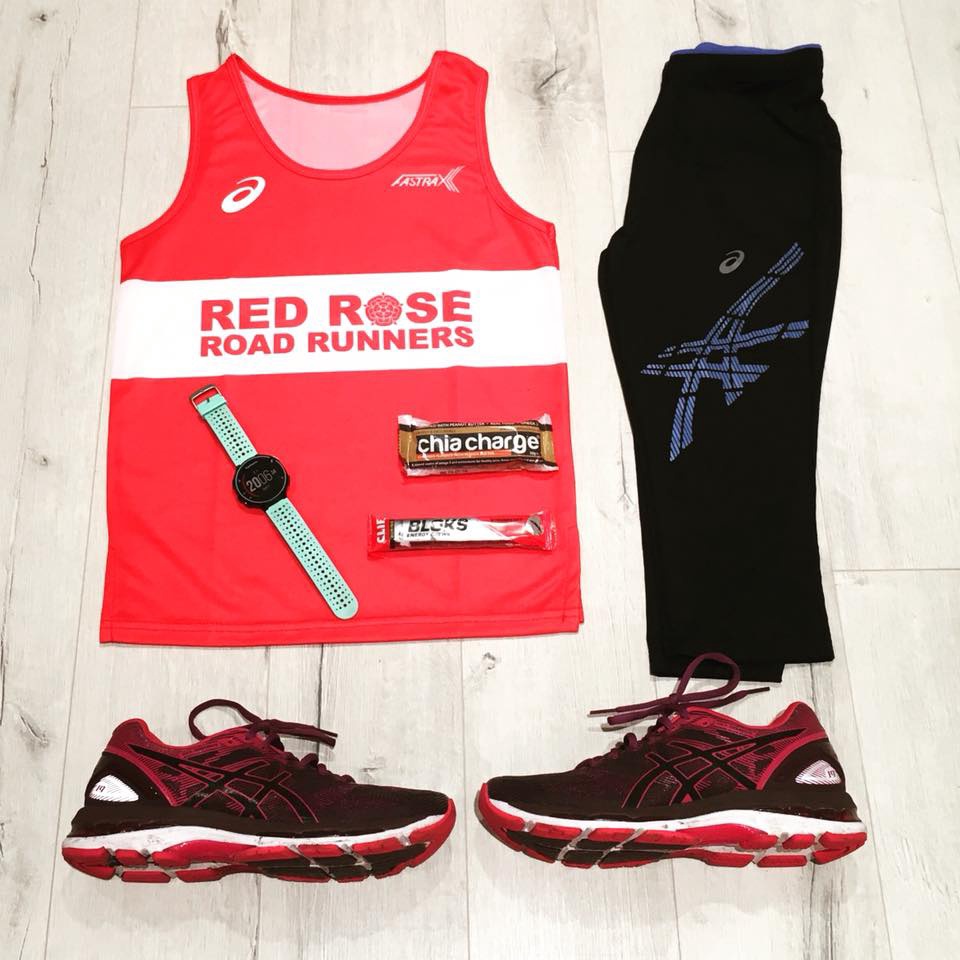 written by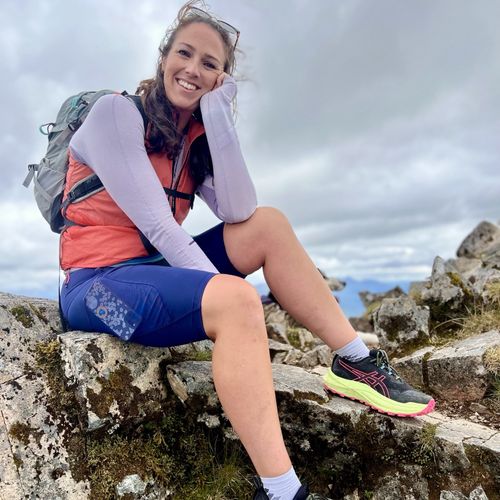 Becca B
Envrionmental Research from London/Southport

Age group: 30 - 35
Club: Greenwich Tritons, Southport Strollers

MY DISCIPLINES