While most people were sleeping in their beds, I was running around in a field on my quest for the 'Unholy Grail' - a 12-hour, overnight obstacle challenge with three other obstacle races over two days.
What is the Unholy Grail?
A typical Tough Mudder weekend will have an event on a Saturday (about 10 miles) with an event on the Sunday (also 10 miles). Once a year, they also host Europe's Toughest Mudder (ETM), which is an endurance race, formatted with 20+ obstacles over 5 mile loops, with the winner completing the most loops.
Back in 2019, I was motivated to complete as many Tough Mudder courses as possible, so I signed up to all 3 races (2x classic races + ETM). Up for another challenge, I also signed up for a 5k in the same weekend. Unbeknown to me, this was the makings of the Unholy Grail. In conversation with a few friends (who were also doing a similar challenge) and TMHQ, I shared what I was doing. I spoke about how more mudders should be evolved and later in the conversation, I came up with the name 'Unholy Grail.'
Fast forward a year, the Unholy Grail had been made an official challenge (sorry, not sorry)!
To achieve the Unholy Grail status, an athlete must complete all in the same weekend:
A Tougher Tough Mudder (the competitive event - approx 10 miles)
A 5k Tough Mudder
At least 25 miles at Europe's Toughest Mudder (starting at 8pm and finishing at 8am)
Another Tough Mudder Classic (approx 10 miles)
The event timeline
Having completed the Unholy Grail previously (although before the official format), I felt as though I was ready for the challenge. Previously, the event was held in May, where temperatures plummeted overnight. I had completely packed for the event and had organised to stay in a hotel on the Friday night. My plan was simple:
Saturday:
06:30 - Leave the hotel
7:00 - Arrive at the site
7:45 - Run the Tougher event
11:00 - Run the 5k
12:00 - Leave the site to get some lunch/food.
13:00 - 19:30 - Rest / put up the tent / eat / get equipment ready / mentally prepare
20:00 - Run ETM
Sunday:
08:00 - Finish ETM
10:00 - Run a classic event
12:00 - Collapse / reconsider my live choices / eat everything / drive home
Events 1 & 2- Tougher Mudder and Tough Mudder 5k
It was strange running a Tougher Mudder, thinking that I wouldn't just go 'all out,' but my first event went very quickly with a combination of jogging and walking up the hills. After coming in from my Tougher Mudder, I went almost straight out for my 5k. The obstacles were fantastic and it gave me the opportunity to look at the course in the daylight. By the time I had finished both the classic and 5k course, I was getting close to having run 16 miles - a nice warm-up for Europe's Toughest Mudder.
ETM
Would you believe that cows…..YES COWS…….made their way onto the overnight course?! Because of this, TMHQ reacted very quickly and changed the course, which meant that we started about 30 minutes later than initially anticipated. Seeing everyone's head torches lit, ready to knacker themselves out with 12 hours of obstacles and running, was fantastic. With the rules announced and pledge said, we were shortly off.
The first lap was the 'sprint lap,' meaning that none of the obstacles were open. It meant that the field could spread out a bit, meaning that when the obstacles opened up, it wasn't incredibly busy.
In previous years, the penalties were simply extra mileage but this year, they decided to spice it up. For those who couldn't (or didn't want to) complete the electricity obstacle (Electroshock Therapy), you had to take your shoes off, to walk about 5 meters through Lego. There were mental, physical and emotional challenges, which added a really interesting twist.
When I came in from the first lap, I finished on almost 6 miles. As the obstacles opened up, it was absolutely fantastic. After finishing my third lap, I was really struggling with my leg. One of the obstacles was a mid-thigh, muddy marsh, where I got my leg stuck. It subsequently was pulled off by the mud, allowing a stream of thick, muddy materials to enter my leg socket. With the obstacles, I had only completed 3 laps but had already been on the course for about 7 hours. I needed some time to adjust and to take my leg off, so I gave myself a few hours to reset and to remove and clean my leg.
Fast forwarding a few hours, I managed to get an hour of sleep and I was awoken to a teammate who needed some encouragement to get back out on the course. I quickly (not actually that quickly) popped my leg on, pulling on my wet suit for one last push for a lap. We finished the final lap with about 6 minutes before the cut-off…..whoop whoop!
As the course was actually 6 miles, TMHQ had decided to increase everyone's laps by 1. Although I had only completed 4 laps, I was signed off for running 25 miles, as I had actually run the distance. While this was significantly lower than I would have hoped, I wanted to help a friend by running with her and I was also able to come away from the event, still being able to walk for the next event.
Day 2- yet another classic and my 75th Tough Mudder!
As 8:30AM hit, I had already run 48 miles in about 24 hours (with obstacles). While this isn't a particularly far, with the obstacles and lack of sleep, I was extremely tired. As I started my final event, I got out my walking poles, to help push me towards the end. My body felt like it had energy but my eyes were struggling to stay open. To save time and energy, I walked almost all of the course, knowing that I still had a drive ahead of me. I pushed through the tiredness to get to the finish line, finishing on a distance of over 58 miles.
When I first started obstacle racing, I thought that I would only do a few of them. After my first one, I really caught the bug and fell in love with the community and spirit. I never thought that, just a few years later, I would be finishing my 75th Tough Mudder. Surrounded by my Mudder Mum and Dad, I was 'crowned' with my new headband and the 'Unholy Grail' status.
Conclusion
There aren't many other words that can be said about the event, other than tiring. I was absolutely knackered by the end of it. I was very proud of my achievements and, just a few years after sharing my intentions, it had been made into a full event, that many others were taking part of………..the things we do for a t-shirt, eh?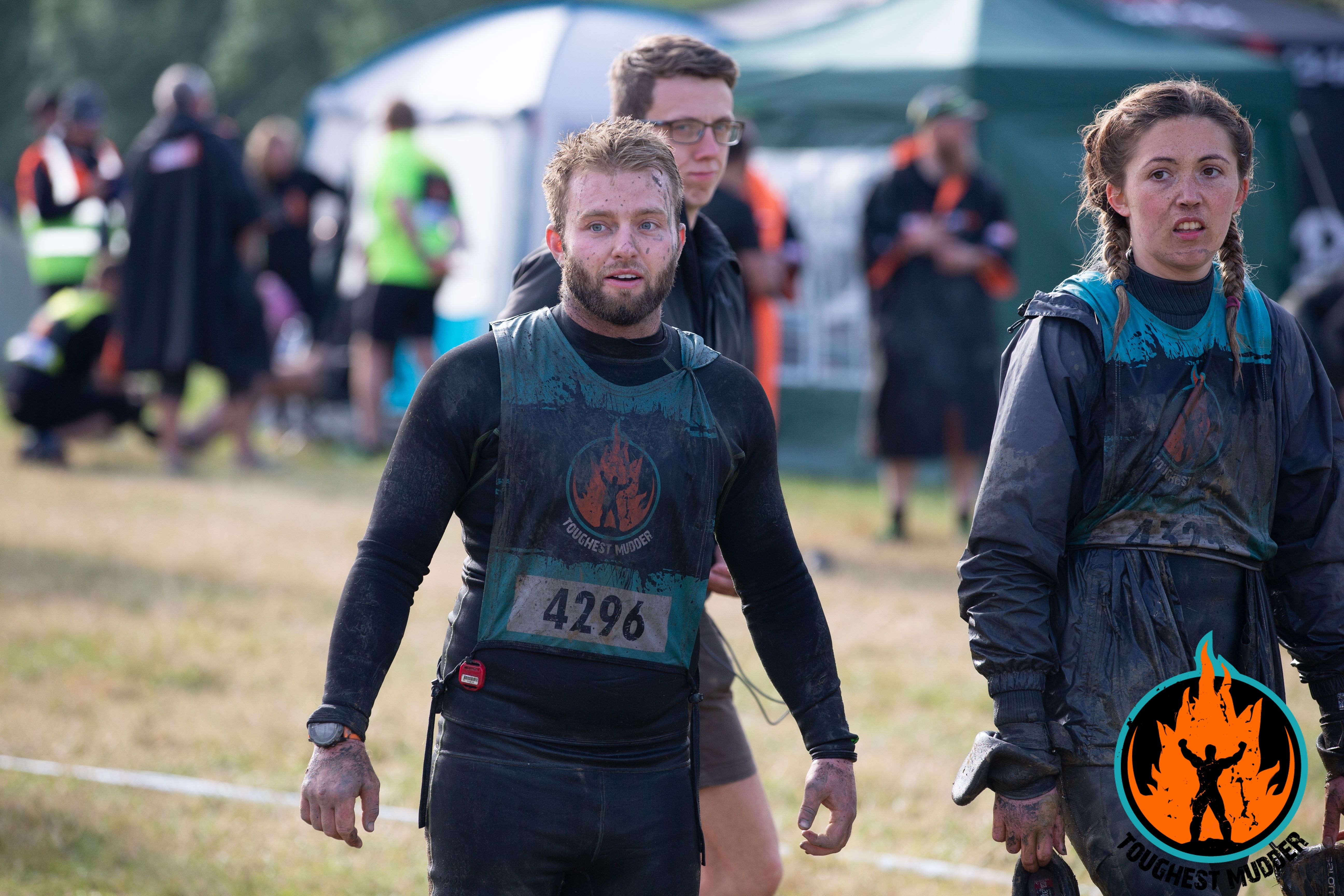 written by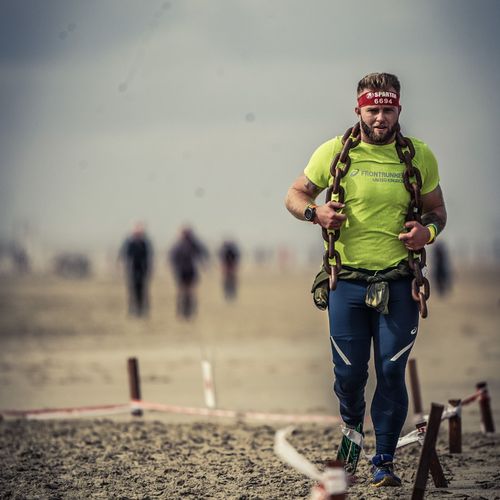 Jamie Gane
Teacher of Mathematics from Basingstoke

Age group: 25-29


MY DISCIPLINES