I do thoroughly enjoy the FrontRunner meet ups. There's running and friends and snacks and running and beer and running. All of my favourite things.
The meet up was in Salford which appeared to be one of the friendliest places in the UK as I found out after making friends with half the tram passengers, some enthusiastic runners from Devon and some girls from Ireland who were all up for the Manchester marathon. Maybe it's the running community, maybe it was Salford, I don't know but it was a lovely welcome to the area!

I spotted Holly brandishing the most enormous box of doughnuts on the way to the hotel (I secretly suspect that doughnuts and pork pies are the key to her super-speedy running. Top running secret right there) and I dashed into the hotel for a quick kit change as we had an orientation run. Basically the idea of this is to give us a quick tour of the awesome spots in the local area, give us a chance to burn off some of those doughnuts and to keep us out of trouble.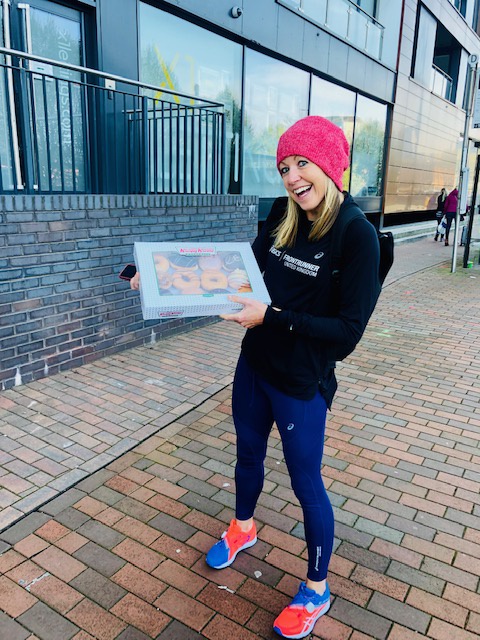 Our orientation run involved the Millennium Bridge, Old Trafford, Ordshall Hall and a sausage dog. Photos as evidence were required and we did really well until we got to the part where we were completely unable to find a sausage dog. Luckily Jame G was the quickest thinking out of the lot of us and spotted a dog and brandishing a sausage he'd nicked from the breakfast buffet earlier in case of dog-based emergencies we were the proud owners of a photo of a sausage (and) dog.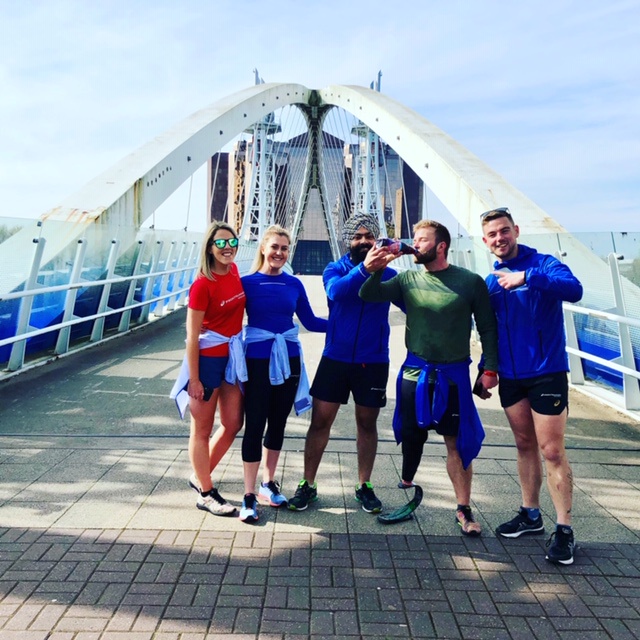 After a bit of a heated discussion about who won the orientation run – see we're not competitive AT ALL! - we settled down for some updates from Cathy, Holly and Callum which involved ASICS plans for the next year and some of the kit updates and the science behind the comfort. We also got an introduction to our lovely new ASICS UK & Ireland FrontRunners! I love this part – we already all know we love running so have that in common and everyone has done such different things and has different goals – it's so exciting!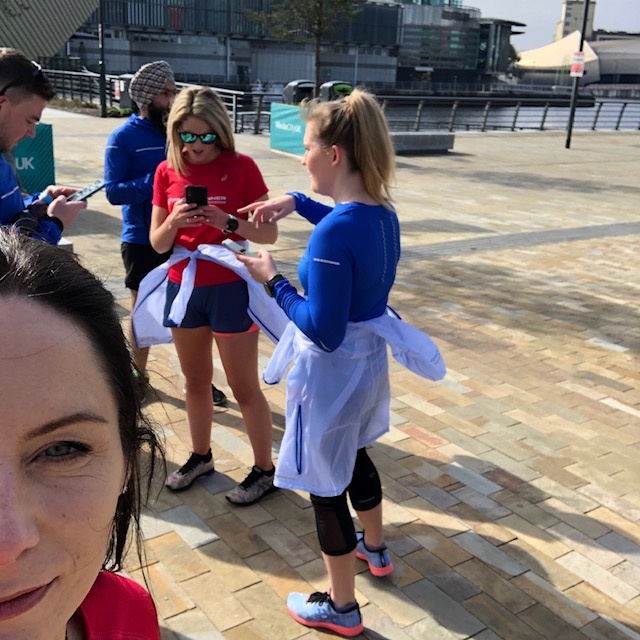 I grabbed the chance after this presentations to have a quick shower before we all headed out for some evening food, but had to panic text Holly my room-mate as I'd accidentally left my necklace on while showering and the subsequent red dye leaking onto the towel looked as though I'd been channeling my inner Mrs Bates and having a murder spree. I didn't want her to worry that her roomie was feeling a bit murdery. She'd never sleep and she had to run Manchester Marathon the next day.
The sun had come out so I had a bit of time to chill out with a cider in the sunshine before we all went to see the film Skid Row Marathon at the cinema.

Now this was EPIC. We had our own private screening (get us!!) and a choice of snacks and drinks to grab to munch through while we watched!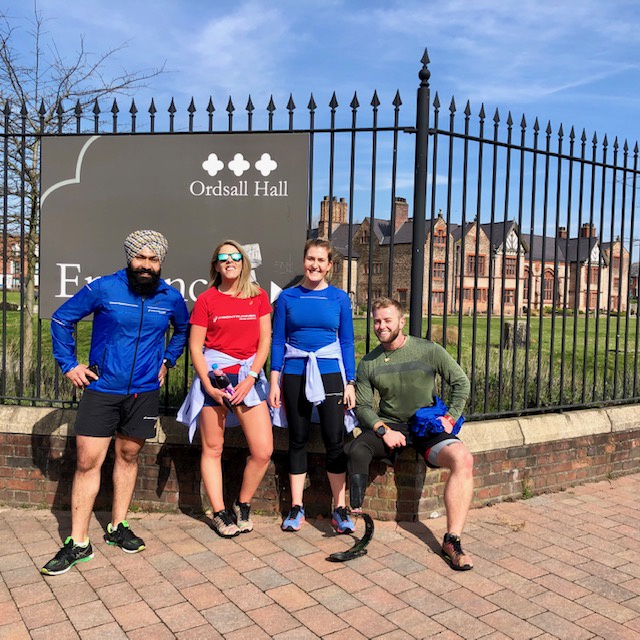 Now I didn't know much about the film Skid Row Marathon. I had been told that it was about running and that was pretty much all I knew about it. I had no expectations but … wow. I'm not going to spoil it if you haven't seen it (go and watch it!) but it's a true story and starts with a Los Angeles judge who starts a running club for people who have been released from prison. It follows their stories as they try to start new lives …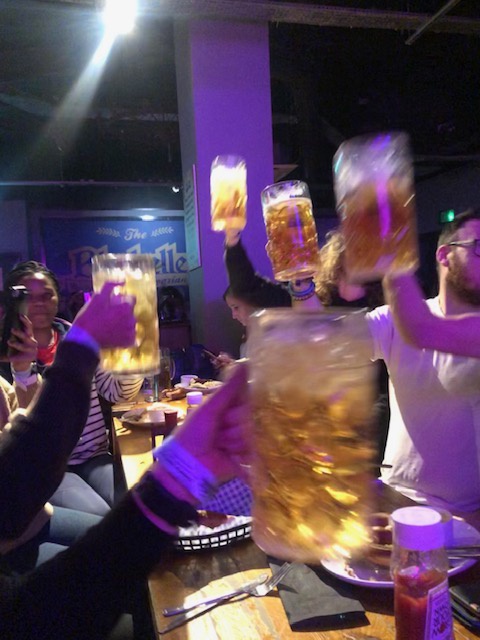 We had dinner that evening in a Bierkeller. If you haven't been to one it's basically a caricature of a bar with a German oompah band and massive steins of beer. It was very strange going in sober among hen and stag parties but after a couple of (MASSIVE) steins, we all soon got into the hang of dancing on the benches. I had to sneak back into my shared room quietly as Holly was going for a fast time at Manchester in the morning and she'd be tired if she had to get up and shout at me for waking her up. I was doing REALLY well until I tripped over the suitcase I left in the middle of the floor. I sat in the suitcase trying to breathe quietly … but Holly just did a little snore and didn't stir. Phew!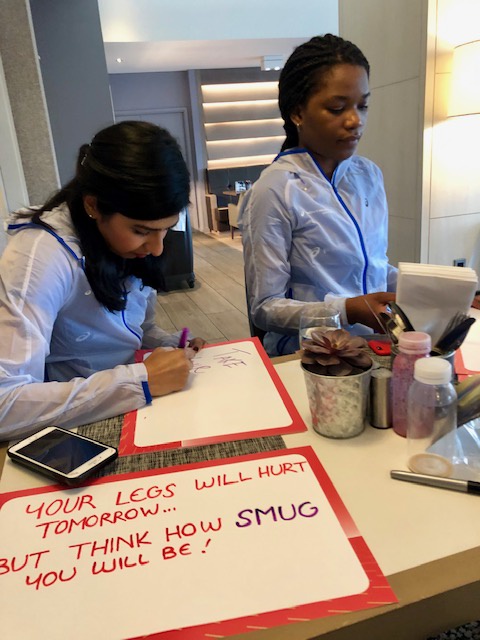 I needed a run so went out early along the canal with Bradley who ran very slowly to keep me company for which I was grateful. I was't feeling up to any fast miles after the beers and I needed someone to distract the Canadian Geese of which there were bloody hundreds along the canal path. It was as though they were having some hissy, stroppy goose-gathering and we were disturbing it. Nearly got eaten by them multiple times. The canal path was nice. The bitey geese not so much.
As we ran back in towards the hotel, we could hear the Manchester Marathon start ramping up and we were just in time to wave off the FrontRunners heading out for their marathons – eeek!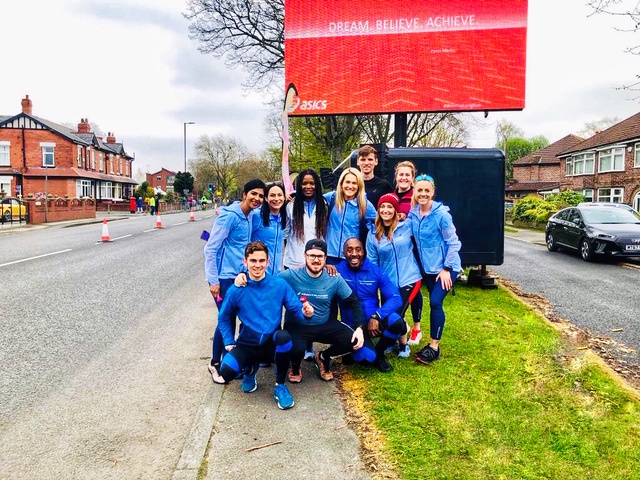 ASICS had set up a Cheer zone at Mile 24 of the marathon. Basically we had one aim. Make as much noise as possible. If noise alone could carry runners 2.2 miles to the finish line, we'd have managed it. It was brilliant watching the runners. Such heroes!
It was a hot day and the pub opposite was tempting enough for me and I hadn't even run any distance today so it must have been torture to the marathoners! I decided that holding a beer and cheering might be deserving of a smack in the chops from a parched runner so I waved the cowbell like a lunatic and shouted encouragement until I was hoarse. I had an amazing afternoon and it was amazing seeing people at this stage of their marathon. It looked SO tough. I've run marathons but you forget just how tough mile 24 is. It's too far in to drop but oh – you really want to – but you make your legs stay on pace and carry you for another 2 miles. Well done you heroes!!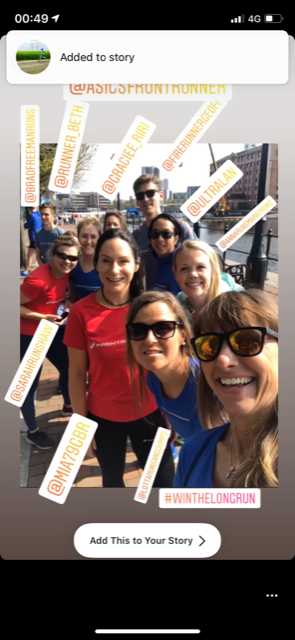 I had such a lovely weekend and there were some amazing FrontRunner results to top it off including Harry and Danny pacing 3:30 and 3:45:James Shoulder 3.16, Becca Burns 3.59, Livvy Hill 4.21, Jamie Gane 5.08, Rachel Diver 4.12,Hayley Woolnough 4.17, Kelly Ruck 5hrs, Lotta Aalto 4.56, Charlotte Geerse 5.04, Melanie Ellis 5.12 pacing Brian and Debs, Hadooli Hassan with a last minute run out! Pete Nicholson randressed as a dinosaur!!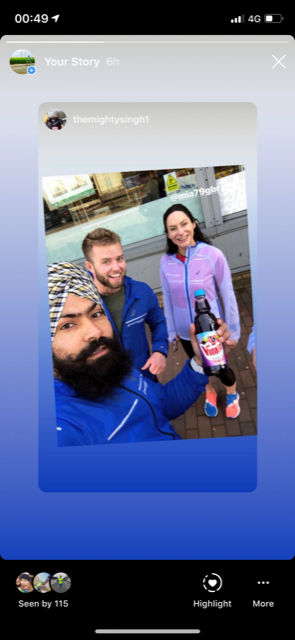 Another amazing weekend! See you all at the next one!
written by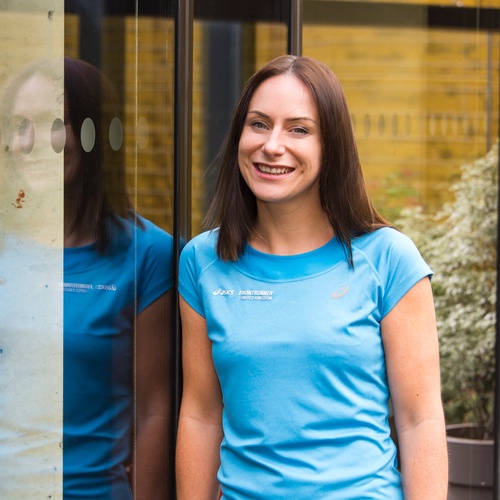 Sarah Booker
Emergency Services from Midlands

Age group: 40-44
Club: Rugby Triathlon Club, Northbrook AC,
Coach: Chris Weeks
My Disciplines