A review of the first international international meet up.
As part of the U.K. team I was invited to take part in the first ASICS FrontRunner International Meeting in Germany.
There were 146 ASICS FrontRunner members from 16 different countries.
From talking to other FrontRunner members, what was clear that regardless of race pace, that there was a strong and shared passion for running. By listening to others running experiences, it demonstrated how they raised their own standards by being the best version of themselves, which inspires me to do the same. 
A main feature of the event was to participate in Neuss Summer Run, which consists of 5k and 10k races. Taking part in the 5k wasn't about racing, I wanted to enjoy the event, and run it with my U.K. teammates. Finishing in just over 22 minutes, in the new speed shoe, RoadHawk FF. I found them to be a great running shoe, they were light, comfortable, and I felt a connected feel to the road.
Once I finished running I headed to the FrontRunner cheer point and supported the other runners including my teammates, which was a lot of fun.
A highlight of the event, was a seminar focusing on the mental side of running by Daniela Dihsmaier. Many areas were discussed, but an important lesson learnt is that positive affirmations in isolation don't work, because it creates two levels of thinking, either success or failure. Whereas having a flexible mindset is better suited to addressing and facing challenges during a race and training.
Furthermore it was a great opportunity to speak to former Ironman champion Max Longrée now ASICS Training Squad Head Coach, I gained an insight into the mindset and the diligence of his physical and mental preparation for Ironman.
The FrontRunner event was also about having fun, and I have to thank the Dutch team for giving me belly laughs which translated into a serious core workout.
Thanks to Andrea, Anita & Jan Erik and everyone who was part of organising the first international meet up. It was great experience to race, laugh and exchange ideas, with all the FrontRunners. I look forward to seeing my teammates at future international events.
Here is a short video capturing the event.
To follow my running journey to complete the six world major finish visit my Instagram page @themarathonmarcus
written by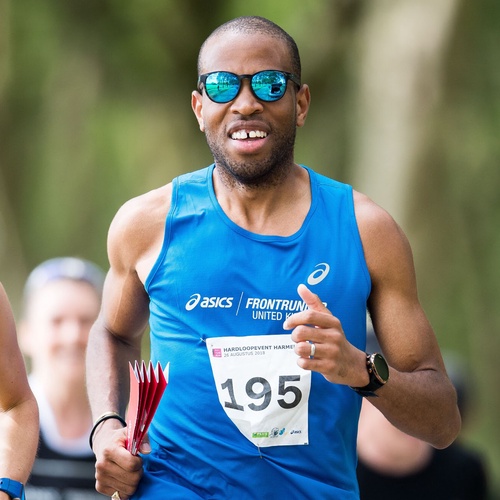 Marcus Brown
Quantity Surveyor from London



Coach: John Starrett
My Disciplines