Overall, the ASICS FUJI Trabuco Max is an excellent long distance trail shoe. I actually love the fit of the upper as I enjoy a wide toe box for distances. The FlyteFoam midsole strikes a nice balance between cushion and responsiveness and that outsole is a triumph. The tongue and quick lacing system, can be improved, but I can see this shoe being very fast on the trails this summer.
Finally, ASICS is back in the ultra-trail running game….
Where do I even begin... well my first impressions when I opened the box were "they look fantastic", they immediately reminded me of other max cushion trail shoes out there. They come in two colour options, Black/Digital Aqua for men and Black/Digital Grape for women. I honestly fell in love the first time I put them on, they had so many pros, however, I had one con, the quick lacing system and tongue (more on this later).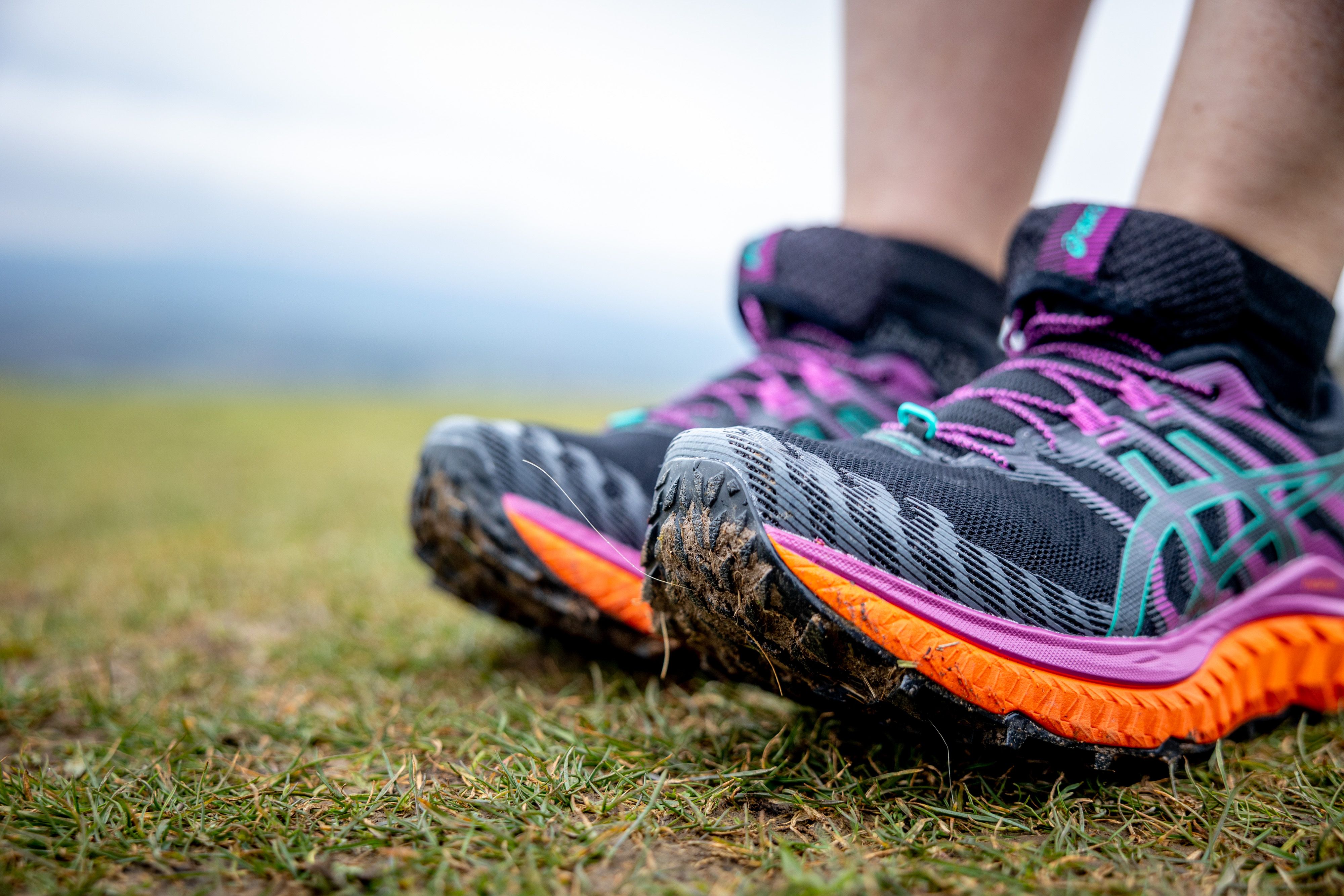 The specifications and the run test: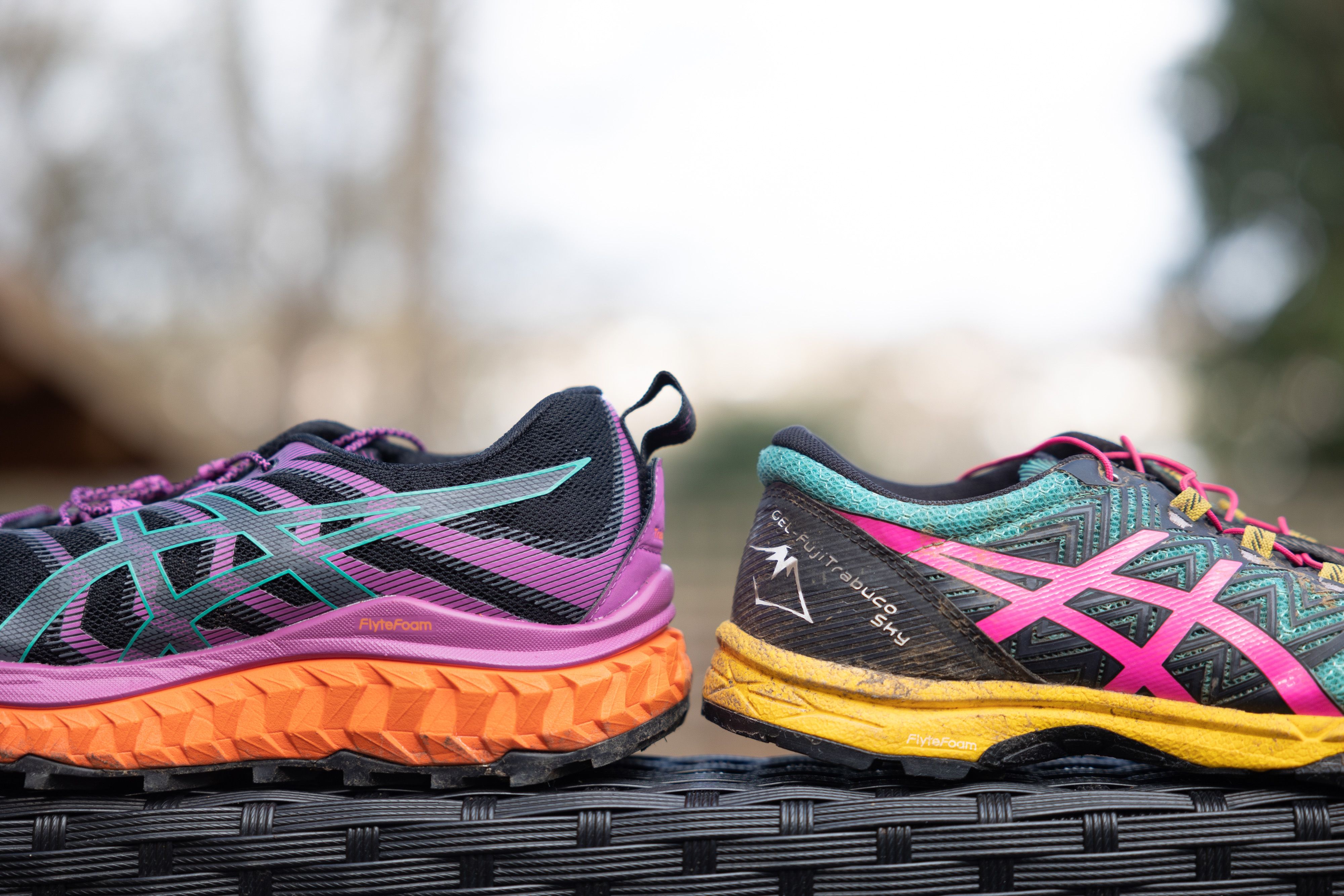 This is a long-distance max cushion neutral trail running shoe, the FUJI Trabuco Max uses ASICS FlyteFoam midsole, with a 28mm in the heal and 23mm in the forefoot for a 5mm offset, and I have to say it strikes a nice balance between soft and firm and had real some bounce out there on the trails. It strikes a good chord between providing responsiveness and speed whilst not feeling too firm. 
Through this stack height, you get enough cushioning to protect you from the trail without the need for a rock plate. In my size 6.5UK it weighs in at 243g, and I have found anything under 300g is great for my ultra events.
The outsole:
The outsole is a work of art featuring ASICSGRIP, it is sticky and grips the trails well. I have measured the lug depth, and they are at 4mm, maybe a little more. Currently, most competitors are still sticking to that three to 4mm range for the lug depth.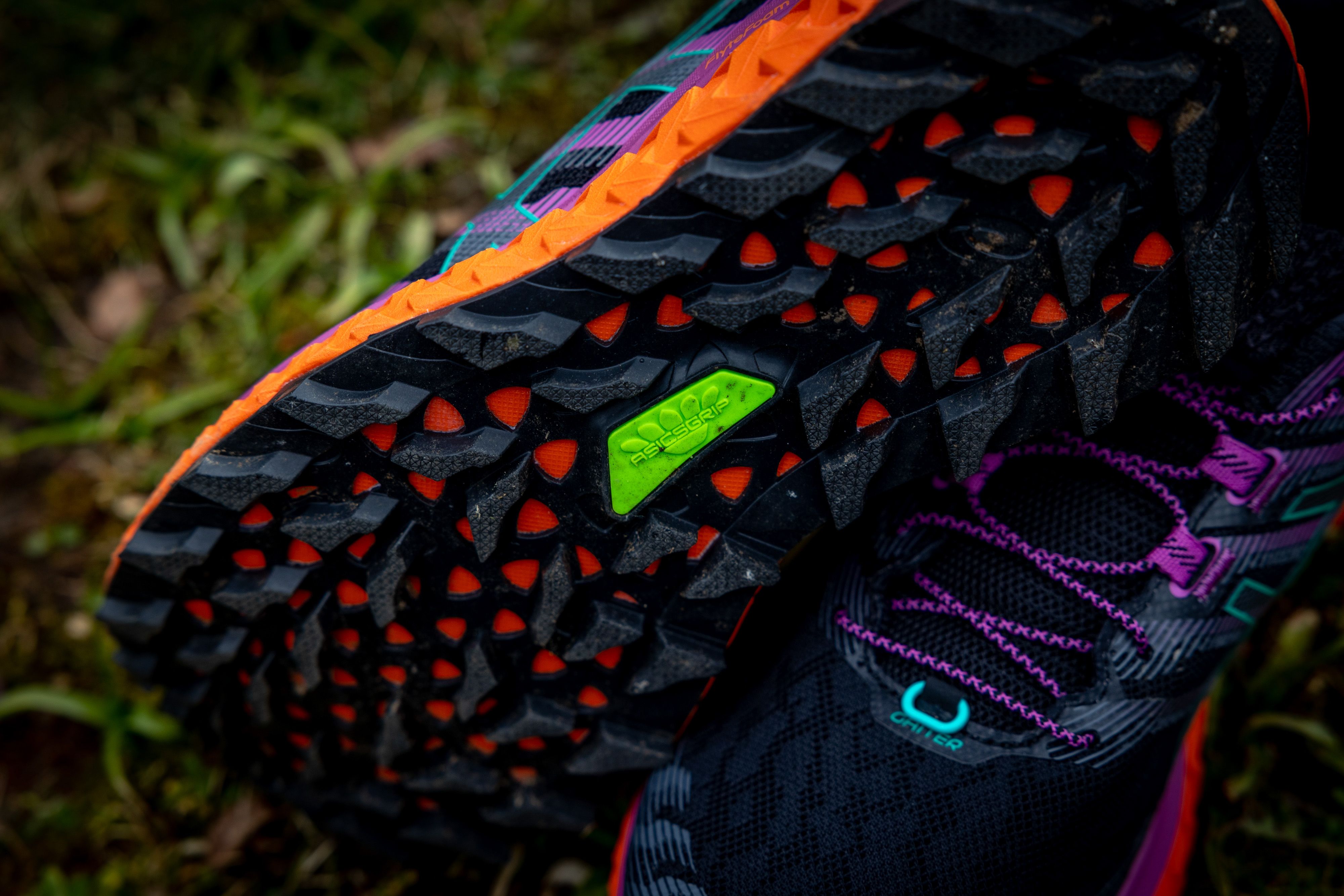 Now, whoever designed the lug pattern is a genius, when looking at the placement of the lugs on the outsole, they are spread evenly and really felt great out there on the trails and I have had no issues navigating up-hills and downhills, side to side, forward, backwards, fast, and slow paces and I hope they stick with this for every trail shoe from now on.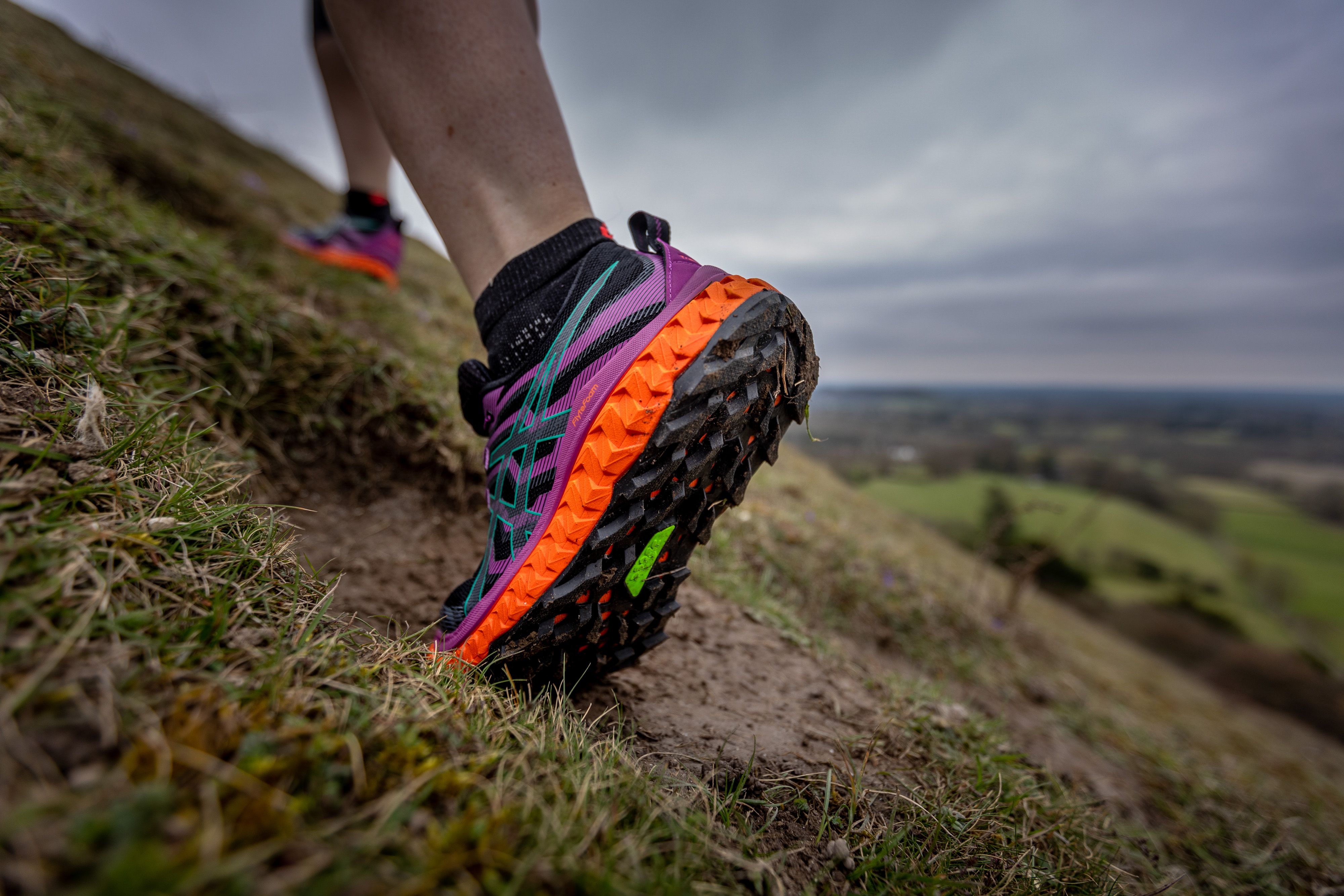 They handled well on the wet, "rooty" and rocky trails, but what I found fantastic was the transitions from trails to roads and pavements. I am not calling it a commuter shoe, not at all, it is a trail shoe for sure. However, if you have an 80/20 trail/road commute, it will suit both environments. Overall, it does however really stack up well against other competitors on the market in this max cushion group.  *side NOTE: I haven't tried it on the January/February "mud-fest" on the Surrey Hills, you all know that claggy English mud, but ASICS does have a shoe for that the FUJI Trabuco Pro.
The Upper: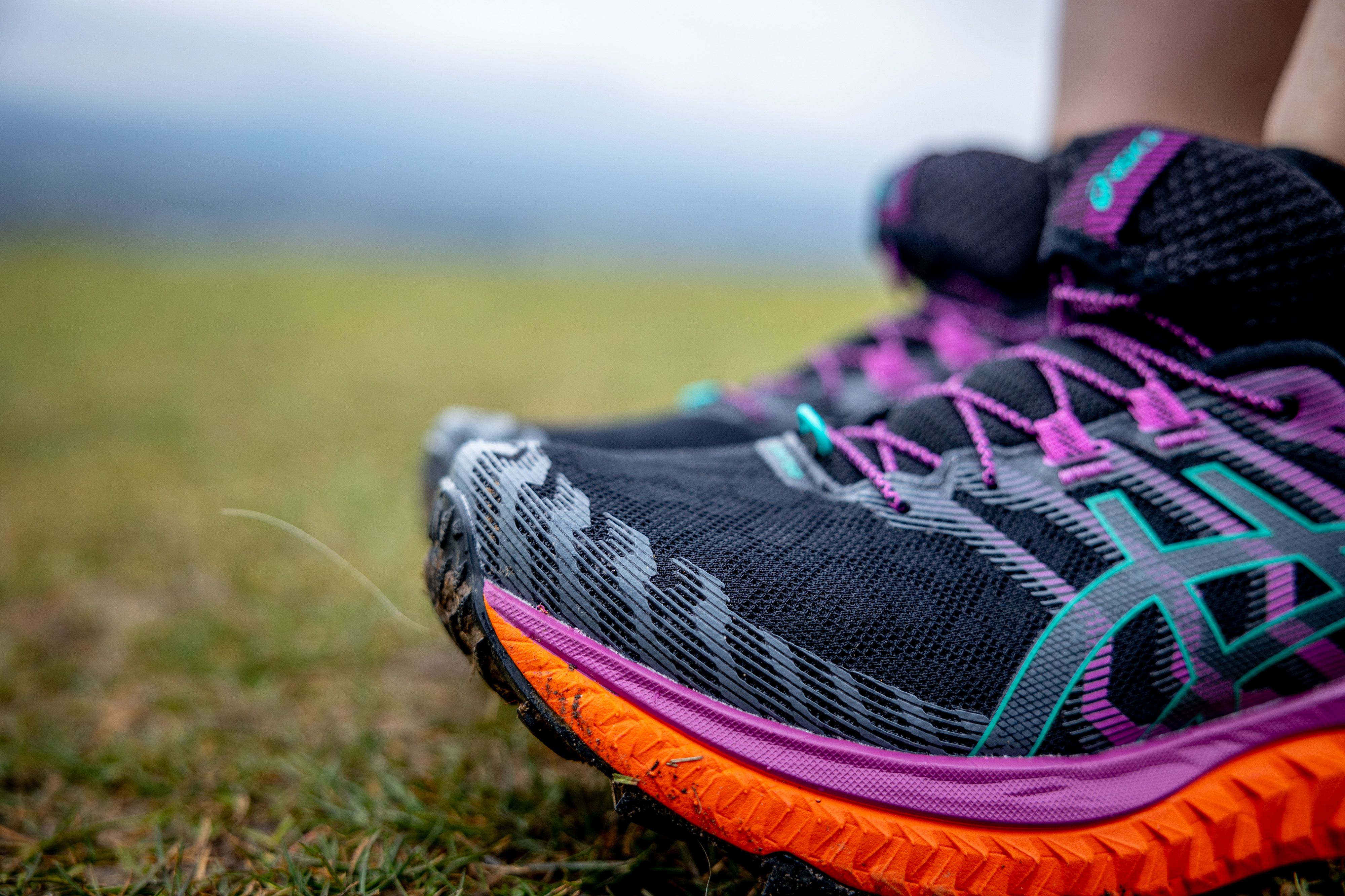 The ASICS FUJI Trabuco Max has an engineered mesh upper with several structural overlays and this adds to overall durability, whilst adding some structure to the shoe. It has a toe bumper, so if you are out on the trails and like me, you forget to lift your knees during the latter part of an ultra-event, your big toe and toes should be well protected from the rocks and roots you trip over or kick.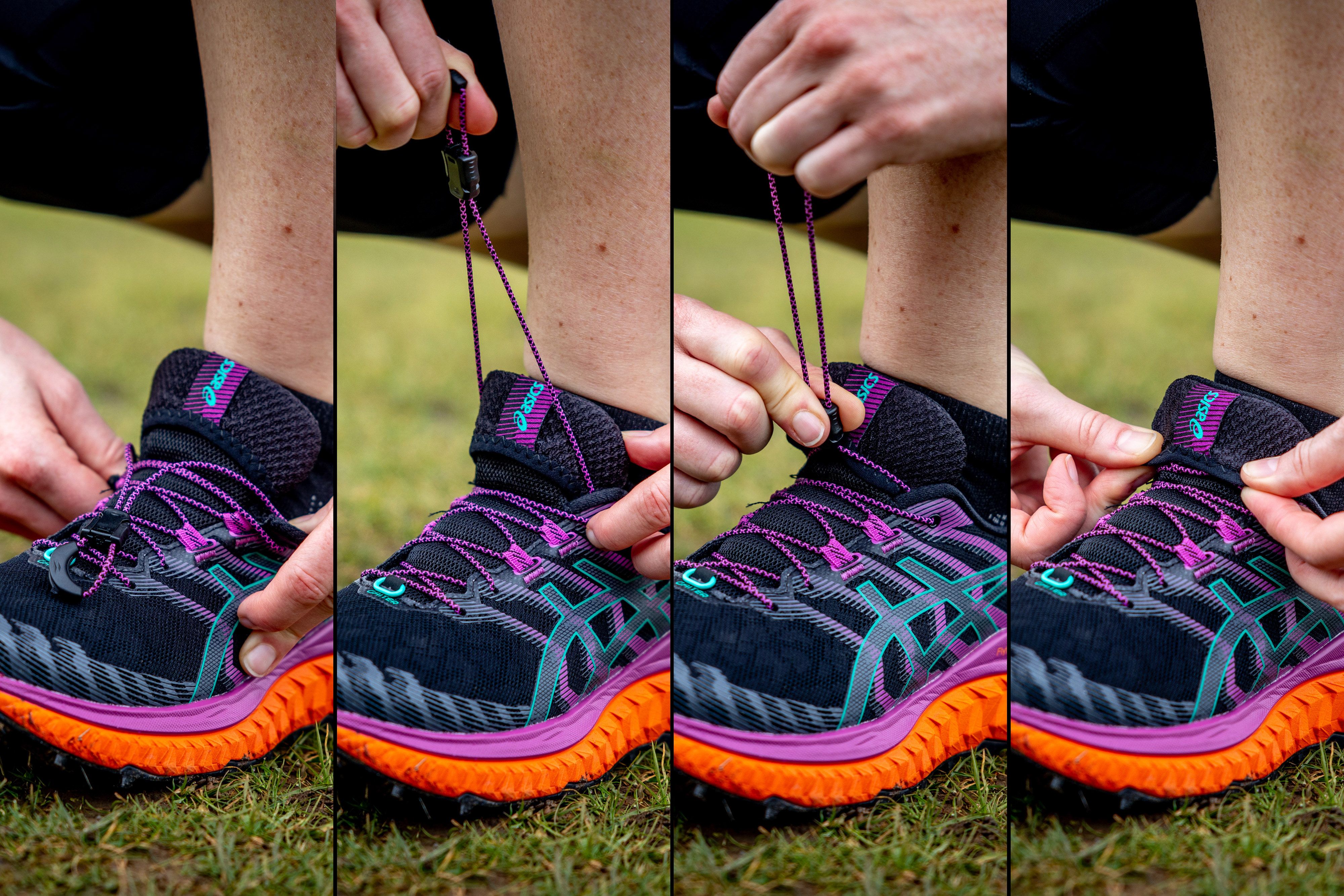 For the laces, ASICS added the Quick Lace system, something they have done before in the FUJI Trabuco Pro, in the Trabuco Max it has a padded tongue that acts as the lace storge, the tongue is fully gusseted. The collar is plush and carries into a moderate heel counter, it has a little give, just like in the ASICS GlideRide.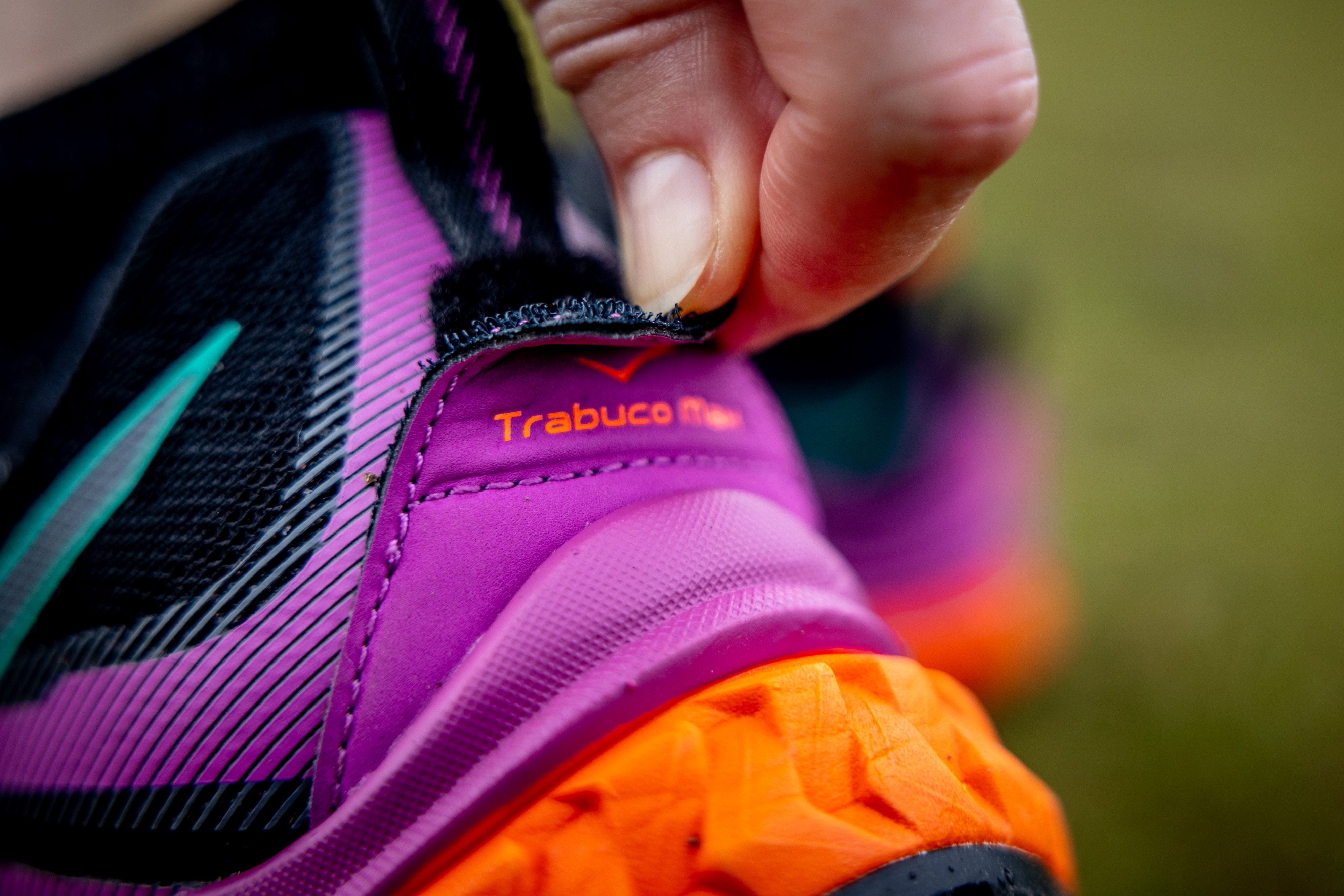 The upper also is also gaiter capable with a gaiter hook at the front and a gaiter trap at the heel, you can therefore connect gaiters to the shoe easily.
My only drawback and I cannot really blame the shoe, but rather my genes. The quick lacing system I found to be a drawback (maybe because I have thin ankles and large feet), but I think it would have been perfect if they just used a traditional lacing system like the FUJI Trabuco 9. Personally, for me, this Quick lacing system works fabulously for the FUJI Trabuco Pro and FUJI Trabuco Sky. Why, because it has the Trabuco Pro has a neoprene sock that keeps my foot in place and the Trabuco Sky is very light. However, with the TRABUCO Max, the quick lace system feels loose around the anterior part of my "thin" ankles (at the tongue) and towards the latter part of a run, I have had to tighten the laces again. I do not mind the tongue sticking out like a sore thumb; however, I do think it would have looked better with normal laces pushing the tongue down and an extra eyelet would have been perfect.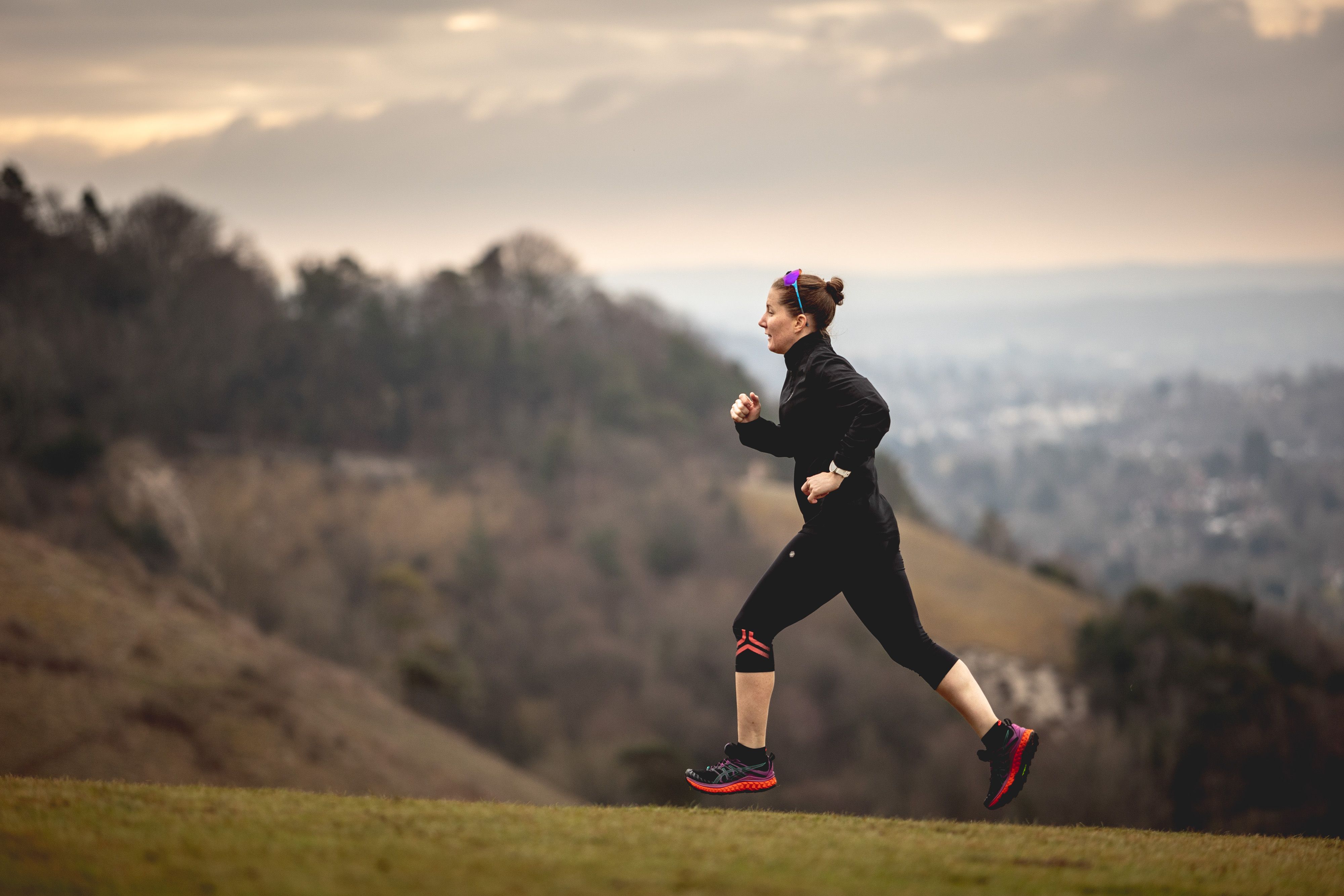 For the fit and the comfort, well they are true to size and I had no issues with the toe box, like the ASICS GlideRide it is spacious in the toe area, the mid-foot fitted snug and secure, however as mentioned above toward to end of a long run my rear foot started to slip a little and I had to stop and secure them again. For comfort, it does not feel hard underfoot mainly because of the heel counter and the ride of the midsole, however, it does not feel super soft like other max cushion competitors, rather it feels stable, supportive and it has a fabulous forgiving feel.
Now it is guaranteed that this shoe will show up at the start line of many trail ultra-events in 2021 (let us hope we have some events). 
Why do you ask? 
Well, because it feels fast, and I am really excited about this. I will definitely be using them for the Suffolk Back Yard Ultra and during the Snowdon 24HR race.
The shoe comes in at £145, a really good price for a trail shoe of this calibre and durability, I have done 20miles in them thus far and I am not seeing any major wear and tear at the bottom. 
I think you can get 600miles, even further out of them.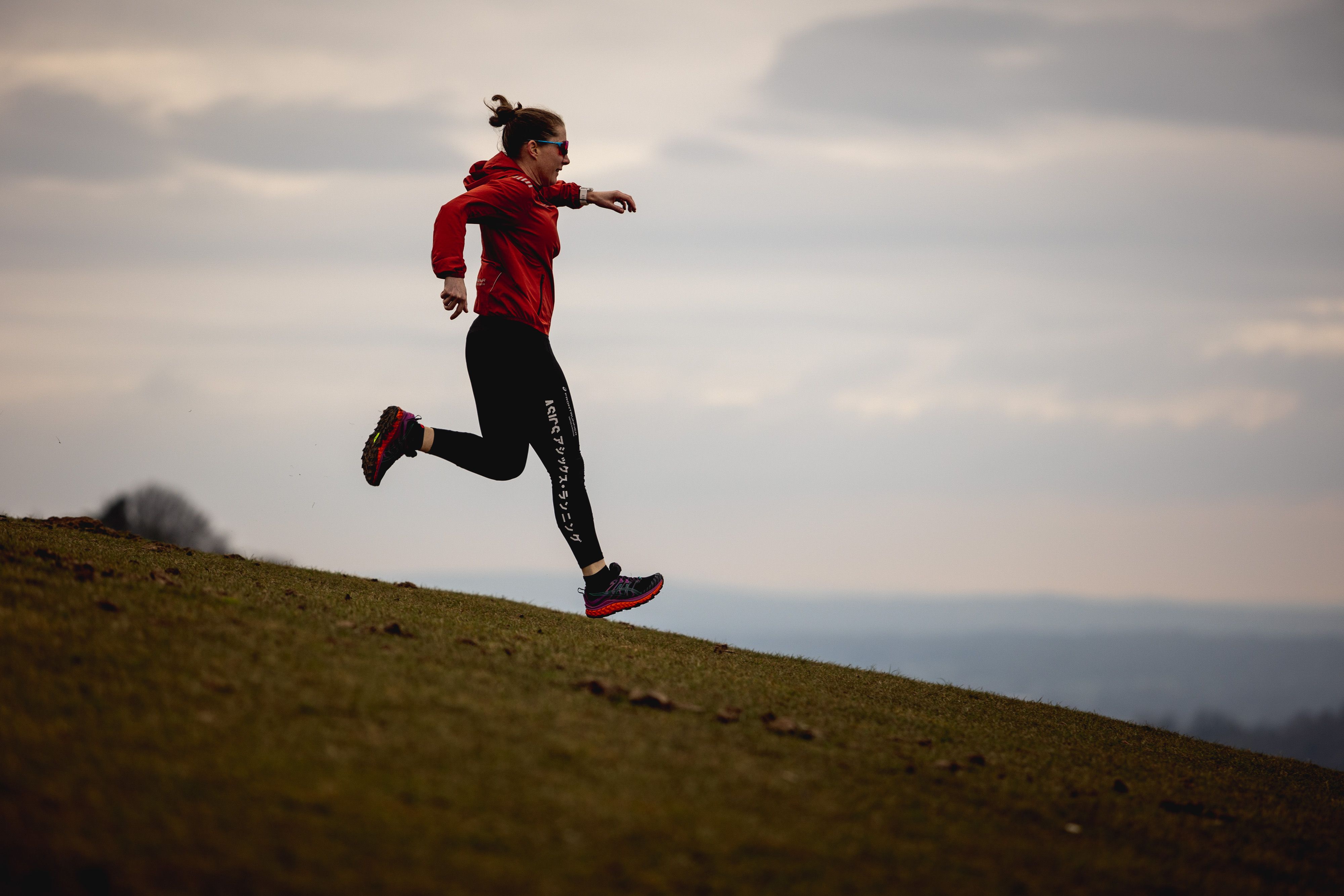 What You NEED to know:
Solid neutral long-distance max cushion trail shoe with aggressive overall traction
Weighs 295 g for a UK M10 / 234 g for a UK W5
Features 28mm of cushion and has a 5mm heel/toe drop
Features quick lacing system with stow-away lace pocket
It is a serious trail offering from ASICS
Retails at £145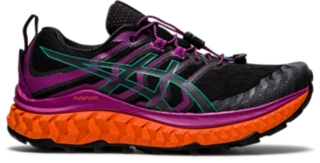 Trabuco Max
Energy savings are an important component for trail runners traversing across long distances, which is why we applied GUIDESOLE™ technology to the TRABUCO MAX™ trail shoe. This trail running shoe provides improved cushioning and traction while a...
SHOP NOW
written by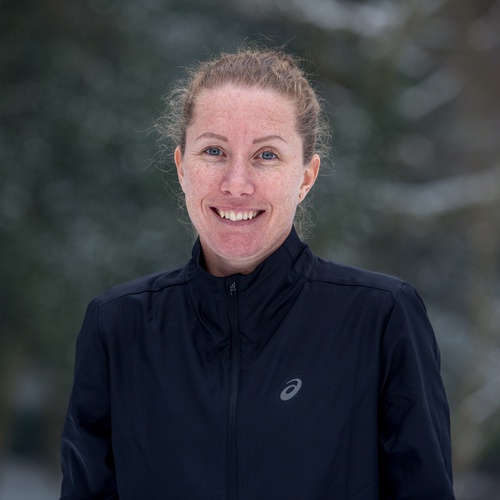 Alechia van Wyk
Senior Lecturer (Clinical Exercise Physiology) from London

Age group: 40 - 45
Club: Epsom and Ewell Harriers and Black Line London

My Disciplines