Possibly the most beautiful looking shoe out there…
First impression?
There was much anticipation with the drop of the new GLIDERIDE. These are part of the METARIDE shoe family which I hadn't had the chance to try but have always been interested by the technology of the shoe so I was excited to be chosen as one of the lucky few to try the GLIDERIDE before their official launch. When they arrived and I opened the box I was taken aback by just how cool they looked – the bright fuchsia and purple colourway is beautiful, and the most visibly different part of these shoes compared to a standard pair of running shoes is the curved forefoot design. It's striking, it intrigued me, I wanted to get out and run straightaway. I had also read that these shoes were designed to help runners save energy over the long run – which I feel is what all long distance runners are searching for.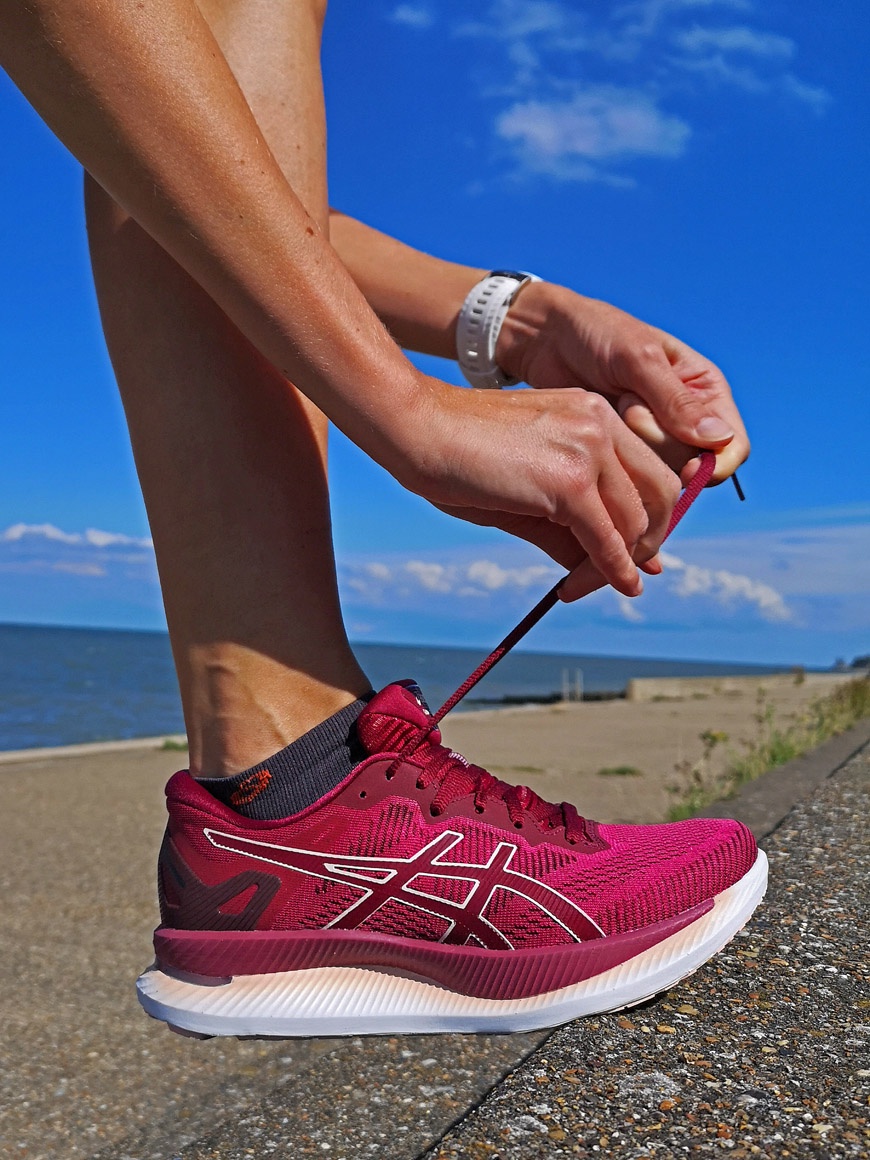 How do they perform?
I decided to take my shoes out on a flat seafront paved route for their first few outings as I figured this is where they would perform best. Now, I have to be really honest here and say that whilst I was so excited to try these shoes and had visions of wearing them in my next half marathon before even trying them, I actually found them difficult to run in. I think this is due to the way I run – I have arthritis in my feet and don't have normal flexibility in my metatarsals which means over the years I've adapted my running style so that the way I push off my feet when running doesn't increase my foot pain – essentially I have to run flatfooted otherwise I struggle with walking in the days after a run. Flatfooted running doesn't really lend itself well to this shoe so if you know that you run this way due to a legitimate condition then you may want to steer clear of this shoe – however if you run flatfooted due to laziness and poor technique, the GLIDERIDE could be the shoe to train you into better habits. Because of this, I found it difficult to keep my balance when running and found that I actually had to put more effort into the run in order to stay upright – I then found that this concentrated effort was really affecting my ankles and lower legs and leaving me in enough pain to feel apprehensive about continuing my run. Now I know this issue is unique to me, as actually the GUIDESOLE technology is designed to provide a shock-absorbing landing zone and a lower degree of ankle flexion which means other muscles in your legs technically have to work less and therefore expend less energy for increased efficiency. I also know from my team mates who have also been testing the shoe that they love running in them – so please don't let my experience deter you from giving the shoe a good try. I would recommend you perhaps try them on in store first so that you can get a good feel for what it will be like to run with such a curved forefoot as I think this does require some getting used to.
Technical stuff?
The GLIDERIDE shoe is designed to help runners save energy over the long run
GUIDESOLE technology provides a shock-absorbing landing zone which lessens fatigue, while the curved sole design and a stiff forefoot save runner's energy by reducing ankle flexion
5mm heel-to-toe drop works with the stiff forefoot to allow for an easier transition from footstrike to toe-off
AHAR Plus Outsole – proprietary high abrasion rubber provides durability
FLYTEFOAM midsole technology
FLYTEFOAM propel technology
The technology in the shoe has been proven at the ASICS Institute of Sport Science and validated at Progressive Sports Technologies – a 3rd party laboratory in the UK
Pros?
Great for neutral runners
Could help you conserve energy if you are a distance runner
Designed to help you run faster
Curved sole is designed to reduce the load on the foot
Cons?
If you have arthritis in your feet, they're not so easy to run in!
Your balance may feel off for the first few runs
Verdict?
I really wanted to love these shoes as they look incredible and all of the technology that has gone into the GLIDERIDE is so impressive and interesting. Unfortunately they just don't work for the way I have had to adapt my running style and so I will not be able to race in these in future. I am so pleased that I have spoken to other people who have these shoes though because other team mates have been overwhelmingly positive about their experience with the shoe – so I know these are a great running shoe for the majority of people and I have no doubt they will help runners run faster and longer, they just don't work for me. For the time being I will continue to run in the Gel-Nimbus and the Dynaflytes as these suit my feet better.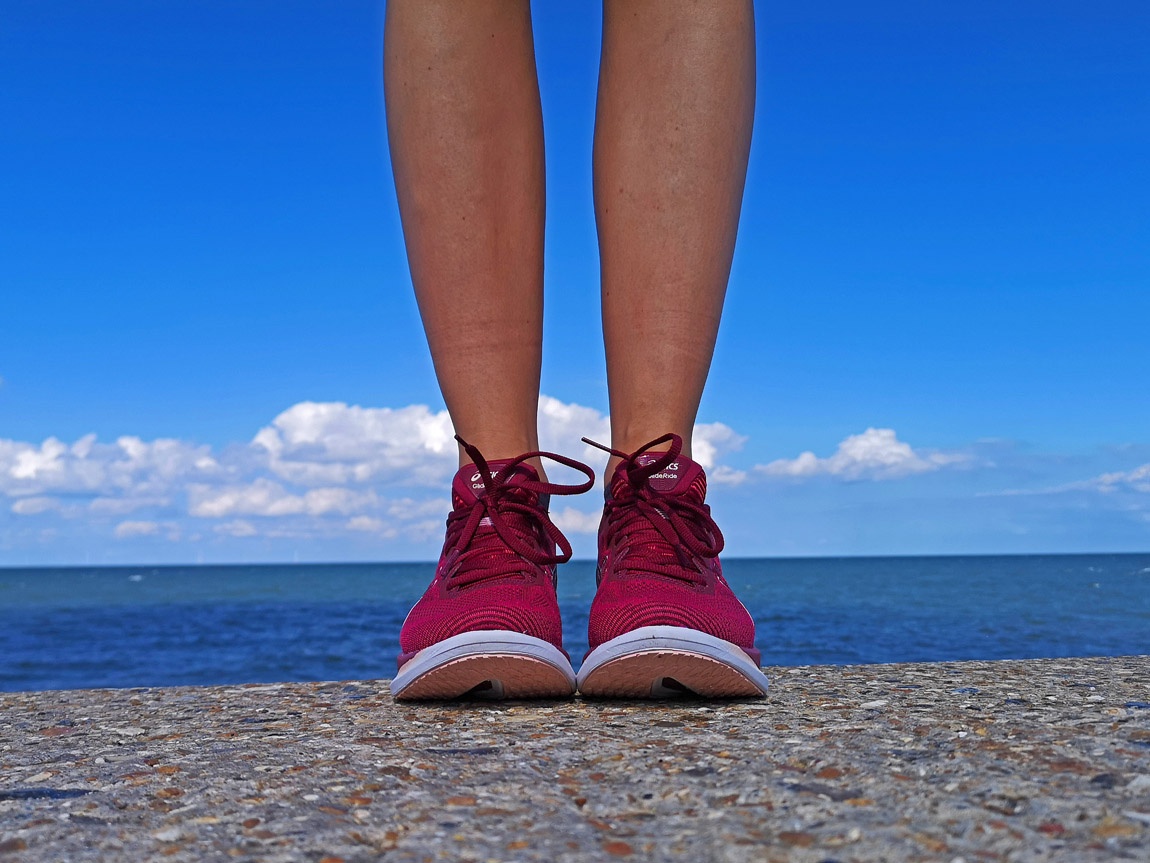 written by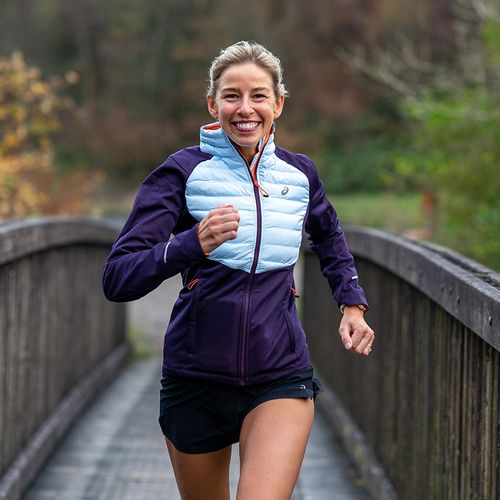 Victoria Stears
Head of Global Marketing - Sports/Education Sector from London

Age group: 34


MY DISCIPLINES