I always look forward to the FrontRunner meet ups ... you can talk running for 8 hours and no-one's eyes glaze over ... in fact they expect it!
I always look forward to the FrontRunner meet ups. We have a blast, get some running in, get to talk about sports for about eight hours and get some new ASICS kit! It was even more fun this weekend as I'd unfortunately had to miss the earlier meet ups this year due to work and race commitments so I was also getting to meet the new 2018 ASICS FrontRunners!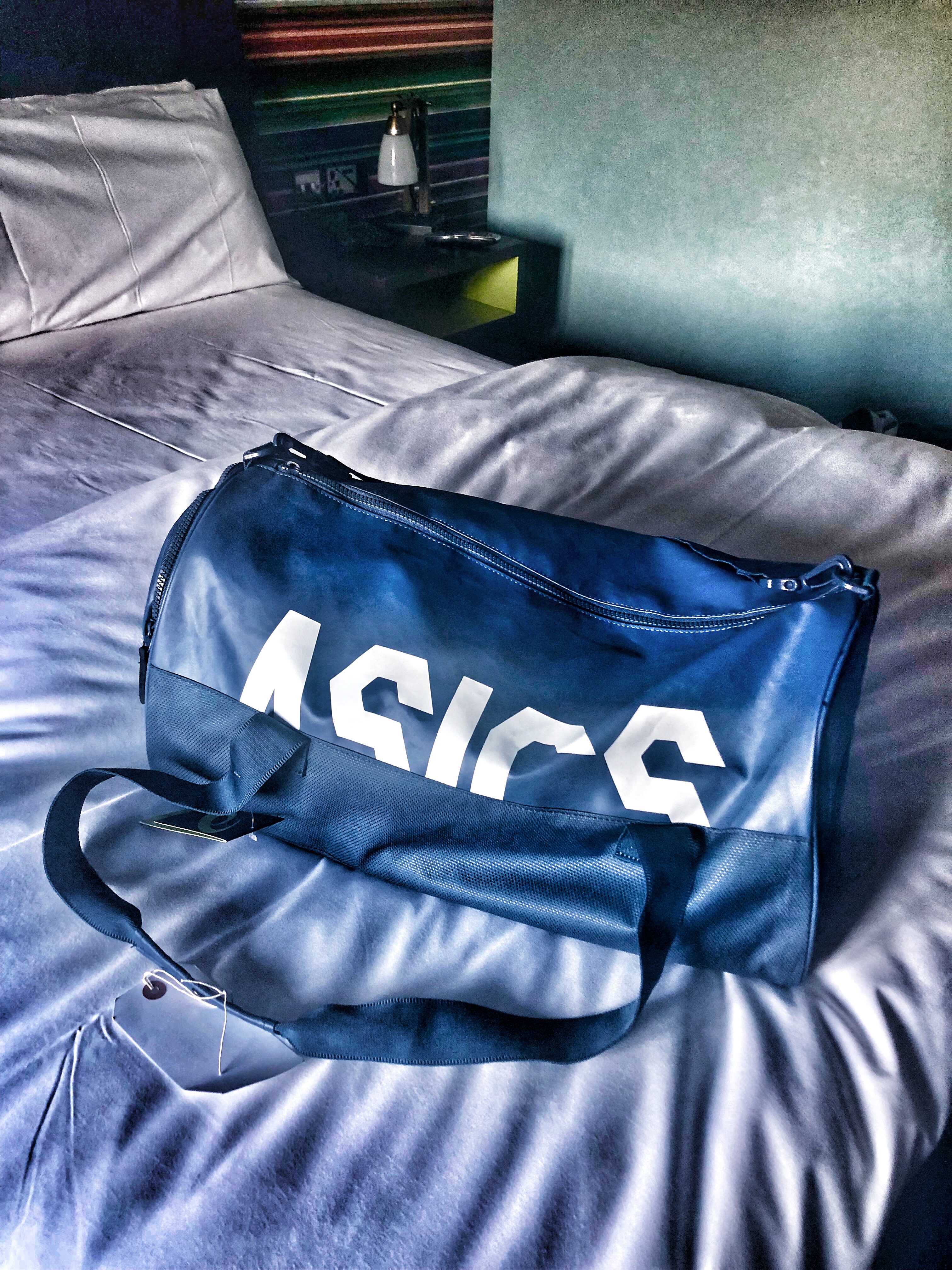 After a drive of a couple of hours, I finally got to the hotel at about 8pm. The foyer was deathly quiet … but it's ok … I know the FrontRunners. And yep – there they were at the bar. Running is serious business after all. Have to keep hydrated. 
As usual, the entertainment is a big part of these weekends and Gazz had risen to the occasion with a cracking quiz … of which I knew almost NONE of the answers except for the ones on 90s music. The shame. However, luckily my team-mates were far more switched on than me and Eddy, Hayley, Hannah, Jack, Blake and Alan carried me through. Our quiz score was to be added onto our total weekend score … and that was serious as we had a sports day the next day … and we were a tad competitive.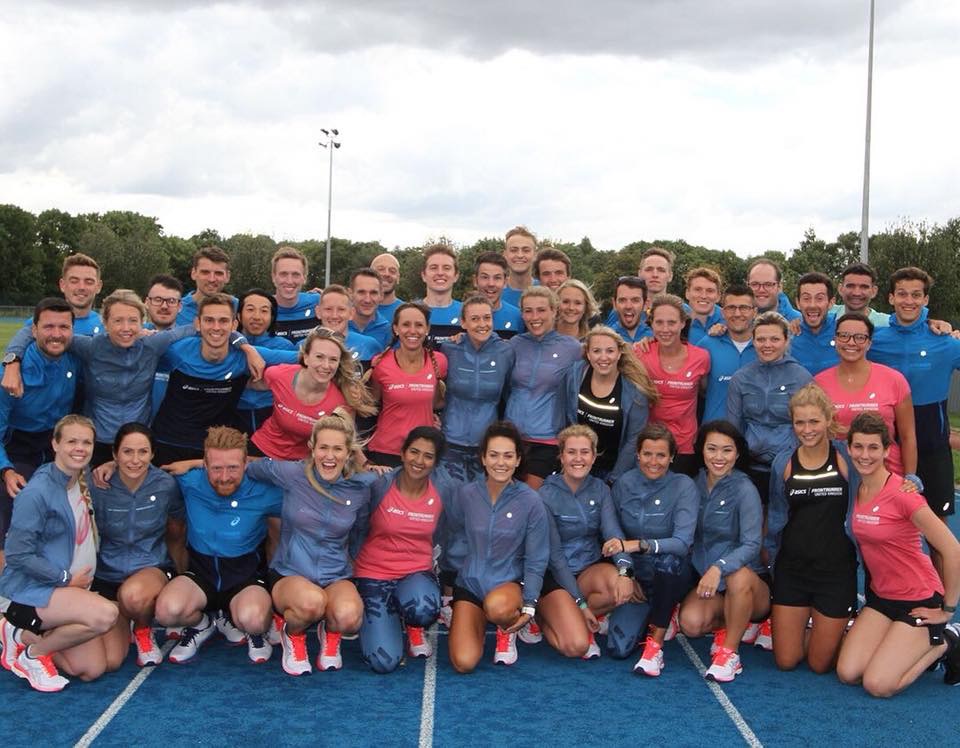 We had some beautiful ASICS kit given to us all (MASSIVE FrontRunner benefits!!), this season's colour was black – which suited me perfectly – it goes with everything right? The kit also included the new KAYANO 25 shoes (review on previous blog) and some really good splash proof run jackets … because you just can't trust the English summertime! 
It was an early start on the Saturday and there was the option to hit the hotel gym, head over to the local parkrun or have a lie in. As I had Ride London 100 the next day, I opted to skip the parkrun and fanny about in the gym and do a lazy tri. Basically a trot on the treadmill (SLOW), a spin on the bike (SLOWER) and a swim in the pool (SLOWEST).
After inhaling most of the breakfast buffet, we all headed over to the bright blue track in Warrington at Victoria Park. We were treated to presentations from Holly, Gazz and Jan Erik. The main thing I took away from the presentations was the question "What can Ido for the ASICS FrontRunners?" Whether it is asking for assistance getting a coaching qualification and leading running groups, speaking up about your experiences on Instagram or planning your own regional meet ups. I need to ask myself what can I do to contribute to the team. It was also really interesting to hear about the engagement statistics and find out about other FrontRunners from different countries – what are they doing differently from us? What can we learn from? Some things to take away and think about. 
We had a presentatation from Stuart Holliday next who is an ASICS Team Psychologist. 
I think I'm reasonably stable. I know i'm not the fastest runner or the speediest triathlete. And so long as I'm allowed to sulk about that, I'm ok with it. But it seems there are more relevant questions to ask myself rather than worrying about dropping my snacks on the bike or falling in a hole on the run. Stuart wanted us to ask ourselves the IMPORTANT questions like "Why am I doing this race? What are my goals? What do I expect from it?" He also was able to gve some tips on ignoring the noise in your head. We all have this. We go to the gym, head out on the bike and we're not 'checked-in' to the session. Stuart was insistent that it is necessary to 'check-in' and to be fully immersed in the right now. 
He also raised an interesting point about being able to counter the negative voice in your head. This is something I use already and I use it on the start line of almost all of my races. When the negative voice in your head tells you you haven't done enough training / you're not quick enough / not good enough, make sure you have a response. When I'm lining up for a marathon, I always worry that I haven't done enough long runs, so while I'm waiting for the gun, I count off all of my long runs in ,y head that I've done leading up to this race. I did the same at the start of my recent triathlon, I counted up my recent PBs, my great sessions and strong events … and I'd talked myself into a PB before I'd even got into the water. 
Interesting as the morning session was, we had all been looking forward to the afternoon session – the ASICS Sports Day! There was Tug-Of_war, Three-Legged-Races, Egg and Spoon Races and Wheelbarrow races among others. We had to stay in our quiz teams and had prepared outfits for the teams we were allocated. Ours was England … but I'll let the photos do the talking.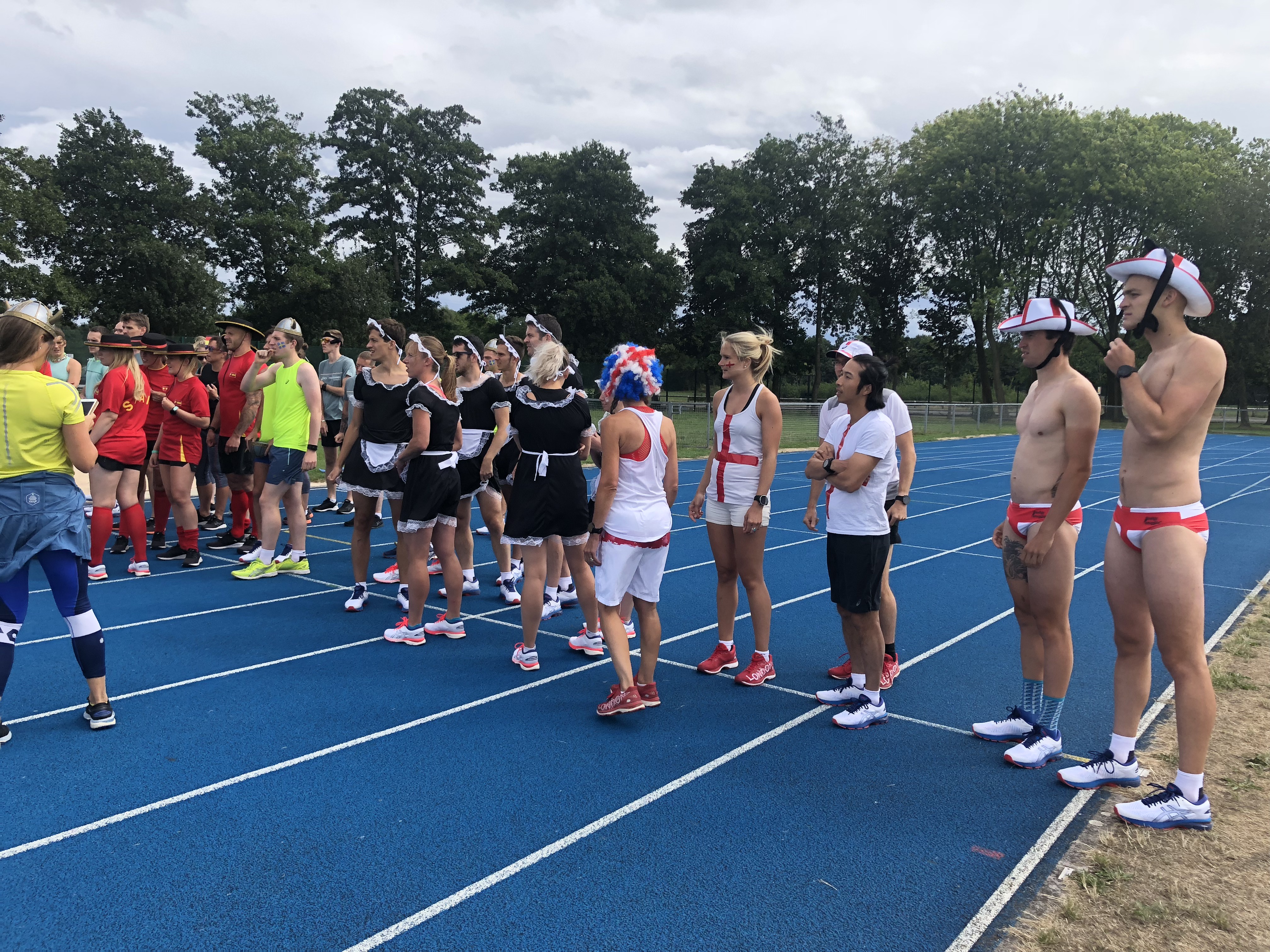 While we were all on the track, trying not to fall over and take our team mates down with us, Corey had taken over the FrontRunner Instagram account and was running the UK stories from it. She had asked us all for 3 photos telling a bit about ourselves in a storyboard style and she was working her arse off getting these out … and they were brilliant!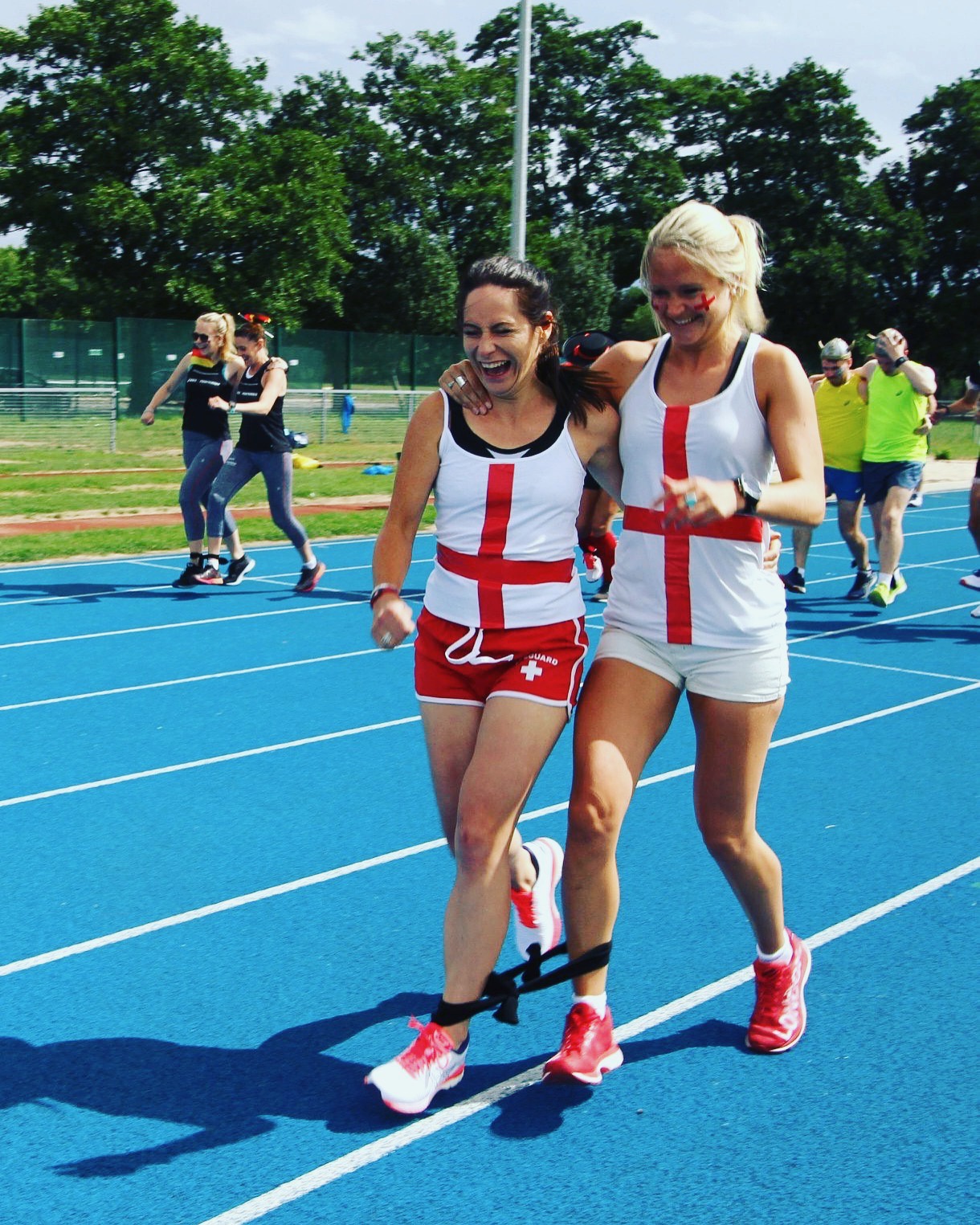 That evening we were back at the hotel for a James Bond themed dinner and casino night. I have to admit though … it was a bit strange seeing everyone out of their customary lycra and trainers but I did compromise with a tennis dress. I mean … what if I needed an impromptu 10pm run, right? Have to get your priorities right.
I had a brilliant weekend and took a lot of interesting things away from it. What can I do to help the team in 2018 and going into 2019? It was time to have a think ...
written by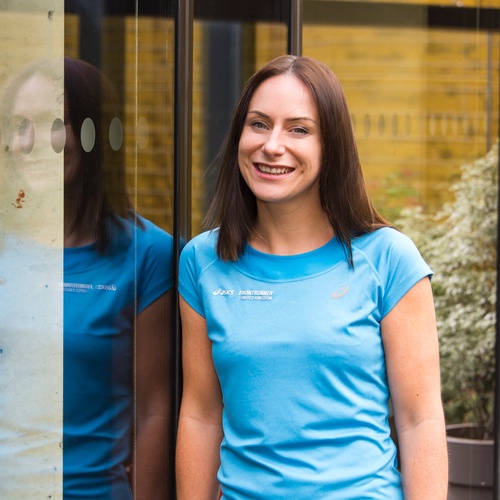 Sarah Booker
Emergency Services from Midlands

Age group: 40-44
Club: Rugby Triathlon Club, Northbrook AC,
Coach: Chris Weeks
My Disciplines