How we turned a negative into a positive.
Being accepted.....
When we first decided to run together as a family we didn't know what to expect and were quite nervous as we didn't know of anyone else doing this where we lived. Aaron can be quite vocal at times and this tends to attract people's attention and often unwanted attention. Nobody likes to be stared at and this had happened to us many times over the last 16 years.
A couple of weeks after receiving Aaron's running chair we were ready to take on our first race, the Great South Run (10 miles) in Portsmouth. We packed up our van and headed over from Northern Ireland on the ferry to England and then the long drive to the south coast full of nerves and excitement for what lay ahead. We had arranged to attend the Bognor Regis parkrun on the day before as it wasn't that far from Portsmouth and it was the town Sandra had grown up in. We were made to feel so welcome and it was a great experience for all of us.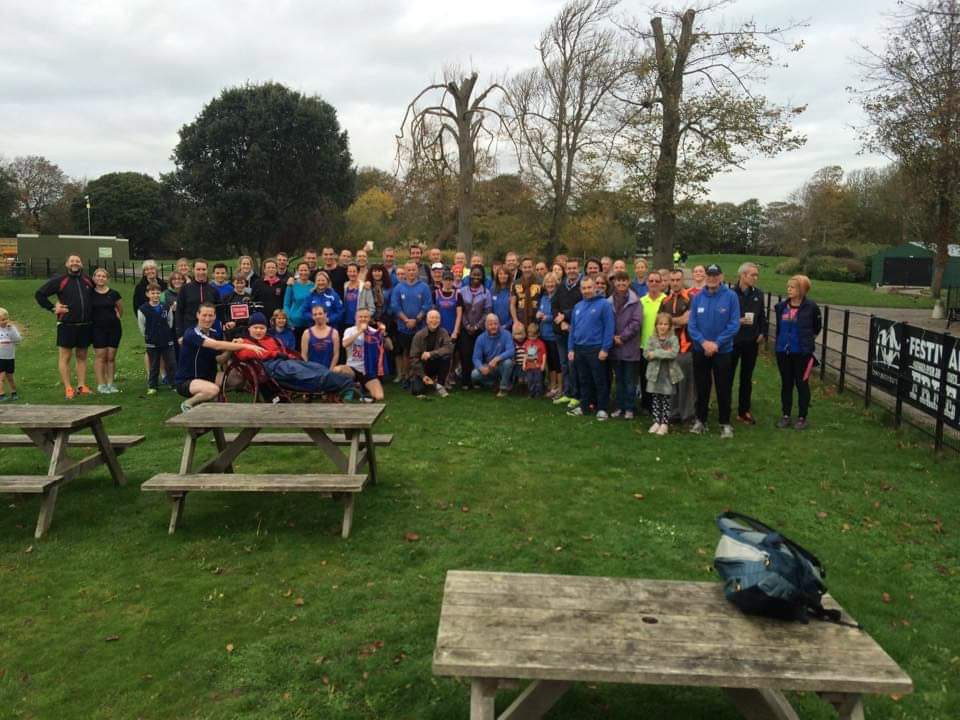 BOGNOR REGIS PARKRUN

The morning of the GSR we arrived early, checked and double-checked Aaron's running chair before heading to the start line. We knew were we should start due to our anticipated finishing time, but a marshal told us to go to the back of the field. We were happy to oblige as we didn't know any different, but experience has since taught us that this isn't always the safest place to start. Each race is different and it very much depends on the field, for example, Dublin Marathon has approximately 18,000 runners and we always start at the front with the first wave starting a few minutes later. This works well as we stay to the left-hand side and the faster runners pass us, allowing us to settle into our pace. Starting at the back of a large field is difficult as we have to go at the slowest person's pace, which can often be walkers. This is frustrating as we cannot run our own race, are held up, are unable to get past anybody and could easily run into someone. Generally, we start in the middle of most events, however, on this occasion it didn't matter as much to us as we were just happy to be there and as the race started, we got so much support and shout outs that our nerves and anxiety quickly fell away. Then as the race progressed the field opened up and we had the opportunity to run at our own pace a few times and even managed a sprint finish!! That was the start of our running journey and the more races we attended the more confident we became.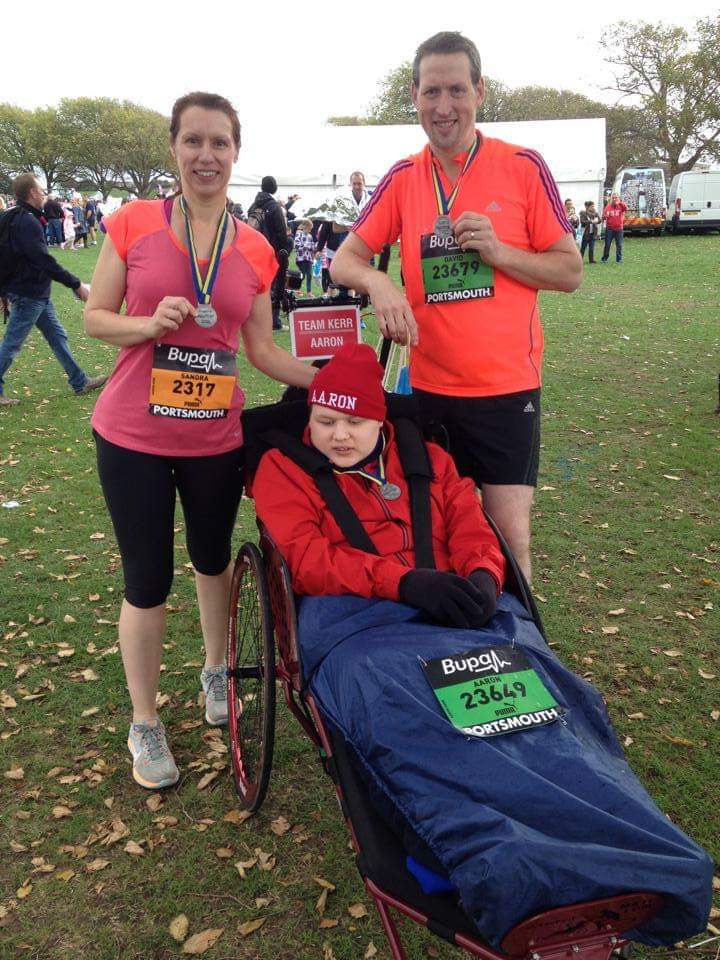 GREAT SOUTH RUN 2015

As we built up more positive attention in the running community, we saw this as an opportunity to promote inclusion for our son and others with complex needs. It's not easy being the only one doing what you're doing, but we knew it was important. Our confidence was growing and what we were learning from running was enabling us as parents to cope in other situations. Before we had viewed staring as a negative, but now we saw it as a positive and something we could use to our benefit. People were starting to chat to us and comment how refreshing and inspiring it was to see us out, taking part alongside everyone else. Aaron started to be known and no matter where we ran on the island of Ireland, someone always shouted out his name. We now have many of the elites coming over at the bigger events we attend to get a high five or hug from Aaron.
Even after almost 170 events we still approach every race the same. We contact the organisers and ask them if the course is accessible and whether or not they will allow us to take part. We don't take it for granted that we will be automatically allowed into a race and we don't expect special treatment, but on the whole, we have been accepted and welcomed. Unfortunately, there are always exceptions and those races tend to be the ones that other runners complain about in general. Outside of this island we have had our fair share of heartache with events either refusing us on their course or simply ignoring us and hoping that we will go away. This is hurtful and we have had to grow a thick skin, but accept that it is part of the journey we are on and keep moving forward. If a course is accessible, we strongly believe that Aaron has the right to take part alongside everyone else and be treated equally.
In conclusion, we have learnt that there will always be races that don't want us, there will always be runners that feel we don't belong on the course, but Aaron has and continues to inspires others, bringing positivity to each and every race he attends, and that can only be a good thing.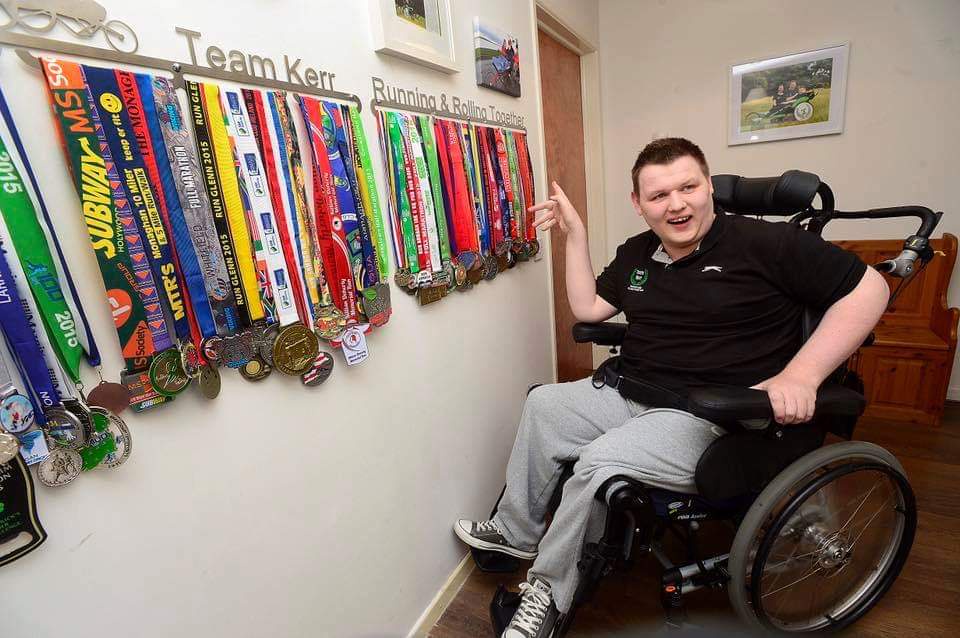 AARON'S MEDAL COLLECTION TO WHICH HE HAS SINCE ADDED TWO MORE HANGERS
written by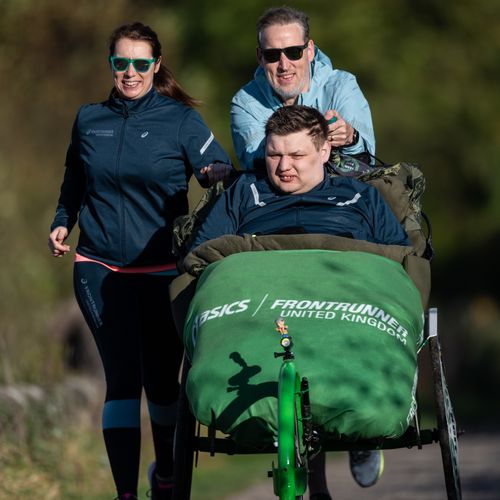 My Disciplines