No matter how talented or how hard you train the key to your success is believing in yourself so you are able to achieve your goals.
No matter how talented or how hard you train the key to your success is believing in yourself so you are able to achieve your goals.
Last Sunday I did my fist triathlon in nearly 6 years. I always believed the bike was the root of my injuries when I first took up running. With big injuries that kept me out of action for long periods of times and nearly giving up on running I turned my back on triathlons; but it was triathlons that got me into running.
So looking back at that it was wise of me as I was hugely put off by injuries. I believed I could stay injury free and after staying injury free for a while and gaining lots of PB's I moved into Aquathlons where I went from strength to strength and have achieved some great things.
I decided last year to get back on the bike and try and do some triathlon's this year and see if I would enjoy it. As a mental aspect getting back on the bike was very concerning for me because of the history of my injuries. I believed I could get through this and despite being knocked off my bike this year, I forced myself out on the bike and I was enjoying it. Sadly I was meant to do 2 triathlons this year but because of normal life commitments I can only do one triathlon.
So I did the Channel  Sprint Triathlon on Sunday, very nervous and had no target, I just wanted to enjoy it. It was a sea race in Folkestone and it was also my first triathlon which was not in the pool. It was a very windy day and the swim got cut by 250m. The race started and I knew swimming would be fine but the waves going out were so strong it felt like I was being slammed against the floor. I was struggling to breathe and didn't enjoy it, but once we turned around with the waves pushing you I was fine and came out of the sea in the lead. We had to run around 1k into transition, so I was able to pull away.
I then came out of transition on the bike and was quickly overtaken by two competitors. I knew the bike would be tough and the course was super hilly but the miles flew by and I was out on my own for 9 miles until a group of competitors came riding past me drafting each other in a non drafting race. I wasn't 100% sure about the rules but I knew I need to drop back so I stayed well back.
I came into transition in 8th place but was very happy with my bike performance. I then got onto the run and my legs felt awful. I started overtaking people and by 2.5K my legs felt fresh and I went from running a 6.10 mile to running 5.40s. I soon caught 3rd and went past him, I still didn't expect to be this high and I managed to take 2nd place near the end.
I was over the moon and shocked that I had placed, I wasn't even expecting a top 20 placing. I always believed I could be strong in a triathlon if I worked at it. This has now made me want to do triathlon's more next year so watch this space.
Photos by Lee & Jo Robinson Photography
written by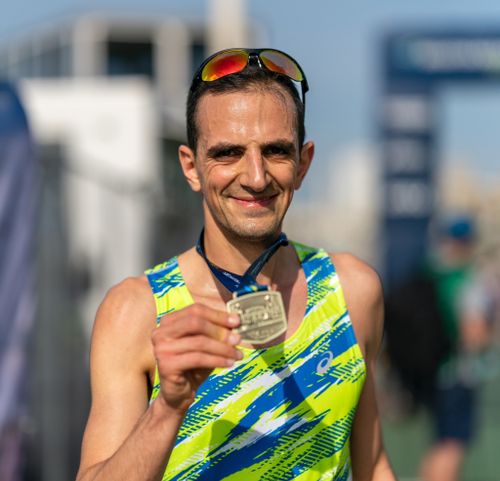 Yiannis Christodoulou
NHS Performance analyst from Canterbury

Age group: 40-44
Club: Canterbury Harriers, Ashford Triathlon Club, GB Age group team, Age group 2017 Aquathlon team captain
Coach: My self in running Level 2 coach in running fitness, Craig Coggle Strength coach, John Wood Swimming coach
MY DISCIPLINES