I headed off to Brighton on Saturday morning for the Brighton Marathon Weekend.
I headed off to Brighton on Saturday morning for the Brighton Marathon Weekend. I was lucky enough to be gifted a place by ASICS and it was also a Frontrunner meet up. I was very excited to meet the new team members and catch up with everyone. I was also excited to run my first 10k since 2020. I decided with coach Mark not to taper for this race as it was not a priority but to see where I am and prepare for my first Triathlon race of the year in a couple of weeks. If you have been following my journey this year you will know that I am training for my lifetime goal of representing GB at the World Sprint Triathlon Championships in Montreal. I have also recently found out I have a place in the mixed relay team the following day after my race, so very much preparing for this and looking forward to it.
Training has gone very well over the winter, where I did my local Cross country league races not fully fit as I had a break from training after the European Championships in September and was doing minimal and easy training. It was good to see that in each race I got faster and placed higher after each race. Once January hit, I started increasing my training for the World Championships and now peaking at 15-16 hours a week for this race. This consists of 2 strength sessions, 4 runs a week, 4 swims a week and 4 bike sessions a week and of course a weekly rest day.
Anyway, onto Brighton – so I was tired going into this race and I knew that the day before the race would not be ideal as I would be on my feet most of the day with doing the Frontrunner stuff, but I of course factored this in. It was great to meet up with the team and new members. I logged 21k in steps on Saturday whereas when I race I normally chill and don't do very much. Race day arrived, unfortunately I didn't sleep well at all, this normally happens when I stay in a hotel for the first night. Feeling tired I met up with the team for breakfast and we all discussed what time we were going to be chasing. I knew that when I ran 16:46 last year in a 5K that I would be on for 10k PB with my official PB being 36:28, however wasn't sure about sub 35 minutes. I joked with the team and said on a good day I could easily get into the 34 minutes; they have been giving me some banter about that. To be honest deep down it was sub 35 I was chasing and knew I was running well but could I do it with being tired and off a hard week of training with no taper?
We all jogged to the start line and it was packed with runners for the two races. I started with Rob who was aiming for low 34 minutes or under. We started the race and off we went. Rob soon went off into the distance and I held back the first mile which was downhill for a bit; I then paced it and found the inclines taking a little bit out of me. It was nice to see a crowd around the course and we started before the marathon. I then got to the final mile and realised sub 35 could be a possibility and a big PB was on the cards. I tried to accelerate and my legs felt very fatigued which I haven't had before; normally I am able to kick on but I think it's because of not tapering. I tried to push on but legs were just happy to stay at that current pace. I saw the clock and finish line about 400m away and I was saying to myself "come on you can do it". I was over the moon when I crossed the line in 34:51 and a PB of well over a minute. Then I cheered my team mates across the line with a lot of the team getting PB's which made the whole week great. The 10k was a great race to do, a few inclines but a good fun course. When I started running in 2012 and my first 10k race in 2013 which my time was 42:25, I was so happy with that time and I never expected in ten years to achieve so much of what I have achieved. You have to be patient, train smart and learn from mistakes and you never how far you can go. I am now looking forward to what the Triathlon season has in store for me.
Well done to everyone across the weekend at Brighton.
written by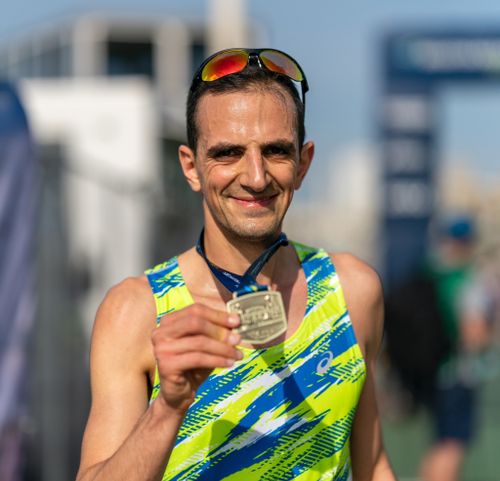 Yiannis Christodoulou
NHS Performance analyst from Canterbury

Age group: 40-44
Club: Canterbury Harriers, Ashford Triathlon Club, GB Age group team, Age group 2017 Aquathlon team captain
Coach: My self in running Level 2 coach in running fitness, Craig Coggle Strength coach, John Wood Swimming coach
MY DISCIPLINES