"No Human is Limited" – Eliud Kipchoge
In my London Marathon race review I used the line "Sometimes you have to roll the dice and go for it". You can read it here:
London Marathon 2019 race review
It worked there so I figured I would try my luck again in Chicago.
During training I had been following a Runners World 3:00:00 plan. However I hadn't quite been hitting the speed and time targets in it. I was racking up the required amount of miles but I think 3:00:00 was a step too far. My PB was set in London in April at 3:28:06 so 3hrs would've been a very big ask.
Prior to the race I came up with three different plans:
Plan A – Lets call it the 'play it safe'. This would be at the pace I felt most comfortable at, 7:50 min per mile, although I called this safe it would still give me a PB so wasn't completely safe.
Plan B – Known as 'roll the dice'. Target pace of 7:25 min per mile which would be a 3:15:00 marathon.
Plan C – Was 'All in'. This would be a 3:08:00 marathon and a Boston Qualifying time with a race pace of 7:10 min per mile.
For reference the pace for a 3:00:00 marathon, the training plan I'd been trying to follow, is 6:50 per mile.
I was undecided as to which plan to go for right up until the Friday or Saturday before the race. I knew it was a flat and fast course so it would be a good opportunity to go for it however I didn't want to blow up early and end up hating the race. After all this was my 2nd world major and possibly the only time I'll run it.
On the plane on the way over to Chicago I spent some time working out different strategies using a varying pace. I had done a couple of long runs where I took it steady for a few miles then gone hard for a mile or two then dropped back again then speeding up again. It was interesting to see that these runs went pretty well and I was able to hit the quicker sections even when they came late in the run.
I worked out pacing for a steady 11 miles followed by a quicker 9 miles then going for it during the final 6 miles. My only worry with this strategy was that when it got to the final 6 miles I'd have nothing left and wouldn't be able to turn it up any more. A feeling I have grown to know very well in previous races.
At the Expo I picked up a pacing tattoo for 3:15:00. I decided to roll the dice and see what happened. I wasn't entirely sure I could hold 7:25 per mile the whole way, but if you don't try you'll never know.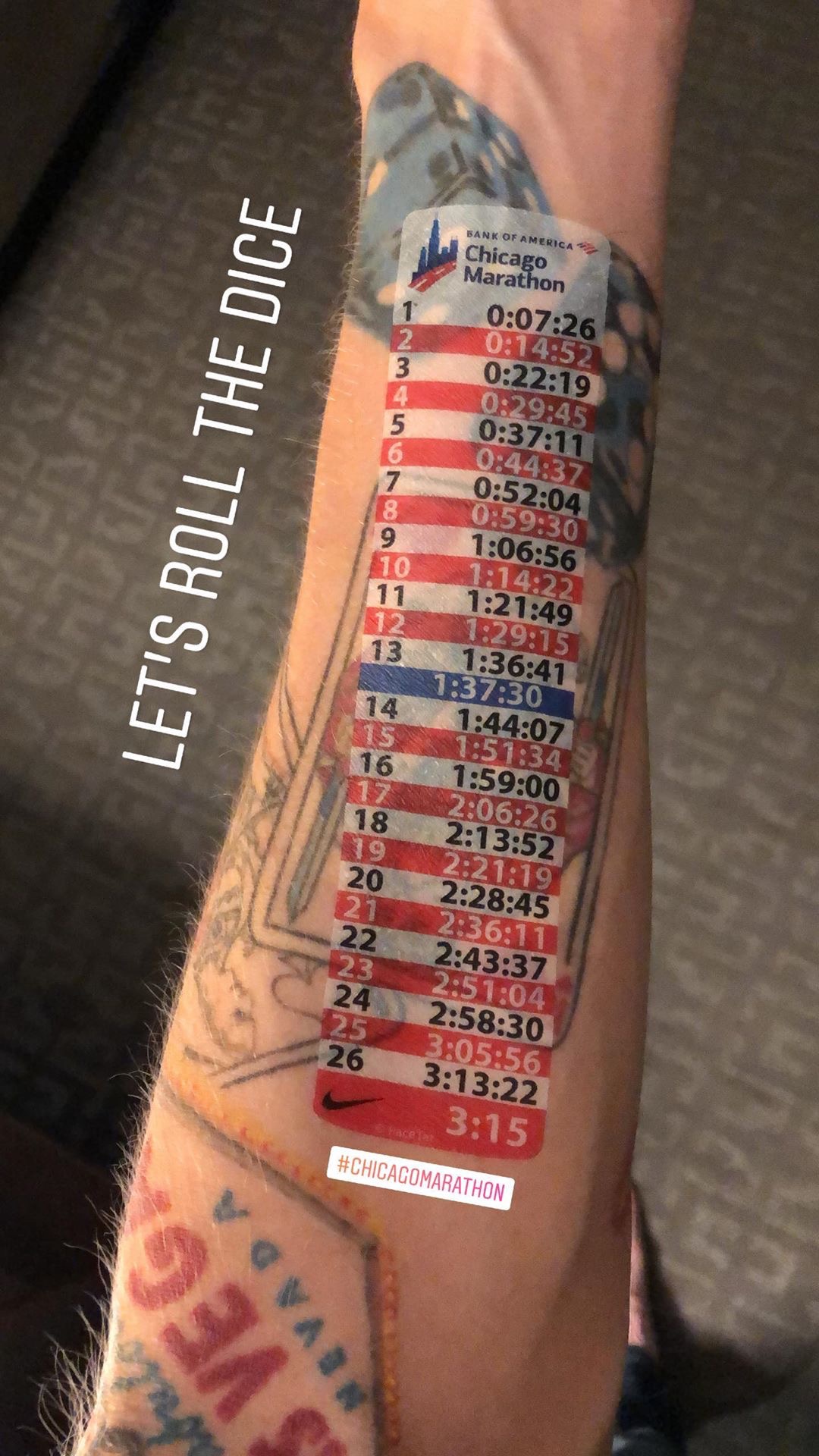 We had the International Chicago 5km on the Saturday which gave a flavour of the kinds of things we could expect on marathon day. The weather conditions were good, bit cold to start off with at 2°C, the tall buildings of downtown proved to be the biggest challenge. It was impossible to accurately track the pace you were running because the GPS could not get through / lock on. I had heard Chicago was notorious for this but thought it would only be the first 4 miles of the marathon.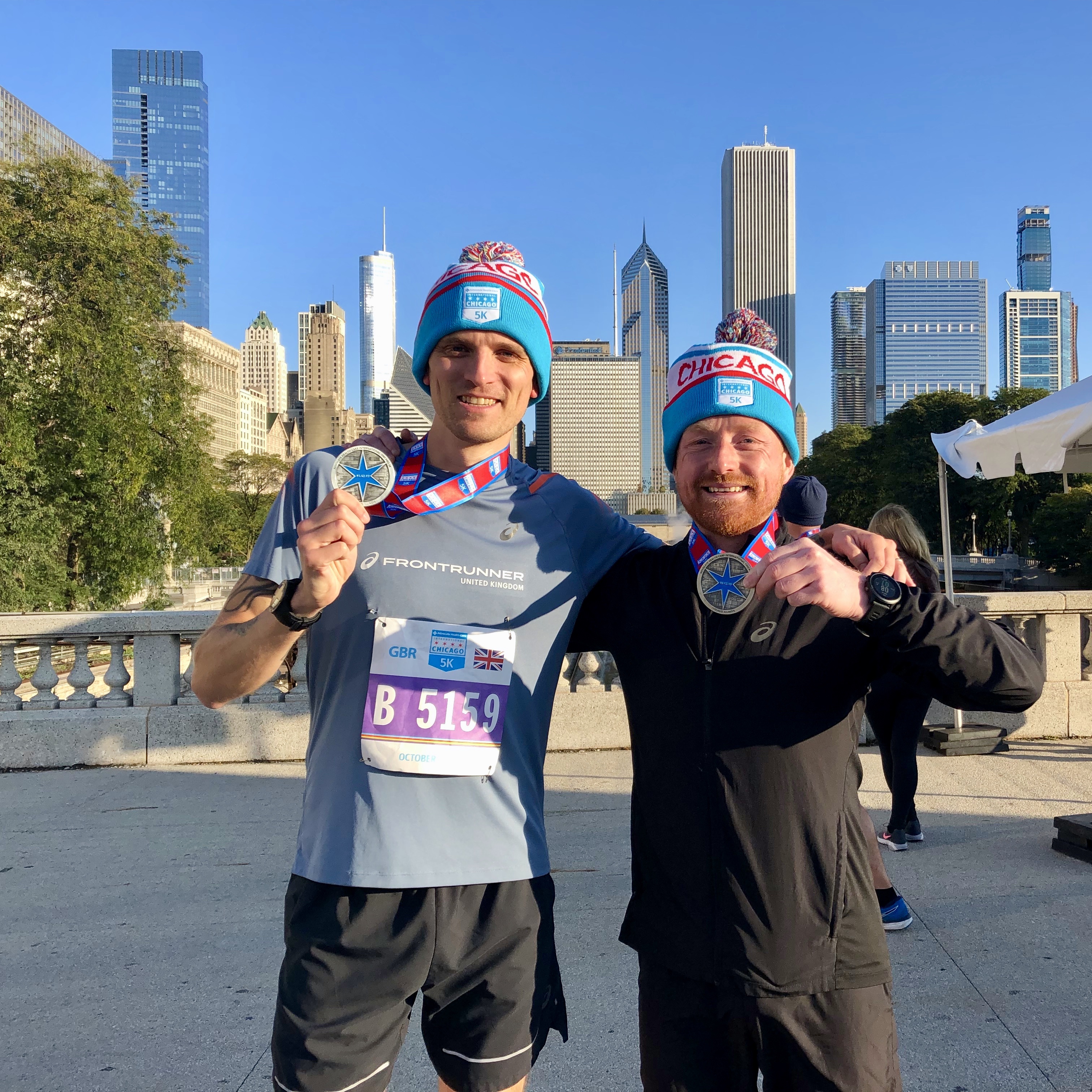 Saturday night I had my traditional pre race dinner, cheese and tomato pizza and managed to get a decent night sleep. I usually sleep terribly the night before a race. Jet lag may have helped with this.
I wasn't staying far from the start line so didn't have to get up too early, had a proper athletes breakfast of two nutrigrain bars and a cup of tea and headed over to the start area. The conditions were ideal for running, not as cold as the day before but not too warm. I dropped my bag at kit check and headed into the start corral.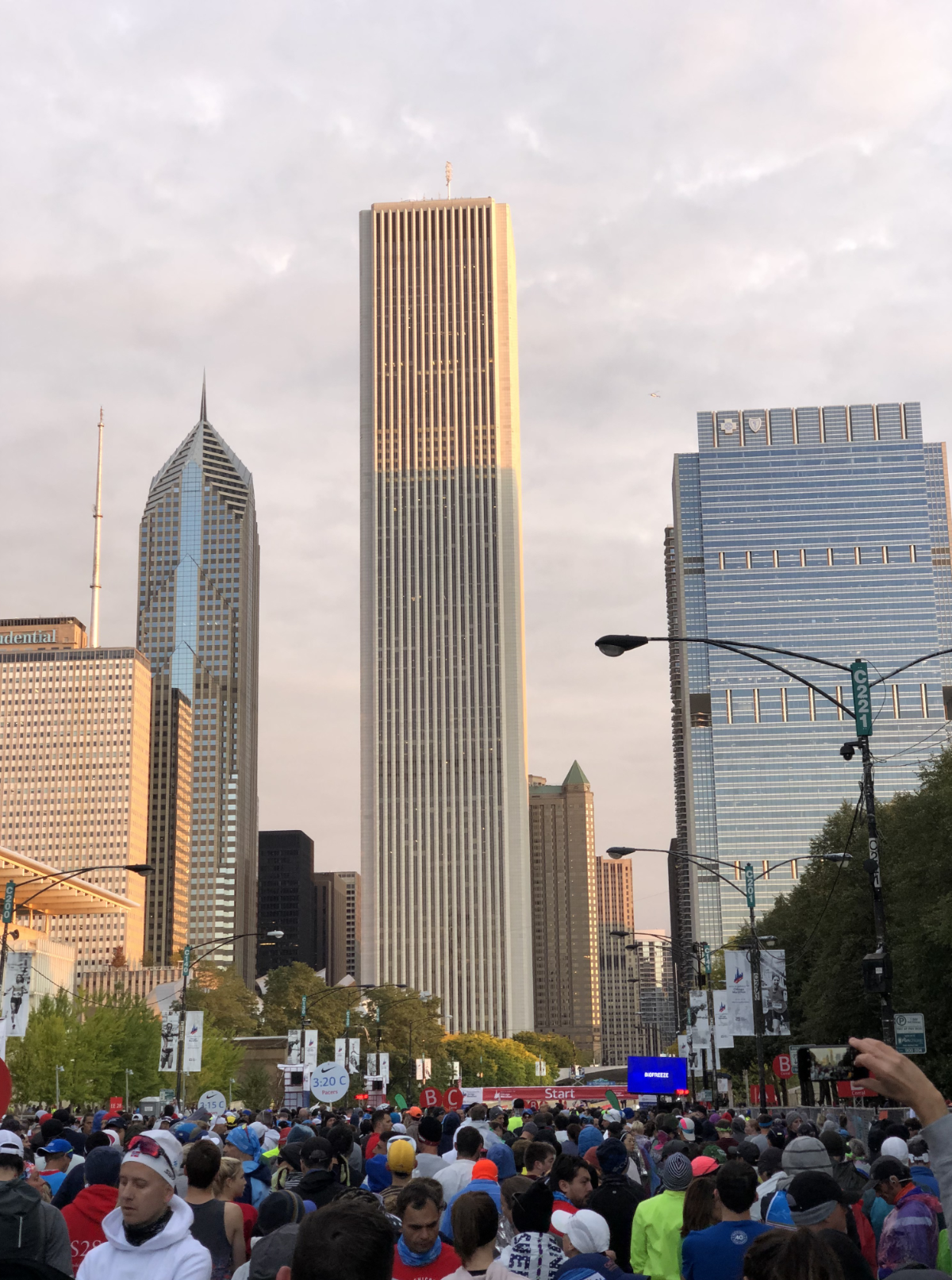 My initial plan was to find the 3:15 pacer and stick with them then see how I felt as the race went on and either try and push on at some point or just cling on til the end. The problem was the fastest pacer in my corral was 3:30.
So I set off and was left to my own devices.
My fueling strategy was to take a Science in Sport gel every 5 miles. This was a bit of a change to what I usually do as in the past I've taken one every 6 or 7 miles. I found on long runs I was feeling tired before taking it which would tend to indicate I'm taking it too late hence bringing it forward to every 5. I had 4 gels in total. Well 3 and a half. I noticed on the start line that one of them had burst and leaked a bit.
Now when it comes to an actual review of the course I'm not going to be much use. I don't remember too much about it.
I've heard stories of people doing the likes of Paris marathon and not remembering running by the Eiffel Tower. I used to think that can't be true, how can you miss stuff like that.
I've been told though that during the race in Chicago we ran by the United Centre which is the stadium that is the home to the Chicago Bulls and the Chicago Blackhawks. Apparently there were cheerleaders outside. I have no memory of this at all. Don't even remember seeing the stadium.
The reason for this I think is down to the fact I spent the majority of the race so focused on pace and working out different timings. I guess you could call it being in the zone.
The GPS was all over the place, I had no idea what current pace I was doing and as the race went on the distance covered according to my watch was getting greater and greater.
By around mile 4 my watch was saying I had covered 4.3. Luckily I had the pacing tattoo so I could check the total elapsed time at each mile marker and see if I was on track.
By this point I was just under so all was fine, except I started needing a wee. The race is really well supported and there were aid stations practically every mile with Gatorade, water and most importantly toilets. At 10km I made the executive decision to go for a wee, I broke off and dived into a portaloo counting the seconds out loud so I knew how long I had been stopped. (I didn't pause my watch).
I was in there for a good 40 secs, as I re-joined the race my aim was to throw down a fast 40 secs to make up for the time spent in the loo but this turned into a fast mile just to be safe.
More mile markers ticked by and still my watch said I was running further. By the 10 mile point my watch said I'd done 10.5 miles. Naively in the early stages of the race I had thought the watch must be right and the mile markers must have been wrong. By half way I came to realise this was a world major, it's well known the gps is funky. The mile markers will not be wrong.
At this point I kind of reset myself, wiped the false extra half mile from my mind and from that point the only thing I looked at on my watch was elapsed time. I then cross referenced this with the pacing tattoo at each mile marker.
In the latter stages of the race the only part of the course I could remember that we hadn't been through yet was China town. So I focused on reaching the china town gate. I also remember passing a mariachi band, not sure where these guys were.
Coming into the last 10km I knew I was a good minute under target time, maybe even 1:30. I wanted to have some time banked because I know in the last few miles I would likely drop off the pace so would need a bit of a buffer. This happened in London where I went from around 7:50 to 8:30 for that last three miles.
Luckily in Chicago I managed to stay fairly consistent and only dropped to about 7:35 per mile. The last 4 miles were the real business end of the race, it's so close to the end but still a good 30 mins of running to be done. I was constantly doing the maths in my head working out where I was and what I needed to be doing.
The very last section of the race takes you up Michigan Ave then there's a right turn with a short stint over a bridge then a left to the finish line. I was staying on Michigan Ave and once I began to recognise the buildings and surrounds I knew how close the end was.
This is the best part of any race, that finish line feeling, knowing that it's over. I think I knew I had done enough to get sub 3:15 but still tried a little kick, just to be sure.
I crossed the line in an official time of 3:13:52.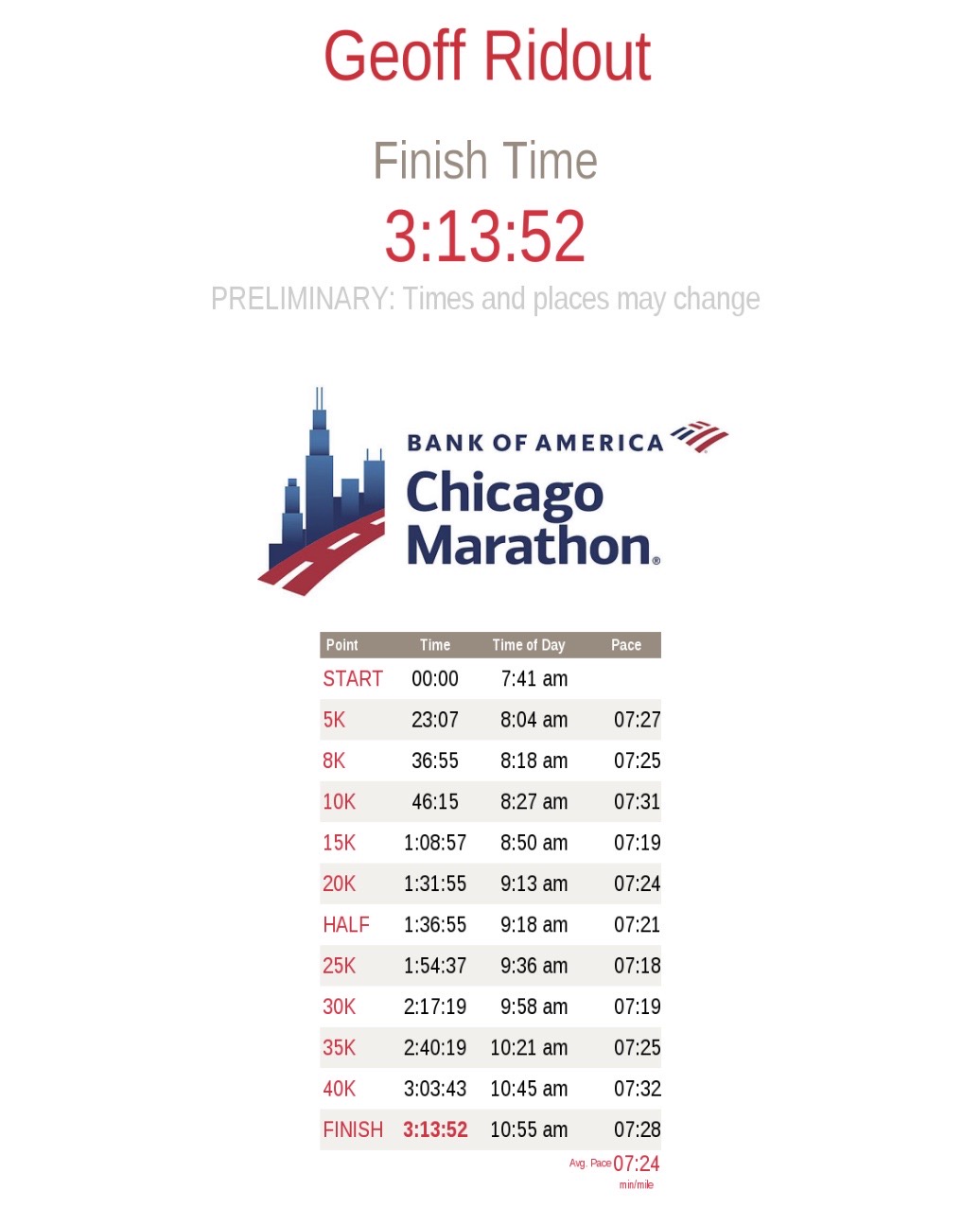 Lady luck had once again been on my side. It was a new PB by over 14 mins.
I was in disbelief as I stumbled down the finishing chute, I kept repeating the time to myself and left my sunglasses on as I nearly got emotional, twice.
Nearly exactly 2 years prior to Chicago I set a new PB in the Birmingham marathon with a time of 4:13:14. I never thought I'd go sub 4hrs let alone sub 3:15!
Chicago was a great experience and once again proof that if you commit to the training and do the work there's no limit to what you can do.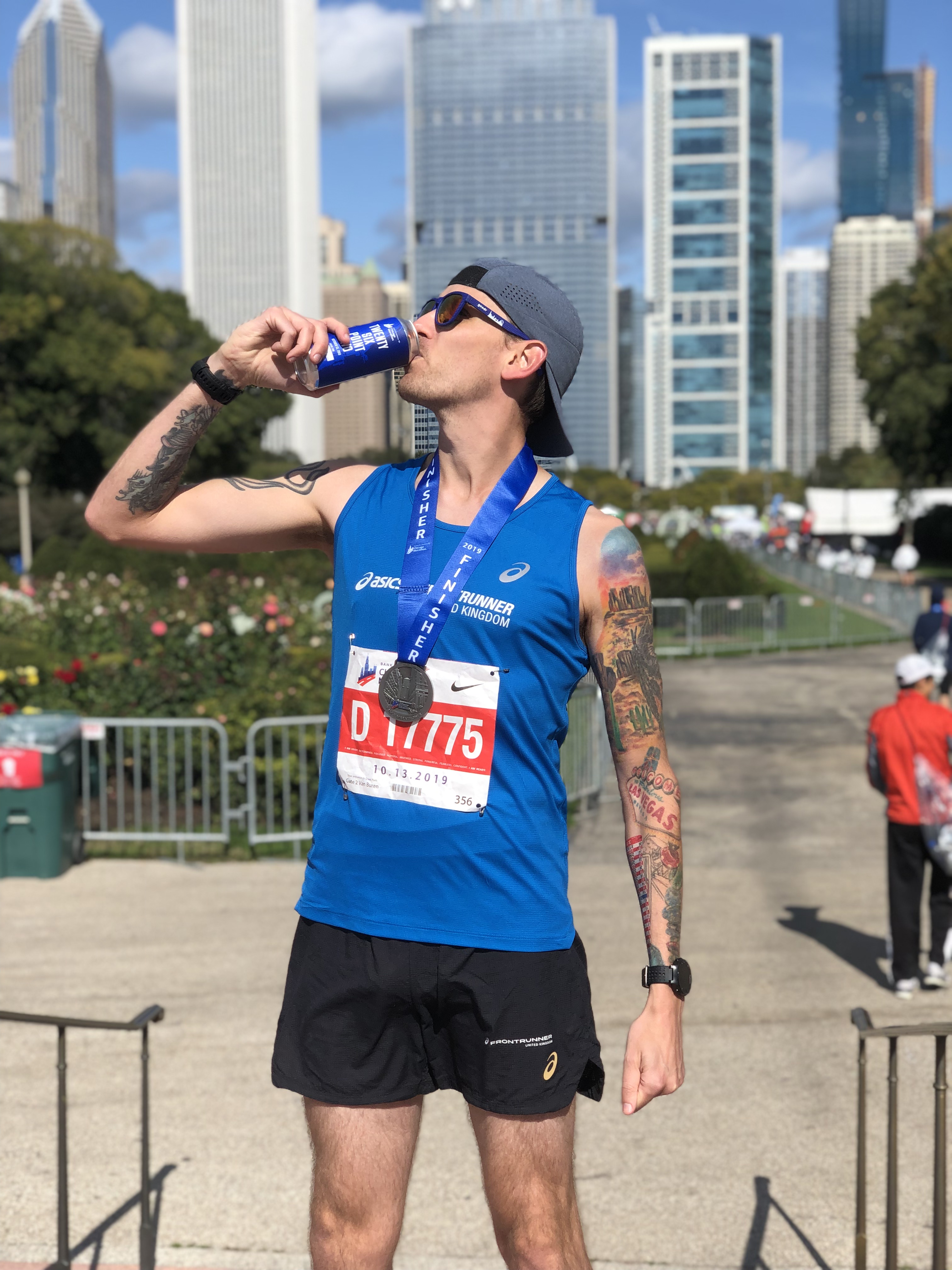 It was my 7th marathon and 2nd world major. Marathon number 8 I will be looking to shave off 5 mins and hunt down the holy grail that is a Boston Qualification time.
Edinburgh, you're next.
I trained for Chicago and ran on the day in the ASICS Gel Kayano 26: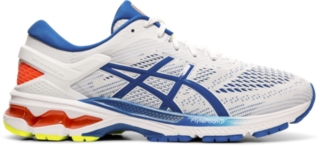 GEL-KAYANO™ 26
Enjoy luxurious comfort and improved bounce with the men's GEL-KAYANO™ 26 running shoe, featuring GEL™ technology to the forefoot and rear for high-density shock absorption and a comfortable feel over long distances. Featur...
SHOP NOW
written by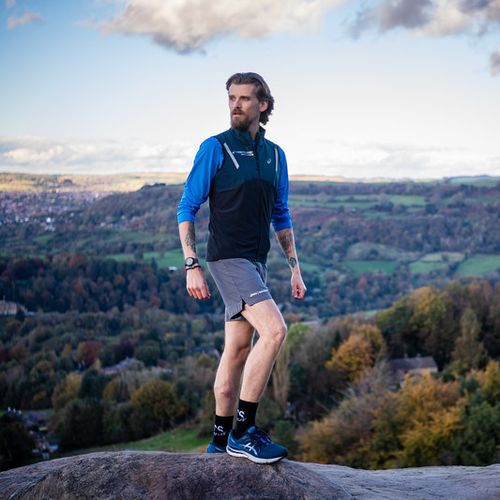 Geoff Ridout
Fire Officer from Birmingham

Age group: 40-44
Club: No

My Disciplines