What is an Aquathlon? fancy giving it a go?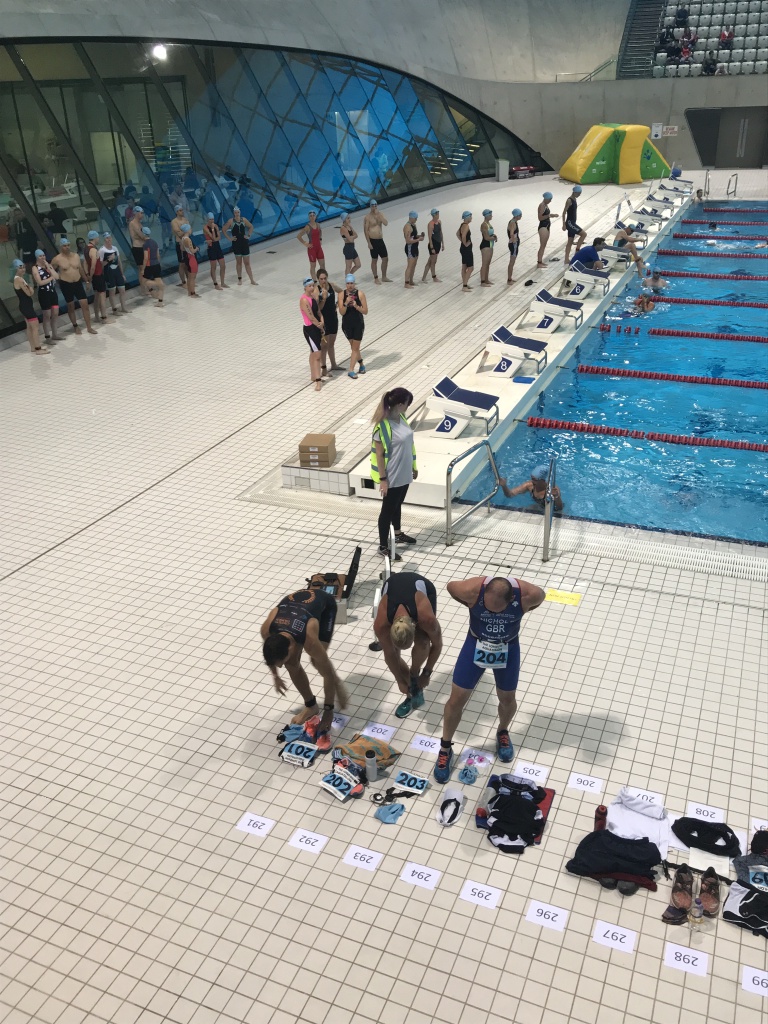 When I first started swimming and running back in 2012, I didn't know about Aquathlon's but I did of course know what Triathlon's where. I wasn't very good on the bike and kept getting injured because it wasn't set up right. So If you're like me and you like running and swimming you are probably thinking of doing an Aquathlon and perhaps use it as a stepping stone towards doing a triathlon, so here is my advice and tips.
What is an Aquathlon? An Aquathlon is a swim followed by run and the distances do vary depending if they are pool swims or outdoors. A standard outdoor Aquathlon is 750m lake sea swim followed by a 5k run, however you can get shorter swim from as little as 100m.
My first tip is decide what distance you want to do and whether it is an indoor/outdoor swim and then train for it. If its outdoor I would advise to train at least a couple times in open water before you do a race.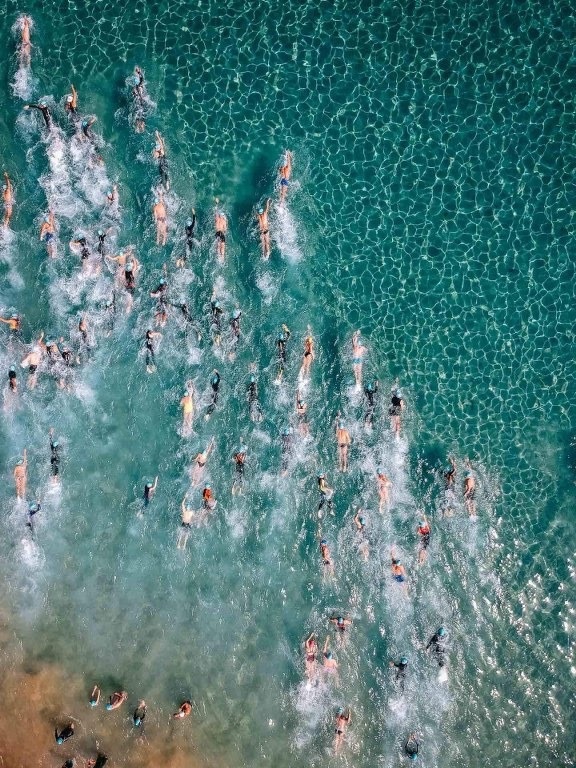 Next tip, what kit do you need? This depends again if the swim is outdoors or not. You will need the following kit:
• Swim Goggles
• Tri suit/swim wear
• Wetsuit
• Running trainers
• Race belt
Swim googles needed as you will be swimming front crawl in races. Tri suit/swim wear, it would be good to invest in a Tri suit that you can use in races and its much quicker as you won't lose time in transition getting changed. However you can use swim wear like jammers, swim shorts etc. the only problem with these are that you will need to put a running top on once in transition. Which can be tricky with you being wet. If you want to race regularly and in open water a wetsuit is a must. I would recommend you start out with an entry level wetsuit. You will be quicker with a wetsuit on, but if you're not a confident swimmer than a wetsuit is a must as it also provides you a bit of safety outdoors. Next you will need trainers, of course you need them to run with. Lastly a race belt, which is easy to use and saves you time in transition. These bits of kit will get you started for your first race. If you are doing a pool swim you will not need a wetsuit. I have a race check list because the more you get into it, the more items you take with you. A check list is important so that you don't attend a race forgetting something, so I would recommend having a go to list and checking you have everything.
Pool races are different to open water swims, because most of the time the pool races you go one after the other and won't get caught up in a mass start. If you are racing outdoors, keep calm and stay away from the main group if you're scared of being hit. Remember it's about you and nobody else, you are racing yourself and no one is judging you and if they are who cares. I would recommend to get an outdoor swim at least once before the race so you can finalise yourself with open water.
Next tip have a race check list because the more you get into it, the more items you take with you. A check list is important so that you don't attend a race forgetting something, so I would recommend having a go to list and checking you have everything. Take spares of everything if you can. I take two of most things to races just in case something goes wrong. For example my goggles snapped at the start line.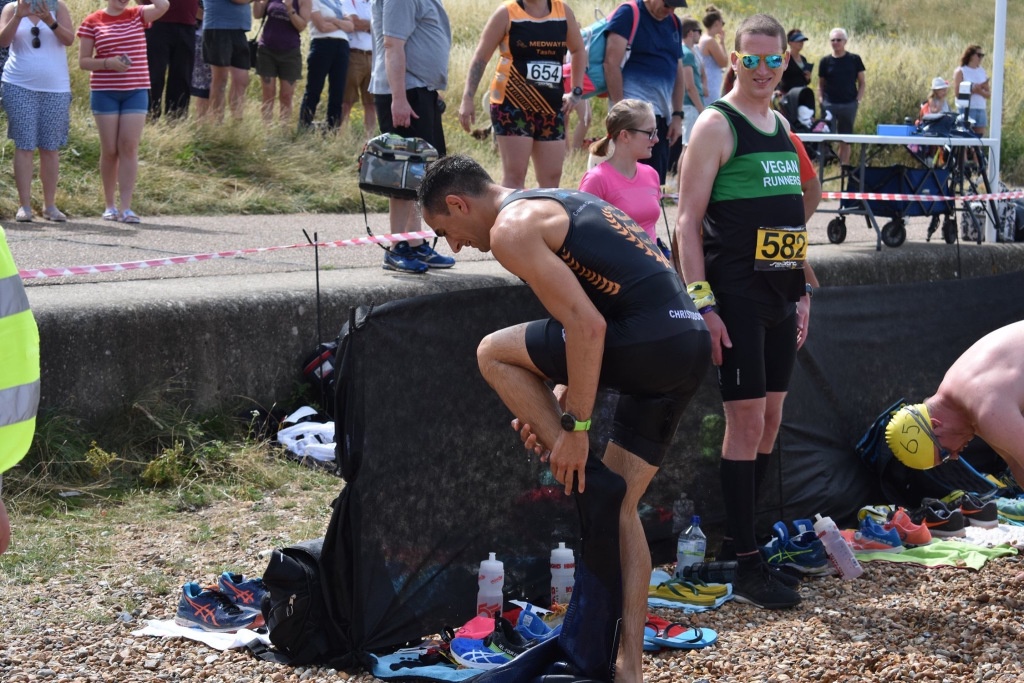 Transition training, I think it's important to go through in your head how you are going to come out of the water and what you will do once in transition to save time. It is important that before the race you lay your Items in transition in a way you can get to them easy and remember where about you are in transition too. If your racing open water you will need to learn to take your wetsuit off.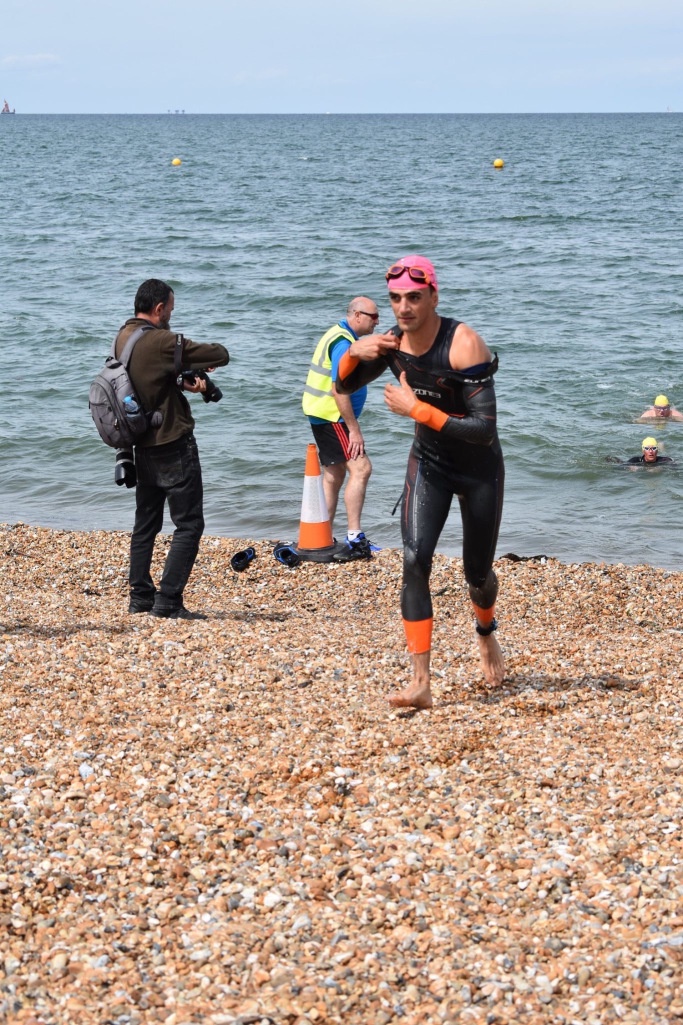 In a race staying calm is important, if you enter a race with a mass swim start then don't go in the middle, it can be very hard. Stick to the sides and take you own time and pace yourself. Do not copy others and do not change anything up. Race your own race and take your time. When you come out the water you might feel a bit dizzy before the run, this is normal and your body goes back to normal quite quickly. Then you head off to transition, take your wetsuit off if you're wearing one, swim hat and goggles. Put your trainers on and running belt on and then your off on the run. I normally put some baby powder in my shoes so my feet dry up quickly. Don't try anything new on race day, just stick to how you trained leading up to the race. Stick to your own race plan and don't copy others.
Put your goggles underneath your hat to prevent them being knocked off. The last thing you want in open water is to have your goggles knocked off, then having to find them.These are some of my tips to get you started in Aquathlons, enjoy.
In regards to what races to try here are some of my favourites:
Whitstable Surf N Turf
It's a lovely race in a beautiful setting in Kent and consists of a 200m or 400m sea swim followed by a 5k run along the promenade.
London Aquathlon
A unique opportunity to swim 400m in the 2012 Olympic pool and 5k around the Olympic park. This race has a special feeling when competing in this.
Hever Castle Long distance Aquathlon
Swimming route around the moat, is truly a lovely swim and unique but to top that off you get to run a challenging but scenic run around the castle grounds.
written by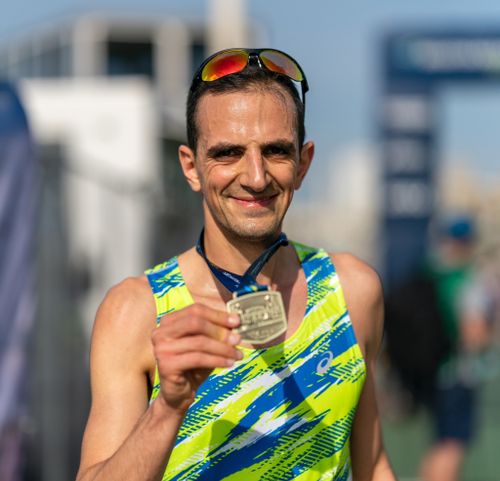 Yiannis Christodoulou
NHS Performance analyst from Canterbury

Age group: 40-44
Club: Canterbury Harriers, Ashford Triathlon Club, GB Age group team, Age group 2017 Aquathlon team captain
Coach: My self in running Level 2 coach in running fitness, Craig Coggle Strength coach, John Wood Swimming coach
MY DISCIPLINES