Diversity is being asked to the party; inclusion is being asked to dance.
 



We are all born equal 

Coming from a small town in North Northumberland with very few businesses to attract people here from outside the area for work you can imagine growing up we wasn't as culturally diverse as many peoples experience living in bigger towns and cities.
Growing up I can remember there was one Chinese family who run a local takeaway an one family from Bangladesh who own and run a restaurant, but sadly that was pretty much my experience of people from other ethnic groups.
Sexual orientation definitely wasn't something that was talked about openly at that time in fact being gay was just a term used to annoy you when you got one over on one of your mates and they would retort quickly with "shut up gay boy" It certainly wasn't something that was ever thought about and how offensive and derogatory it was to use that term at that time but it's something I'm now very aware of

Disabilities was something I really did know about as my cousin who is around the same age as myself has some severe disabilities both physically and mentally but again this is something that was at the time not something that was talked about openly in fact it wasn't until a lot later in life that I became aware of the extent of issues.

It would be easy for me to just be ignorant about all these different things and say I don't see the colour of people's skin or their ethnicity or ignore their sexuality or disabilities but what kind of person would that make me!
I think positively things changed for me was when I worked in our local sports centre. I started working as a gym assistant helping people with the equipment and through time writing programs for them. The people I was dealing with were all different and culturally diverse.

I regularly took a session for adults with learning and physical disabilities to get them to participate actively and worktogether. Something as a naive 22yr old I'd never experienced before, but I have to say it's probably one of the most satisfying and rewarding things I've ever done and I still remember those sessions today.



Fast forward to now I'm a 49 year old married father of three beautiful children. Lee 26yr who has his own flat now, keeps down a full time job despite being diagnosed recently with Asperger's syndrome.Finlay my 15yr old daughter who is definitely the brains of the family and Cerys 13yr who,s super intelligent as well but like myself has struggled badly  with her mental health but despite that is challenging herself all the time.

I love being  part of the ASICS frontrunner team and I am so proud to be able to say I'm part of this incredibly diverse team of people. People from all walks of life and each one has a story to tell that's so inspirational and humbling and for this I'm truly grateful.



written by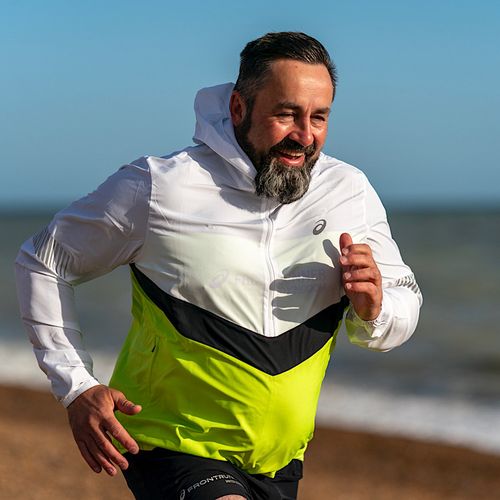 Brian Bowden
Team leader @ Network Rail from Berwick-upon-Tweed

Age group: 40-49
Club: Tweed striders

MY DISCIPLINES