Every action, no matter how small, you take in order to protect the planet counts - every single one. From small sustainable swaps that reduce your consumption and decrease your environmental impact to larger lifestyle changes, lobbying, activism, research and more. Sometimes things may feel meaningless, especially when facing large environmental challenges, but actions matter- YOUR actions matter.
Earth Day 2022 focuses on the theme 'Invest in our Planet' and calls for action to deliver a green and prosperous future. Everyone is accountable and we all have the power to drive change.

I've seen first hand just how much our planet is changing, and it is truly shocking. From 2012 to 2016 I studied Icelandic Glaciology as part of my PhD and the rates of change season upon season we observed were far greater than I ever imagined. Unfortunately, this is something that is being replicated around the world with the speed of which the world's glaciers are melting almost doubling in 20 years.
As a runner, I'll never forget the 2018 London Marathon- which coincided with Earth Day, being a tropical 24 degrees, the hottest London Marathon on record. Our combined surface air and sea temperatures are rising - with 2021 being one of the hottest years globally since records began 127 years ago. This is a trend that will likely continue.
When presented with this information it is easy to feel overwhelmed, powerless and confused as to what role you can play, but let me remind you again- every single action matters- because even the smallest of changes when done by many adds up to a large change.
You don't need to be perfect to live a more sustainable and environmentally conscious life, and you certainly don't need to be perfect to speak about this. Because spoiler: nobody is perfect. We all have a carbon footprint from the minute we are born. We might be fortunate enough to go on holidays requiring flying, or we may need a car for the school run, these aren't barriers or things to feel ashamed of when discussing the environment . This post isn't written to preach at you from a 'perfect' viewpoint- I am not the most perfectly sustainable person in the world, but I am a firm believer that we all have the ability to try and therefore if we can make some seemingly small sustainable swaps we should go for it!
So if you're inspired by Earth Day and wondering where you can begin, here are some small sustainable swaps you can make as a runner to help our planet:
Reduce, reuse and recycle your kit: ensuring your kit stands the test of time is one way you can reduce waste and environmental impact. Take good care of your kit, follow the washing instructions (and wash at 30 degrees/ do any zips up/ use a guppy bag) and repair where possible. When your kit reaches the end of its life look for options for recycling, for example clothing or shoe recycling points or in store kit exchanges- e.g. Runners Need Recycle my Run where you can exchange old worn out running shoes for a voucher off a new pair.
If you find yourself with kit you don't need, wear or find comfortable look for local running groups/initiatives/charities you can donate this to, offer it to friends/family, or pop it onto reselling sites such as Depop or dedicated Facebook groups. You could even set up a swap shop with your running club or running friends to exchange kit. Similarly if you're looking for new kit reselling sites and swap sites are a great way to find new or nearly new items of kit and save some money whilst doing so.
Say no to race tees if you can: many races are now cottoning on (pun intended) to the fact that race t-shirts have quite a large environmental impact. It is estimated that around 50% of textile waste in the running community can be cut by eliminating finisher t-shirts. When purchasing race places look for the option to opt out of receiving a race t-shirt (or refuse one at the end). If you find yourself with race t-shirts make the most of them, allow them to fulfil some sort of potential to justify their production. You can read my full dedicated discussion about race t-shirts here: https://thisbunnyruns.com/2020/04/28/the-debate-around-finisher-t-shirts/
Try adding more vegan/ vegetarian meals to your week: intensive farming poses issues for the planet in terms of emissions, land and soil degradation, deforestation, mass extinction of wildlife, biodiversity loss, release of pollutants from fertilisers and more. Livestock farming occupies up to 83% of farmland and produces an estimated 60% of agricultures greenhouse gases. A 2018 study by the University of Oxford showed that reducing meat and dairy in your diet can help reduce your carbon footprint, with a vegan diet believed to be the single biggest way to reduce your impact on the Earth. Whilst maintaining a vegan diet is often not possible or desirable for many, adding more vegan and vegetarian meals to your week, for example a meat free Monday, is a great way to begin reducing the environmental impact of your diet.
Say no to plastic bottles: many races are stepping away from plastic bottle usage. Some have taken the drastic option of offering no water on the course, others seek alternatives including cups, pods and more. Running with a pack and bringing your own water to races not only helps reduce your plastic bottle usage but it is often much more convenient as you can take on water when you want/need it rather than waiting for the often chaotic water stations. In your day to day life carry a reusable water bottle rather than buying bottled water on the go- taptastic is fantastic. You can read more about racing and water bottles here: https://thisbunnyruns.com/2020/05/10/running-the-road-to-sustainability-can-we-eradicate-single-use-plastic-bottles-from-races/
Travel actively: many of us don't think twice about jumping in the car for short journeys, however it is these short journeys which can often be more polluting per mile linked to engine inefficiency. Instead swap the car for a run commute, bike ride, walk or use public transport. Car sharing to races, parkrun and club runs is also a great option to reduce the number of cars on the road (but needs to be done safely due to COVID).
Choose local races: the buzz of big races can be amazing and for many who live in more remote areas are the only option, but where you have the opportunity to race locally don't be afraid of picking a smaller race close to home. Yes they may not have the glamour of big races, but smaller local races can reduce your carbon footprint in terms of travel, often use less resources (think less water bottles, fewer race t-shirts etc) and support local charities, causes and businesses. If you are a big racing fan, why not try strike a balance between the two. In addition, supporting races that are consciously making an effort to reduce their environmental impact, sends a message to other races that this is what customers want.
Ditch the disposables: disposable period products and plastic razors used to be a firm feature in my life. It is only within the last 12 months that I ditched the disposable period products in favour of more sustainable alternatives. I must admit I was highly resistive to this at first, as it is a very personal decision, but I've found it to be a very worthwhile swap. Each year in the UK disposable period products generate more than 200,000 tonnes of waste which can take up to 500 years to break down in landfill. Making swaps to more sustainable alternatives (for example period pants or cups) can help reduce this figure, even if it you only switch for a few days of your cycle.
Similarly, with disposable razors these are often problematic for the environment because they cannot be recycled due to their mixed material composition. Switching to reusable razors not only generates less waste, but often gives you a better shave.
Take your litter home: this might sound obvious, but I'm sure you've all seen a stray gel packet discarded on a country trail or in the gutter on a popular running route. Ensure you take any litter home- many gel packets can be also recycled!
You have the power to drive change - use your voice and speak up about environmental issues: a large reason I have chosen to write and share this blog is that I am a firm believer that the more we talk the talk and walk the walk about climate change and the environment, the more it will deliver positive action. Share your sustainable swaps with friends, join a climate rally, write to your MP, get involved in local climate related projects, read up on climate change. You are your own super power- don't be afraid to be perfectly imperfect when it comes to making a difference.
Happy Earth Day!
written by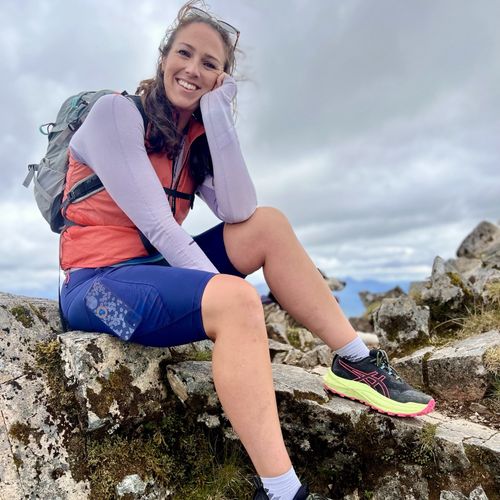 Becca B
Envrionmental Research from Southport

Age group: 30 - 35
Club: Greenwich Tritons, Southport Strollers

MY DISCIPLINES