How do those who race to win, think eat and train?
Allow me to preface this by saying, try not to be offended and use your common sense.
These are the lessons I have learned from someone whose goal was to be the best. Athletes of this calibre are rarely molly coddled by their coaches, and if your goal is just to have fun, much of what I have written may not apply to you.
1. An easy run isn't necessarily an easy run.
Those days where you want to turn back after only fifteen steps from your front door? I've had more than I care to count in the past couple of months.
On one particular day, feeling puffed out, crabby and aching all over, I voiced my concerns to Holly.
"Surely an easy run isn't supposed to feel like a tempo session?" I whinged.
"What's your heart rate?" Came the reply.
"146"
"Are you injured?"
"Well, no."
"Suck it up then, buttercup."
I quickly learned that how you feel isn't necessarily an indicator that you should slack off the session or slow down to a pace that makes you feel more comfortable (technically these are called 'recovery runs').
Easy runs should be set to a target pace and heart rate. If you're meeting these criteria but just not 'feeling it', you may need to have a conversation with yourself. Yes, a certain amount of intuition has to come into play here. If you're eating five hundred calories per day, attempting to run through an injury or you've jumped your weekly mileage up from twenty-five to one-hundred over the course of the last two months then of course, your body is probably trying to tell you something. But if your goal is to improve as a runner by increasing mileage, speed or both, then feeling tired achy and unmotivated is sometimes just par for the course.
2. If you don't feel sick toward the end of a 5-10k time trial you're not working hard enough.
Since reducing my Parkrun pb from 20:08 to 18:48 during our current isolation period, I've performed four 5k time trials. The one consistent factor in each of these efforts was the feeling that I was going to puke during the final kilometre.
I am assured by Holly that this is a good proxy for the level of exertion necessary to absolutely SMASH a new pb.
If you really want to know what you're capable of over shorter distances, you must be willing and able to suffer.
You may be sensing a theme here…
3. In order to run faster, you need to run faster.
Yes, even if you want to be a better ultra-runner, you should include at least one quality speed session in your weekly training.
My personal experience with this is best told with a comparison of my performances at the 'Giants Head Trail Marathon in 2017 and 2019 respectively.
I spent three years performing ludicrously long training runs. An average Wednesday morning trot would clock in around twenty-eight to thirty-one miles. In 2017, sandwiched somewhere between a fifty miler and an eighty-two miler, I ran Giants Head for the first time. I had at this point, never performed a quality 'speed' session. Out of just over five-hundred people, I came in at roughly four-hundred and fiftieth place.
In 2019 I decided to enter again. Determined to do better, I asked Holly for some advice. I'll let you guess what the answer was…
After a few months of once-weekly speed work, we finally found ourselves approaching the start line of one of the most beautiful trail races the UK has to offer.
"What pace should I run? Should I start out slow? I panicked.
I realised after 8 weeks of running at very specific speeds, that I had no idea what kind of pace I should aim for during a technical trail marathon.
"It's a race. That means you run as hard as you can." Was Holly's reply.
This was not the answer I had expected, but instantly showcased the difference in mindset between that of a competitive runner and a fun runner. I came from a world of 'start slow' and 'walk the hills'. She came from a world of 'you're either first or last'.
Whilst I will never be a podium finisher at most races, I learned a valuable lesson on that day which was simply this; you're capable of more than you think you are.
The gun went off and I pushed. I pushed from the first mile to the last, ending with a sprint finish in a race against two other guys.
Out of over five-hundred people, I came in thirteenth overall, weighing one-hundred kilos.
4. Bad food isn't necessarily 'bad food'
Prior- to and post-training fuelling are critical to get right, if you want to perform at your best.
When we started training together during Lockdown, Holly's preferred pre-session meal was usually toast with jam or honey. As a trainer and lifter, my informal education in performance nutrition had steered me toward 'slow burning carbs' such as oats for breakfast, and a solid protein source with a little fat - usually eggs.
Let me attempt to dispel a very common myth in the health and fitness world by simply saying this:
Oats before a balls-to-the-wall running session is not the best idea.
I spent years sucking down porridge prior to my weekly runs but could not get my head around why I always felt so sluggish and slow. The same went for eating healthy, whole food bars during races. As soon as I ingested anything labelled as 'all-natural', I felt a huge slump in energy.
The switch came during our recce of the Uk leg of the 'ASICS London to Paris' challenge in 2019.
Two, back to back, twenty-eight-mile days over the Southdowns way with a big pack on your back demands appropriate fuelling. I had stocked up on my expensive 'Caveman' bars and religiously took small bites at regular intervals throughout the day. As usual, I felt sluggish and grim after every mouthful. Holly had a dairy milk with her. Obviously, she felt fine.
The next morning at breakfast, I decide to take a different tact. I stocked up on pre-packaged croissants, soreen loaves and mini mars bars, and relegated my remaining 'Paleo Pauls Macadamia Nut & 85% Dark Chocolate Fruit & Flatulence Bars' to the depths of my pack.
The difference in my energy levels during our second day was noticeable, to the extent that I began to play with my breakfast/pre-session meals, to see if changing my food selection had any significant impact on performance. My oats and eggs prior to workouts soon turned into a white bagel and jam with a whey isolate shake. My performance improved, my energy levels increased, and I wasn't running with a bloated gut anymore.
Am I saying that this is a healthy way to eat, day in, day out? No. Especially not for someone who isn't training regularly and training hard. Whole, natural foods should make up the bulk of your daily intake, but if performance is a priority, you may want to consider re-evaluating any food biases you might have when it comes to pre and post- workout nutrition.
5. Shoe Selection requires having a selection of shoes.
Our current running schedule requires that we train on consecutive days. What you wear on your feet on the day of – and day after - a hard session will have a huge impact on how you run and how you feel.
For a fast session, the less weight you carry, the quicker you should be able to run. With shorter, higher paced sessions, our form is also likely to be more efficient than it might be on a longer slower run. Both of these factors would suggest that a lighter, potentially less cushioned shoe, would be optimal. I usually opt for either the ASICS Evoride or ASICS Novablast. The Novablast are light and well cushioned, but the Evoride are lighter still and, whilst less cushioned than the Novablast, feel a little more stable.
Now imagine going for an easy run the next day for say, 6-8 miles. Chances are, everything from the waist down is going to be fatigued from the previous day's work out (if you've worked hard enough). Tired legs and hips equate to a potentially less efficient stride, and in this instance may require a shoe with a little more cushioning and stability. The trade here is weight. Couple fatigue with a noticeably heavier shoe and your easy run becomes a suck-fest the likes of which I described in point one.
Unfortunately, I cannot recommend a light, cushioned, supportive shoe for days such as these. For some reason I just do not gel with the Kayano's or GT series, but for many they are the perfect long run shoe. Oddly enough, the Gliderides seem to fit the bill nicely, despite not being a supportive shoe. The rocker technology just seems to offset the accumulated stress from the day before and helps reinforce the cues Holly has instilled into me at each drills and strides session.
Top Tip: Want to run with better form? Dedicate one or two sessions per week to drills & strides. At the very least, perform them before each quality session.
And there you have it.
If what you took from this article was 'eat crap and smash yourself at each session', I may need to work on my communication skills.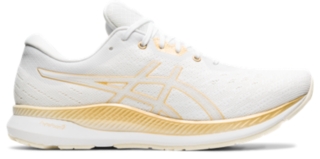 EVORIDE™
Looking for an efficient running shoe that offers velvet comfort mile after mile? The EVORIDE™ shoe from ASICS is a lightweight performance running style that's complemented with FLYTEFOAM™ Propel foam for a high-energy retu...
SHOP NOW
written by
MY DISCIPLINES
MY DISCIPLINES