Learning the hard way how to run a marathon
Sunday 8th April 2018 saw me take on my 4th marathon in Manchester, but we'll get back to that. Lets go back to the start of my marathon journey.
It probably would have been around the end of February / beginning of March 2016 when I first decided to run a marathon. That was the 2016 Manchester Marathon. For those of you trying to work out the timescale for that, yes I entered my first marathon 5 weeks before it.
How hard could it be I thought to myself. I had already done a number of half marathons and Tough Mudders. I had also double lapped Tough Mudder a few times which equalled about 22 miles. One of my mudder friends who had also run marathons did try and warn me that the marathon was a totally different beast to Tough Mudder but I of course didn't listen. I also paid the price.
For my first race I started off far too quick and the wall hit me hard at around 18 miles. I managed to run / hobble to the finish in a time of 4:17:58. Following that race I thought I'll go for it again in Manchester in 2017 but I'll train properly next time.
During the months leading up to the 2017 race I changed jobs and took on a much bigger work load, a poor excuse I know now looking back, but once again the training went down the pan. I was back in Manchester in April 2017 and back in a world of pain at around 20 miles and starting to question if the marathon was really for me. Should I stick to the shorter distances. I finished my second marathon in 4:24:47 and pretty much as broken as I had been the previous year, if not more.
I also knew though that I had not given the marathon my best shot, I had only really 'had a go'. I felt I was able to go under 4 hours although at the time I had no idea where I was going to get the extra 18 mins from.
On to my third marathon, Birmingham 2017. I decided I would train properly this time, this would be the one, home town race, a friend also offered to pace me to sub 4 hrs although he said he would probably drop back at around 20 miles as he wasn't at full marathon fitness. I did train a bit for Birmingham, much more than I had done for the previous races in Manchester but still nowhere near enough. I also made the silly mistakes during the race of taking supplements that I'd never tried before. I managed to get a bit further in Birmingham before things started to fall apart, about 21 miles I think. I'm pretty sure it was the mental battle I lost during this race though not the physical one. I ran ahead of my mate who was pacing me at about 18 miles, a bit later he passed me. I finished in 4:13:14 which was a PB but I was still disappointed at going over 4 hours. (My mate did run a sub 4)
In November 2017 I took part in a Runners World program called Mission Marathon. They were looking for three people to run the 2018 London Marathon. One to join team Finish Liners, one to join team Breaking 4 and one to join team Speed Demons. Unfortunately I wasn't selected to run London but I was given a place in Manchester. This was the kick up the arse I needed, the mission was on, we were going back to Manchester to settle the score.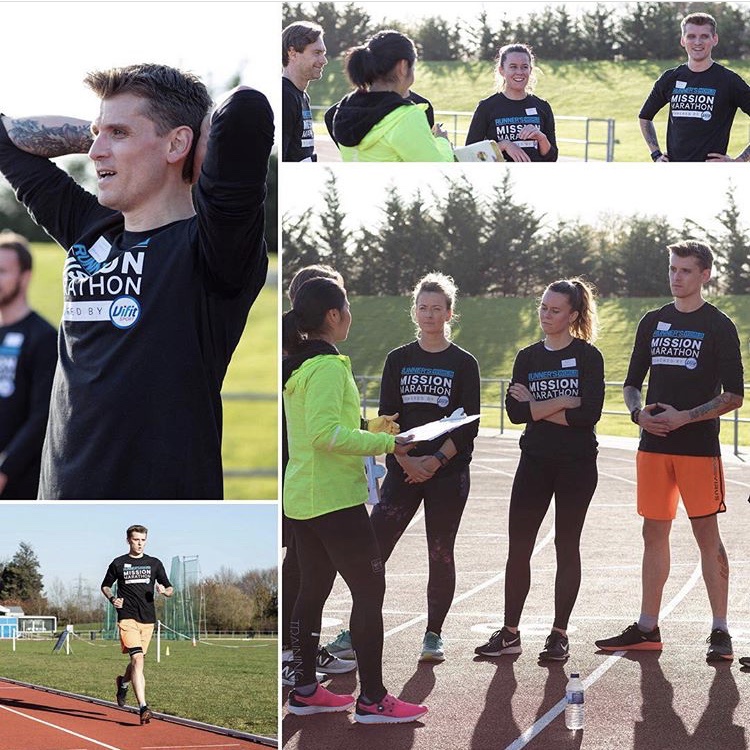 I downloaded a Runners World 16 week training plan for 3:45:00. I was initially worried that I wouldn't be able to commit to the 5 days a week training but I took it a week at a time and just got the runs done. If it meant going out late after work or getting up at 6am on a Sunday morning so be it. I think over the course of the 16 weeks I only missed one long run and a few interval sessions. Taking the training a week at a time also meant the time seemed to pass by quite quickly, all of a sudden I was in week 12 without really realising. Luckily the whole training period went really well, I had some good runs and stayed injury free. There were the usual niggles but nothing major. There were also the bad runs when it was cold, dark, wet I was tired. The whole thing definitely wasn't a walk in the park.
I managed to get up to some good paces on the long training runs and also had a few good negative splits. The temptation was there to try and go for it on race day but I thought it best to be sensible and stick to the plan of 3:45:00. I didn't want the mental demons to come knocking towards the end of the race telling me I'd gone off too fast. I worked out the pace I needed to be at and if I felt good on the day then I could kick it up a notch in the latter stages.
So here we are back at race day in Manchester for the third year in a row. With the added bonus this year of being an Asics FrontRunner and having a load of team mates also running and a bunch of them cheering. Having friendly faces around definitely helped calm the race day nerves. My initial plan had been to sit alongside the 3:45:00 pacer for the majority of the race then if I felt good to see how I went. Due to the crowds though I ended up starting back near the 4:30:00 pacer so I knew I would have to manage my pacing myself.
As I crossed the start line I began to weave my way through the crowds of other runners, I knew though that I still had to keep it under control and not try and chase down the 3:45:00 pacer. The initial plan was to try and keep the pace at between 8:15 and 8:20 min per mile for the first half of the race, or even up to 19 miles. Looking at the splits you can see I ended up going a touch quicker than that although there were a few times I got caught in the crowd and had to slow down a bit.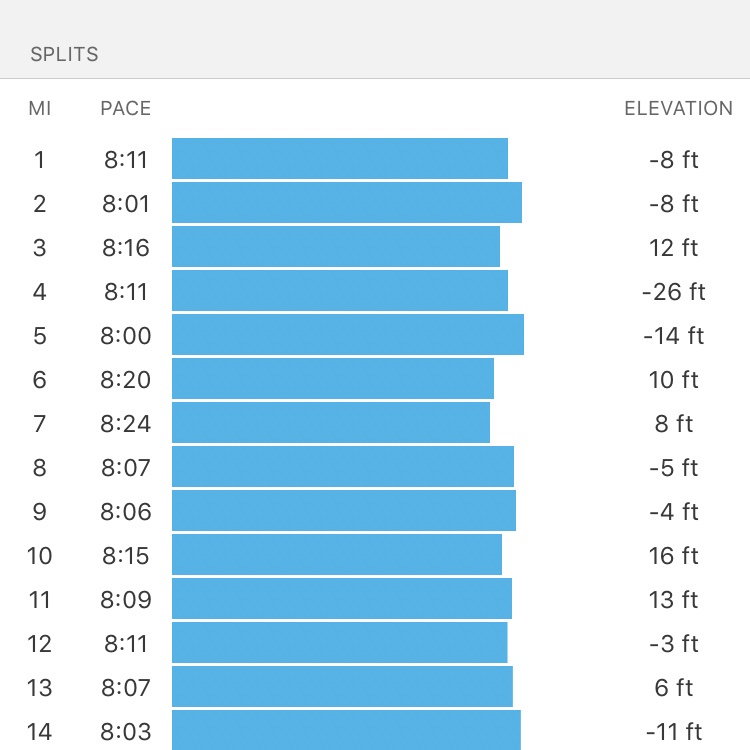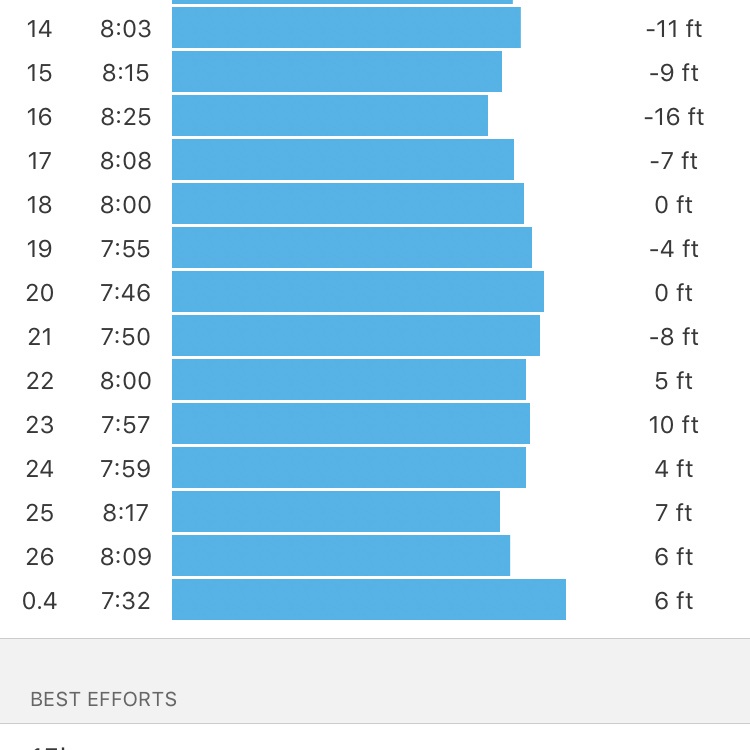 My fuelling strategy was to take a gel every 7 miles. I had checked the route map for where the water stops were and knew that I'd be picking up a bottle of water about half a mile before taking each gel. I had practiced this during training and found it had worked pretty well. In previous years I had no real strategy and would just constantly smash gels and energy sweets throughout the race and end up feeling sick.
I had seen on Facebook that there was a competition for mile 19 to run it quicker or within 20 secs of your average race pace to be put in a draw to win a supplement bundle. I had that in mind to give it a try then use it as the point to kick on if I felt good. To me though once my watch said I had completed 18 miles that would then be the start of the 19th mile for the competition. So that's what I did and managed to log a 7:55 mile. Except on completion of this mile I saw the signs saying you are now beginning the mile 19 challenge. This probably turned out for the best though as it meant I had to maintain the quicker pace. I ran the actual challenge mile in 7:46 (average race pace was 8:06 so I hit 20 secs on the nose). Now having run two 'quick' miles I still felt good so just carried on.
Towards the end of the race I started recognising parts of the course where in previous years I'd been walking and suffering a lot. This race was different, at no point in the whole thing did I feel the need to stop. Don't get me wrong I'm not saying I was completely comfortable, things still hurt but I knew I could keep going.
It wasn't really until the final home straight when I could see the finish line in the distance that I finally thought you know what I'm gonna do this. I crossed the line in 3:34:03 taking an unreal 40 mins off my PB from Birmingham. I'd also ticked off another thing of wanting to run the whole race and not stop at any point.
This just goes to show that yes anyone can complete a marathon and it can be done with little to no training (I do not recommend this approach at all!!) but if you put in the work then you will most definitely surprise yourself with what you can achieve.
I now have to go and learn to run slowly for Race to the Stones in July but I'm already working out where I can find 4 mins from to go for sub 3:30:00 in Chicago in October. Then maybe even look at Good for Age qualification for London as the ballot is never kind to me.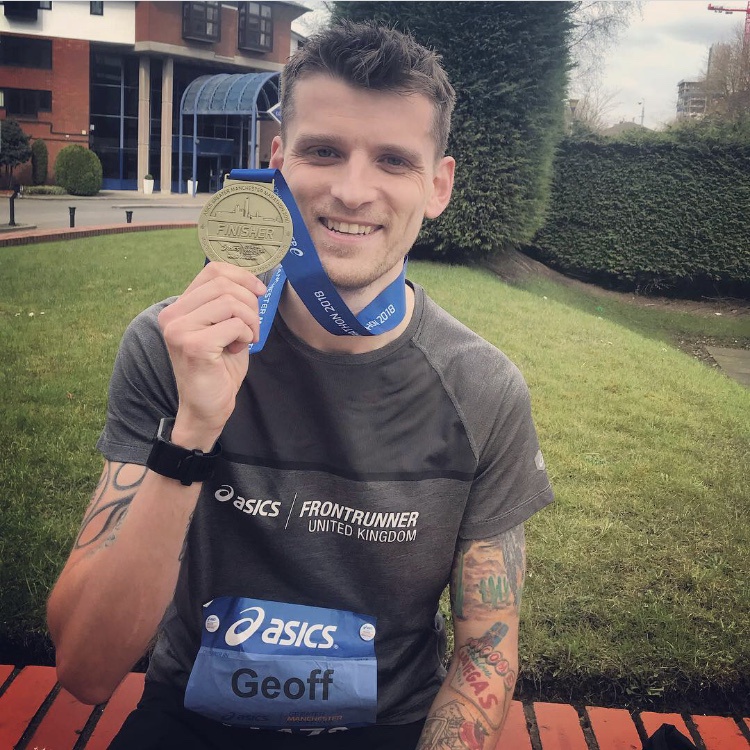 written by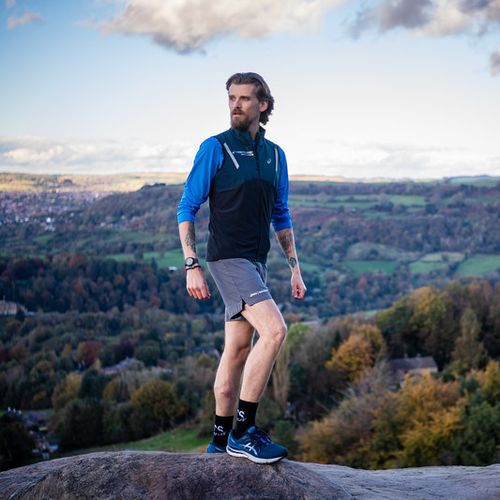 Geoff Ridout
Fire Officer from Birmingham

Age group: 40-44
Club: No

My Disciplines