Running newbie to half marathoner, sharing the experience of my first half marathon and why I'll be back for more
On January 1st I sat down and wrote a list of 'running goals for 2017', mainly consisting of things many runners can relate to: volunteer more at parkrun; beat my 10k time and attempt to race as much as I can. Nowhere on that list was 'run a half marathon' it was never on my radar, I simply dismissed it, thinking I couldn't go the distance (excuse the pun). But here I am, still on cloud nine 3 days after running my first half marathon. 
I'm a bit of a running novice. I ran on and off for five years during University, mainly because as a student I couldn't afford a gym membership. It was only from May 2016 onwards that I transformed into a running nut and the adventure began. 
Fast forward just over 13 months and there I was training for a half marathon.Crazy? Possibly. After much anticipation the weekend arrived and I made the drive from south London to Swansea, with a not so quick pit stop in Bristol for lunch with a friend, where we talked all things running. Martha certainly calmed my nerves. 
Upon arrival in Swansea I met up with Blake and Matt, also on the FrontRunner UK team and their friends Caroline, Stuart and David (Wyeth). That evening we experienced a 'unique' dining experience, where we managed to eat all the food in the restaurant….
I was woken Sunday morning by the sound of rain hammering the hotel window and a rather angry sounding sheep. I felt a real mix of emotions: nerves, excitement and a real sense of disbelief. I spent all of my teenage years battling obesity, unable to run more than 50m and a half marathon was completely unachievable. However, I'm a firm believer that you should take every opportunity offered to you, and the chance to run my first half marathon with the ASICS FrontRunner team was too good an opportunity to miss. 
The rain was pounding as we headed to the start. I felt nervous, none of my training runs had been in the wet and I was so worried I would fall flat on my face in a puddle. Aaron (@bristolrunner) joined me, with the kind offer to pace me. I don't remember much from the start, I was simply too nervous. However my one lasting memory was the sun cutting through the clouds and the rain easing up just as the gun went. And we were off. 13.1miles ahead of us. 
The first few kms wound through the streets of Swansea City Centre, lined with supporters before heading out to the coast where we ran parallel to the sea front, taking in views of the vast scooping bay. The first 8kms flew, effortlessly paced by Aaron, whilst keeping an eye out on the runners looping back, looking for Matt, Holly, Blake and Pete. 
As we reached the turn to head back by Mumbles Pier, my watch registered 10km in 53 minutes. I felt comfortable and ready for the second half of the race. 11, 12, 13 and 14km came and went. The route lined by the beautiful expanse of beach. It made me realise how much I missed the coast. I grew up by the beach and many of my training runs had been done along Southport sea front, so I felt right at home here.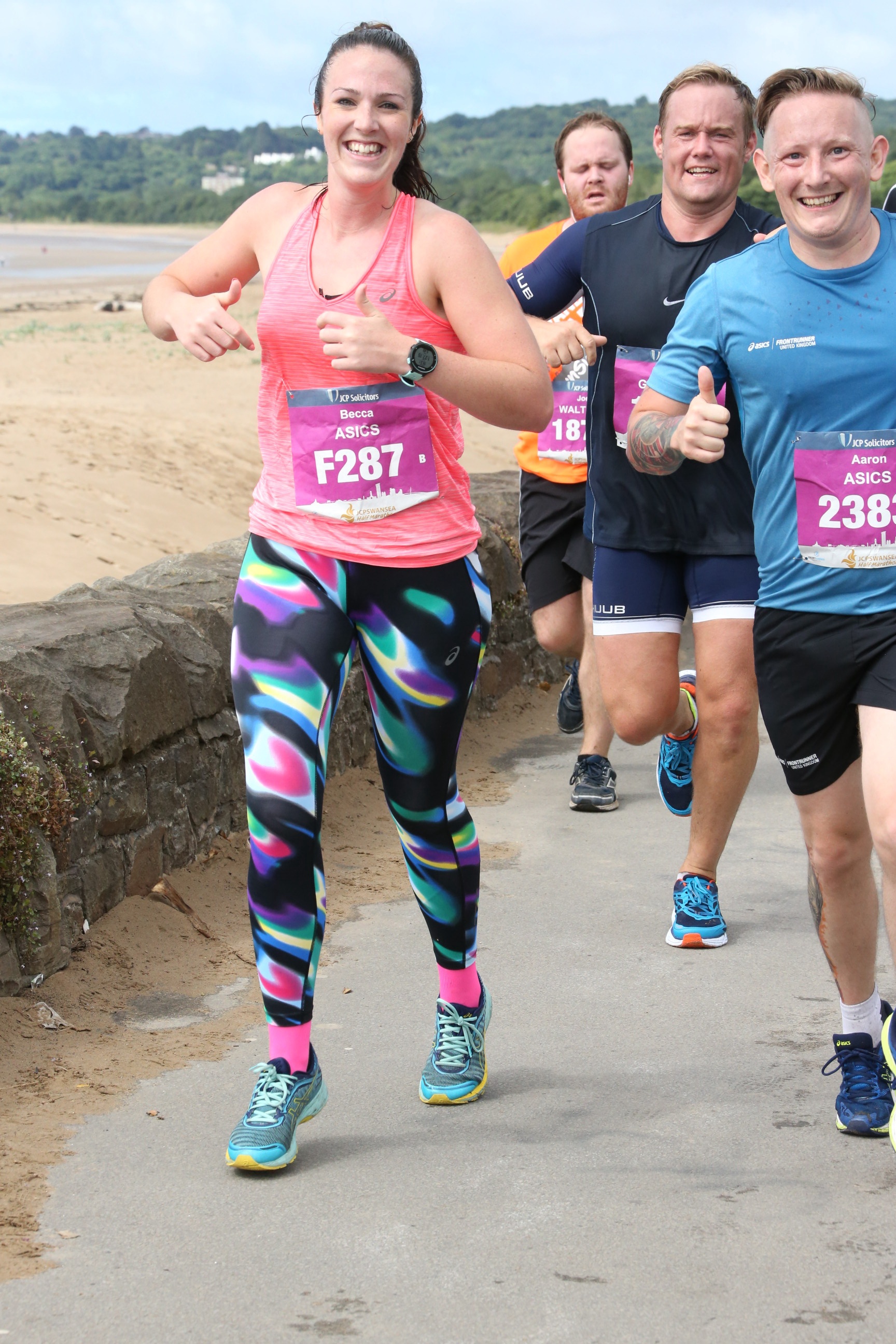 Having fun round mile 10! With Aaron @Bristolrunner
The temperatures began to pick up and one local was kindly hosing down hot and weary runners. We kept pushing forward. However, just before 15km the wall hit. A niggle in my hip became a burning and tight hip flexor. I pushed on with Aaron's encouragement, Aaron is coming back from injury and this was his longest run since March, we were both pushing our boundaries. 
At 16km I was slowing and the mental battle began. I kept saying to myself, just one parkrun until the finish. I visualised my home parkrun of Preston with its notorious hill, gritted my teeth and kept putting one foot in front of the other. The last 4km were the toughest of my life, both physically and mentally. The tiredness was similar to feeling drunk. As we left the coast and headed back towards the city centre Aaron kept spurring me on, he was right the hard work was done. It was now time to dig deep. The crowds lifted me exactly when I needed it. A fantastic atmosphere on the approach home. Strangers cheering for strangers. The noise waking me back up. Looking at my watch I knew if I just kept going I would be on for a sub two hour finish. Can you imagine, first time out and sub two hours! The final km came, 800m, 600m, 500m, 400m. I couldn't see the finish, I needed to know I was close to the line. As we rounded the final corner there was the sign: FINISH. The noise was intense, the crowd were screaming. About 10m from the line it hit me, a few more strides and I would be a half marathoner. I couldn't believe it. 13.1miles was mine and in a respectable 1:55:58. I broke down in tears. The distance that had seemed so elusive and unachievable was mine.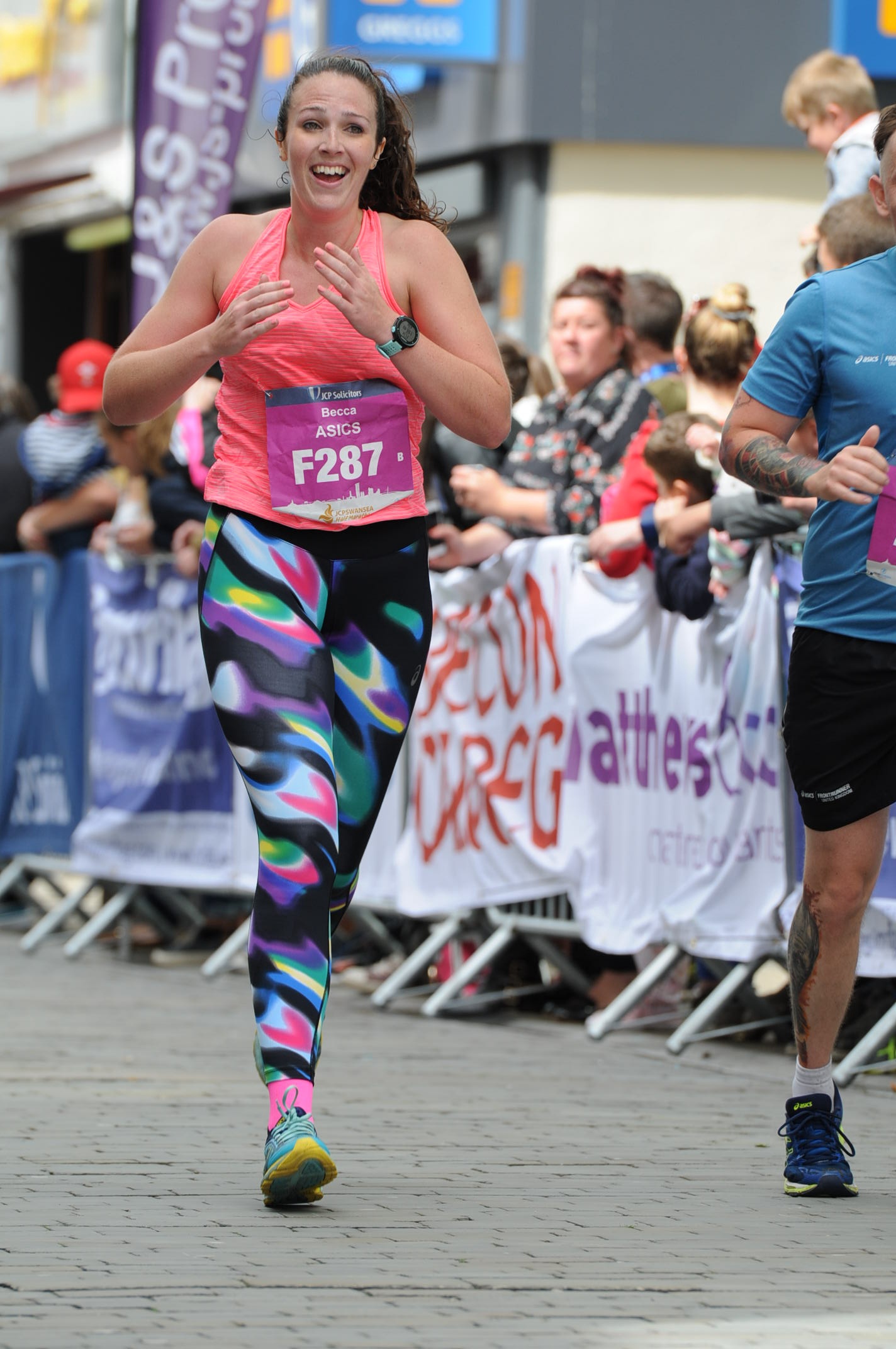 Striding towards the finish line
I collected my race pack kindly and efficiently given out by volunteers from the cadets. One young cadet placing a medal round my next and congratulating me- a beautiful and very poignant touch. I had done it! I'll be completely honest, I didn't enjoy every minute. Some were tough, but it was worth it. The post-race high was unlike any other.
Swansea will always have a very special place in my heart. An extremely well organised race, particularly given its size (I didn't realise just how many people were there until afterwards, it never felt busy or crowded). The volunteers were helpful and efficient, dealing with large numbers of runners with ease. A beautiful, flat route along the coast, lined with friendly and supportive locals. As we headed to meet the ASICS Frontrunners for post-race brunch, I thought to myself, yes Swansea I'll be back, and in that instant I guess I decided that I'll be running another half marathon! Watch this space!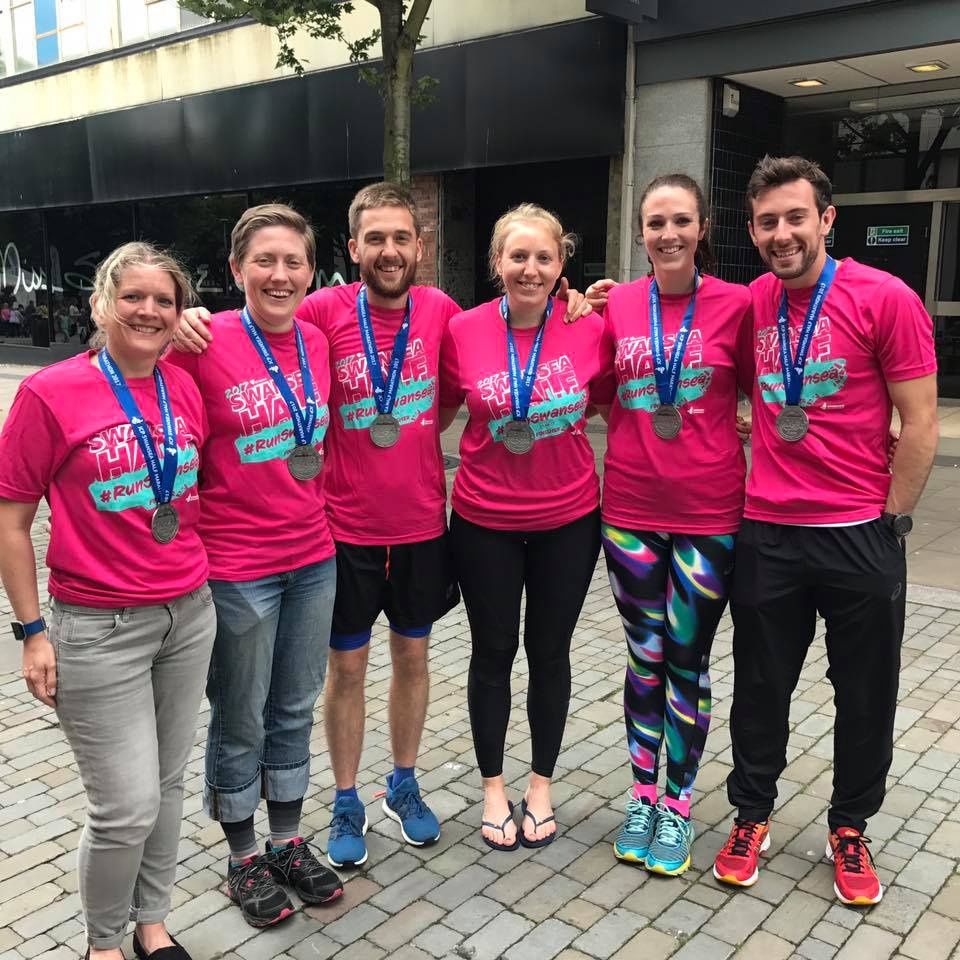 We are half marathoners! Great to catch up with the ASICS FrontRunner team as well as other instagram runners! (credit @martha_runs)
written by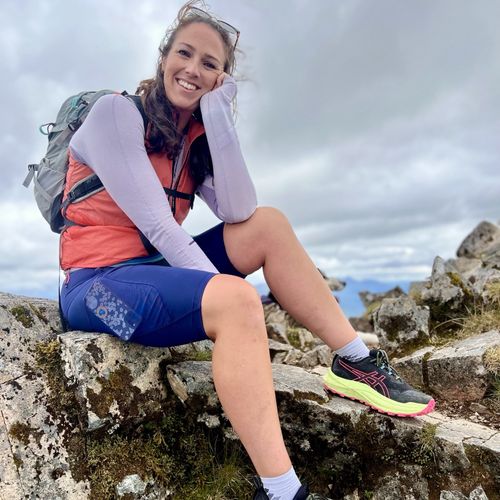 Becca B
Envrionmental Research from London/Southport

Age group: 30 - 35
Club: Greenwich Tritons, Southport Strollers

MY DISCIPLINES