My blog here today is about a 3D gait analysis
My blog here today is about a 3D gait analysis that I had recently at the 8th Element lab in Kent and whether this kind of tool is worth it? I am always keen to combine science with my training. As I have been in many scientific tests in the past that have worked for me and I have shared in recent blogs, I was interested in seeing this. I approached John from 8th Element about coming into his lab for a test. I was very intrigued as my friend Steve had one done and there isn't many of these types of facilities around.
So what is this exactly? I didn't really know to be honest what was involved, I knew a little about it apart from it was to do with injury prevention, but once in the lab I was amazed by the data and the set up. You run on a treadmill and there are camera's positioned around the lab to watch all your body movements. When watching the screen directly in front of you, you can see green dots on your body on the screen and it's from those dots it takes your running form. So I had to perform a test on the treadmill running at my race pace for 45 seconds and that's it until you get the results which are instant. Now the interesting thing I found was that the analysis bases its finding on you and not the perfect runner. Which is good because as a coach changing runners' bio mechanics fully can result in problems. I am interested in the science behind this; you can use science in your running as a powerful tool.
Now what I liked about this was that it gives you results that the a coach cannot necessarily see. My running coach Steve King and myself as I am also a running coach aren't able to see what a computer can see from its data. I am a data man; I work with data so getting this test done is great as I love the data coming out of it and will always work with data to improve myself.
So with like any gait analysis they are designed to find errors in your technique and the way you run. Some might take it with a pinch of salt some may take it fully on board. For me if there are any errors I need to sort them out or at least have a think about them, just like what I would do with my swimming technique. So what did it find? Well it found a lot, some parts such as different sort of strength training on my off season did play a part. Now the interesting thing for me was ever since I got knocked off my bike last year I have been getting a sore right leg. I didn't tell John about any of my problems but I wondered if he could pick up on it and he did; he found that my right hip was unstable and had weakness which is causing stresses and forces through my right hip which is causing my lower leg to get stiff because of this. So I was given some hip exercises to do. I won't go through everything but another thing they found was cadence. The reason I won't go through everything is some of the findings made me sound like a broken man, however that's not the case I tend to get low injuries so after talking to my physio and strength coach we only took on board a few points. Let's face it you can't work at millions of things at once, only a few at a time. Once we looked at the results we found that my strength work needed stuff that was already implemented in my plan and something I do not need to worry about. Any coach would only recommend to take a few points and work on them. So two key issues I have decided to work on are as follows:
Key Issues:
Structural – Acute right hip instability/weakness: right hip drop causing large stresses and forces through the right hip and compression and limitation/stiffness through the left lower back. This also causes early contact. This early contact forces rapid extension of the knee; from swing to contact and thus stresses through the hamstring due to the rapid eccentric quad movement.
Key Mechanical factors to adjust – Over stride vs heel strike: this is occurring daily due to the inability to create vertical lift without using too much energy. By strengthening the above, the over stride can be adjusted. Thus reducing contact time and lateral forces while also reducing the eccentric forces through the quads – which are the result of over striding (reducing any posterior chain weakness – injury).
This in turn will allow for less energy wastage and more performance gains.
So what will I do about this? So my right hip is a bit tight, I am going to make it looser by doing simple exercises by standing on the edge of a step with one foot off the step and moving my hip up and down while keeping all legs straight. The next thing is cadence. I know I have a long stride, so by shortening this and making sure it is shorter when I run, by bringing feet closer to hips and try to up my cadence to 190 beats per minute, I should see improved performance and the risk of injury lower.
My conclusion is that for the cost of a higher end running shoe you can benefit from this test if you can afford it. Combining science is important but also it is not always the best way. For someone that has low injuries I personally think that the amount of corrections and problems it found with my running form was a bit too much to process at one time. However if you take some of this on board you can minimise the injury risk and improve your running form. I think it's worth it but be aware you may get a long list of problems which are not necessary problems they may just need small tweaks done to them.
written by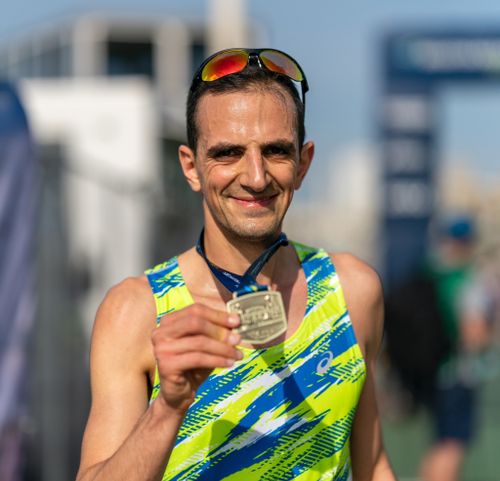 Yiannis Christodoulou
NHS Performance analyst from Canterbury

Age group: 40-44
Club: Canterbury Harriers, Ashford Triathlon Club, GB Age group team, Age group 2017 Aquathlon team captain
Coach: My self in running Level 2 coach in running fitness, Craig Coggle Strength coach, John Wood Swimming coach
MY DISCIPLINES