The Exmoor Trail Running Challenge, put on by TrailEvents.Co offers 4 challenging routes, a 12k, Half Marathon (14.2 miles), Marathon (26.8 miles) and Ultra (32.9 miles). I decided to take on the half marathon distance as an opportunity to explore somewhere new and challenge myself on the trails.
The weather forecast was not great…with howling winds and relentless rain I started to have flashbacks from my first ultra-marathon (35 miles across the Jurassic Coast in December and some of the worst weather conditions I have endured). Luckily this time, I knew I wouldn't have to be out there all day, 14 miles seemed a much kinder distance and I felt somewhat excited to head out in the stormy conditions.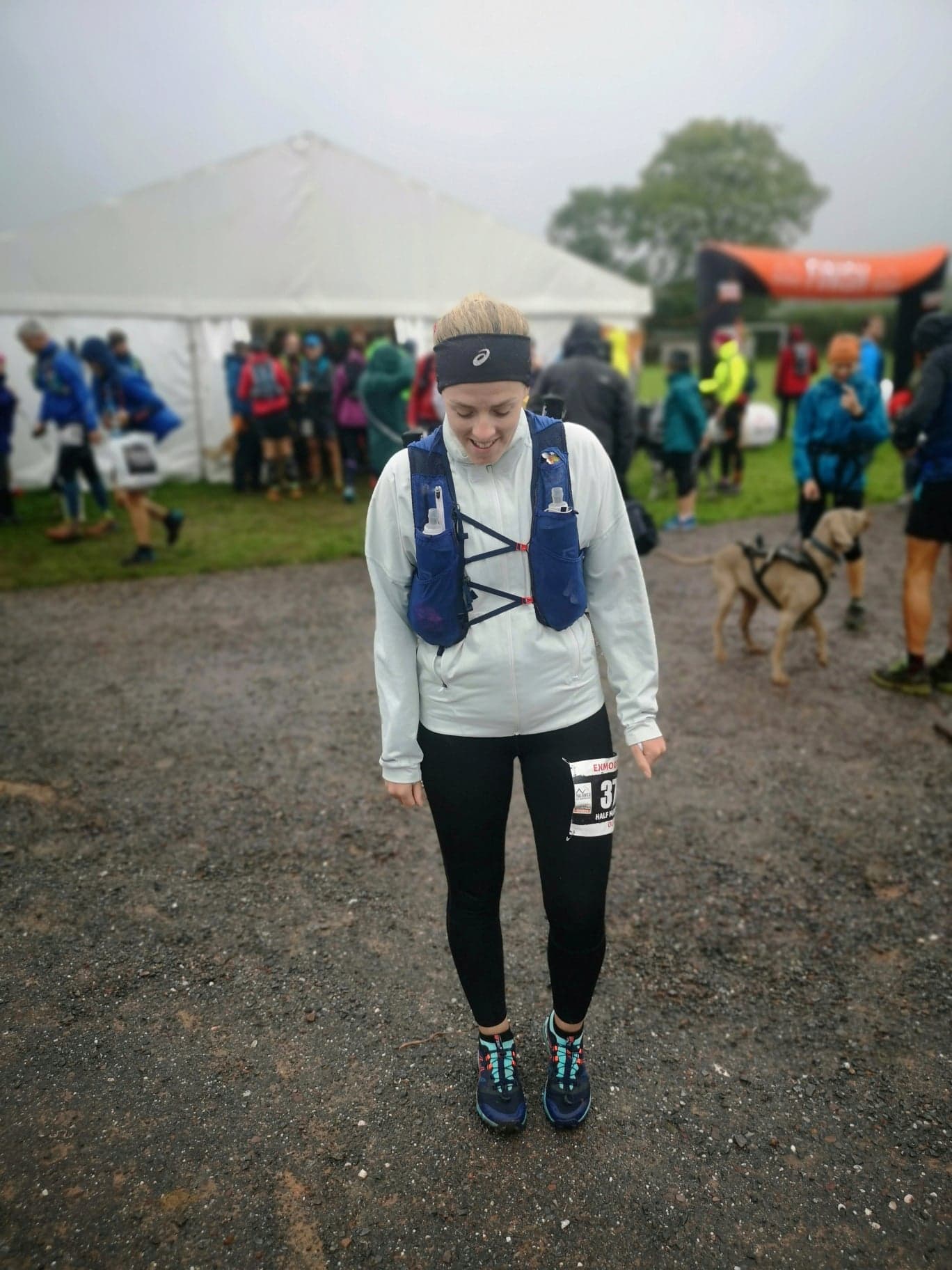 The half distance has a total elevation of 1300m, and the first climb begins almost straight away, so it was a fairly slow start. I was wearing a wind and waterproof jacket, however started to warm-up very quickly so that came off within the first 20 minutes! The first section takes you through open moorland and deeply forested areas, it was really beautiful but oh my…seriously slippery! The mud was that super gloopy kind, which was sapping all the energy from my legs, however I just tried to keep myself as upright as possible and moved as quickly as I could to reach the top of the climbs.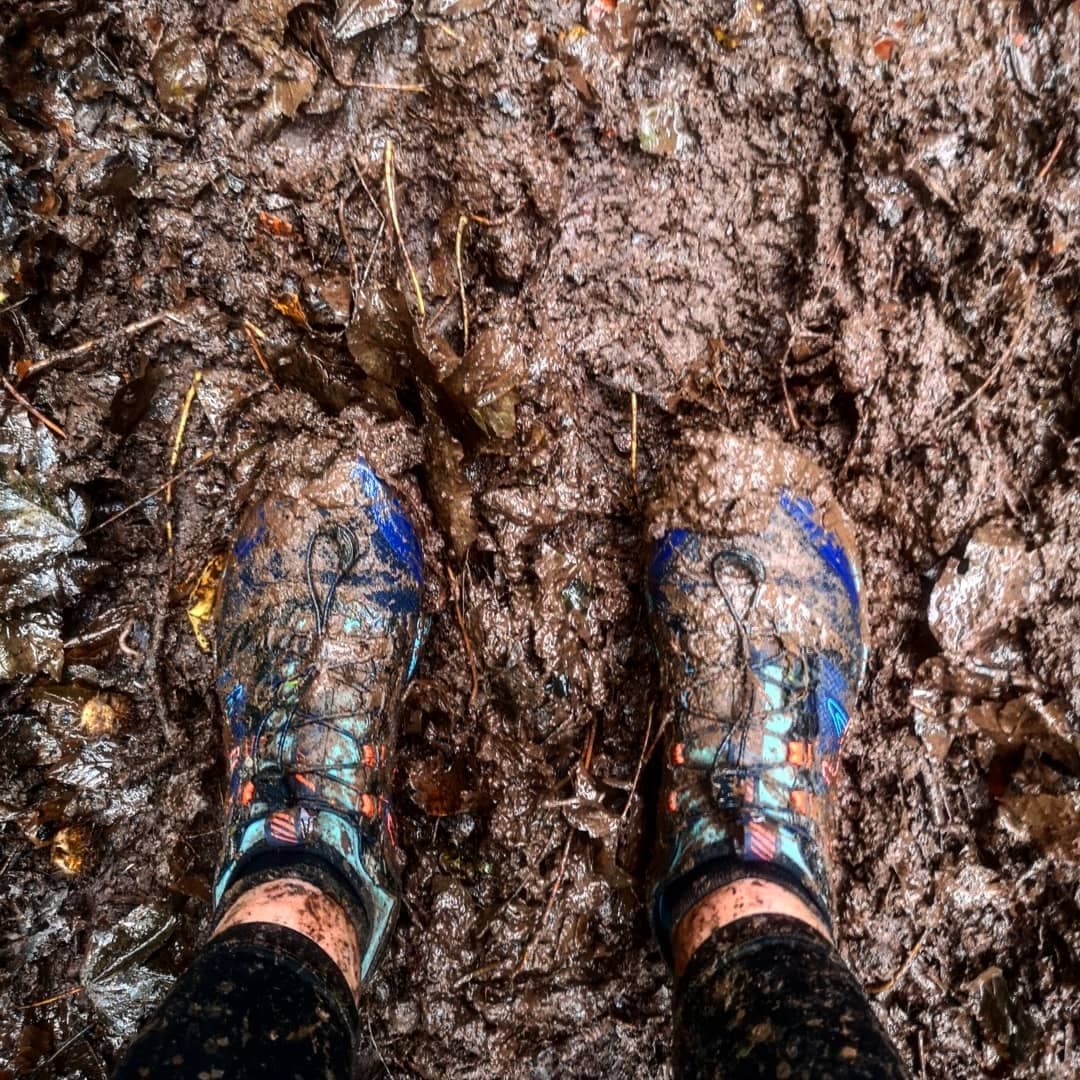 The descents were steep but where I had the most fun! Lots puddles and absolutely no escaping the mud, you just had to trust yourself and let yourself naturally run down. I used to be really frightened of downhill running (and still have a long way to go in terms of trusting my abilities) however my shoes (Fujitrabuco Pro) gave me fantastic grip which encouraged me to let myself go a tad faster.
At about the half-way point, you descend out of the moorland and follow the coastal path. The gloomy day and giant rain clouds took away a lot of the views, but it was still pretty epic scenery!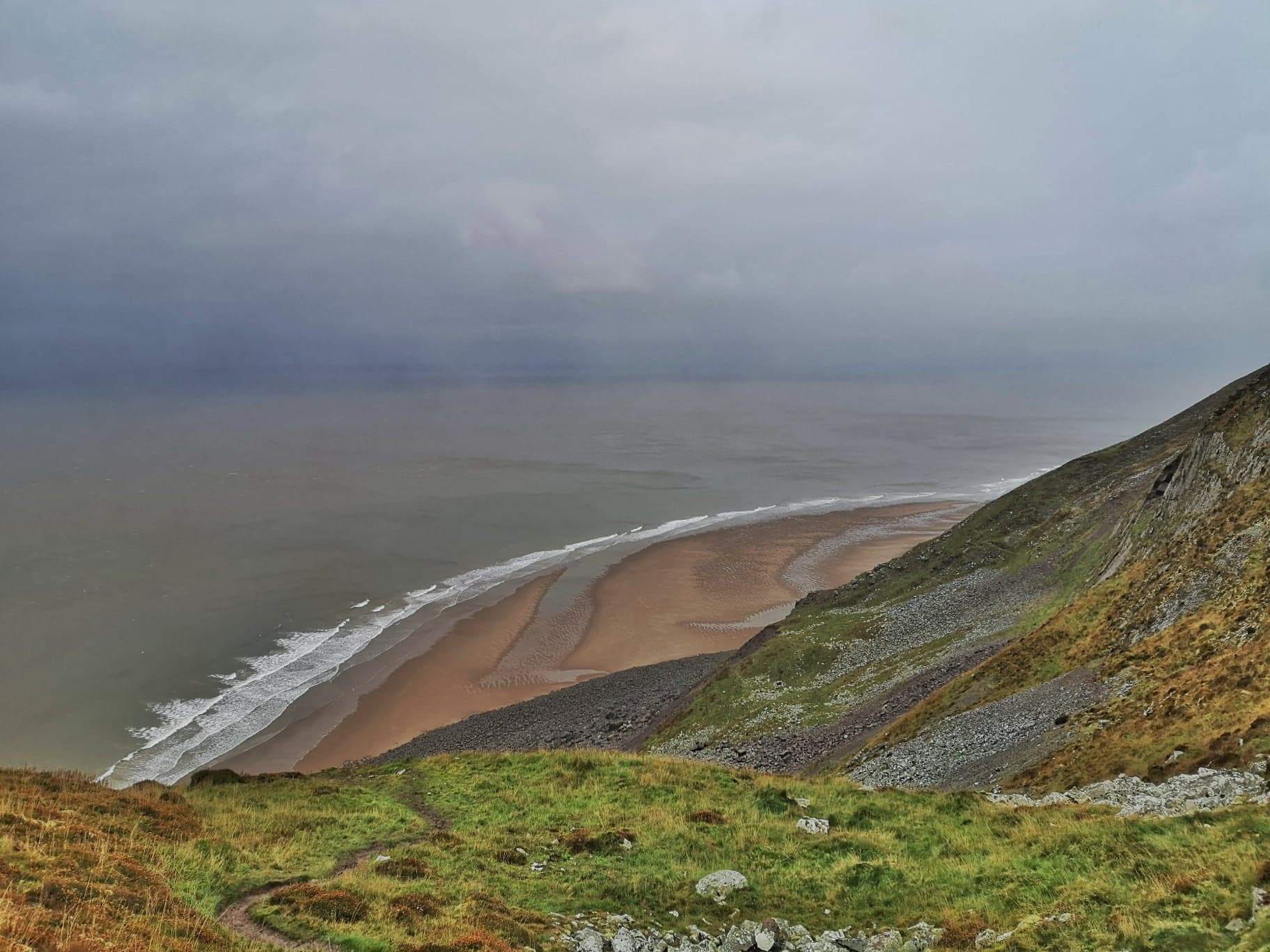 Trail running is a bit like meditation to me, I forget about everything and just concentrate on the moment, where I am and what I'm doing. You have to constantly watch your footing, as a pile of leaves may be hiding a giant rock or what looks like a stable stone may in fact be loose and send you sliding – it's tiring but exhilarating at the same time. There were a couple of sections where I thought I could be lost as I have to admit, the sign posting wasn't fantastic. Occasionally I would reach a fork in the path and would just have to guess which one to take as there were no signs, however…I am not known for my sense of direction and I made it to the finish without getting lost so it can't have been that bad!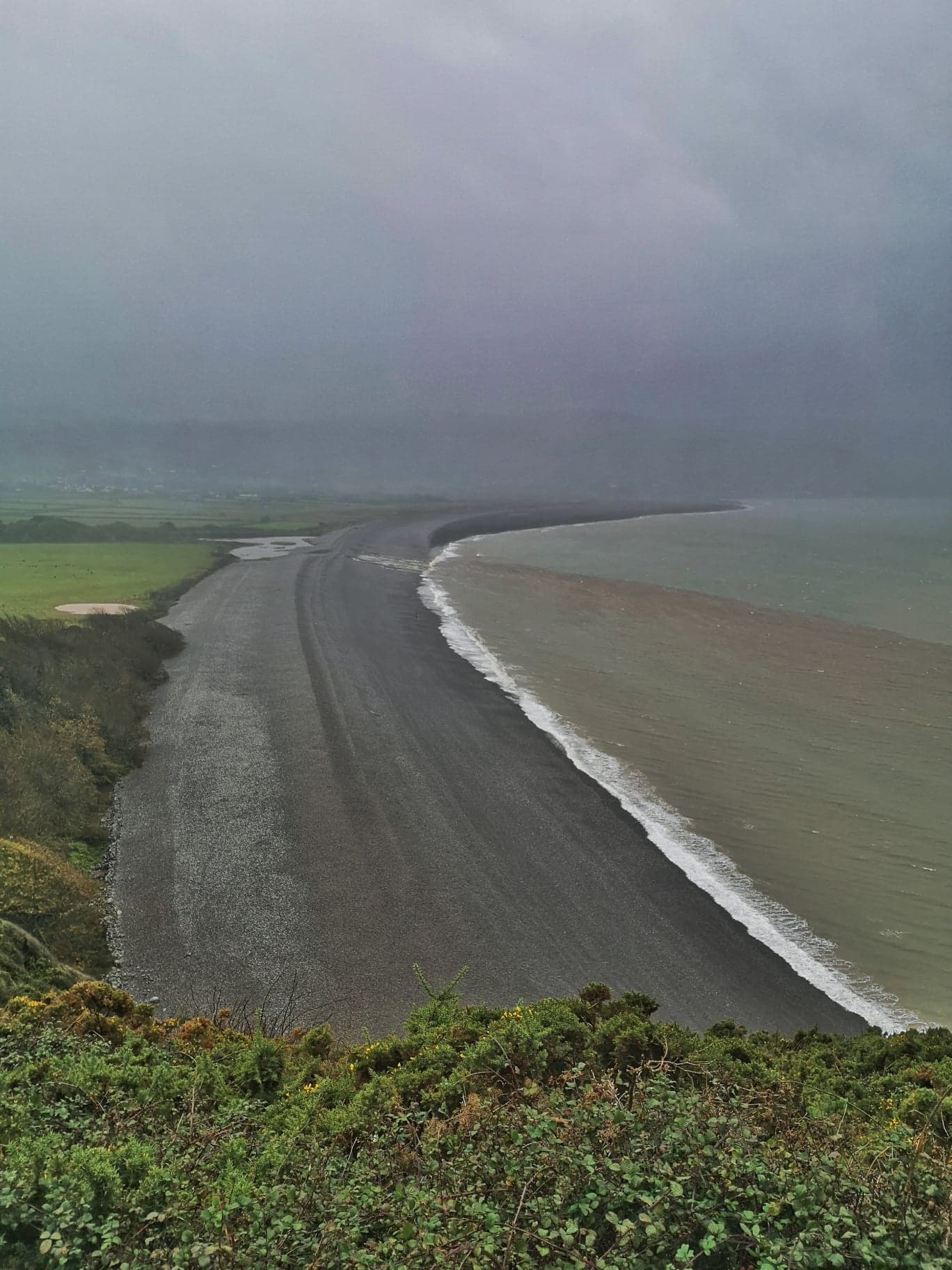 The coastal sections were extremely exposed, and the strong winds did make this section even more challenging as it physically would push you from side to side. The dramatic backdrop was pretty incredible though, it was just hard to balance appreciating the view whilst navigating your decent. At approximately mile 12, there was one last large climb. This is where I had run out of fire. I did not enjoy this climb, my glutes and hamstrings were burning and where the rain and wind just hadn't stopped, I was getting a little chilly. I knew I had to move faster if I wanted to warm up but my body just didn't want to. Nevertheless, once you reach the top, it's all downhill pretty much to the finish line. I managed to pick the pace up here and started to pick off other runners coming down, I actually felt pretty strong again. Dom (my husband) was there cheering me in at the finish, and although the finish line was rather underwhelming (they had to take it all down due to the wind) the medal was amazing! They had snacks and drinks for all finishers in a tent by the finish area (and I forgot to mention there were also 2 basic check points en route with drinks, sweets and crisps). The staff and volunteers were all really friendly, and let's be honest, huge kudos to them for standing out in that weather all day!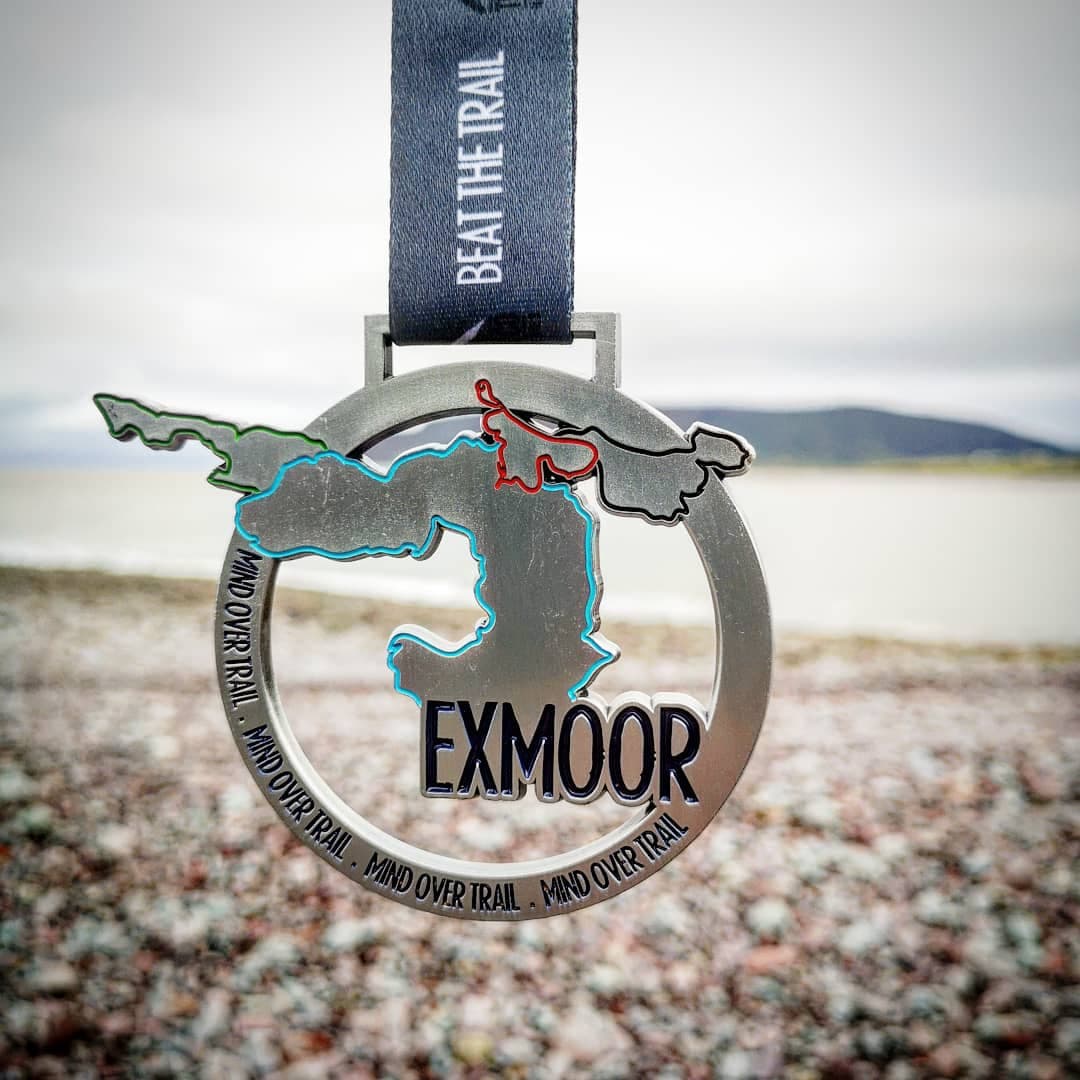 Overall, I had a fantastic morning out there on the trails! It was just what I needed and I recommend it if you're looking to have some fun. It's not a course for chasing a time but definitely a course for having a good time!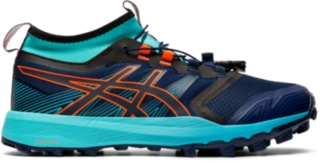 FUJITRABUCO™ PRO
The reliable FUJITRABUCO™ PRO trail running shoe for women by ASICS is designed to provide adventurers with the support and confidence they need to tackle any trail in their way. Featuring a porous mesh upper, the FUJITRABU...
SHOP NOW
I used the Fujitrabuco Pro for this race and loved them! Fab grip and could withstand all the mud and puddles, click the link above to check them out!
written by
Livvy Hill
Student Dietitian from Plymouth
Club: Plymouth Harriers
MY DISCIPLINES
MY DISCIPLINES