This year I joined the ASICS Frontrunner United Kingdom team. Here are some of my highlights.
My first ASICS Frontrunner application in 2017 was unsuccessful. In 2018 I didn't apply because I was too busy with my first RunFit Tour and didn't think I could commit fully to both. Fast forward to 2019 and I saw an Instagram post by Frontrunner Alan Li @ultralan announcing that the application window for Frontrunners would be opening. I decided to apply and to my utter disappointment when I tried to send my application the page timed out and everything I had written was lost. I know that it was a rookie move not composing first in Word and saving it. I managed to rewrite it from memory and the result actually came out better than the first attempt. I submitted it and impatiently waited for the announcement. The Sunday before the announcement date I received a direct message and a call from Holly Rush @rushbynature telling me that I had been selected. I was both shocked and happy and bursting to share the news but I had to wait a few more days for the official announcement. I'm usually quite patient but those days felt like weeks.
I met Jarnail @themightysingh1 in 2018 at an ASICS running event at the Regents Street store. We kept in touch and connected again at the I Move London Relay. I met Sabine @sabinaktion at the Semi Marathon Paris race expo in March 2018 and we ran the Paris Marathon together the following month. I was completely surprised when I found out that both Sabine and Jarnail had been selected to join the ASICS Frontrunners.
Frontrunner Weekend 1 - Manchester 5th - 7th April
I headed to Manchester with Jarnail and Alan. We arrived at the AC Marriot Hotel in Salford Quays and were welcomed by the team in the hotel restaurant. I actually found it quite overwhelming meeting so many new people but everyone was welcoming. I had a meal, met my new team mates and went to my room reasonably early as I wanted to be fresh for the following day's itinerary. In the room was a backpack labelled with my name containing my kit drop and a pair of the new Gel-DS Trainer 24. I shared a room with the really cool Dan Mapp who also joined the team this year. There was a secret running initiation at midnight but I cannot talk about that.

On Saturday I got up, went to the gym and then had breakfast. After breakfast we had solo head shots taken in the hotel lobby for our online profile. Holly, our leader, put us in teams and set us a task where we had to run to landmarks and take pictures. The landmarks included Old Trafford and Media City. Tasks completed we headed back to the hotel and ate a light lunch. We then attended a brand presentation at the hotel which was really informative and gave me a deeper insight to the brand. We had a gait analysis and then went out for our group and a photo shoot for he new team members. In the evening we attended the Vue Cinema for a private screening of Skidrow Marathon. It was my first time watching it and I would definitely recommend it to runners and people who don't run. It is really inspiring We then went to a German bar for food and festivities.
Sunday morning I went for a speed run around Ordsall Park and then a quick session in the gym. After breakfast the team headed down to mile 24 to support runners of the Manchester Marathon. I have cheered on runners when I have finished a race but this was my first time doing a dedicated cheer. It was great and emotional watching people push on to the finish and relating to their desire and drive to finish. It was great to see some familiar faces pass me. It was a great weekend and the team were really welcoming.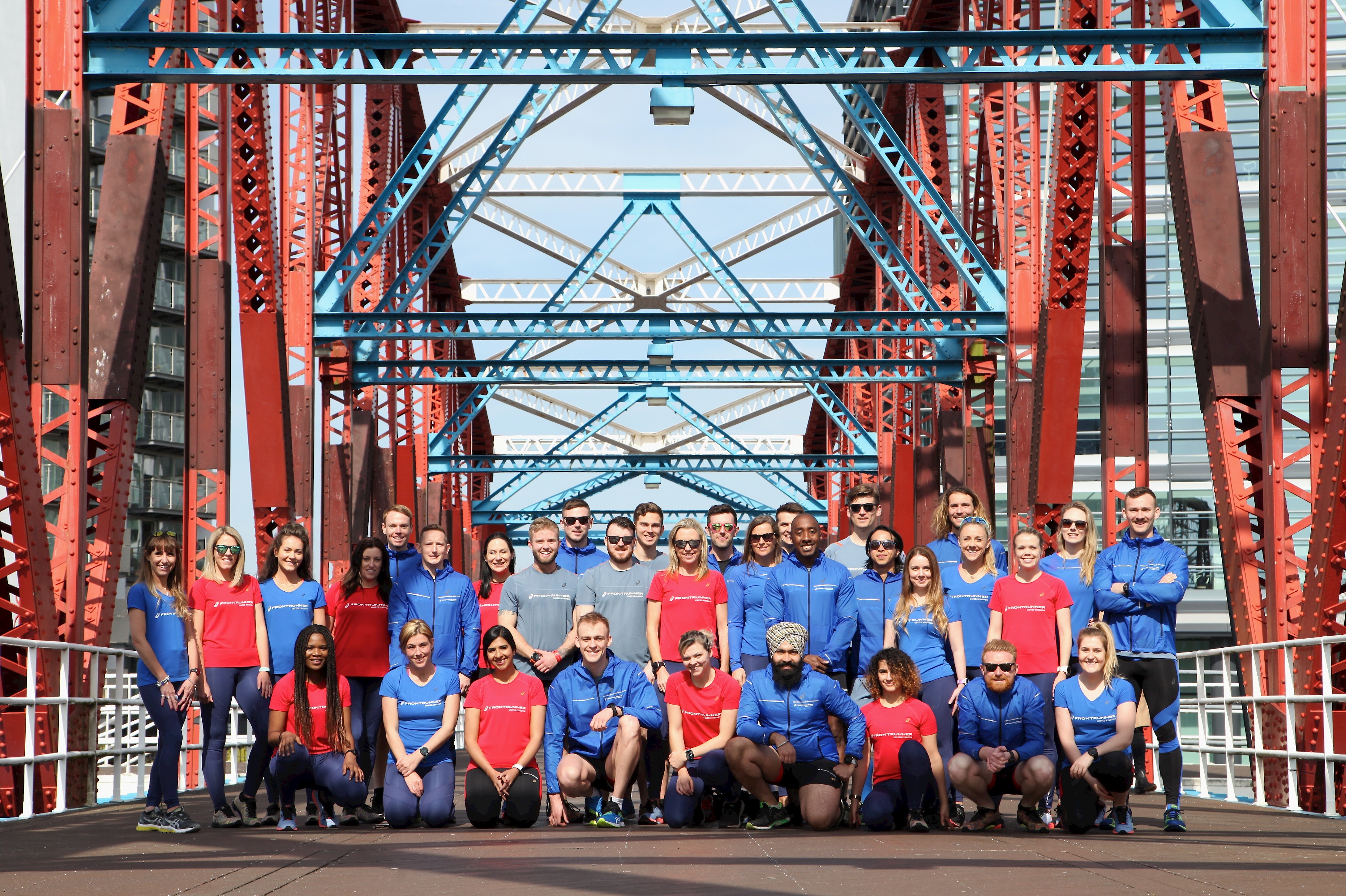 Stockholm Marathon 01.06.19
ASICS gifted me a place for the Stockholm Marathon. I was excited as it was my first time visiting Sweden and first time running as a Frontrunner. David Lenneman had developed a really great itinerary which included team meet on Friday evening at the Zeta pasta party outside the Olympic Stadion. Saturday morning I met the ASICS Frontrunners at Östermalms IP sports ground for 10am where we had professional photographs. It was great to meet Frontrunners from Germany, Norway, Bulgaria, France and Sweden. Everyone was so friendly and it was interesting to hear what the Frontrunner teams were like in their countries.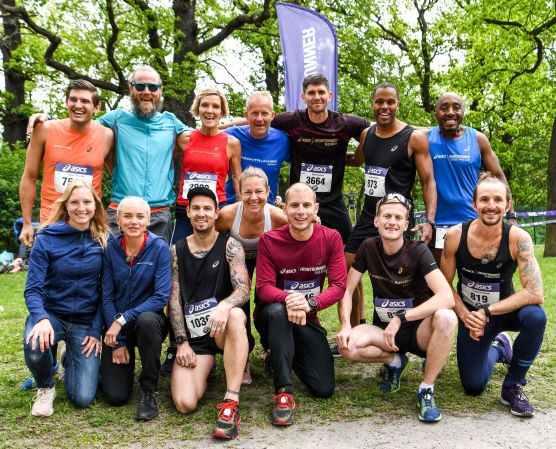 Frontrunner Weekend 2 London 19th - 21st June
The second ASICS Frontrunner weekend began with co leading the Friday ASICS Run Club London out of the Oxford Street Store. The attendance was good with runners being undeterred from joining us as it had been raining heavily throughout the day. We took a grouppicture which featured some Frontrunners from out of town and Jarnail. We set off from the store, jogged over to Marble Arch and I led the warm up underneath it. We then followed the Buckingham Palace route and Alan led the cool down and stretch under the arch. After the run while catching up with the team I was pleasantly surprised as Sabine walked into the store. We caught up and headed to get a meal and catch up further.
Saturday morning we had special guest speaker was Dewi Griffith who shared wisdom, running stories and answered questions from the team. The spread was great and the speaker was engaging, so down to earth and inspirational. I then chilled out with Sabine and walked to the hotel to meet the rest of the team for our Frontrunner photoshoot. We waited in the lobby and then assembled with the rest of the team to be guided by supreme photographer Andy Astfalk @andyastfalk who knows how to capture our finest moments. We took group and solo shots at locations that included Waterloo Station, the South Bank, Westminster Bridge and Leake Street. There were great vibes and the results look amazing.
In the evening we went to the Kingpin Suite which we had all to ourselves. We enjoyed food, drinks, snooker, bowling, karaoke and other games. It was great to catch up with Frontrunners that I hadn't seen since the Manchester Marathon and meet some who I hadn't met before. I left early as I had to prepare for the morning and leading the warm up for the ASICS London 10k. On Sunday after the race we assembled in Trafalgar Square to debrief after the race and for some more group pictures. There we were met by the international Frontrunners. It was an amazing weekend and I am very much looking forward to the next Frontrunner event. 
I have thoroughly enjoyed my time as an ASICS Frontrunner. The kit drops have been great and the communication has been amazing. Through Frontrunner I have had the opportunity to lead the ASICS Run Club London and various PR opportunities. I am proud to be a member of the United Kingdom team of a great top tier brand. It is great to be part of a national and global team of athletes and individuals. During my as a Frontrunner I have been presented with opportunities to share my passion for running and continue to be an ambassador for running.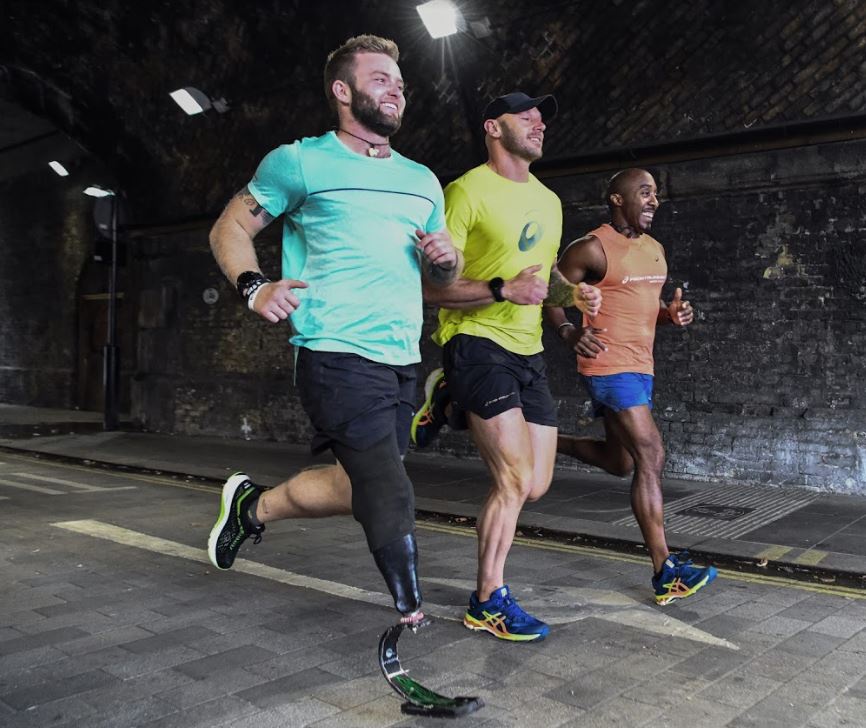 written by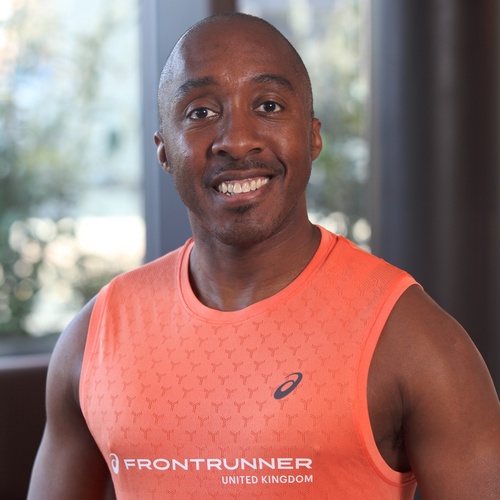 MY DISCIPLINES