For anyone who has watched Wheelchair Racing, you'll probably remember a flurry of speedy wheelchairs, racing around a track. You'll probably think that they're quite comfortable and super speedy from the get-go - this couldn't be further from the truth. This blog looks to explore my first experiences of wheelchair racing, as races look to open up again.
Finding a club
There are a few 'local' clubs to my home - both just over an hour to drive. As it stands, i've only been able to attend the club once, due to the lockdown and other training commitments. Having said that, I used my time at the club to pick up on the basics, with a view to practising at home.
Getting a wheelchair
I first looked into Wheelchair Racing, after running quite a few marathons and struggling with the time on feet. As I have a spinal cord injury, there are other complications that make running for 4 hours really quite tricky. As a solution, I thought that Wheelchair Racing would also allow me the opportunity to race, should I have any complications, and be unable to run.
I was extremely fortunate, to have received sponsorship for my chair, through Essity, who have supported my journey. After heading to the manufacturers on a number of occasions, my chair was delivered and I was off!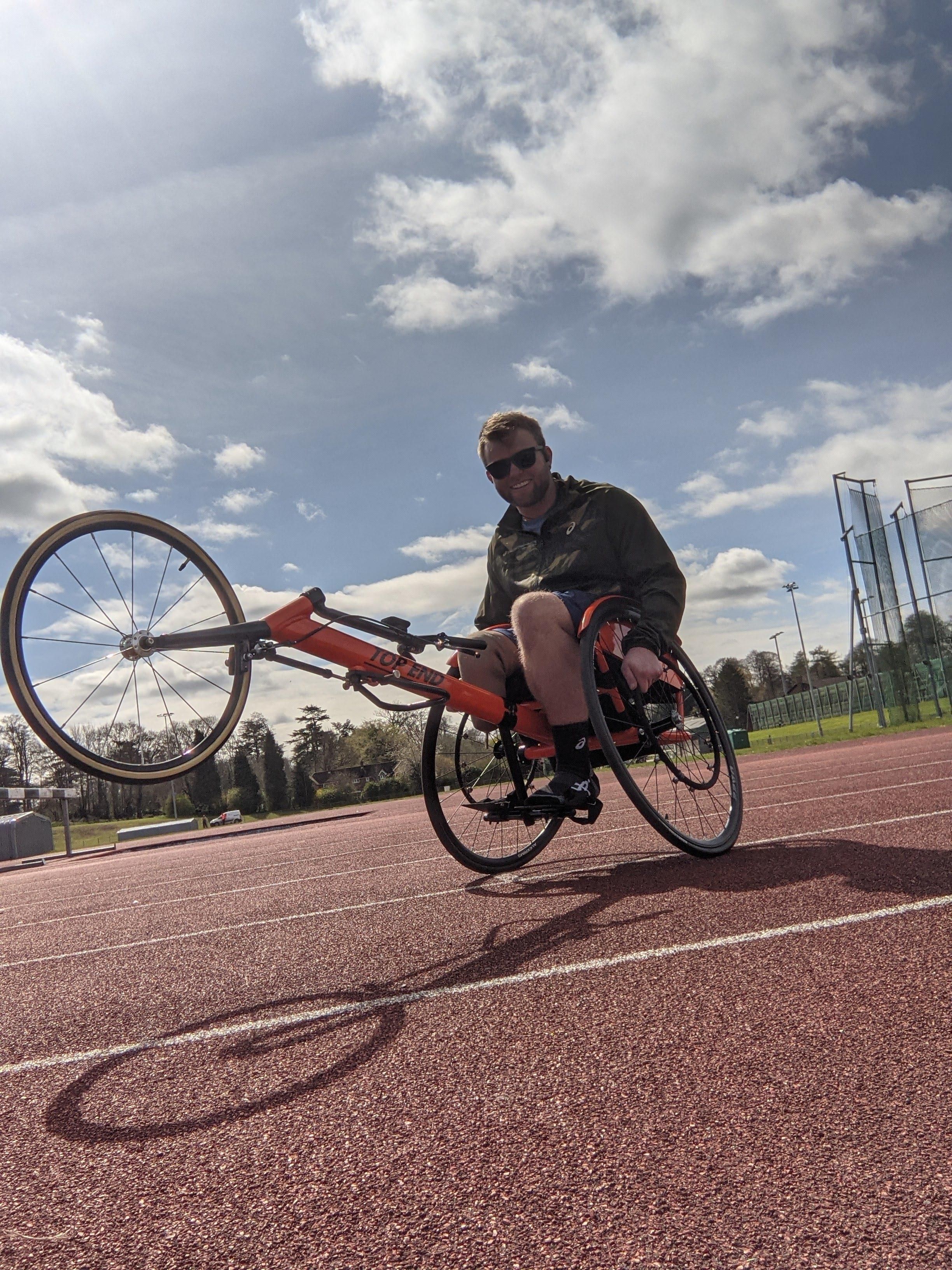 Setting up in the wheelchair
Let me make this very clear - Wheelchair Racing is uncomfortable……very uncomfortable.
If you're sitting in the ideal position, the wheelchair is extremely tight it can take quite a while to build up a tolerance to the position you have to be in.
There are two sitting options within racing - kneeling or sitting. The kneeling option is preferable, often used by those with a spinal injury or for those without feeling in the lower body. On the other hand, the seated option is better for those with limited flexibility - such as myself.
As well as the sitting position, there's also gloves to think about. With fast-moving wheels, pushing technique is very different to a standard wheelchair. It's important to protect your hands so, gloves are an essential investment.
My first 'race'
After my surgery in July, I wasn't able to run standing up, so I decided to use my racing wheelchair to complete the marathon distance. In typical Jamie Gane-style, I set off without any preparations or considerations - it was incredibly tough. It was raining, with wind coming from all of the angles. I was racing round a running track, completely frozen and feeling as though I was fighting a loosing battle. It wasn't until about 6 months later, when I realised that my tyres were actually pumped to half the recommended pressure….no wonder it was so challenging!
As you can imagine, getting a Racing Wheelchair into a car is pretty challenging. The wheels have to be removed, by using an allen key and the remaining chair is pushed through to the steering wheel, allowing very little space for the driver. Because of this, it has had an impact on the amount I am able to use my chair.
The ideal terrain
As I have said above, racing is difficult. Difficult on the flat and essentially impossible (at least for me at the moment) with hills.
Because of the nature of a racing chair, it's best to push on flat, level ground. On a racing track, or on great terrain, racers frequently race a sub-15 minute 5k!
After racing on the track a number of times, I decided to venture out on the roads with a friend, who cycled alongside me. Clearly wearing a helmet, it was so exhilarating. It was incredibly hilly, but on the way down, I hit speeds of almost 24 miles an hour - I was also petrified at the same time.
Summary
If you haven't quite got the gist of my message above, wheelchair racing is hard..very hard. The professionals that you see, racing around the track, are highly trained, with incredible talents and a lot of experience.
I'm thoroughly enjoying my wheelchair racing and I am really looking forward to the opportunity to race in a wide variety of races - from the London Marathon, to local 5ks. I am incredibly lucky to have the support of Essity and I cannot wait to continue with the training, to be able to consistently achieve a faster pace.
Onwards and upwards!
written by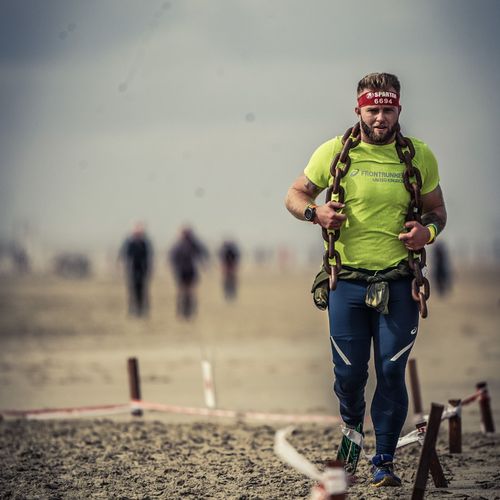 Jamie Gane
Teacher of Mathematics from Basingstoke

Age group: 25-29


MY DISCIPLINES