Every runner loves new kit, especially shoes....
Coming off a "run break" always gives me that giddy excitement about picking new races to run and new running kit (hello new shoes).  While I'm still deciding on my new race goals, I'm 100% sure about my shoe selection - ASICS Roadhawks FF.  I can't lie, I kinda feel like a ninja in these all black trainers.  They are light and comfy and everything I look for in a shoe and all of these things are making me run faster.  #winwin
I know not every shoe of a brand fits your foot the way you want it (comes damn close with ASICS though) especially mine with my wonky titanium right one.  But when I first tried on my Roadhawaks, I was blown away!  Not only do they look sic but they feel even better.  
These shoes make me want to run...
The Roadhawk is best used for fast training runs and even long distances if you're accustomed to a firm ride.  I would wear these for up to half marathon distance.  The shoe is very lightweight at a mere 8.6 ounces, so that helps make the Roadhawk feel fast too. And after logging so many ultra training miles in trail shoes all summer, maybe thats why these babies feel so fast!
My second Fall must have is the ASICS Thermopolis lightweight jacket.  I'm pretty sure I've worn this jacket almost everyday since getting my hands on it.I love the bright teal color, perfect for brightening up those grey London days.  For me it's all about three things - fabric, thumb holes and zipper pockets and this jacket gets an A+ in each area. 
The fabric is soft and has a bit of stretch, the thumb holes are perfectly placed and there is one side zipper pocket with plenty of space for my CGM or cell phone.  I don't think I've gotten so many compliments on a piece of running kit before either... #addedbonus
Today I leave the U.K. and travel to Tampa FL where I'll live for the next year.  I'm looking forward to a lot more sunshine and loads of sunset beach runs.  You can keep following my journey on Instagram @CoreyLearn  and happy running to all! xo
written by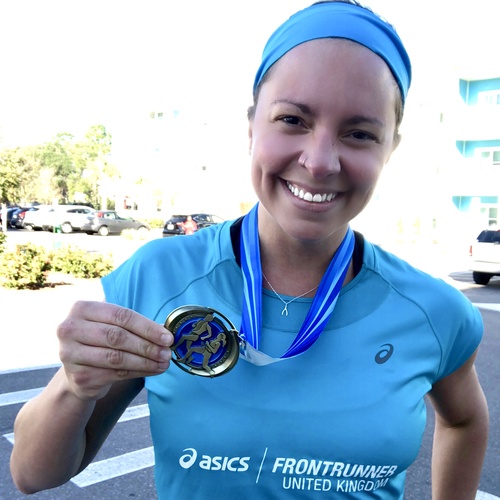 MY DISCIPLINES
MY DISCIPLINES
ASICS
FRONTRUNNER
On Instagram