It all seemed like pie in the sky when Debs said she wanted to run a marathon before she was 40. It certainly wasn't something I had ever contemplated before and it certainly wasn't on my bucket list.
At the age of 46 I'd had my fair share of challenges and achievements, with the latest being overcoming some serious mental health issues I'd probably been suffering with for over 3 years. Although I have more than likely had them on and off for a lot longer.
As I thought about the challenge that Debs had set herself it didn't really seem that big a deal and I actually said out loud that I'd run one with her. Me and my big mouth, actually saying it instead of just quietly thinking it.
Before I knew it we had both entered a competition to run the ASICS Manchester marathon and be mentored by one of the FrontRunner team. It was going to be fine, we never win anything there was absolutely no chance of us being selected and hopefully Debs would probably forget about it or put it off for a while.
Nope not a chance! We only went and got selected to run it and run it as a couple. At the time I was lucky if I was running a couple of miles a week ,and that was only as a warm up to sessions we were doing in the gym at the local rugby club Where I've been a player/ member for years. It's a small box with limited equipment so the easiest way to warm up was run around the village first and then repeat it to cool down. If I'm honest it wasn't the bit I enjoyed the most as I was the slowest and least fittest of the group.
Never mind I'd said I'l do it and having the support of a great team how hard could it really be?
Bloody hard as it transpired. Working full time, and with two energetic kids at home it was certainly a challenge to work the training plan into our already busy lives. 5:30 alarms became the norm and obviously as we were training for a spring marathon that meant some cold sessions out pounding the miles out.
Surprisingly though as we ticked off the weeks through our training plan I really started to enjoy it. I actually looked forward to getting out and getting it done in a weird sort of way. Although hill sessions with the local running club that I'm now a member of were always the ones I didn't enjoy so much and I'm still not that keen on them now, but I understand the importance of them and just switch off and grind them out.
Probably the bit I enjoyed the most was the blogging and posting about our sessions. Not for the follows or likes but it actually seemed to help me mentally deal with everything. And when I say that I don't just mean the mental struggles of running which can be some of the toughest yet at the same time, the most pleasurable experiences you can have.
As the runs got longer and quicker my stamina built and I became faster. Not Mo Farah fast but faster than when I had begun. The support and encouragement we both received from family and friends was amazing and had it not been for the expert guidance of Mel our mentor (@littlerunnermel) we at times could have tried to push it too much and too hard. Thankfully we heeded her advice to stick to our plan and enjoy the rest days, and as we got to the high mileage runs I'm glad we did.
The marathon itself is all a bit of a blur if I'm honest although it wasn't without incident! In less than a mile Debs had fell, cut her chin and skinned both her hands but that wasn't going to stop her. And even after her knee gave in at 15 miles she dug in and kept going.
With 3 1/2 miles to go through I'd emptied my tank and no amount of jelly babies could fuel me, that was until we saw the FrontRunner cheer squad and we kicked on again. Fuelled by high fives and hugs.
As we ran down the the finishing straight with Mel and Jamie I couldn't help but think that's it,it's all over.
Little did I know it was just the beginning and only 6 weeks later I was again speaking to Holly and Laura as they offered me the opportunity to join the FrontRunner team.
In the words of one of the most inspirational people I've met!
" we go again "
written by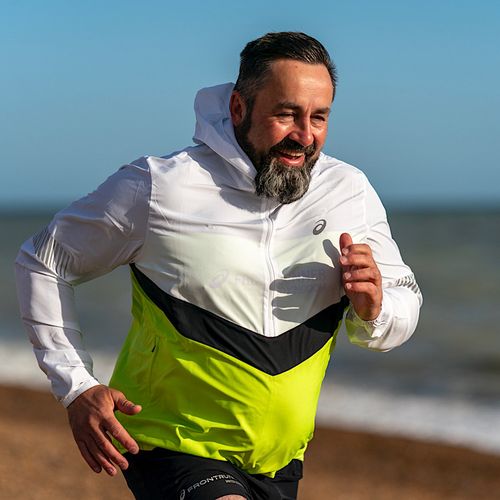 Brian Bowden
Team leader @ Network Rail from Berwick-upon-Tweed

Age group: 40-49
Club: Tweed striders

MY DISCIPLINES