I have been running in the NOVABLAST 3 TR for the past couple of months after receiving a pair during last October's training camp in Portugal. Alongside the GEL-NIMBUS 25 these have become a firm favourite of mine, here are just a few of my thoughts.
The NOVABLAST 3 TR are part of the Nature Bathing collection, combining elements of both road and trail shoes. Having fallen in love with the NOVABLAST 2s, I was keen to see how these performed – especially given their mixed terrain design.
First impressions
Taking the shoes out the box I was struck by the colour combination, the black feels very understated (and easy to keep clean) whilst the oranges and purples on the ladies shoes add some splashes of colour – this is supposed to represent the calming hues found in nature.
Popping them on they didn't feel a world away from the NOVABLAST 2s, although the gusseted tongue helps the shoe feel very light and fit well to the contours of your instep.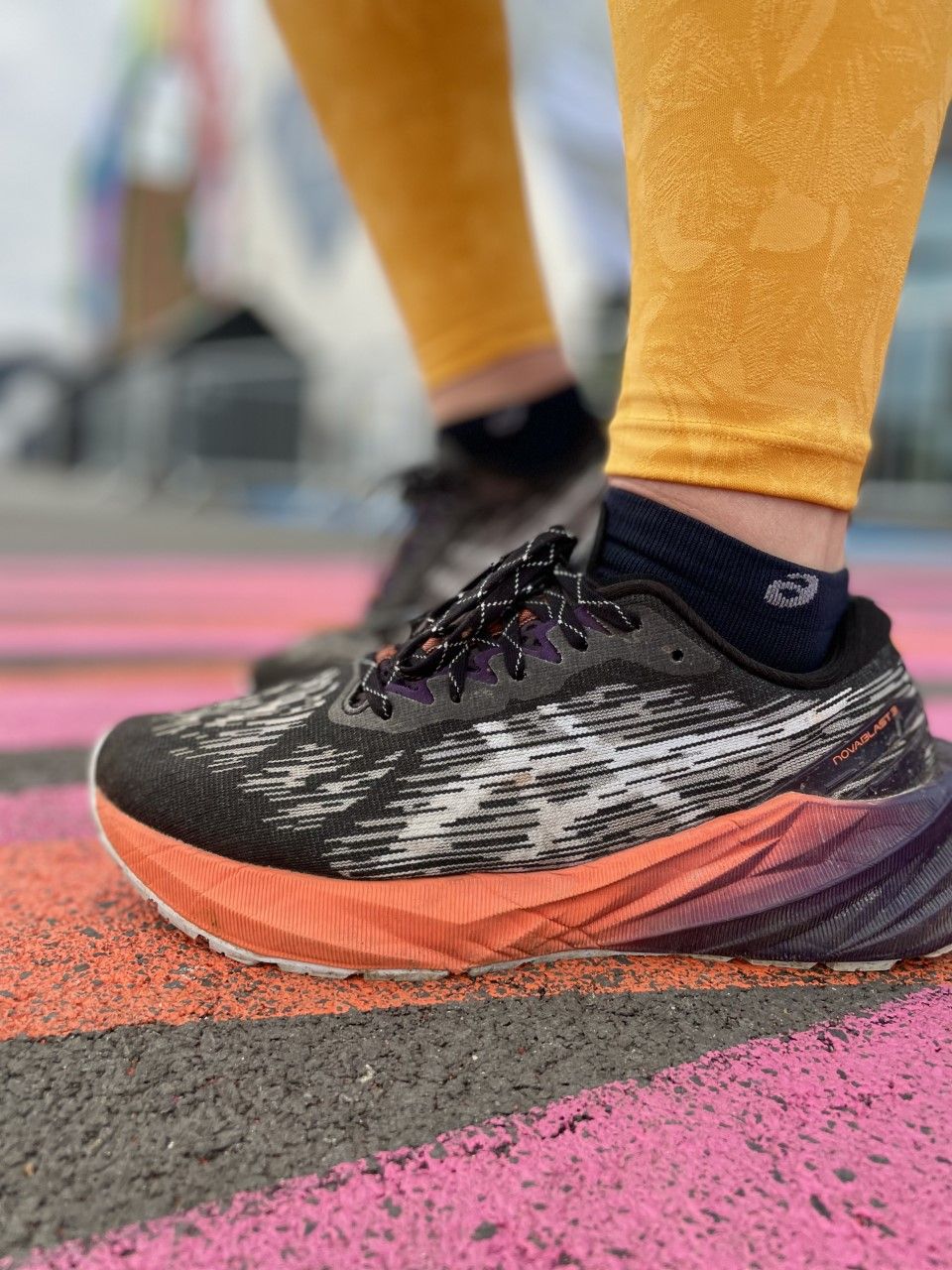 Putting the NOVABLAST 3 TR through their paces
Thanks to the trail specific outsole you can tackle both pavements and light trails. I've tested these on my usual London roads in both the wet and dry, slippery slushy snow covered pavements, damp leaf covered surfaces, a running track, gravel, dry trails, grass and slightly damp trails. For each of these surfaces I was extremely pleased with how the shoe performed, they felt light, gripped well and thanks to the supportive heel design I didn't find my gait massively changing across these surfaces which meant my running felt smoother and more consistent.
I've worn the NOVABLAST 3 TRs at a variety of mixed terrain parkruns and they are absolutely perfect for this as you don't have to worry about choosing between road or trail shoes – this is especially handy in winter. For heavier sections of mud and slippery slopes the NOVABLAST 3 TR don't compare to my trail shoes (I learnt the hard way running down a mud covered hill!) – but that isn't what they claim to be for. If you're scaling boggy, hilly trails you might want to opt for the GEL-TRABUCO or similar.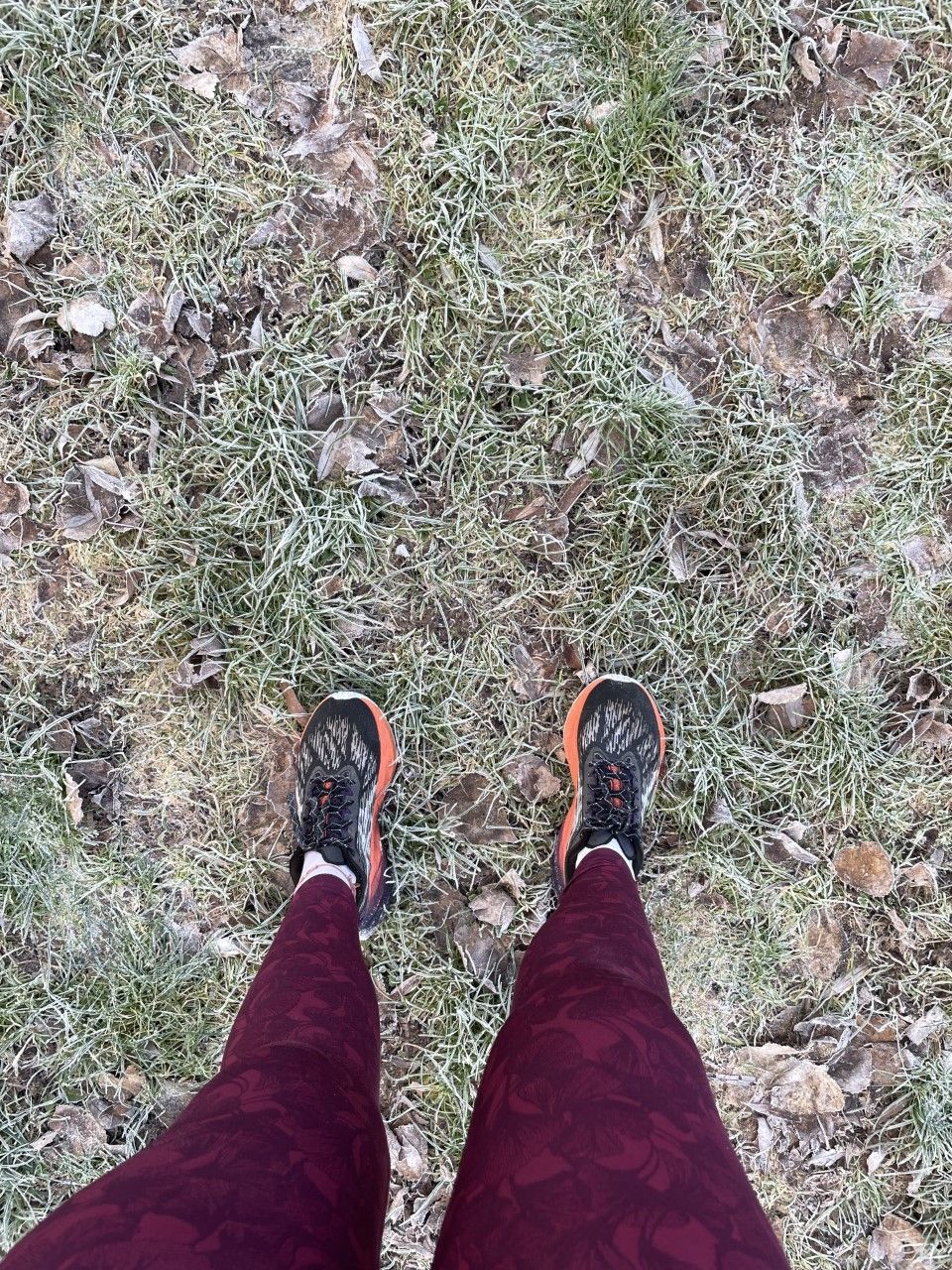 The NOVABLAST 3 TR claim to be 30g lighter than the previous NOVABLAST 2s. Could I feel the difference? To be honest no, the more savvy amongst you might, but to me they just feel super light and super comfortable. I use these for my track sessions – especially on damp tracks as they're light, fast and grip well. For speed sessions these feel exceptionally responsive thanks to the midsole's FF BLAST PLUS cushioning.
One difference I really like between the NOVABLAST 2s and the NOVABLAST 3 TRs is the wing fit system and gusseted tongue. The tongue now feels much thinner without compromising the support the shoe offers, and the new design hugs your foot feeling even more comfortable.
I really appreciate the aspects of sustainability which the NOVABLAST 3 TRs embrace. At least 75% of the main upper material is made with recycled materials, whilst the dyeing process used for the sock liner reduces water usage by ~33% and carbon emissions by ~45% compared to conventional dyeing techniques. These reductions in water and carbon emissions are essential and a welcomed step forward in promoting more sustainable running and consumption practices. More can always be done, but it is pleasing to see these initial steps being taken and I hope the 4th iteration are even more sustainable and environmentally conscious.
These are now my go to shoe for 5 – 10km. Whilst I have seen people running marathons and longer runs in them, and I have taken them up to the 10mile distance myself, I feel any further than this I need more cushioning and support and would switch to my GEL-NIMBUS 25s.
Final Thoughts
I'm a HUGE fan and I cannot express this enough! The road to trail design of these shoes is absolutely perfect if you are running on mixed terrains. I especially love them for parkrun tourism where you aren't quite sure what the surface is going to be like, having the TR element means you can easily transition across a variety of ground from concrete to gravel to light mud. They're a great all rounder (especially brilliant in winter) and since the price point is the same as the NOVABLAST 3 I would opt for these if you want the freedom to mix it up on your runs.
Find out more and purchase here.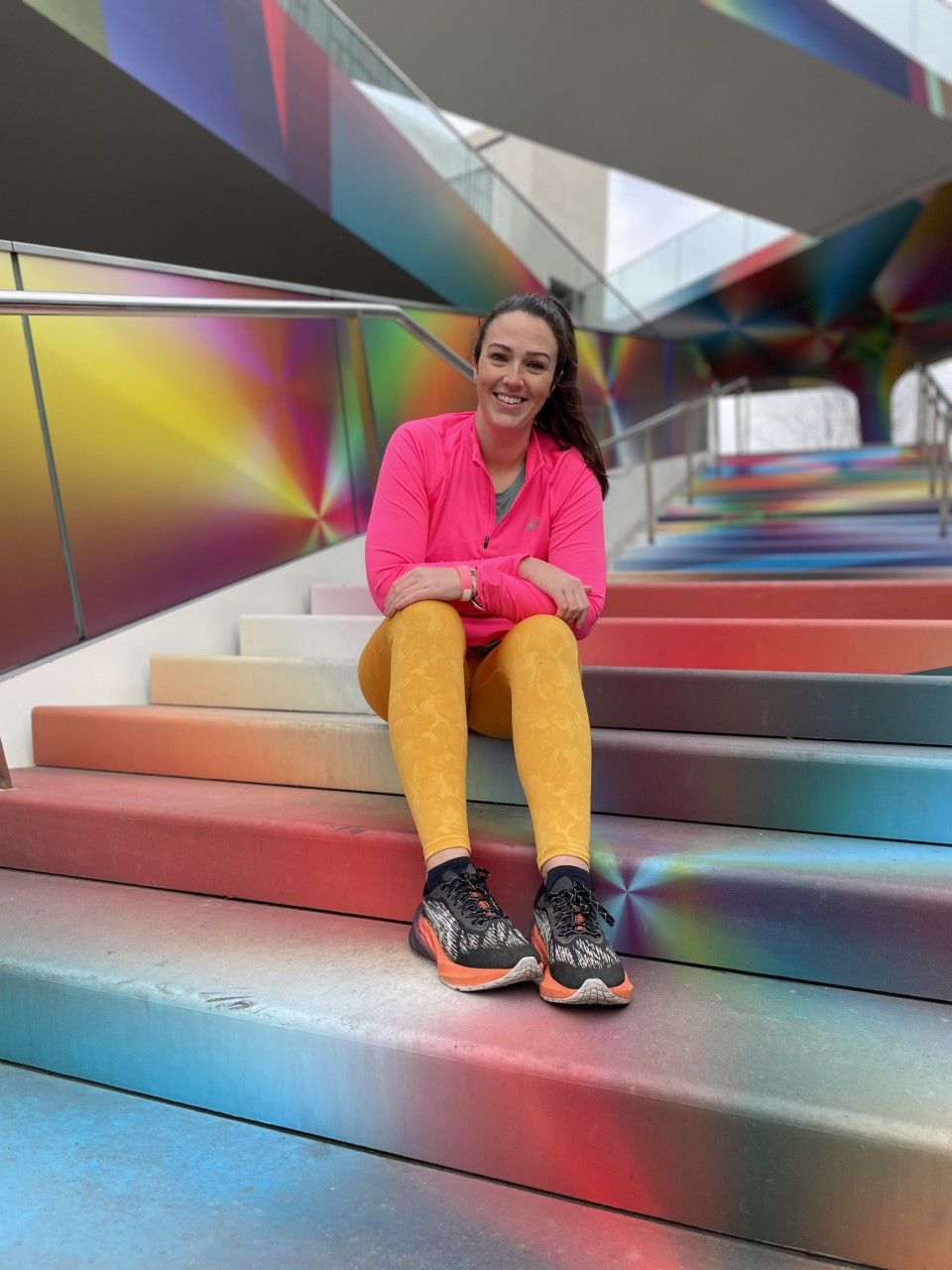 written by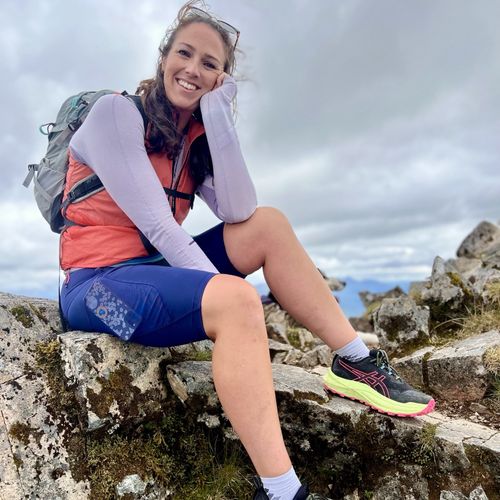 Becca B
Envrionmental Research from London/Southport

Age group: 30 - 35
Club: Greenwich Tritons, Southport Strollers

MY DISCIPLINES