With freezing weather due to blow over from Serbia, it was quite a nice surprise to turn up to Outlon Park in the sun among some friendly faces.
With freezing weather due to blow over from Serbia, it was quite a nice surprise to turn up to Oulton Park in the sun among some friendly faces. 5 of the Frontrunner Team were due to run, 4 in the 10km and 3 in the Half Marathon.
Yes I know what you're thinking, and no, my maths is perfectly good thank you. Two of these legends ran both events! Splitting their long Sunday run into two and adding the two disciplines together!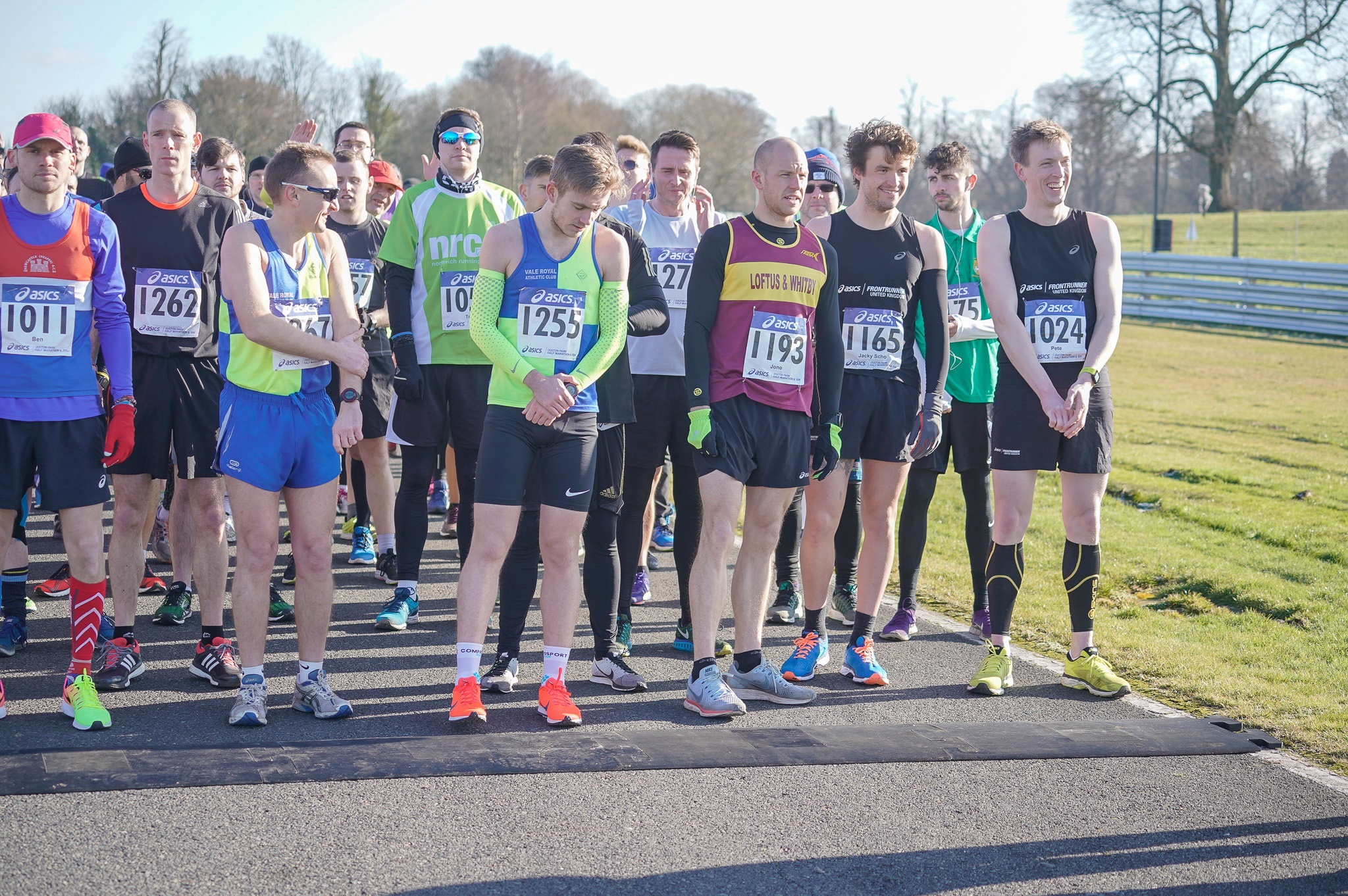 I wasn't quite sure what to expect when I turned up at the event. My legs were somewhat tired from a 5 hour ride the day before, but I was excited to see what I could throw together for this short distance racing. This being my second ever 10km it's still very new to me. A blessing in many ways as I haven't got any barriers and any result would be a top 3 all time best... kerching!

We turned up early doors and got our race numbers. I'd be trying to hold the heels of fellow Frontrunner Pete Butler once again. We'd crossed the line together at Helsby Half Marathon a few weeks ago, so I knew we'd be around a similar speed, and after all, pain shared is pain halved right? Although Pete is a bit of a beast from nowhere near the east, meaning it could be a tall order for me being used to the longer stuff!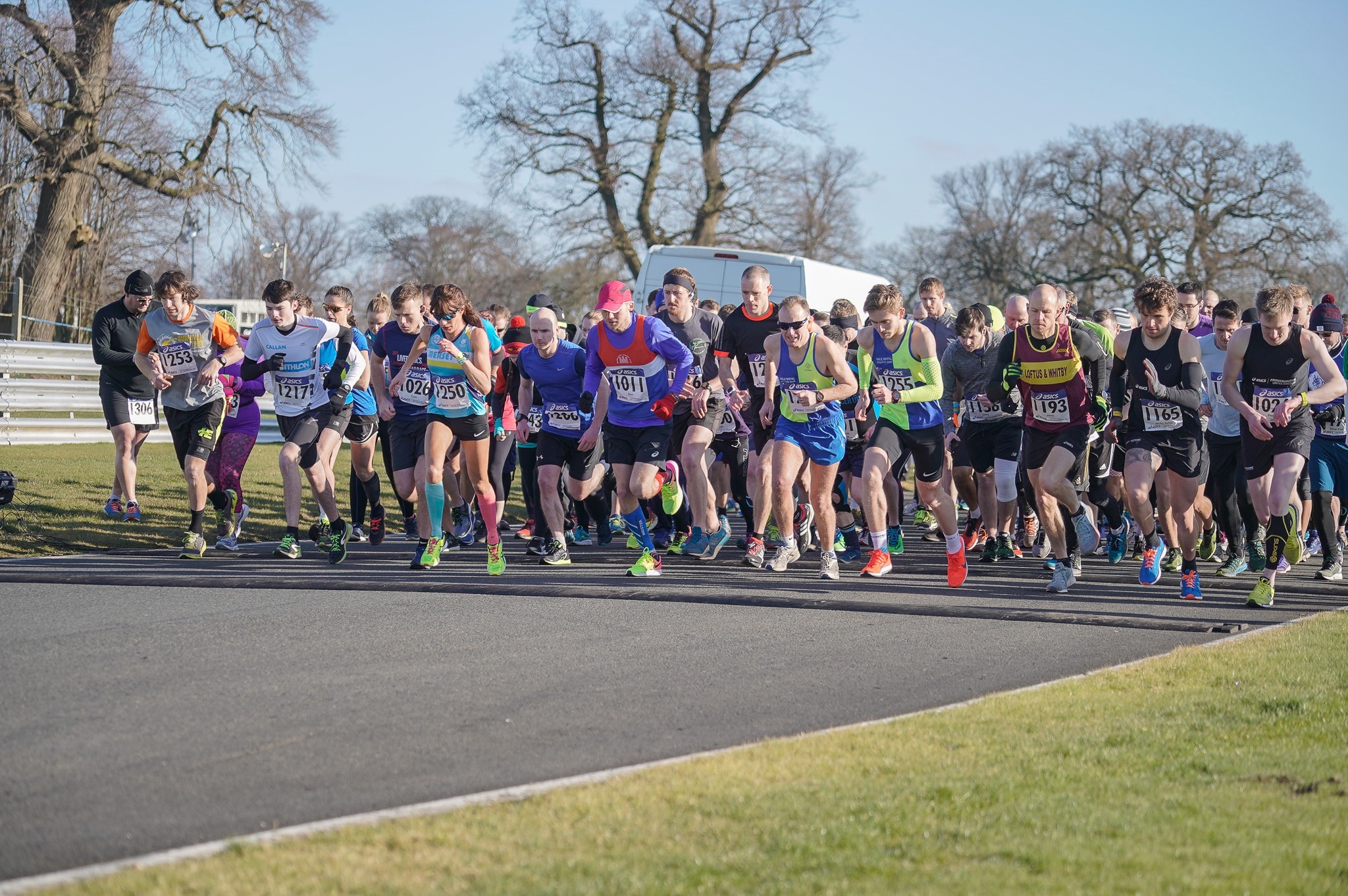 I was trying out a new set of trainers in the form of the Gel Kayano 24. I'd trained in themThursday and was very confident with how comfy they were. They definitely felt bouncy. Mixed with matching front runner vests & shorts, we certainly looked the part.... and the sun had come out to play, I'd almost stretch to say it was a warm day?! crazy. I know.
A couple of quick insta snaps, a brief chitter chatter and a warm up jog later and we were ready to tackle the Oulton Park course. It was set as 3 clockwise laps of the race circuit, how hard could it be?! We'd been warned about the hills before our warm up jog being told not to go out too hard. We both quickly agreed, don't race off the start, it's a long 9km home if you win the first mile...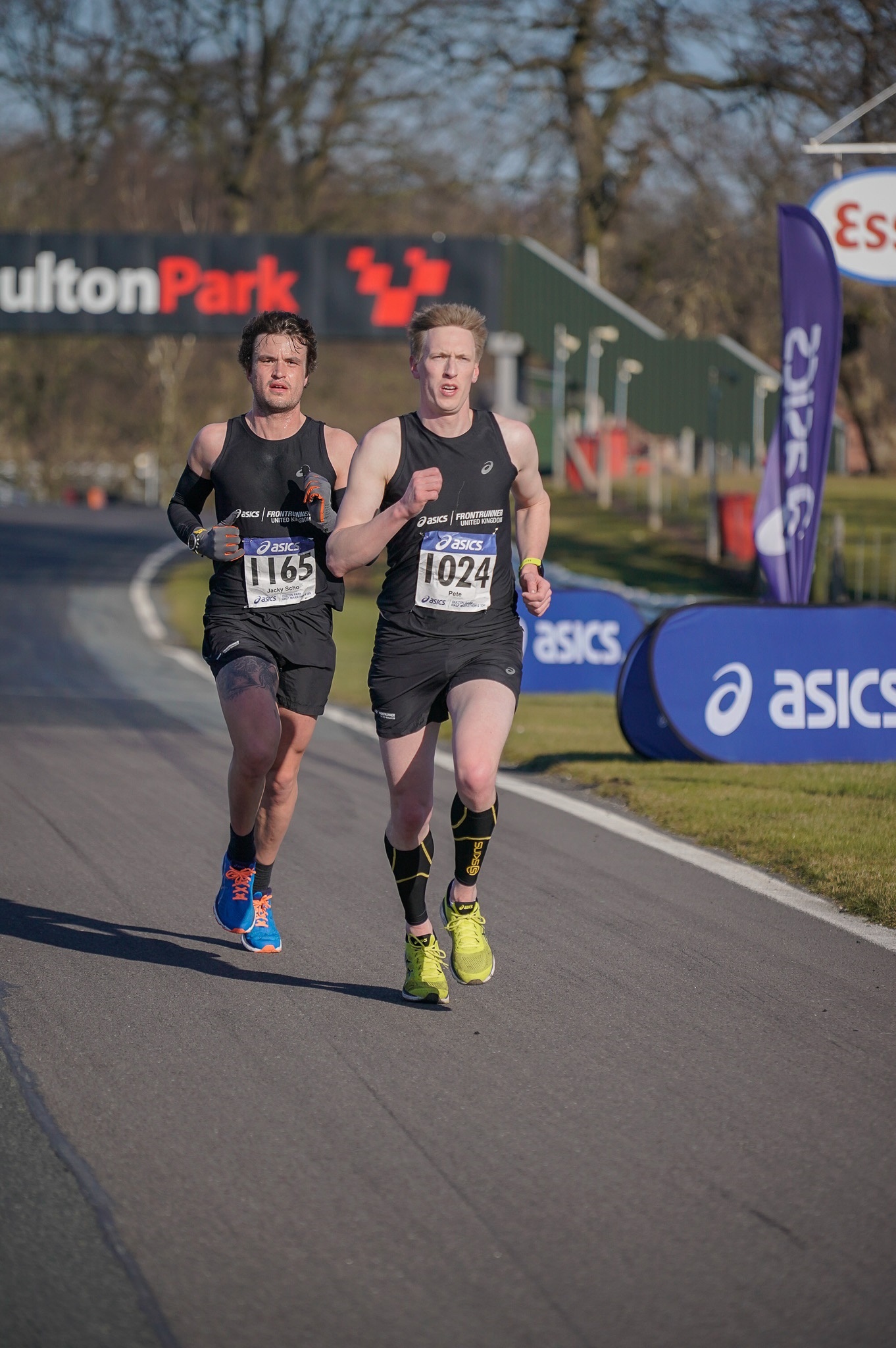 And in good fashion, 5 steps off the line we were out the front of the pack, doing exactly what we said we wouldn't. Do you ever learn? 
Down into the first corner and we encountered the first hill. A long slow drag incorporating a switchback at the end. This is right about the part we wished we were in a race car, and not on two legs! Or on the pace bike at least! 
Over the top of the first hill and it was clear this course was NOT going to be flat. We pushed on to the bottom of the second hill. Still side by side, step for step we attacked the short steep climb out of the far end of the track. Something I know we both quickly realized we wouldn't be doing on the next or final lap of the course. It was a real stinger! Keeping the firm pace alive we made it round the first lap relatively unscathed.
Exchanging a few words of encouragement there was something almost peaceful about running side by side. Stride for stride knowing that we were both going through the same battles, but neither of us wanting to relent on the pace, or let the other down.
As we came back round to the first hill I gently tucked in behind Pete, I knew all I had to do was cling on, although I didn't feel like I'd be dropping off any time soon. If I could make one more lap, I'd surely be on for a new PB.
A huge shout from Frontrunner Aaron on the switch back put a spring in our step half way up the hill. And we managed to hold the pace through the majority of the second lap, as the pain slowly crept in to the legs, still neither of us wanted to let the other down. There was more at stake here than just running for ourselves, this was a team job.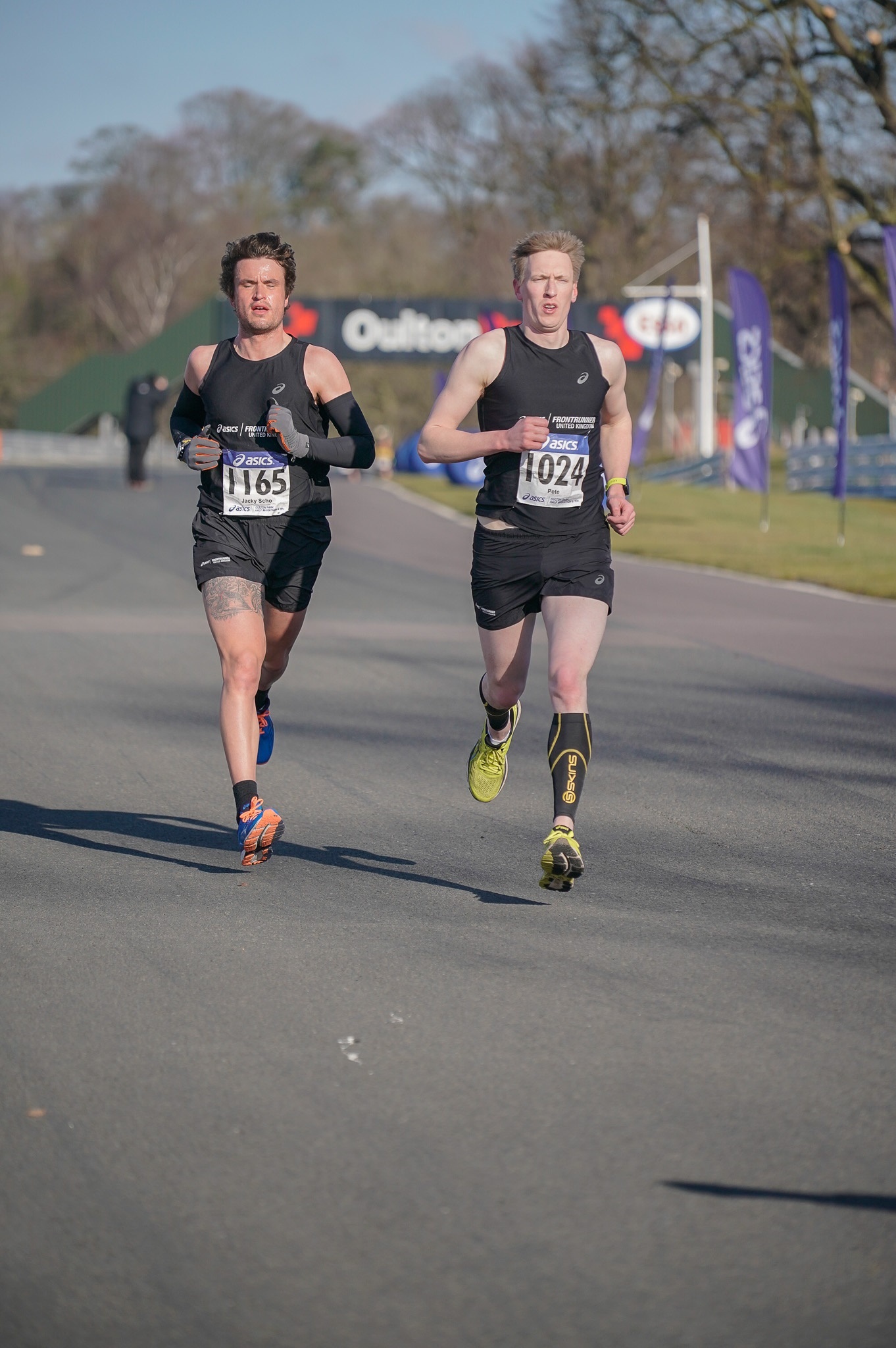 Through the steep hill again. More ouch. 
Running past the photographers I did my best to hide behind a smooth looking Pete, but it didn't quite work!
And before we knew it we were into the final lap and we had one job... go go go go go go.
The encouragement from other runners is something I really noticed here. Having not run many events like this, it was a really warming experience. Everyone gives a little something, whether they gently drift to let you past, or one of you encourages the other. The sense of camaraderie in the running community really is great.
Throwing everything at the last lap we knew neither of us was going to cave here. I'd cheekily tucked myself in behind Pete into the headwind, letting him take the full force of the elements. It wasn't the windiest of days, but I knew he was really taking one for the team! Through the hill and down the other side, still hitting it hard. We made it to the top of the second hill and there was almost a falter in Pete's stride. It was a real stinger, 1km left, is Pete human after all?!
Picking up his side I wasn't going to kick the pace. We kept the pace hard round the back end of the track really attacking that PB, but never attacking each other. I even managed to crack a joke asking Pete to let me take the silver medal. But in reality - race tactics, sprint finishes and placings hadn't even crossed my mind. We weren't racing. This wasn't a man v man battle. We were in this together. I was in my happy place - running hard, in great company, seeing just how far my body can take itself. And there aren't many sports better to do that in!
We came round in a really stern pace, both very happy with our performances, as well as being happy for each other as well as all the other runners. It didn't matter where we finished, we didn't need to be competitive, it wasn't a competition, all that mattered is that we'd put a smile on our faces, and we could share that! 
That being said, 3 laps was plenty for me, I can't even imagine how Pete Nicholson managed 6, let alone Gazz & Aaron on 9. So real credit to them guys!
Another great day out, meeting some fantastic members of the northern running community and being shown just how awesome this Frontrunner lot are!
written by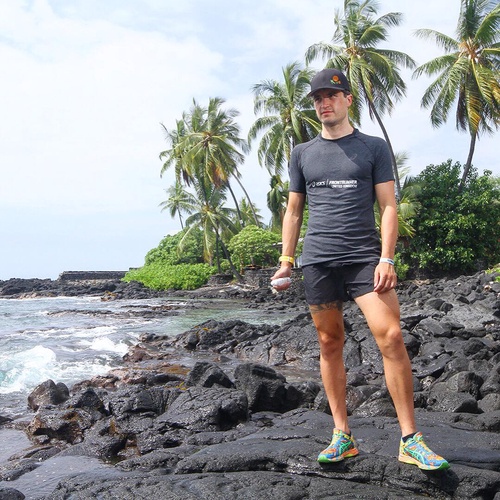 Jack Schofield
Content Creation, Social Media & Marketing from Congleton
Age group: 25-30
Coach: Joel Jameson
MY DISCIPLINES
MY DISCIPLINES