This year has been a great year and it will be hard to improve and beat it. However I am determined to go better than this year.
Thank you for following my journey this year and I hope I continue to inspire you to achieve your goals. I always believe that if you train hard and smart, hard work will always pay off and you will be rewarded. So this is something I will take into the New Year to build on for next season. Winter is well and truly here and motivation is tough and to get out and do runs when it's freezing, but it is days like this that count.

This year I have run just over 1,500 miles, and swam over 500 miles. I have competed in 10 Aquathlons where I got to the podium 8 out of 10 times; one was a race win and one was a National Silver Medal, four second places, three third places, and a sixth place at the world championships.
I competed in my first sea swim race which I won; something I was surprised about. I competed in 15 running races in a range of disciplines from Cross Country to Half Marathons. Some of my running races included Two 5k wins and breaking course records for those races. I also ventured off to a middle distance Aquathlon this year and came 2nd.
However my highlight of my year was being selected as the GB Team Captain for the World Aquathlon age group team. I am very proud of this and I enjoyed it. I like to help others and give something back to the community. So this year has been a great one in terms of sporting achievements and I am now starting to build my training for next season.
So this year is about to end and the most important skill I am taking in to next year is my experience. This is a valuable skill and of course it takes time. Every race, every training session is different. This year I learnt how to change my training when things are not working. It's fine to change and it's better to do this in order to progress.  I had some great training sessions last year which is not factored into my training but I also had some bad ones and these are the ones you really learn how to improve. I learnt if I had a bad session, don't dwell on it but take the positives out of it. If I had a bad race, again I took the positives and moved on. It's not about hard how you get hit, it's about how hard you get hit and keep moving forward. I know I have taken that from the Rocky film, but it's a great quote.
I learnt that my experience in races is so important; I could hardly walk a few days before national championships but after seeing the physio I was told not to panic and get to the start line. History repeats itself with me, I will get all sorts of niggles leading up to big races, even when I am not training as much and tapering. I now know if I am on the start line I am race fit. So I won't panic in future races.
In terms of race strategies, instead of going into a race with just a plan and sticking to it, I now prepare for a few other race strategies. For example at the world championships the lake was shallow for the first 100m and I was struggling to swim. I didn't know how to dolphin start which cost me a lot of time. However I didn't panic and started off slow and then started to push as soon as it was deep enough to swim harder.
The harder I train I know injuries can arise, however it's the way you bounce back from the injuries and deal with them that make you stronger. I am no longer scared of injuries; if I train smart I can try and keep them to a minimal. If I get injured I can train other ways that don't lose the fitness that quickly.  I turned up to the European Championships with limited running training due to a calf injury but I still managed the 3rdquickest run time in my age group. So don't beat yourself up about an injury; you can easily do other training. Worrying too much about an injury only makes the situation and injury worse. The mind can play lots of wonderful tricks with you.
Next season is going to be a long season as the European Aquathlon Championships is not until October. I have just got confirmation I have qualified for the European Championships which are going to be in Ibiza. I have also got confirmation about the World championships in Denmark. I always get very nervous when the email comes through, but it's a huge honour to represent my country and I am very lucky. These races are my key races including the National Aquathlon Championships.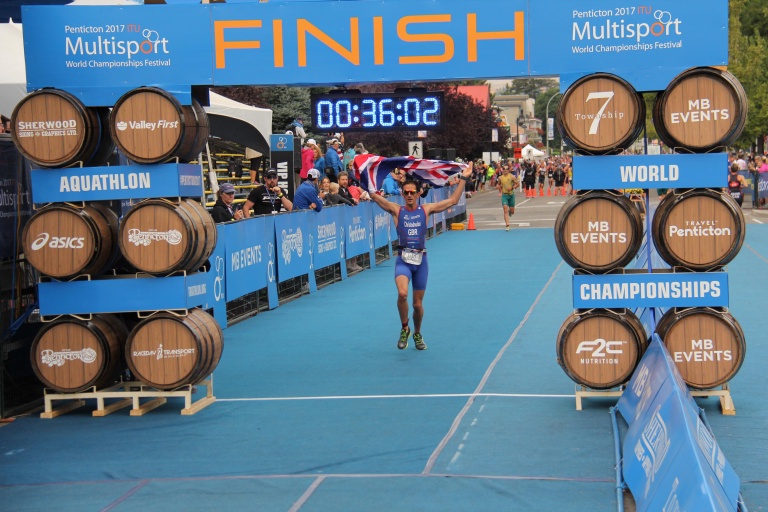 written by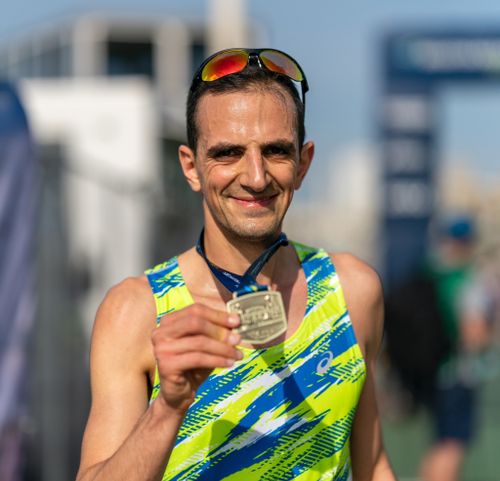 Yiannis Christodoulou
NHS Performance analyst from Canterbury

Age group: 40-44
Club: Canterbury Harriers, Ashford Triathlon Club, GB Age group team, Age group 2017 Aquathlon team captain
Coach: My self in running Level 2 coach in running fitness, Craig Coggle Strength coach, John Wood Swimming coach
MY DISCIPLINES