Working out at home has always filled me with dread - the ability to have the space to train, as well as the equipment required has always put me off…..now comes the idea of a Peloton bike.
Now before I start talking to you about my first experiences of using my Peloton bike, I feel it necessary to let you know that I have not been paid to create this blog , no have I been contacted by Paloton to share my experiences. This is my honest and raw opinion, with no other influences….enjoy!
My Motivation to Change
Since the pandemic, I have noticed a real shift in my motivations towards training. As the nights became colder, my runs became shorter, motivated by a 2021 season of unfortunate prosthetic issues. Before my running journey, I would think nothing of spending hours at the gym training. However, with a full-time position as a Secondary School teacher, as well as my own self-employed businesses, I unfortunately don't have the time or motivation to drive to a training facility - this has really stunted my training opportunities, fitness, weight and subsequently my body image. I'm about 10kg heavier then my World Judo Games competition weight, which has spiralled into the need for change.
Working out at home has always filled me with dread - the ability to have the space to train, as well as the equipment required has always put me off…..now comes the idea of a Peloton bike.
Financial Investment
If you have ever looked at a Peloton before or researched it, you might actually realise that a Peloton bike is quite a big financial commitment. For those who are unaware of a Peloton, it is essentially an indoor exercise bike with a big screen, where live sessions are streamed and pre-recorded sessions can be viewed together with cycling metrics and a leaderboard.
It wasn't even in my mindset to purchase a Peloton bike, until my partner discussed his challenges with working out from home…suddenly the investment became more affordable, with two budgets instead of one. Because we were looking at purchasing it towards the middle of March, there was also a code for £270 off the bike, which made the decision somewhat easier.
In order to access all recorded and live classes, we would also need a monthly membership. With everything taken into account, we would need:
*Bike - £1270 - split with 0% interest free credit across 2 years
*Membership - £40 per month for both my partner and I
It certainly is a financial investment however it was sweetened by the opportunity for a 100 day free trial with free returns…..we decided to bite the bullet!
Other Kit Required
We decided to purchase the Bike, instead of the Bike+, which had slightly less features than the model that was £500 more. While we have a slightly smaller screen that we aren't able to move, it was a perfect fit for our space.
While Peloton were selling their special shoes for about £110, we decided to purchase some for half the price online - fortunately we have the same size feet so only one pair needed!
First Impressions
We had anticipated to wait for about 2-3 weeks for the delivery however three days later, we had a slot for delivery! The delivery drives took the bike upstairs, helped to set it up with its Wifi connection and then it was our opportunity for an experimental ride….I didn't know what to expect.
As an amputee, cycling has always been a bit tricky, as my feet often fall off the pedals. With being clipped in, it was great to have a nice sense of security on the bike and feel as though I wasn't going anyway - although I was a bit worried about getting off for the first time!
I decided to engage in a 30 minute class with Cody Rigsby - one of the many instructors….my first impression was just WOW. The engagement, the challenge, the simplicity and the smooth and quiet ride was just incredible. While it was a pre-recorded session, I felt as though I was in the room with him, being motivated, challenged and entertained. It quickly became apparent that I would need to buy a new fan to keep myself cool during my workouts.
One Week In
Now I have had the bike for a week, I have to say that I'm really quite hooked. Not only cycling, however access to running, strength, yoga, meditation and stretching classes is included in the membership. I'm a bit of a sucker for a good online badge and with Peloton, you can receive achievements for hitting certain milestones - 10 rides, 100 rides, 1000 rides etc. I'm already on my 10th ride and on a 7-day streak. I won't be home tomorrow, so I am already thinking how I can keep my streak going and access a class through the mobile or tablet app.
I have to say that I am really impressed with the bike so far. It is so quite that my partner can be in a meeting next door and the only noise that can be heard is my huffing and puffing. I'm really looking forward to seeing where I will be in the next 6 months!
written by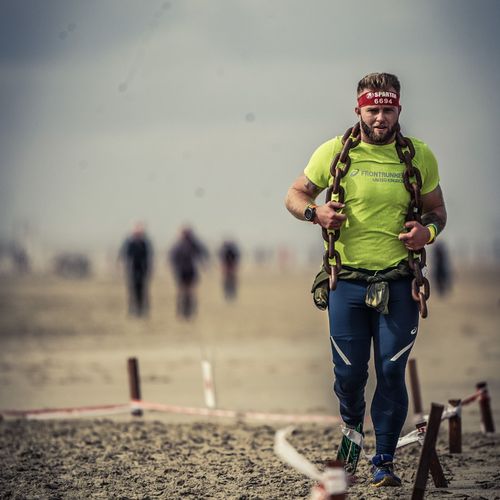 Jamie Gane
Teacher of Mathematics from Basingstoke

Age group: 25-29


MY DISCIPLINES