The CCC is an iconic 100k mountain trail race starting in Courmayer and finishing in Chamonix
Have you run the CCC in the past? Yes, last year (2016)
If so, can you share how your last race played out? Last year was good and bad. Good because I finished 8th and uninjured. Bad because I was totally unprepared. I went out to Chamonix 5 weeks before the race to recce the course which I did over two days. It went really well, however I went out the day after to do an easy run and tripped on a rock tearing my hip flexor. I was devastated. I had to cross train for the next 4 weeks. I wasn't able to run until 10 days before the CCC. Pool running isn't really the most ideal prep for a 100k mountain race!! The day turned out to be one of the hottest years to date. I struggled to eat or drink whilst the sun was out but as soon as I reached Champex Lac and the sun was going down I could get some calories in. I was way down the field and seriously wanted to drop but I knew that if I could get through these bad patches others would drop and I could start working my way through the field. I was just over the moon to not be injured. I could tell I was not anywhere as fit as I had wanted to be but coming 8th was far better than I had expected considering my lack of training.

Would you do anything different? Yes, I would be much more prepared!
What you thought about the race? the course? the atmosphere? The race was obviously tougher than I would have liked but that was due to my lack of fitness going into the event, so I didn't enjoy it much as I would have liked. I am hoping this year will be different. The course has some really lovely trails to run on but also some brutally long climbs. Many people say its not overly technical. From a road running background, I think its plenty technical! My favourite bit is the trail to Bovine, its super quiet with just the sound of alpine cow bells. Im hoping that this year I will be able to enjoy the course and atmosphere more than 2016.
For you, what is the personal draw to CCC? The course, its beautiful. To be fair I just love the Alps, I love the fact you can run through 3 countries. I walked the UTMB route with my husband in 2015 and it was lovely staying at all the huts on route. Each one was very different especially from country to country. The wildlife is a real draw too.
How do you feel CCC is special or different than other Mountain Ultras? Its the way Chamonix embraces all the runners and spectators over the UTMB week. The town is turned into a running mecca. Thousands of people from all over the world hang out in town and run the trails. You don't even have to be racing to enjoy the festival atmosphere. Its great that its not just one race, there are races going on all week.
How have you trained specifically for this race? If Im honest I've been concentrating on getting faster on the roads. It had been so long since I had been injury free that I had lost so much fitness I have been enjoying getting my speed legs back. I am beginning to introduce some longer trail races now but I will basically be continuing marathon training unto the event. The way I see it is that if you are in good marathon shape you are pretty fit.
What are your expectations coming into this year's race? I think the elite women field this year is pretty stacked so to improve on my 8th place from last year would be a good target.
What do you feel are the greatest challenges of CCC? This all depends on the weather. If it is as hot as last year than this will be a challenge again. The last section is always difficult for me. Running the technical descent from the last check point in the dark when really tired is always hard.

How would you suggest someone prepare for CCC? training? race strategy? mental training?
Just run lots!!! If possible I would try and recce the route before the race, this really helped me decide on the right kit and shoes and what was coming next. If this isn't possible then lots of climbing practice with poles (I used poles for the first time....they really helped) and time on feet. I would also practice with different foods. French races do have quite different aid stations, lots of cheese, ham and salty stock. I couldn't stomach anything sweet the second half of the race so the salty food was a life saver. Expect the lows.....in a race this long you will go through bad patches. There could be many of them but you will get through them. Its easy to throw in the towel when u are feeling rough but just keeping moving forward and soon you will come through it. Its a long day out.....the next day you will be eating ice cream in your hammock! 
written by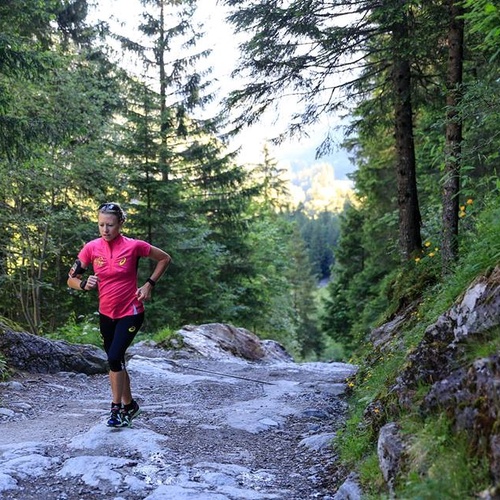 Holly Rush
ASICS UK Frontrunner Community Manager and Sports Masseur from Bradford on Avon
Age group: 40-45
Club: Avon Valley Runners
Coach: Alan Storey
MY DISCIPLINES
MY DISCIPLINES
ASICS
FRONTRUNNER
On Instagram