On Saturday 14 August 2021 I completed my first 70.3 middle distance triathlon (half iron distance). It has taken me a LONG time to get round to writing this recap- mainly because once my event was over (and gone were the long training sessions) I needed time to enjoy riding the post race high, and I had lots of rest to catch up on! But here we are six months later and it FINALLY feels time to get all this down.
I first signed up to a half ironman in November 2019. I had done a couple of Olympic Distance triathlons and I wanted a big goal for 2020 to celebrate the year I was turning 30. I began training in January, using a mix of a plan I downloaded from the internet and sessions provided by my tri club, which I fitted in around my work week. However 2020 had different plans, and four months into my training, my original race (Stafford Half Ironman) was postponed until June 2021. I spent the remainder of the year trying to build a base ready to get stuck back in in 2021 and building my confidence on the bike.

January 2021 came around and again I threw myself into training, only this time I had a coach and all the support and knowledge that comes with having someone in your corner. However, just like 2020 there was a lot of uncertainty about whether the race would go ahead. I found this a huge mental challenge. Training for something outside your comfort zone whilst not being sure if it will actually happen is a very strange situation to be in and it can really get into your head on those long, lonely and tough training sessions. As the race was moved again to later in the summer, I made the decision to take back some control and give myself a bit more certainty- I swapped my Half Ironman branded race for a much smaller, local 70.3 in the hope that the tiny size of the race would mean it was more likely to go ahead and I could take away the stress of constantly booking and rebooking travel and accommodation. It was the best decision I made!
I opted for the Midnight (Wo)Man 70.3 Triathlon in Dartford, a small local race where members of my tri club (including my swim coach) would be helping out at. The event is quite unique as it begins around 5pm the Saturday afternoon and goes through the night until Sunday morning- I really liked the idea of this as it meant I could do a summer triathlon without the worry of the heat. So it was back to training, and this really was the steepest learning curve. Having previously trained for marathons and triathlons I thought I knew what to expect, but I'm not sure anything could have quite prepared me for the sheer volume of training that goes into a 70.3. There were times I loved it (think long rides with friends in the spring sunshine) and there were times I felt physically and emotionally drained. As the sessions got longer and longer I started to feel I was losing the balance between training, work and life, but I was extremely lucky to have support at home and my coach Rachael was fantastic, not only being a triathlon coach, but stepping in as my sort of life coach when the emotions of training for a big event and juggling life all felt a bit overwhelming.
In the lead up to Midnight Man, I took part in a sprint and Olympic distance triathlon to help get myself back into racing, practice fuelling and transition and just prepare myself for what was ahead. As the big day creeped closer I alternated between feeling nervous and feeling relief that I was almost there. When race day arrived it all felt rather strange having to wait until later in the day to head to the race. I tried to spend the day eating and relaxing, but ultimately ended up clockwatching.
When I arrived, the nerves took over. Seeing all the other competitors and overhearing their conversations about their previous iron distances races freaked me out a little. I looked around and realised that in a field of around 100+ entrants I was one of only a handful of women (I think there were 8 in the end!) I was desperately trying not to let this freak me out and luckily the race atmosphere felt very relaxed, the volunteers were so warm and friendly and I soon found some members of my tri club to wait with. I filled my roadside grab bag with some spare bike maintenance bits and extra snacks, dropped it off and soon we were being called forward for the swim.
I got into the water and the nerves washed away. The swim is my strongest and favourite element of triathlon and is always a welcome confidence boost at the start of every event. And the best bit of having an early evening start time was that the water had been heating up all day, it was the perfect temperature. As we set off I had forgotten just how washing machine like mass starts can be, there were bodies, kicking legs and flailing arms everywhere but it soon spread out and I could find my groove. The swim came in slightly long but I was exceptionally pleased to have put in a strong effort, and I didn't get lost finding my bike in transition which I always a bonus!
Onto the bike leg- my weakest of the three disciplines, mainly because of my confidence. The bike course was 13 laps with some pretty tight turnaround points, but thankfully it was flat and wide. As the sun would soon be setting I knew I wanted to try get as much of the bike course done before darkness hit so I pushed on the best I could. Rather than thinking about the whole 90km, I focussed on each lap, mentally ticking them off and getting into a rhythm of fuelling at certain points in the course. I found the 180degree turns a challenge but I ploughed on, taking each one as it came. In the weeks leading up to the event I had a recurring dream that I got a mechanical on the bike course and wasn't able to finish (hence me frantically stuffing my grab bag with loads of repair kit!) but as each lap went by I started to realise I was actually doing this.
As the sun set, I swapped my sunglasses for my clear lenses and finished my final two laps in the darkness- which was no-where near as bad as I had expected. The whole cycle had been a bit of an out of body experience, my brain was just focused on counting laps, not falling off at turns and my inner monologue was just 'omg this is happening' on repeat. I came into the second transition with a huge sense of relief, the bike was done and it was now onto the run.
The 13.1 miles to finish was 4 laps in the dark. By now it was around 10:30pm and a lovely cool summers evening. I racked my bike and soon realised I had made a rather stupid error when dumping my wetsuit after transition one. I had foolishly hung it over the rail to dry- right above my trainers- which were now slightly damp. Feeling like a total idiot I slid my foot in and just hoped for the best. I grabbed my gels and off I went. The first two laps of the run flew by. In my head I wanted to get to 10 miles without taking any walk breaks, fatigue was starting to kick in and I knew if I stopped it would be a real mental challenge to get going again. I started to see other runners on the course and the exchanging of smiles and words of encouragement really kept me going. I couldn't believe the progress I was making. As I reached my final lap I felt so close to finishing, but this is when the wheels started to fall off a bit. We were approaching midnight and it was almost as if someone had flipped a switch and I went from feeling strong to feeling a wave of tiredness and sickness hit me. My body must have been a bit confused, I was usually asleep at this time but tonight I was asking my legs to run a half marathon after having already swam 2km and cycled 90km. I took a walk break, gave myself a little pep talk and completed the final lap as a mixture of running and walking.
As I reached the finish, volunteers and supporters were cheering everyone in. I saw my boyfriend and he ran a couple of meters with me willing me on to the finish line. Just after midnight I passed under the big finish sign and I had completed my first 70.3 triathlon distance, and I had beaten the 7 hour goal I set for myself. It was only when I stopped I realised how exhausted I was. The months of training, uncertainty, commitment and fatigue were over. I had achieved my dream, and how did I celebrate? By going to bed!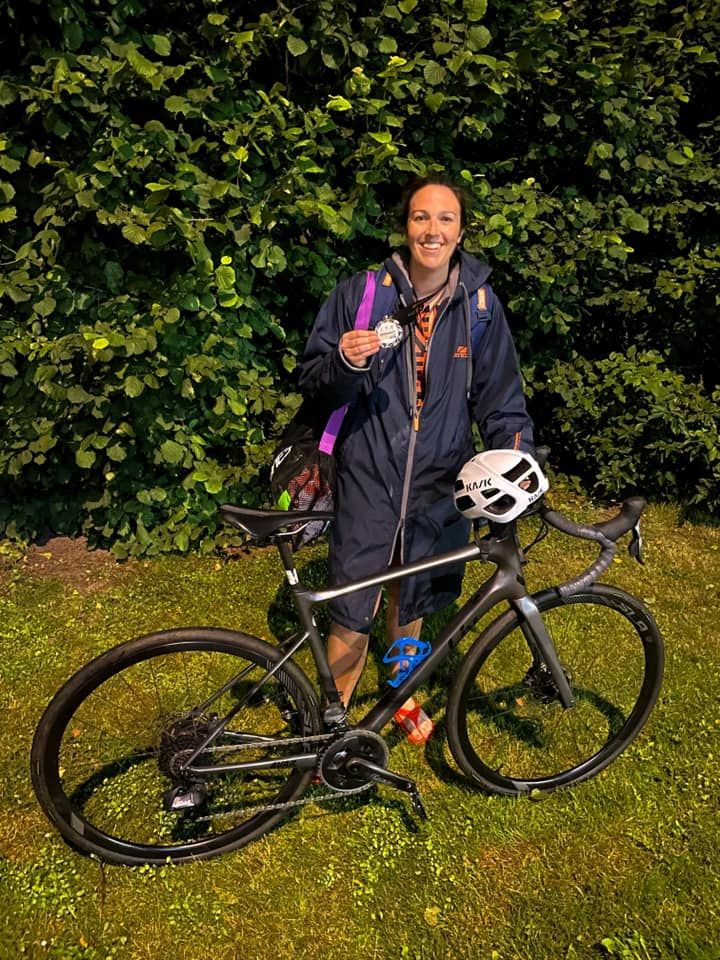 I'm forever grateful for the support of my coach and family for helping me complete this, I honestly couldn't have done this without them. And of course to all the volunteers and organisers of the Midnight Man triathlon which was a brilliant, small and friendly event and absolutely perfect for beginners and more seasoned triathletes alike (it is also exceptional value for money compared to other races of the same distance). I'm hoping to do another 70.3 in the future and next time I really hope to see more women on the start line with me. I am an ambassador for Girls Run the World, an online coaching and training community for running and triathlon. This summer my coach Rachael and the team are aiming to get as many women onto the startline of the 70.3 Hever Castle Triathlon- to find out more and take part check out the webpage here.
written by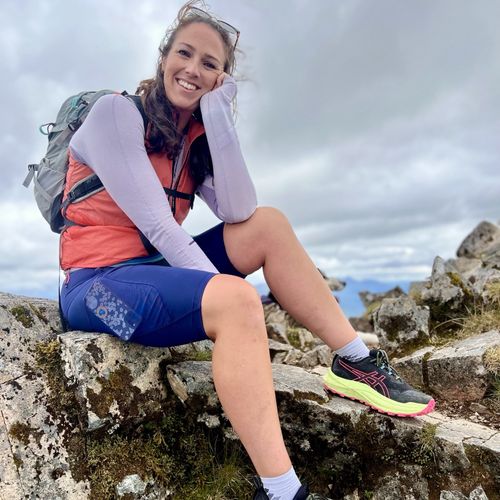 Becca B
Envrionmental Research from London/Southport

Age group: 30 - 35
Club: Greenwich Tritons, Southport Strollers

MY DISCIPLINES