The Marathon du Mont Blanc weekend in Chamonix is fabulous – there's a race for everyone providing you're okay with elevation, the town is buzzing, and you find yourself bumping into famous trail runners around every corner. It's exceptionally inspiring. The Vertical Kilometre has been on my bucket list for years, but of course, I couldn't just do one race whilst there so decided to add the Duo Étoilé to the agenda too which is a race in a team of two.
The day before I left for Chamonix I was walking behind a blind lady on my way to the station, she bumped into a metal security bollard which her white cane hadn't picked up – it was a true moment of realisation for me as to how lucky I am to have a body that can run up mountains for fun. Yes, it was challenging, but we are so fortunate that we are in a position where we can just lace up our running shoes and get outdoors without having to take into consideration any other factors. It really gave me some perspective on how I mustn't take this gift for granted.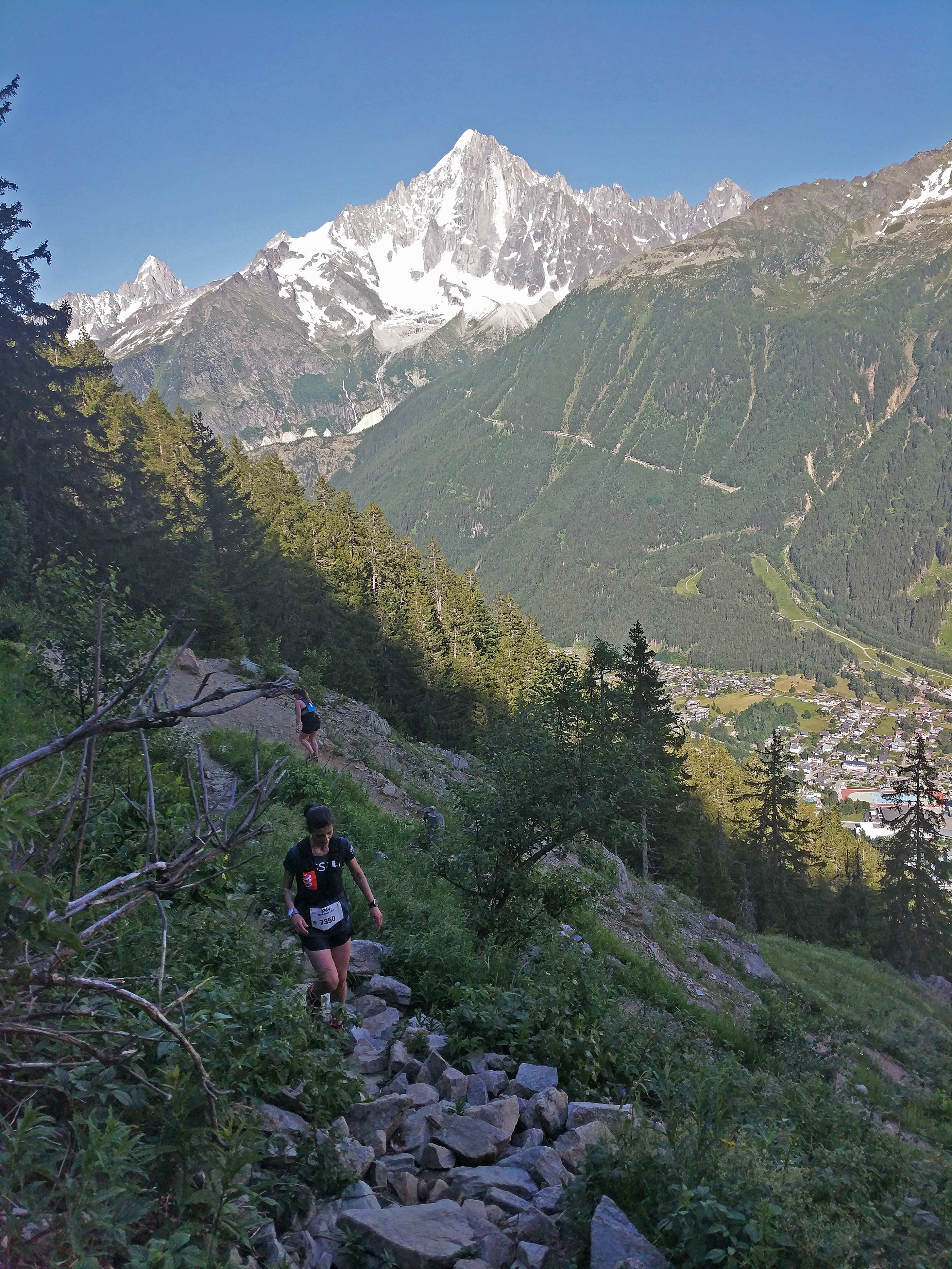 Vertical KM - Friday
In the days leading up to the race weekend we were issued severe weather warnings for a heatwave that had hit most of Europe, but especially France – the race organisers emailed us to say that it was now mandatory to carry water on the KMV and that everyone's start time would be delayed by an hour to take us out of the hottest part of the day. It was still 39'C when we started racing, and this was a race with 1000m of elevation across 3.8K. My husband, uncle and our friend all started their KMV at around 17h15. I had miscalculated my predicted finish time as I had nothing to compare it to (I doubled my 5K time and added a 10 minute contingency…seemed like a good idea at the time) which meant I was put in the elite starting time and didn't start my race until 18h35. Even whilst we were stood at the bottom of the KMV I still couldn't quite fathom what it was going to feel like to run that kind of race, I felt a little nervous about my start time as I didn't want to be an inconvenience to the elites behind me as there are very few places to overtake on the mountain, but I was excited and raring to go by the time my start came round. As you might expect the race was steep right from the very start…the first half involved a lot of switch backs and this was the part I found the most difficult mentally – it was a little boring just going back and forth, and I was trying to keep a very slow run instead of walking on these parts too which made it feel extraordinarily difficult. At this point I realised my watch setting was on Imperial too so it was tracking feet instead of metres – not so great when you're trying to manage what was still to come. I stopped a few times to catch my breath, film some Instagram stories, and take in my surroundings – it's amazing how quickly you gain elevation in a race like this and the views were just incredible. Towards the end of the first half I heard my name being shouted out – the boys had made it to the end of the race and were heading back down in the cable car overhead with a beer in hand, that gave me a nice little boost as it meant I knew my husband had made it to the top of the race safely (I was definitely feeling a little responsible for his safety and happiness as I had pushed him into signing up to this race). Once I had climbed a little over half way the race became technical – you needed your hands to climb, and this was when the race started getting exciting for me. I don't find running up hills all that much fun, but climbing where you have that element of danger is definitely my kind of thing. It really was a bit of a scramble and I found that so exhilarating. It was also tiring too, but the adrenaline had well and truly taken over by then – and being amongst the elites was so inspiring and kept me focused on moving myself forwards and upwards. The last half of the race was just the best, although I had no concept of how much I had left to climb and I could definitely feel myself starting to fatigue. Eventually I made it to the top and the atmosphere was incredible – there were so many people cheering me on as I reached the top climb and had the last bit of running up to the finish line. I did feel a little like Bambi trying to get my legs to work properly again but eventually they started to tick over nicely to carry me over the finish. I finished in 1h24 which was a really great time and something I wasn't expecting at all – especially as this was my very first mountain race and I only really have flat miles in my legs from training. It was exhilarating crossing the finish and reflecting on what I had achieved that afternoon.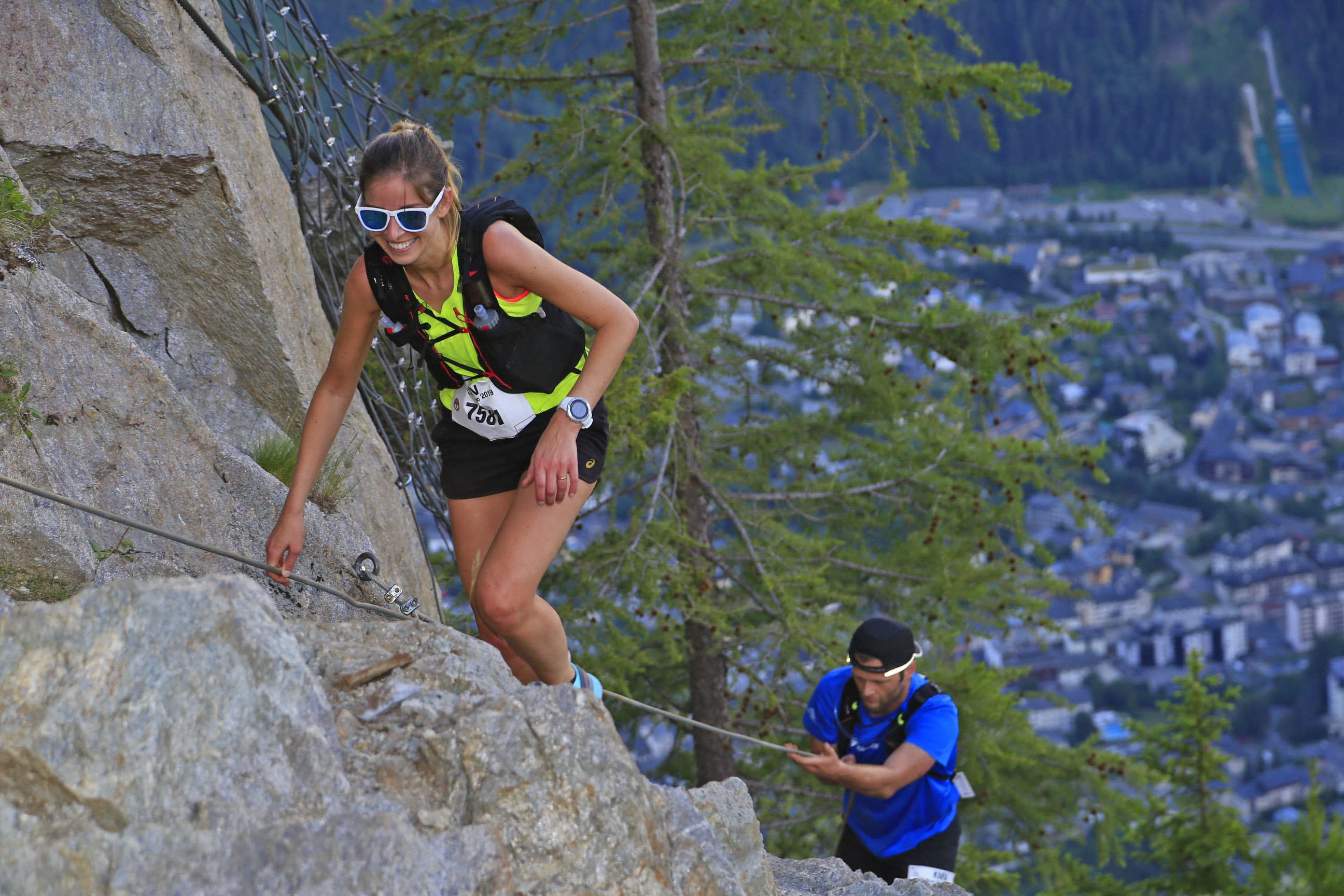 Duo Étoilé – Saturday
Of course, I'm never one to do things by half and so at 20h00 on the Saturday evening I started my second mountain race of the weekend (and of my life), the Duo Étoilé. This race was 20KM with 1430m of climbing – so significantly further and higher than the day before. We had to run this race in a team of two, however one of our pals from Monaco had to drop out as he had surgery the weekend before which meant instead of two teams of two, we ran as a team of three and hoped we would be allowed through the check points in this formation. None of us were particularly excited at the start of this race – the heat and the previous day of racing, plus a bedtime of 2am, had left us all feeling a little tired which isn't so great when you know you will be running through the night. We got to the start line and positioned ourselves right at the very back as our only priority was to keep the entire team happy and comfortable and to make it to the check points before the timing cut offs – we also had 6hrs in total to complete the race which we were fairly confident about. The first kilometre of the race involved us running through town to get to the start of the climb at Les Planards, it was at this point that I realised my natural running pace was a little too fast for the rest of the group so had to dial it down a little. Once we got to the start of the ascent everything naturally slowed down anyway as the race was so congested. I don't naturally have much patience, so this was a real test for me as it was literally at a standstill at the technical parts of the climb – very frustrating. There were also a lot of people running with poles, which I have nothing against, but in a congested race when you're really trying to get around a few people it can become particularly annoying. Eventually we made it to our first check point, refilled our water and put our head torches on in anticipation of the darkness that would soon descend. We then continued climbing, reached some very technical elements and were suddenly up on the snow covered mountains at twilight – it was absolutely stunning and awe-inspiring to know that an experience like this could be real. We then ran across Grand Balcon Nord which involved running through the start of waterfalls which we used to cool off in (it was still 30'C, even as we were approaching midnight), reached another checkpoint where we refuelled on orange slices and sweets, and then started the slow descent back into Chamonix. I would've liked to have gone a little faster on the descent, but as we were racing as a group and one of the team kept rolling his ankle on the uneven and rocky terrain we decided to be a little more conservative. I saw three people writhing around in pain on the ground during the descent who had clearly tripped and injured themselves – the technicality of the descent was no joke, and even more hazardous in the dark, but it was also fun and unlike anything I had ever experienced before. It did start to grow a little boring though because you had to concentrate so hard so as not to fall, but equally the switchbacks were so short that it felt like the descent was taking forever. Eventually we were back in Chamonix and running through the town to roars of encouragement from the locals lining the street – I was having the best time as I ran my way through to the finish line and felt so proud and amazed at all I have managed to accomplish in my first set of mountain races. We also had over an hour and a half until the cut off, so we had done pretty well during this race too.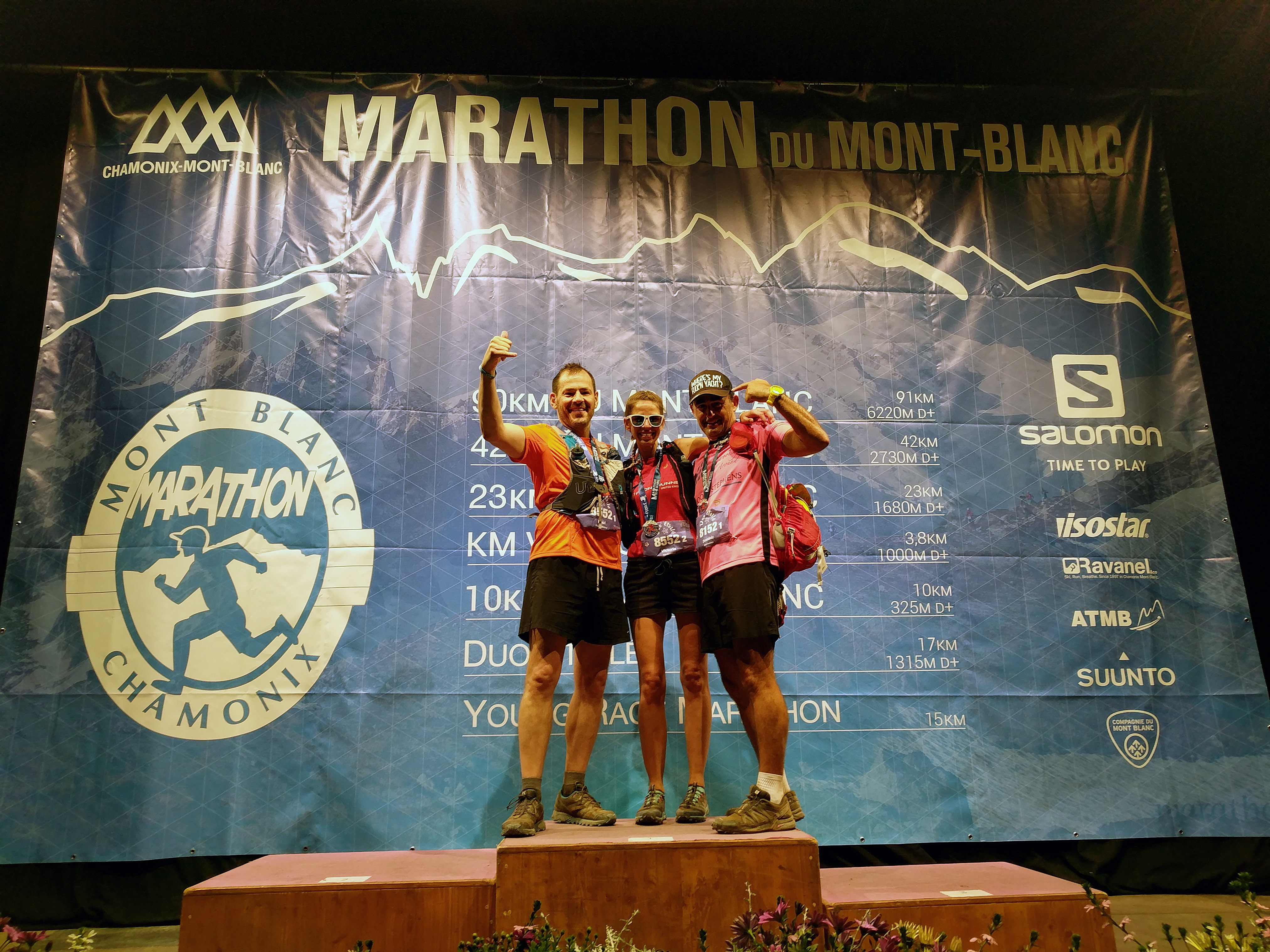 written by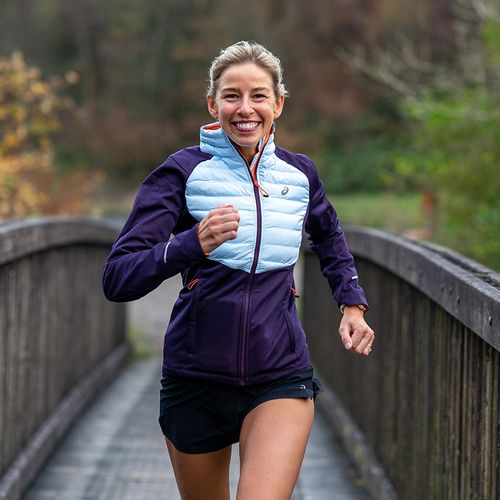 Victoria Stears
Head of Global Marketing - Sports/Education Sector from London

Age group: 34


MY DISCIPLINES