Yorkshire – God's own country, home of Yorkshire Tea, Yorkshire puddings and one of the UK's most popular marathons.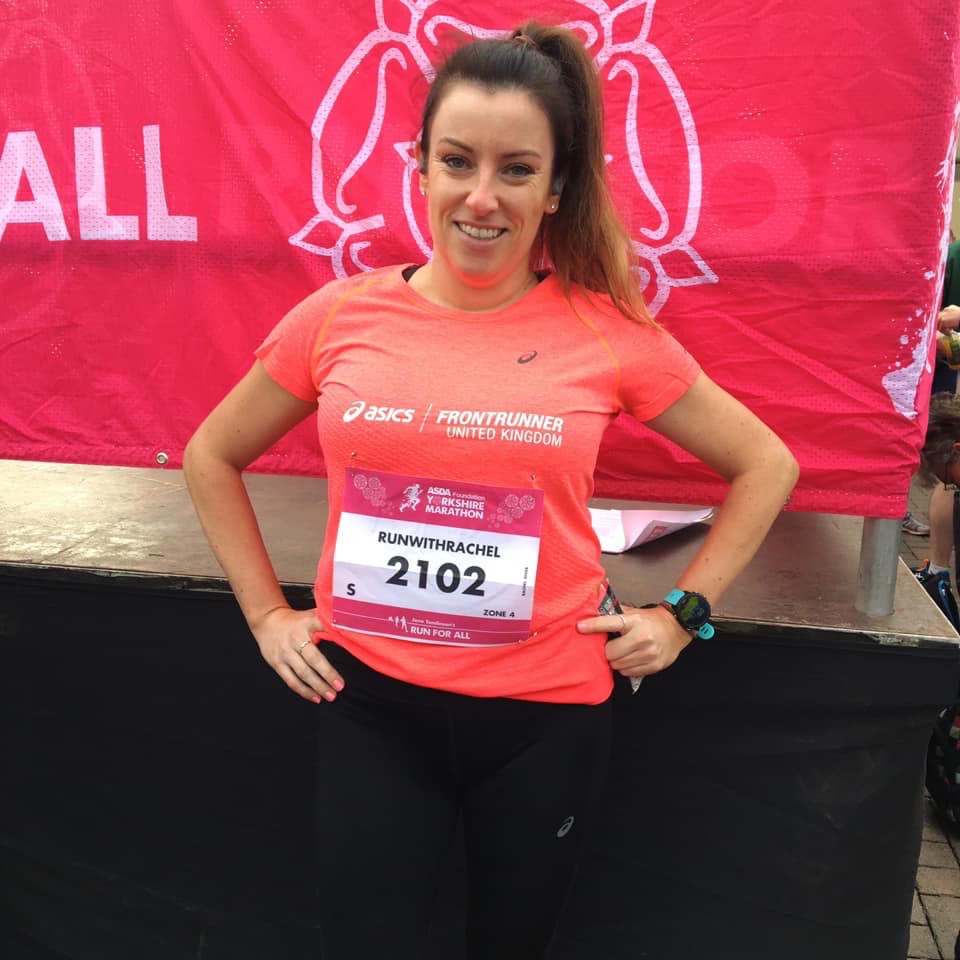 The Yorkshire Marathon is a special race for me. It was the first race I entered back in 2013. Each year since I've either run or gone out and supported it. Last year as I stood in the torrential rain cheering on the runners I felt like I should run it again. As soon as I got home (and had dried off) I entered.
The big draw for this race was it was local, I train on these roads and I could be back home and in a hot bubble bath in record time. 
It was also going to be my tenth marathon so why not bring it back to where it all started?
I wasn't really running with a goal finish time in mind. I had already got a marathon PB In Manchester earlier in the year. So my main aim was to enjoy it. Training had gone OK, I'd beaten my half marathon PB twice in the build-up to this race. However, my 20-mile training run ended at 11 miles due to torrential rain and not wanting to risk getting cold/flu.
The morning of the race
The marathon offers a Park and Run service, which I highly recommend. I arrived at Elvington airfield, slightly worried about the number of double-decker buses taking runners to the start. I did my stint on the top deck on the way to the race – there was no way I'd be able to get up and down those stairs afterwards!
The buses take you from the airfield to the event village. Weather conditions were ideal for running, with my bag checked in it was a case of nervously waiting for the start at 9.30 am.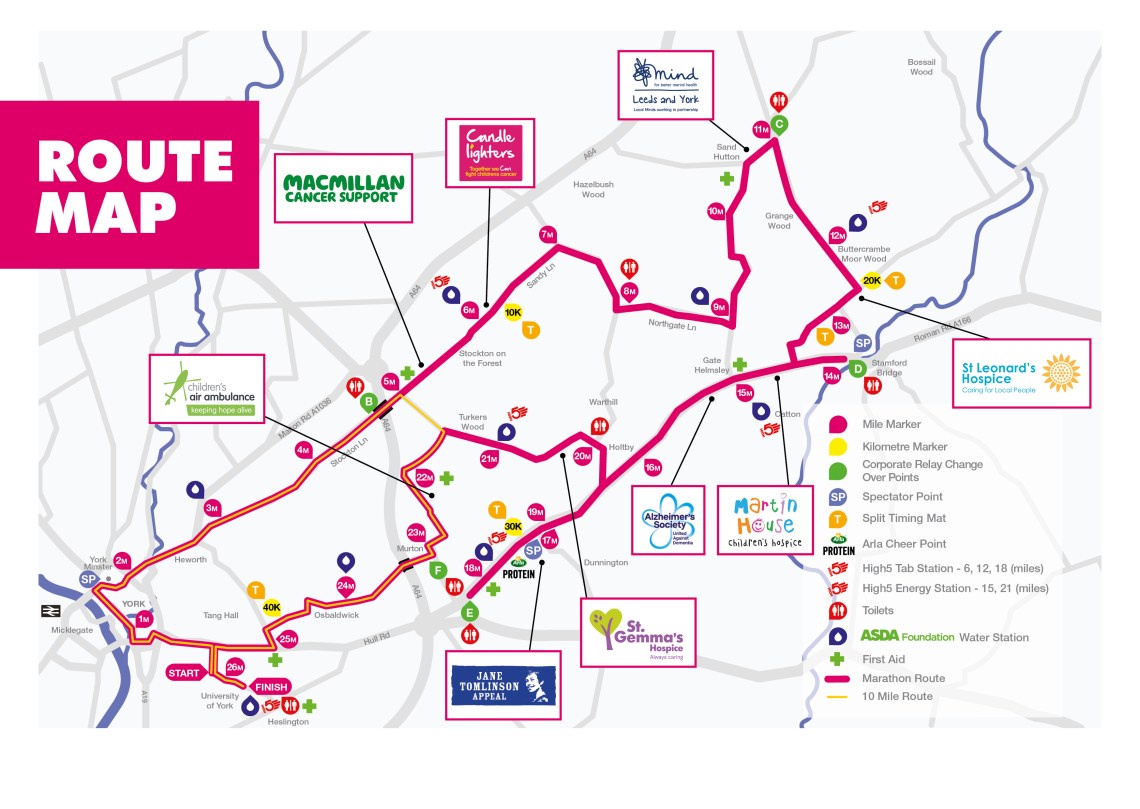 The course
The course starts at the York University campus, heading into the city centre, passing York Minster before moving out to York's suburbs. A LONG out and back stretch along the A166 and then you head back through Holtby, Murton and Osbaldwick before joining Hull Road before the final climb back to University. Yes, you read that right – there is a hill at the end.

During the race
I LOVED the first five miles. The atmosphere was great, the bells were ringing as we ran past York Minster, there were loads of people out supporting. At the five-mile point, the course splits. There is a ten-mile race on the same day, the ten milers turn off to the right and the marathon runners continue on. Here is became quite lonely, so I popped on some music to get me to the half waypoint.
It was going good up to until mile 13, I'd even had a high five from the Vicar. I felt OK as I crossed the halfway point in 2 hours. Then I looked up and my heart sank. I could see the part of the course I had been dreading – the long out and back. This year I was determined not to let it beat me.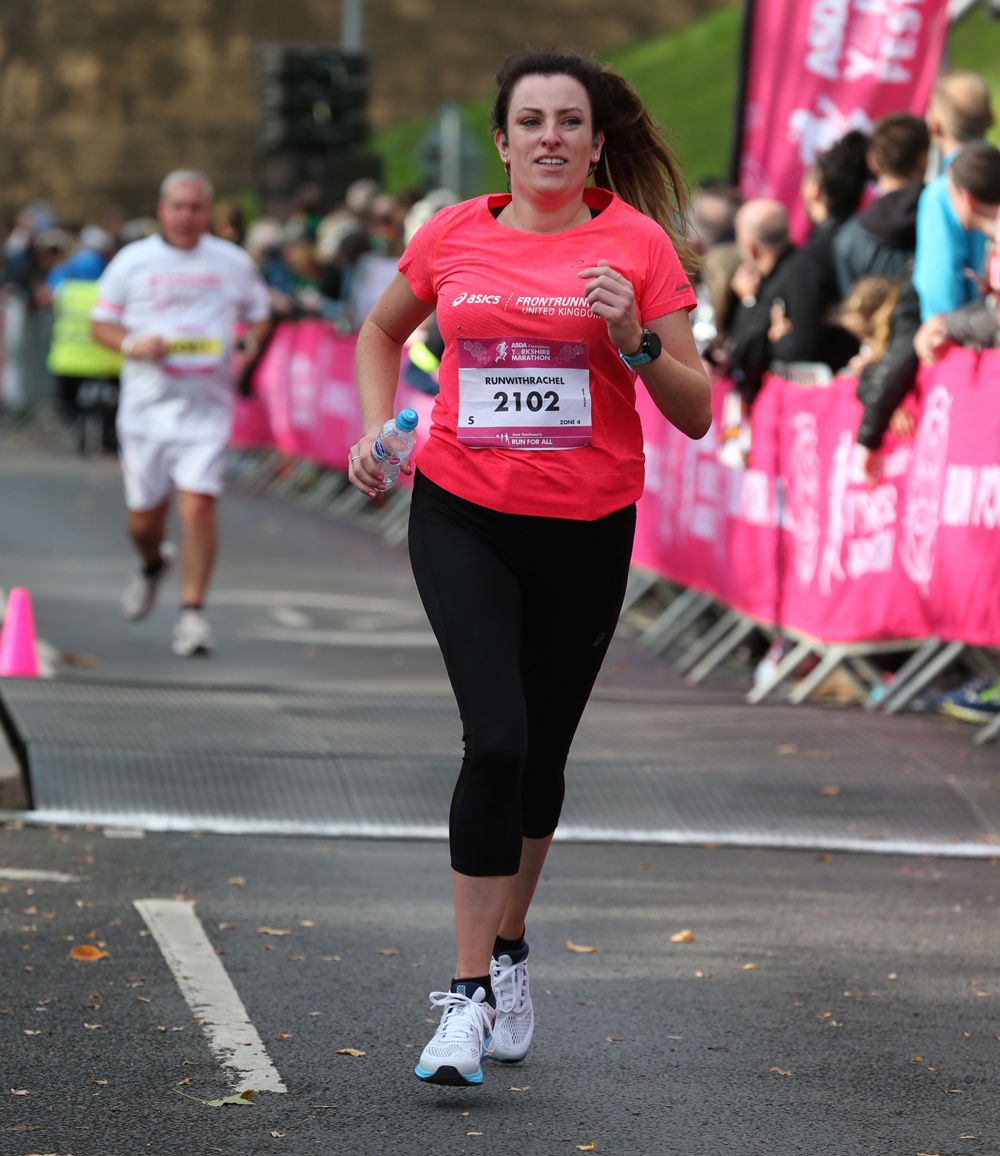 All aboard the struggle bus
Miles 13-14 is a short out and back into Stamford Bridge – there's great support here, unfortunately, as you leave Stamford Bridge the crowds thin out. This is the part of the race it gets mentally tough. It's got a lot of long inclines and it seems to go on forever. I just kept looking for that turn around point and it didn't seem to be appearing. Each mile seemed longer and longer. I tried to distract myself by watching the runners heading the opposite way. I stopped to help a couple of other runners, thinking it would take my mind off my own struggle. I started to question everything, my training, my pace, had I set off too fast?
Mile 19 went on forever. There were tears. I wasn't enjoying myself at this point but I had to keep moving. I put some music on to try and keep me going. Johnny Cash 'Hurt' came on shuffle – believe me, that's not the one you want when you're struggling. I searched for something more upbeat.
As I turned off the long out and back just before mile 20, my mood lifted. The tough bit was over – and now I was determined to finish. A lot of the course is on closed country roads, so it's still quite lonely at this point. Spectators don't appear until you hit the villages of Murton and Osbaldwick and they were a welcome sight.
running up that hill
I kept on ticking off the miles until I rejoined Hull Road. The hill on Green Dykes Lane is a real killer after 25.5 miles but for me, it was a welcome sight. I'd been dreaming of that hill since I lost my soul on the out and back. Once I was up that hill I was home. It's all downhill to the finish and I crossed the line in 4.22.03. Not a marathon PB but a course PB so I was happy with that.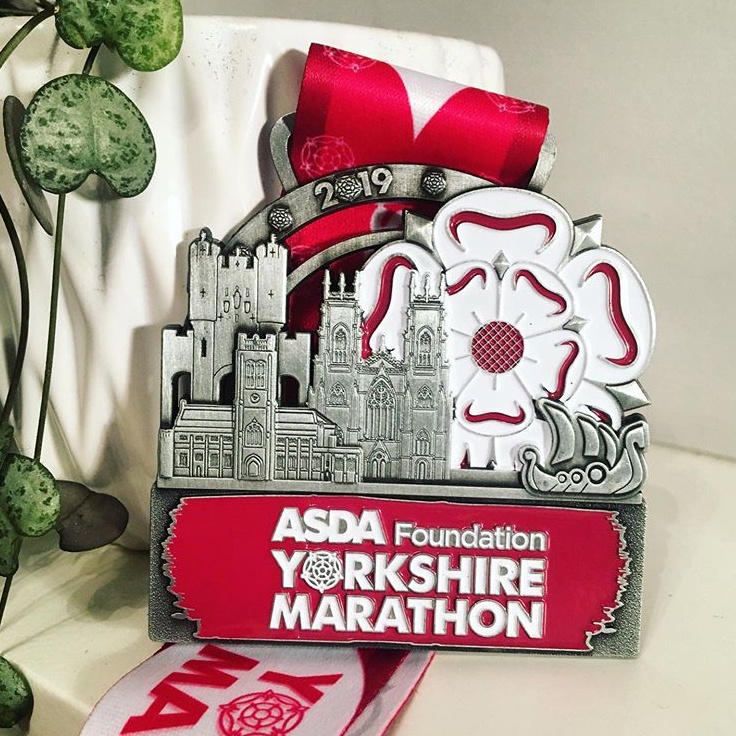 Would I recommend it?
Yes, it's well organised with a great medal. It's billed as fast and flat but it's not as flat as Manchester. I'll be back next year – but for the 10-mile race!
I still have unfinished business with that long out and back section. I'm making an effort to going to go out and run it before Xmas. A section of road isn't going to defeat me. People presume it gets easier when you've done so many marathons. If I'm honest it doesn't. You just have more expectations, you want to run better times if you've done the course before you know where the tough bits are. I still struggle but it makes the medal even more worthwhile.
written by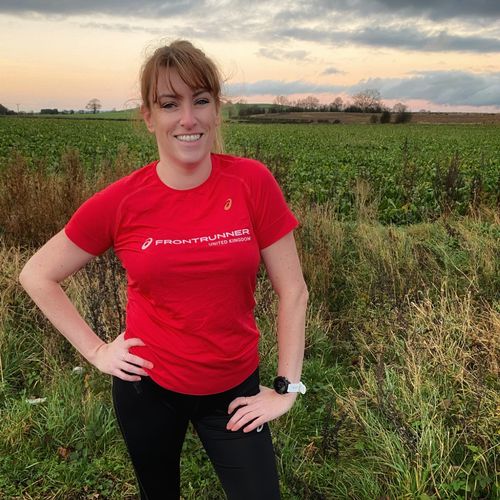 Rachel
Senior Creative from Yorkshire

Age group: 40-44
Club: Pocklington Runners

MY DISCIPLINES