How we manage our mental health through running.
You can't turn on your television or scroll through your newsfeed without coming across a story about mental health and how so many people are affected, especially given the difficult times we are all living through during this pandemic.
Due to our family circumstances we have been dealing with mental health issues for many years and the pandemic has only made it more difficult for us. Running has been a major factor in how we manage our mental health and it is still our number one stress release.
These are our 5 positive mental benefits of running…..
We always have everyday pressures from life, but when we are out running we get to forget about these worries for a while. Whether we are running in the city or down a country lane there is always something to see and stimulate the mind. Aaron loves nothing more than seeing a train coming out of Central station in Belfast or stopping to chat to a horse and it's rider in the middle of nowhere. The elements only add to the experience, helping you to unwind the mind, whether it's pouring with rain or the sun is splitting the trees it's all great therapy.

Central Station, Belfast




Lough Neagh, Co Armagh

Our preferred time to run would be early in the morning as it really sets us up for the day and fills us with positivity. We love nothing more than seeing the sun rise and the world starting to wake up as we clock up the miles. We find that it adds structure to our day and can make a long day feel shorter.

Kilclief, Co Down

Isolation can be a huge factor in contributing towards poor Mental Health, so getting out and connecting with your local community is a great way to try and combat this. Running with someone or around others is good if you are feeling lonely, so getting down to your local parkrun every Saturday can be a really good way to meet people with a similar interest. Most runners we come across are friendly and even just a wave or smile from a fellow runner as they pass can really lift your spirits.

MUSA parkrun

We regularly set ourselves small goals which are achievable and help keep us motivated, whether that be an upcoming race or a weekly mileage total. The satisfaction you feel when you achieve these goals can really lift your mood.

Aaron with some of his medals

Life is full of routine, it can be dull and repetitive at times, which can have a negative impact on your Mental Health. Finding a new training run, discovering a new race or travelling to a new town for an event can give you something to look forward too. It doesn't have to be something amazing or big, just different. Mixing it up a bit can make a real difference and keep things interesting.

Waggy Races, Portstewart Strand

ASICS believe in a Sound Mind in a Sound Body and encourage movement for positive mental health.

As we write this blog we haven't been able to get out running for over a week due to Aaron being poorly, but we have still been exercising at home. This happens frequently to our family, so movement is essential for us to keep our minds healthy whilst housebound.

#SoundmindSoundBody #LiveUplifted

Apply to join the team @ asics.com/frontrunner

written by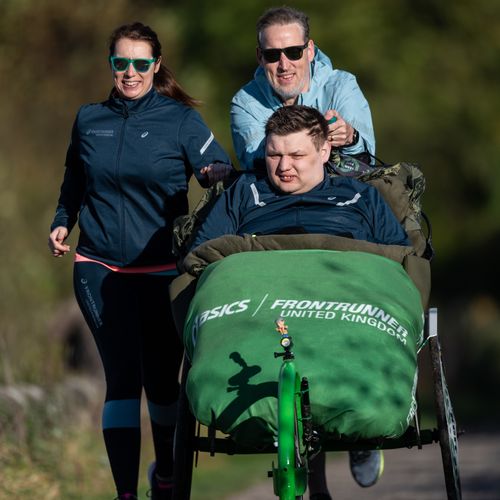 My Disciplines