Spartan Para Championships in Zandvoort - the first opportunity for adaptive athletes to compete as individuals. This blog explores the incredible events of the weekend and thoughts about Spartan Para moving forward.
Spartan Para Background
You may remember a few years ago (November 2019) that I competed in a Spartan Para event in Las Vegas. The setup included teams of 4, with one wheelchair athlete and other athletes ranked on their ability, to ensure fairer teams. As part of the 'Never Stumped International' team, we managed to place second at that event, bringing home a wonderful trophy and quite a nice cheque!
Following on from that event, we were keen for athletes to compete as individuals however a mixture of COVID, reduced demand and (perceived but not actually) challenging rule changes/practicalities meant that it was delayed until 2022.
Pre-Event
Now if I could sum up the upcoming weeks to the event in one word, I would certainly choose stressful. Stupidly, I had decided to renew my passport just 3 weeks before my travels, completely forgetting that I had upcoming travels. With a few weeks to go, I was pushing the passport office and phoning every day to ensure that it arrived in time. Fortunately I think I annoyed them to the point of giving in, where my passport only arrived the day before my travel!
Finishing work on the Friday afternoon, I rushed straight to the airport to fly out ready for the two events to happen - the chill-out night Sprint (5k) and the competitive Super (10k) event.
Chill-Out Night Sprint
This is when it started to feel like a community. After a quick briefing, we headed over to the start line for the night sprint. The plan was to stick together as a group and complete the course with night lights, music and relaxed vibes. Lining up on the start line was certainly the highlight of the week as all the athletes descended on this small dutch town centre. As there was a slight delay and the start was next to a pub, the Spartan team decided to purchase tray upon tray of beers, where they were handed to other athletes. As someone who doesn't drink, I just enjoyed watching everyone bounce around the music and get pumped for the 'race' to come.
The athletes were called over one-by-one, as the MC called our names for us to jump over the starting wall. As I got to the start line, I started to feel the jitters that I hadn't felt in a race for years. I felt really emotional as the crowds were so supportive of these athletes who had travelled across the world to take part in the event. The gun went off and we raced off together as a team. I started off too fast as I looked back to the callings of a fellow competitor shouting 'Jamie wait there, we are together as a team.' This was my first thought that perhaps I had a chance for a medal the following day but this event was just for us to enjoy!
As we went round the course together, it was wonderful to see the other adaptive athletes navigate the obstacles and terrain. The event itself was on a beach so those with lower limb impairments all struggled in a similar manner with the sand however the wheelchair athletes were absolutely incredible, as they worked together to pull the ropes and push the chair. As we got to the final obstacle and crossed the fire jump together, I was in my element. It was almost 11pm but I felt so full of energy and excited for the race to come.
The Competition - The Super (10k…..ish)
As Para athletes, the rules are exactly the same as the able-bodied individuals with the exception of 2 things:
1) All para athletes use the female weights for lifts and carries
2) Para athletes are given two bands - one to prove they are a para athlete and the other which could then be exchanged at any obstacle to skip it instead of the normal 30 burpees. The idea behind this is that each impairment has their own strengths and athletes could choose to skip an arm-heavy obstacle such as the monkey bars (for upper-limb impairments) or a leg-heavy obstacle (for lower-limb impairments).
Athletes were placed into three categories:
1) Upper limb impairments
2) Lower limb impairments
3) Wheelchair athletes - competing as a team
Again, we were called up to the start line one at a time, which made just felt incredible to be recognised on the international stage. Before we knew it, the gun had gone and we were off!
Just before the race had started, my friend (and fellow competitor) had said to me "Jamie pace yourself, it's a long way." I feel as though I blinked and there was my upper-limb amputee friend sprinting off into the distance!…..I decided it would be best to run my own race. The first 1/2 kilometre was on cobbled streets which was easier than the upcoming sand however more challenging than a nice, flat road. By the point that we got to the first obstacle, I could see my friend ahead but couldn't yet see anyone behind me which just spurred me on to keep up the pace.
As we picked up the sand, my pace dropped and I was focused on sprinting through the obstacles and taking the sand for what it was. As the sand section kept going, I noticed another upper limb amputee overtake me and I enjoyed running with him for a while until 3/4 of the way through the course. We we approached the sand bag carry, which consisted of carrying an awkward bag of sand down a hill and through sand dunes, I decided to trade in my band so that I could just run without the weight (because otherwise i'd be walking that section). As I did that, I stormed ahead of the competition but couldn't even see my friend up ahead. We were in a different category, with different impairments, but I was keen to at least see him in the distance.
I approached the final stretch, which consisted of a tightrope walk and a bucket carry - two obstacles that are very challenging for me. Despite passing the tightrope obstacle on the overnight race, I failed it in the race as you're only allowed one attempt. As I was completing my 30 burpees, I could see my friend but couldn't see any competition behind me.
The final section was just out of reach and I had the rope climb and final wall to go. The rope climb is extremely challenging with a prosthetic limb as it simply requires a climb to be made with an upper body only. My hands were sandy and wet from the other 30 burpees needed for a failed spear throw so I decided to take the burpee option once more. As I came over the wall, I could see the finishers tape strung across just after the fire jump. Full of emotion, my friend and I embraced each other, full of pride, joy and appreciation for the opportunity.
It suddenly hit me - I had just come in first place! I had passed through a tape and was to be awarded a gold medal, competing against other adaptive athletes with a similar level of impairment. I felt on top of the world and had finished about 7 minutes after my friend who I felt was miles ahead of me. Eager to see my fellow competitors finish, I waited for the other athletes to come through. I remember thinking that it wouldn't be long until they came through but after waiting for 30 minutes, I decided to get changed before coming back out again.
The Presentation
I was hoping that there would be some form of presentation as I was so excited to be receiving a gold medal. I remember listening out for my name and the huge applaud from the audience. I stood on the podium holding my medal and questions went through my head - where do I look? What do I do? What happens now? All of the spotlight…on me? Had I really done this!? Yes, yes I had.
After the presentation, it was a swift exit as my fellow athletes were quite tired from the race. Having completed many 4/5 hour races just a few weeks before, the 1.5 hour race felt very quick and I was ready to go again! Despite this, I packed up, packing up my trophy safely into my suitcase and got ready to fly home.
The Future of Para Spartan
People often think that organising a Para Spartan or obstacle race requires a lot of work and very challenging processes. Now while I am not an event organiser, I know that adaptive athletes are just very grateful to have the opportunity to compete. Spartan Netherlands had not overly prepared for the Spartan race, to the point where my Gold medal actually says 'Over 60s' on it. I really don't care - I'm just happy that I could compete!
I believe that we are looking at adding in some extra Para Spartan events in the future but for now, I'll keep you on tender hooks!
written by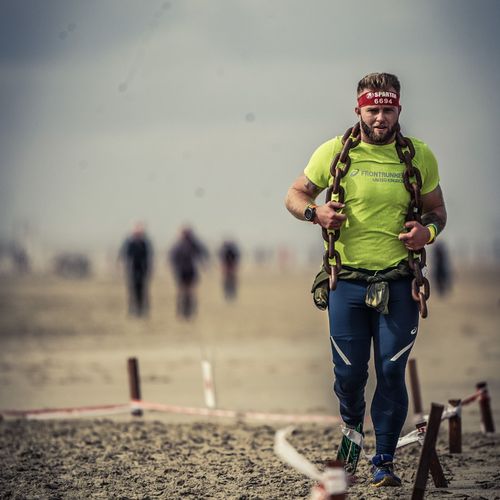 Jamie Gane
Teacher of Mathematics from Basingstoke

Age group: 25-29


MY DISCIPLINES