I share my ASICS London 10k experience.
Lead up

Registration to the event was quite easy. It didn't take long as I had an account so many details auto populated. I opted for my bib to be mailed to me as I wasn't sure whether I would have time to collect it prior to the race. The confirmation email arrived quickly, and subsequent emails were clear, and the race day guide was comprehensive.
Training Runs
There were a series of training runs that varying in distance led by ASICS Frontrunners from the ASICS Oxford Street Store. These runs were on Wednesdays from 6pm the store and lapped around Hyde Park. I was honoured to lead two runs with fellow Frontrunners. The first was with Sonny and the second was with Semeena. The attendance was diverse with runners of different paces, beginners, and first-time group runners. The vibes were chilled and fun, and they were an opportunity for runners to gain confidence pre-event and meet other runners. All participants received a goody bag which included a cap, metal water bottle, running belt and more.
Shakeout Run (Frontrunner)
On the Saturday before the race, we gathered for an ASICS Frontrunner shake out run around Hyde Park. In attendance were members of the national and international teams. We were joined by photographer extraordinaire Andy who captured some great shots of us in Hyde Park. We even stopped off mid-way for a 'Rance' which is a dance performed part way through a run. This was great fun and quickly escalated into a fun dance off. We headed back to the store to be greeted by pumping music being played by DJ Melody Kane.
Shakeout Run
The store was buzzing with people collecting their race numbers, great music and people catching up. There must have been over 60 people assembled outside the front of the store ready to join the shakeout run. I didn't join this as I was tired, but I am sure that they had lots of fun and that the good vibes continued. The route mirrored the one that we had took earlier and participants received a goody bag.
Race Day
I arrived around 7:30am to meet with the organisers and warm up team. It was already quite warm and despite the first mass participation wave not starting until after 9am there were runners picking up their race numbers and assembling.
As with previous years the main stage was situated on as a main stage where the presenter and DJ were situated and 2 smaller stages alongside the wave funnel. The cameraman captured what was happening on the main stage and beamed it to the large screen. There were three mass participation waves with each one having its own warm up. I was blessed to return to deliver the warmup and was joined by fellow Frontrunners Ania and Lauren. Ania delivered the first warmup with Lauren and me supporting. Lauren delivered the second warmup with Ania and me supporting. I delivered the third and final warmup with Lauren and Ania supporting. After the warmup runners moved forward, passed the stage and to the start and waiting for the signal.
After the final warm up was finished and all runners had crossed the line, I crossed the followed in their footsteps and started my race. I ran east along Piccadilly, passed the world-famous Ritz and headed towards Piccadilly Circus. At the junction we turned right up Regent Street, went north and then looped back down to Regent Street South. I caught up with runners and the vibe was great with music and spectators. We turned left on Pall Mall and looped back east towards Trafalgar Square and then north up Charing Cross Road and looped back then headed east along The Strand.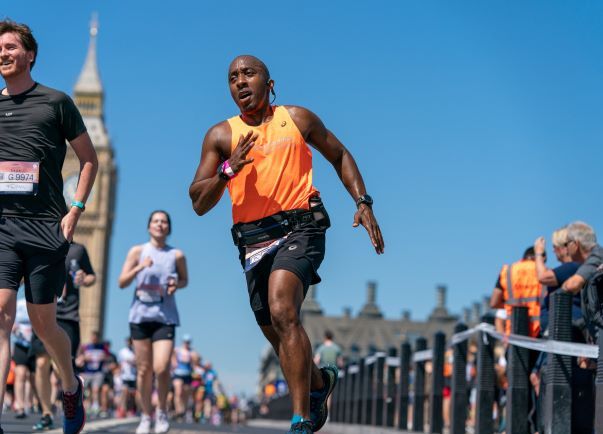 We turned right down Savoy Street and then right on Victoria Embankment running west and looped back after Temple Underground Station. Shortly after the station there was a water station on our left which was a welcome sight given how hot the day was. We ran west along Victoria Embankment with the River Thames, South Bank and London Eye to our left. The number of spectators increased as we approached Westminster Bridge. As we approached Big Ben the cheers got louder and we turned left onto Westminster Bridge for a loop. Turning around and seeing Big Ben and the Houses of Parliament is an epic site.
We headed north passed Parliament Square, up Victoria Street and then looped back to Parliament Square. We headed north up Parliament Street, passed the Cenotaph, Downing Street and crossed the Finish Line. The crowd support up the finish line was great and gave me that extra push to finish strong. After crossing the line we were given our medal, a tote bag containing a Kind Bar, a Tenzing energy sachet and were given a Canowater. I took a few pictures and caught up with members of the running community which I hadn't seen for a while. After leaving the finish line zone King Charles Island was in Trafalgar Square. There was entertainment and goodies provided by the race sponsors.
Despite it being much hotter than usual I really enjoy the ASICS London 10k. I adjusted my pace and ran to have fun instead of achieving a specific time. The good organisation, community vibe and epic course makes this race one of my favourite races through central London.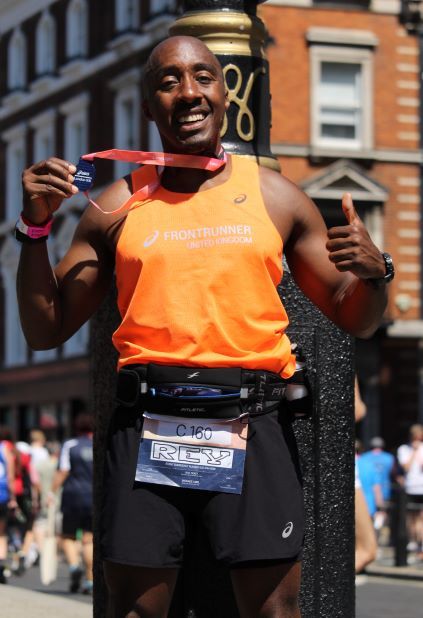 written by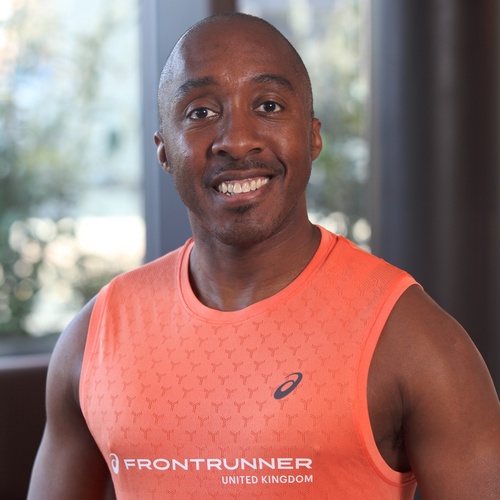 MY DISCIPLINES