The 2021 ASICS London 10k weekend was one of my favourite weekends of the year. So the big question – could the 2022 one be any better? Well let's see shall we…..
One big family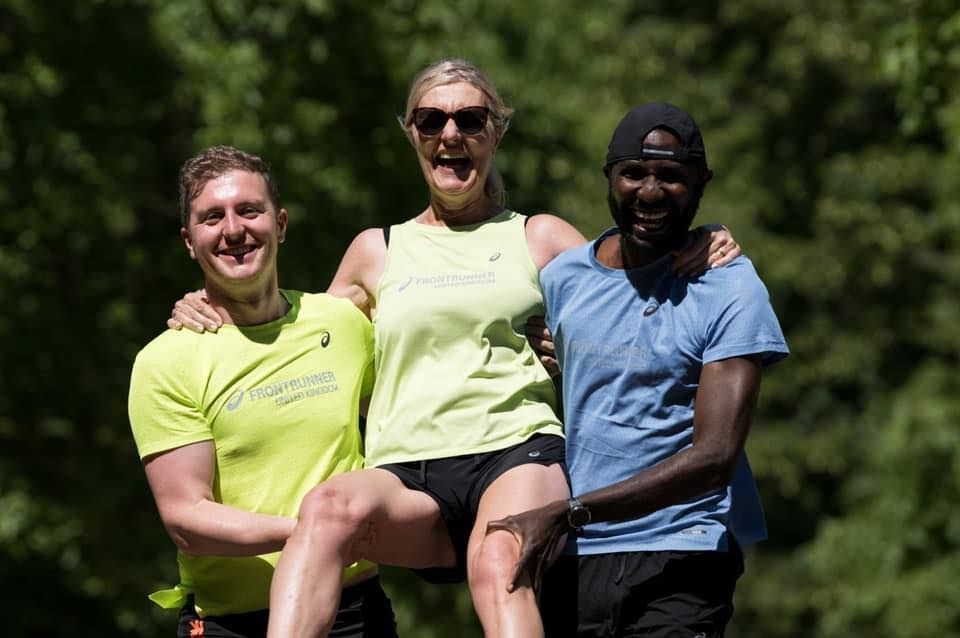 One of the things I was most looking forward to about the weekend was the fact I'd finally get to meet some of the members of the ASICS FrontRunner international team. Friendships had been formed on line, but I'd not had the chance to meet anyone in person. We all met up at the store and everyone was just as lovely in person. We then headed out for a shake out run in Hyde Park, the highlights of which were Curtis and Victor carrying Queen Karen, and the mass team rance. Rancing was introduced to us by Holly, and it was just brilliant. It's basically stopping in the middle of your run for a dance. Though anyone watching may have been wondering what was going on we were definitely having a LOT of fun!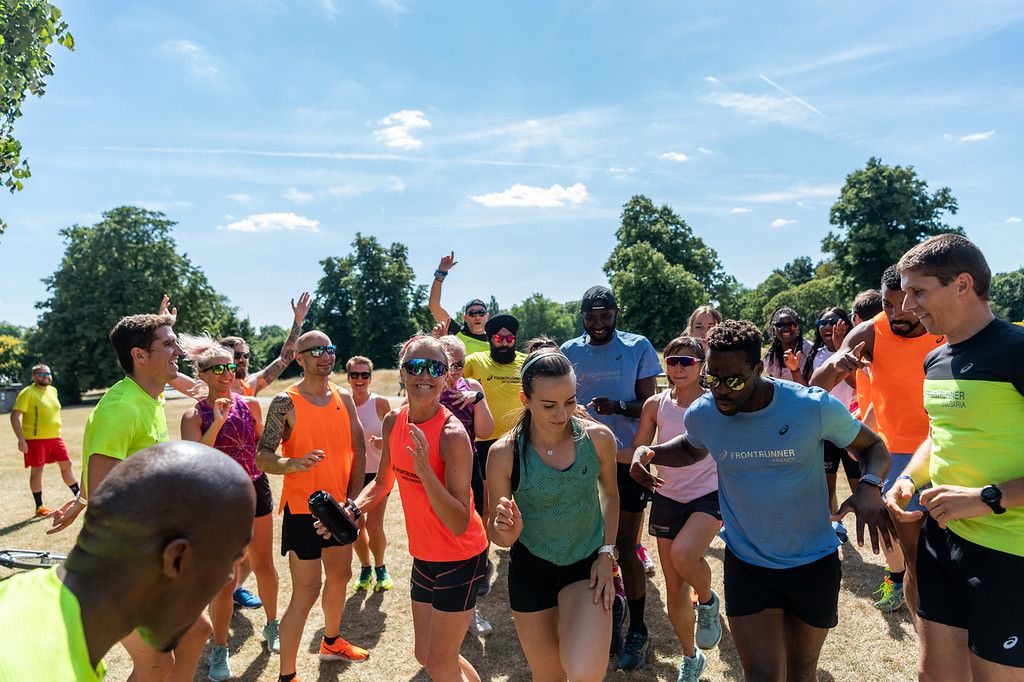 The run was followed by a panel at the store with myself, Sian and Chris joining Holly and Carla for a chat with people who were doing the run the next day, sharing some of our race day tips and answering any questions. It was a bit nerve-wracking but luckily Holly kept us very calm and relaxed! After that it was on to dinner with the international team, then back to the hotel to get ready for race day!

Let's get ready to rumble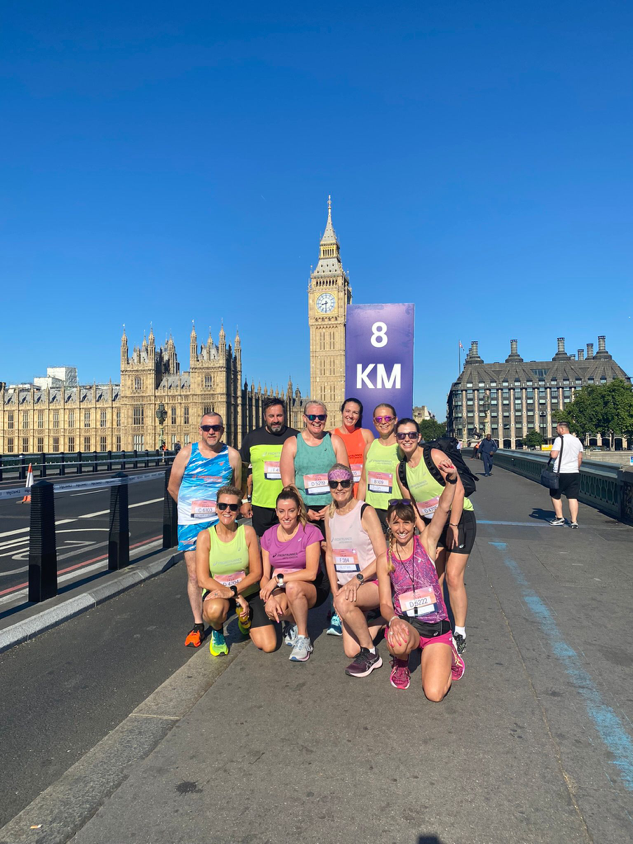 We all headed off to the start area together, with the team splitting in to two groups – those who were in the earlier waves and those of us who were starting lightly later. Or team speedy and team party bus. We did manage to all meet up at the bottom of the mall before we split up though which was lovely as we wished each other well and headed to our respective start points, with a few photo stops along the way.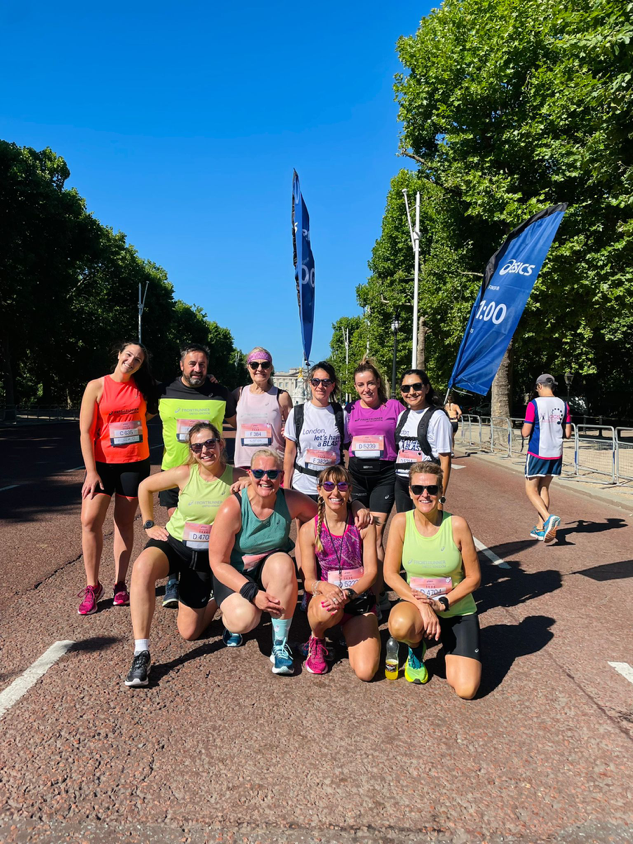 Our start was slightly later than we expected it to be, which did mean we were out in the sun for quite a while before we got going. It was so good to see Lauren, Ania and Rey in the start area as they had the job of leading everyone in a warm up before they set off. While we were waiting we talked about goals. Given the forecast I was always going to have to be flexible about whether or not I focused on a time goal, but the having fun goal wasn't negotiable! Rachel, Alex and Hayley had very kindly offered to run with me, and we were also joined by Brian and Sonny as we crossed the start line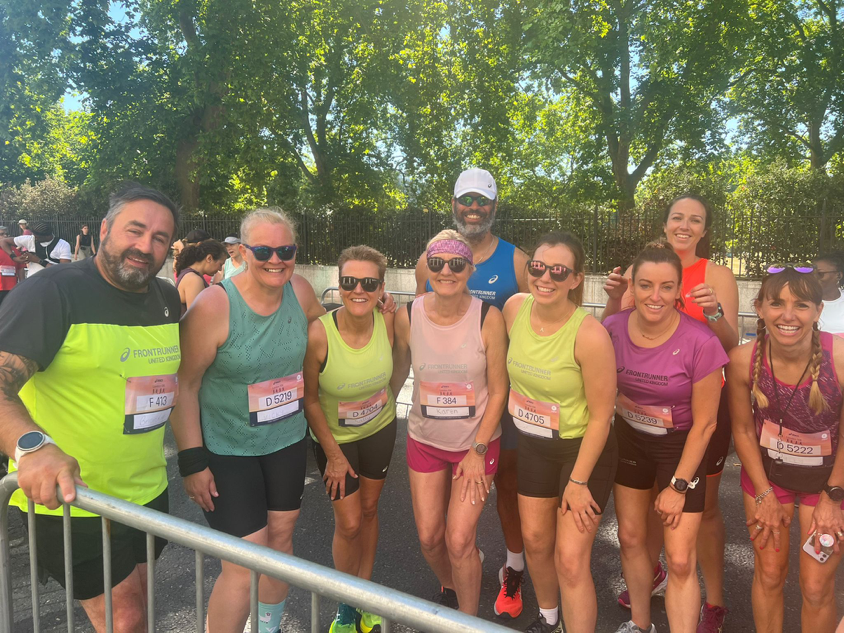 Prioritising having fun over a time is absolutely ok!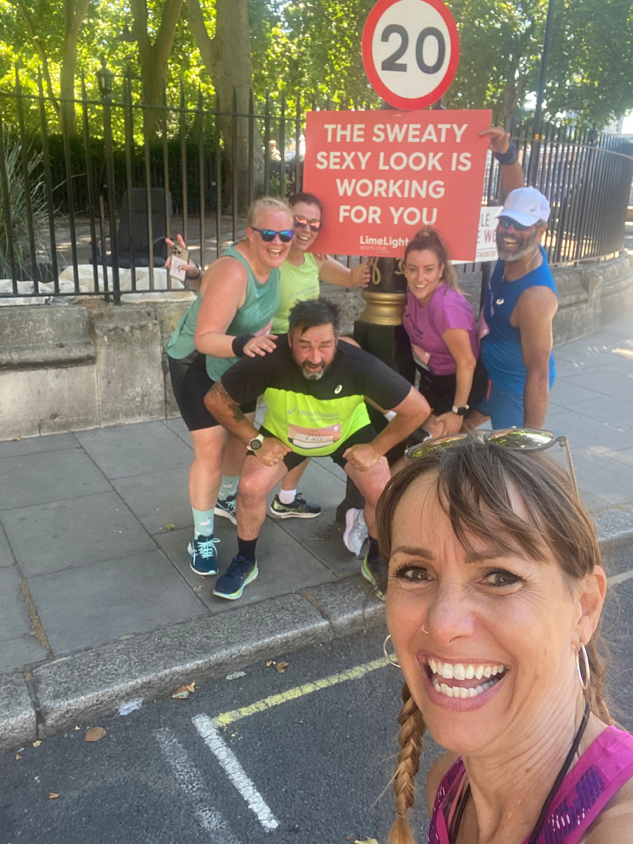 Now I absolutely love running in London, especially central London, but on a hot day it can have its own challenges. It was hard to gage the pace in the first couple of km as the buildings tend to play havoc with GPS, they also hold the heat in so we were looking for shade wherever we found it. By the time we hit the first incline at 4k we were definitely feeling very warm, so from the 5k point onwards we decided to just ditch the time focus and just have a laugh for the rest of it, and collect some more photos along the way. So that is exactly what we did.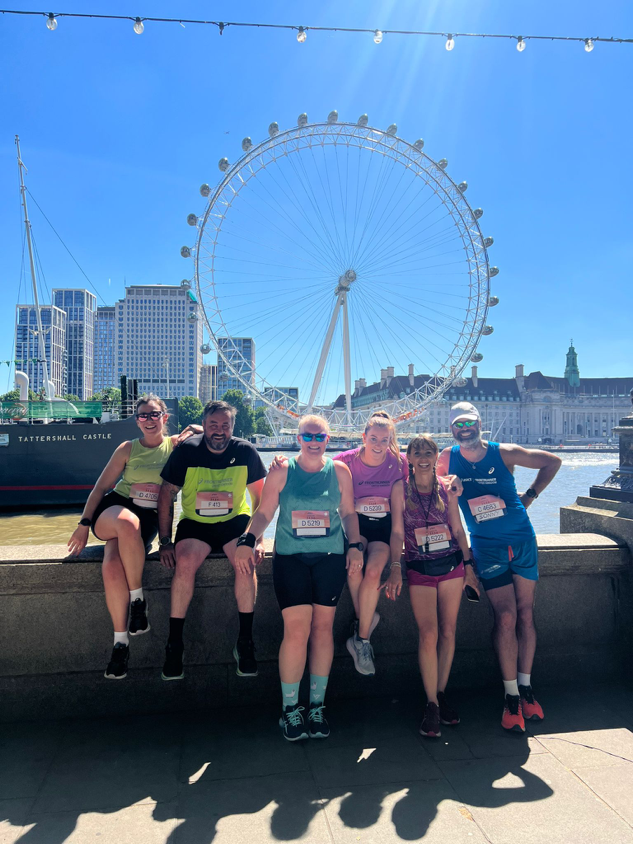 We stopped at one of my favourite signs on the course, and we were certainly looking very sweaty, and we recreated last year's London Eye photo, just with a few different faces this time round! When we got to the 9k mark I knew we would soon be approaching the sign that tells you it is only 0.1k to go, except it isn't….. its more like 0.2 miles to go at that point!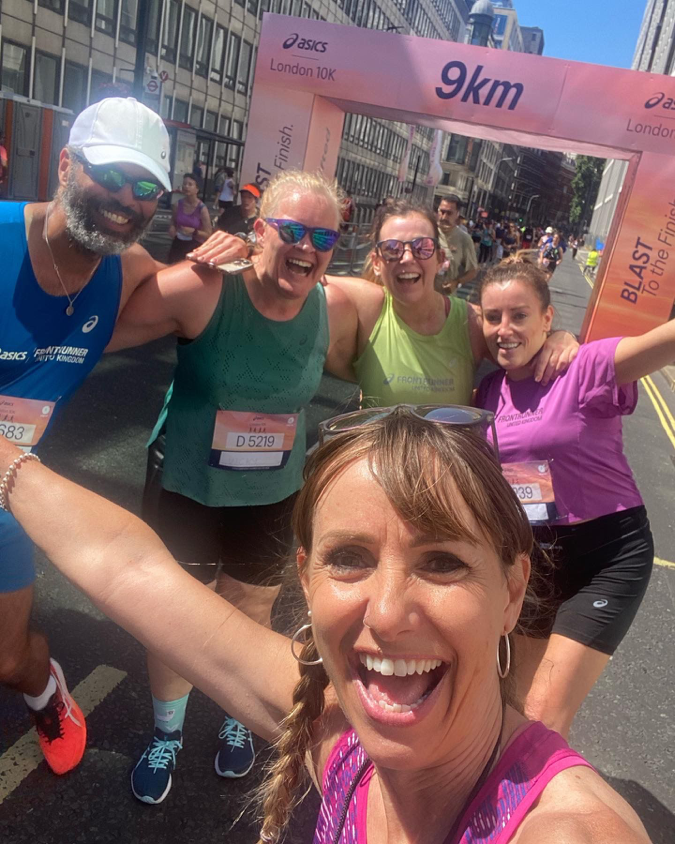 We soon turned down Whitehall and could see the finish, where we knew some of our team mates would be waiting. We crossed the finish line together, which was just brilliant, and went off to collect our medals and see our friends. It was brilliant hearing how everyone had gotten on, especially Kerry, who was first lady, and Chris and Victor who had gotten shiny new PBs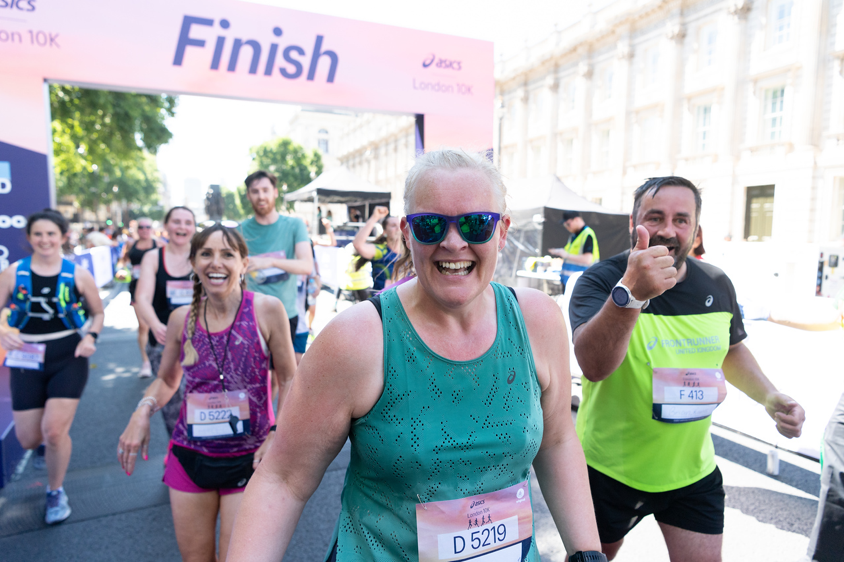 So did it beat last year?

It sure did. The race itself was very different in that the temperature was so much hotter than last year, but that was ok as we adapted as we went along. And running with friends really is food for the soul, and I was so lucky to be able to share the run with Hayley, Rachel, Alex, Brian and Sonny. It was also brilliant spending time with the team (as always), helping Kerry celebrate her win (who doesn't want to be a big kid on a carousel right?!) and meeting so many of our international team mates. My only regret was that we didn't stop for an ice cream in the second half of the race. We might just have to fix that next time! A huge thank you to Holly and the rest of the ASICS team for putting on an amazing weekend. Same time next year?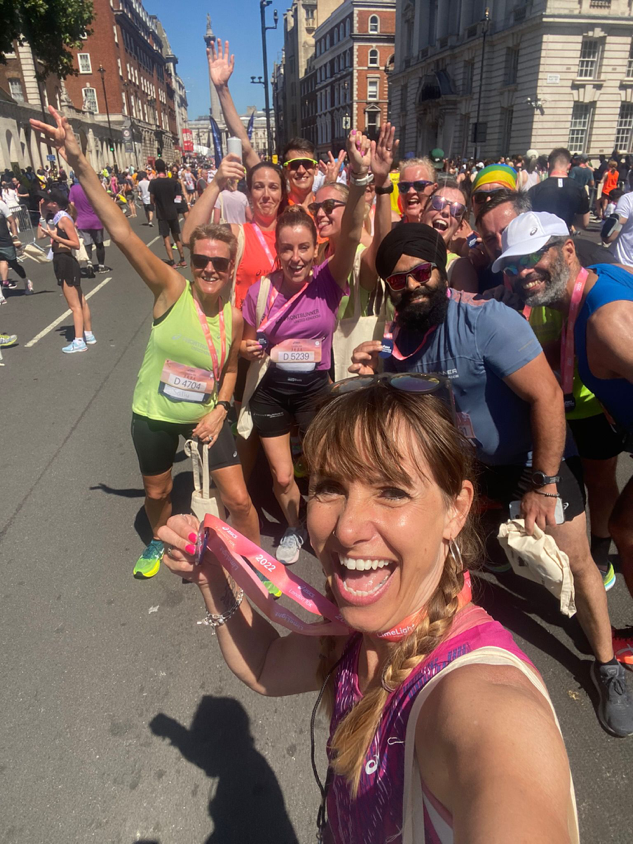 written by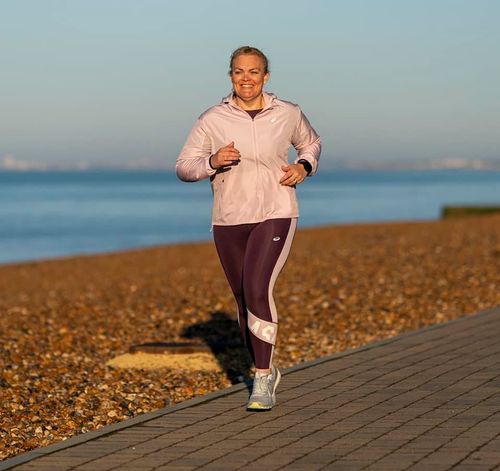 Vicky Ledbury
NHS Contract Manager from Bristol

Age group: FV45
Club: Active Soul UK
Coach: Marcus Sladden
MY DISCIPLINES