ASICS FrontRunner has been particularly important to me during lockdown. Like everyone, I'm not seeing many friends and it feels like coffee in a cafe, a catchup in a pub or a run with the club has been replaced by WhatsApp messages, Zoom meetings and looking at everyone's runs on Facebook and Strava instead. It's just not the same.
But what hasn't really changed for me is having the support of my FrontRunner buddies. We're a team, but we're based all around the United Kingdom ... Bristol to Limerick to Edinburgh. As a result, a lot of the team chat, exercise sessions and support is online. We usually meet up a few times a year at races and for weekend events (running and snacking feature HEAVILY in these) but because of the geography involved, we're used to doing the online thing. And you know what? It's been lovely to have something that has stayed constant.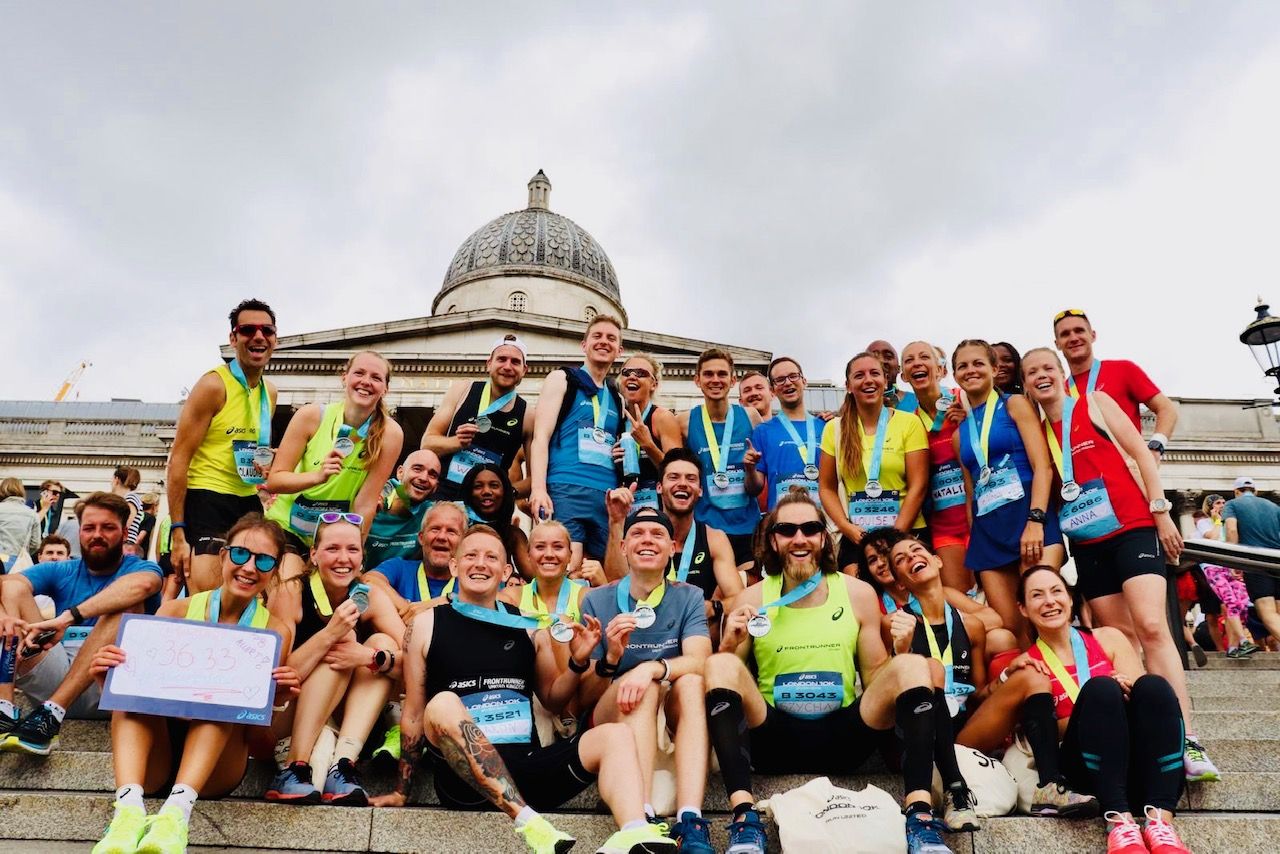 Some things have changed – we haven't been able to do the physical meetups, so online weekenders have gone ahead with drop in sessions involving quizzes (with baby photos!), synchronized speciality beer drinking, online yoga, stretching and resistance band sessions … we even did a scavenger hunt the other day – but all in our separate towns! So it's been good. Really good.
We're all very different. But what drives us and keeps us together is a love of running and a love of community and these are two things which really do make up the essence of ASICS FrontRunner. Whether members are encouraging runners at Dublin Marathon (VERY loud cheering and sweaty hugs), being part of a relay team at Manchester Marathon (stops for pony photographs and an impromptu interview with a journalist on the back of moped) or doing a team scavenger hunt despite being 100 miles apart (taking selfies with round shapes, purple doors and red berries), the FrontRunners do it with enthusiasm, banter and a genuine love of the sport and the people involved in it.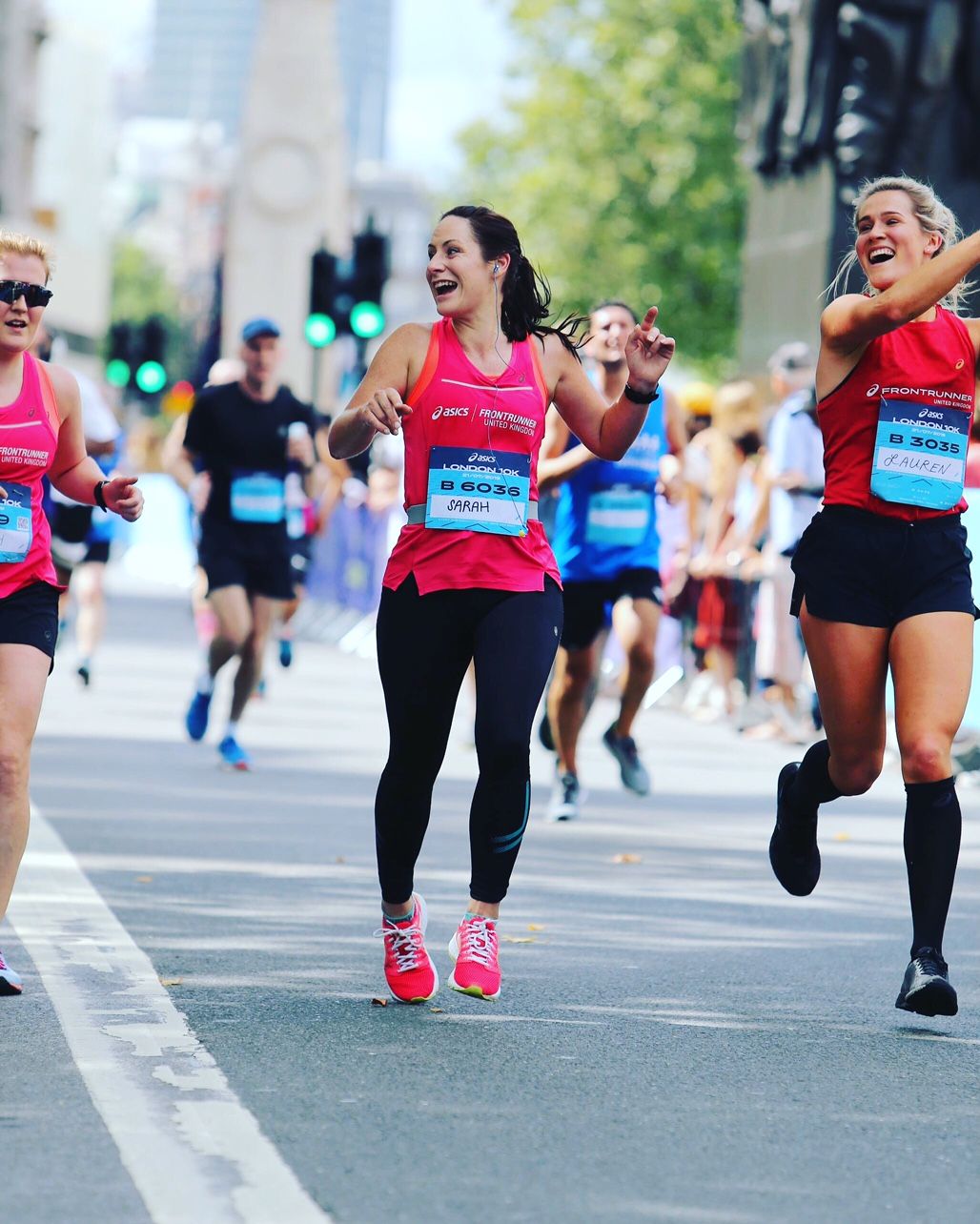 Being an ASICS FrontRunner has been being part of something that is so much bigger than the individuals involved. It has been Matt Rees helping the injured runner across the line in the London Marathon. It has been Victoria recovering from breast cancer and sharing her story and being an absolute inspiration to women everywhere. It has been Brian's appalling jokes (which we all secretly love). It has been each and every one of us in our ways, making the team bigger and better. It has been an inspiration and a helping hand and something I couldn't be prouder to be a part of. 
ASICS FrontRunner.
written by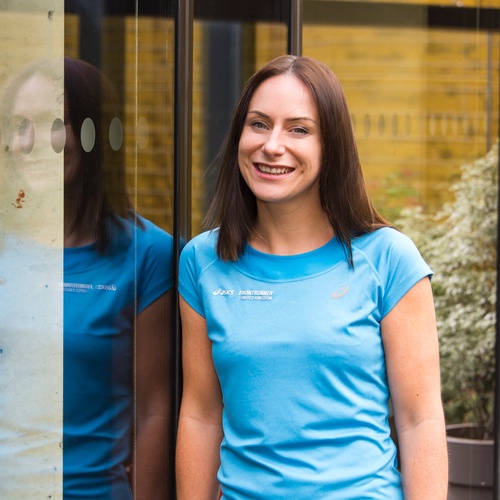 Sarah Booker
Emergency Services from Midlands

Age group: 40-44
Club: Rugby Triathlon Club, Northbrook AC,
Coach: Chris Weeks
My Disciplines