This blog was written in collaboration with the London Duathlon
We appreciate that the thought of completing your first Duathlon can be daunting, however, trust us when we say it isn't! We were lucky enough to speak with Yiannis Christodoulou, who is representing Great Britain in the 2022 World and European Triathlon Championships and has used Duathlon's to get to where he is. Beginning his journey in Aquathlons in 2012 he has gone onto becoming a European Aquathlon Champion and a 2-time National Champion in his age group. He spoke to us, sharing his top tips to help you on your way in completing your first Duathlon.
What do you love about completing a Duathlon?
Yiannis – For me, running is my favourite sport so being able to run it twice in a race is a huge bonus. I really enjoy taking part in multi-sport events as they enable you to train for different disciplines which enables your training to be great fun! Out of all the multi-sport races I complete, I find this the most rewarding when you complete it as you have to run twice but don't let this put you off as everyone who takes part are always very friendly and chatty!
What are your top training tips?
Yiannis – One of the best things about completing a Duathlon is that it enables you to keep your training interesting, making everyday different. Make sure that you start slow and build your training up over time. Look at planning out the weeks leading up to the event and be realistic with when you have time to train and fit it all in.
80% of your training sessions should be easy, and when I say easy I mean easy! By building up your training slowly it will enable you to build up your engine and become more efficient when it comes to the day!
Work on your weakest area first, so if your cycling is weaker than your running, work more on improving this as you will gain more from improving your weakest area which in turn can give you maximum gains!
Recovery is key, don't neglect it! Rest days are so important, not only for recovery but also to keep injuries away which in turn will help you to perform to the best of your ability.
Have a go at implementing this into your training plan:
| | |
| --- | --- |
| Monday | 30 minute easy run |
| Tuesday | Rest |
| Wednesday | 45 minute easy cycle |
| Thursday | Rest |
| Friday | Rest |
| Saturday | 45 minute easy run |
| Sunday | 45 minute easy cycle |
How do you recommend participants should deal with first time nerves?
Yiannis – Go for it, once you sign up to it, you'll be motivated to do it. So this will help you train and if you train for it, you have nothing to worry about. It doesn't matter what your ability is or how fast you are, take your time and enjoy it. Just do it, you will enjoy it. If you train for it, you have nothing to fear. Go at your own pace and build into the race. Don't try chasing the fast ones, let them go off and just start the race the way you trained.
What are your tips to stay motivated?
Yiannis
Write down the goal you are after. Long-term goals should seem a little unrealistic and they will enable you to train harder and smarter. If you have a dream go grab it, you never know what you may achieve
Have small weekly goals. For example saying to yourself, I am going to go and do a 10 minute cycle this week
Don't be afraid to fail. Mistakes are there to be made. You learn from your mistake and you can turn this into a positive and learn for your race. If they don't go right, look into and see what didn't work, just keep going and don't give up!
written by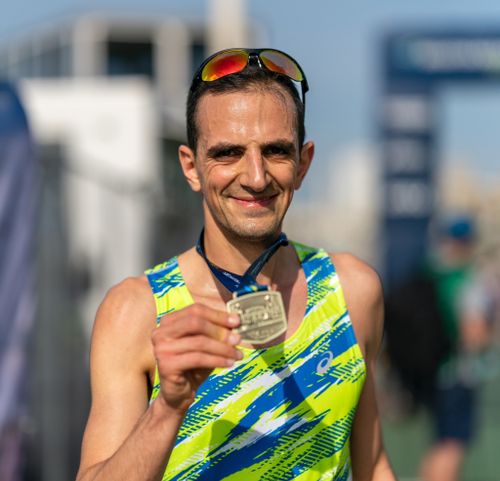 Yiannis Christodoulou
NHS Performance analyst from Canterbury

Age group: 40-44
Club: Canterbury Harriers, Ashford Triathlon Club, GB Age group team, Age group 2017 Aquathlon team captain
Coach: My self in running Level 2 coach in running fitness, Craig Coggle Strength coach, John Wood Swimming coach
MY DISCIPLINES