'OMG, these are incredible' was my first impression when I unboxed these beauties.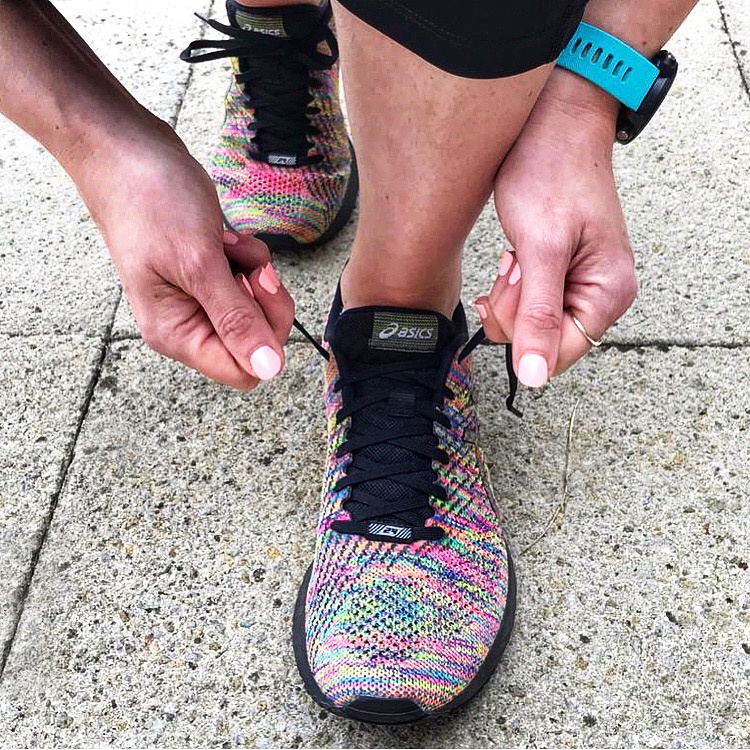 How could I not love them? The eye-catching rainbow design is enough to brighten the dullest of days.
Built for speed, the ASICS DS 24s boast a performance knit upper and ultra lightweight cushioning to help you clock up your fastest time yet. They were straight out of the box and on my feet in record time. Pacing up and down, to check I'd got the right size (everyone does this right?), they felt light and comfortable and I couldn't wait to try them out on a run.
I've always run in a neutral shoe, until recently when I had my first gait analysis and I discovered I overpronate. So it's good news for me that the ASICS DS 24 suit my running gait as they contain DUOMAX™ technology which provides smooth overpronation control. For a lightweight shoe they still offer lots of support with the new Flytefoam Lyte midsole and gel in the rear foot to provide shock absorption where you need it the most.
I am used to running in a bulkier shoe, so I was interested to see how the snug fitting, slipper-like ASICS DS 24 would compare. I was really impressed and loved them from the off. They are responsive and springy and surprisingly grippy (even in wet weather) for a road shoe.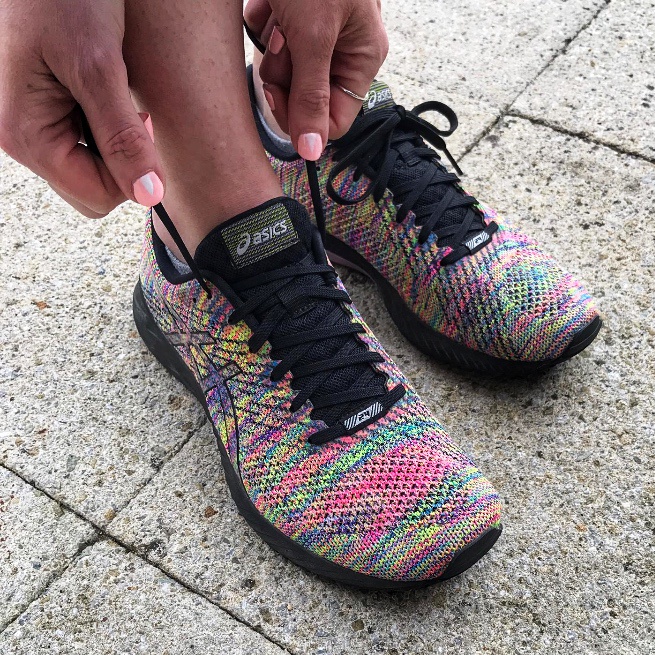 The DS 24 is ASICS first shoe with a knit upper which I'm a really big fan of. There is plenty of stretch to it to which will allow it to fit the contours of your foot shape. The toe box is roomy, giving plenty of room, even for my wide feet.
I wore these straight from the box and they didn't feel like they needed any kind of breaking-in period. I've since run over 100 miles in them and they've never rubbed or given me a blisters so that's another big tick in my book. This is they first time I've tried the DS Trainer so, unfortunately, I can't compare to it any of its previous versions.
There are various, fun colour options for this shoe, with rainbow, blue/lime and black for men and rainbow, blue/coral and black for women.

My verdict - The ASICS DS 24 are my new go to shoe for anything up to 10K distance, possibly up to a 10 mile. One tip I do have is to size up - I'm a size UK6 in a standard shoe and the UK7 in these fit perfectly. I rate them so much I'm buying them in blue and coral!
Pros
• Extremely comfortable
• The multicoloured pattern hides and dirt.
• Lightweight yet supportive
• Roomy toe box
• Great grip on the roads even when wet


Cons
• I prefer a chunkier sole for distance so for me, personally, these are a lower mileage shoe.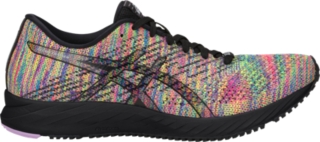 GEL-DS TRAINER™ 24
Turbo charge your next run with the women's GEL-DS TRAINER™ 24 performance running shoe by ASICS. Built for speed, this streamlined shoe boasts a performance knit upper, ultra lightweight cushioning and premium protective gu...
SHOP NOW
written by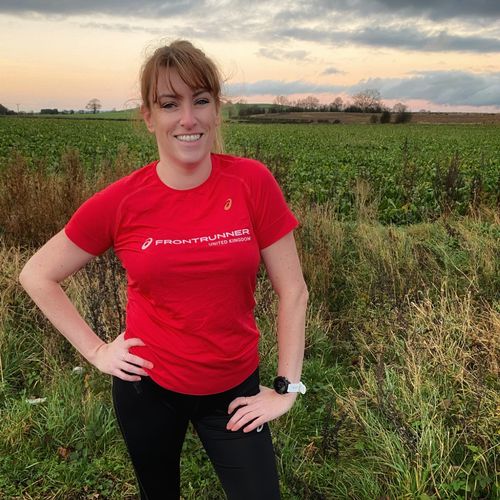 Rachel
Senior Creative from Yorkshire

Age group: 40-44
Club: Pocklington Runners

MY DISCIPLINES