From the road to the trail, easy miles to race day; there is a shoe for you! Here are my top ASICS trainers to suit your needs
I have been lucky enough to try out a range of ASICS trainers this year and so I thought I would talk you through my top four. I run in all of these shoes regularly and would not run in them if they didn't do what I wanted or felt uncomfortable in anyway and so I can highly recommend all of these shoes. 
Why 4 different pairs of trainers? Well this really depends on what sort of runner you are, not everyone will need/want different trainers for different runs but I run around 50 miles per week if i'm not specifically training for anything. About 80% of these runs are ran easy on road or trail then I run 2 interval/threshold sessions per week. For the easy runs I want a stable comfortable shoe and if i'm on trail I want to this shoe to grip to. For the speedier sessions, i'm still looking for stability but something more bouncy and responsive. I also pronate so I look for a shoe that caters for this however for those trainers that are neutral, I add my orthotics to them so bear that it mind when looking at my recommendations.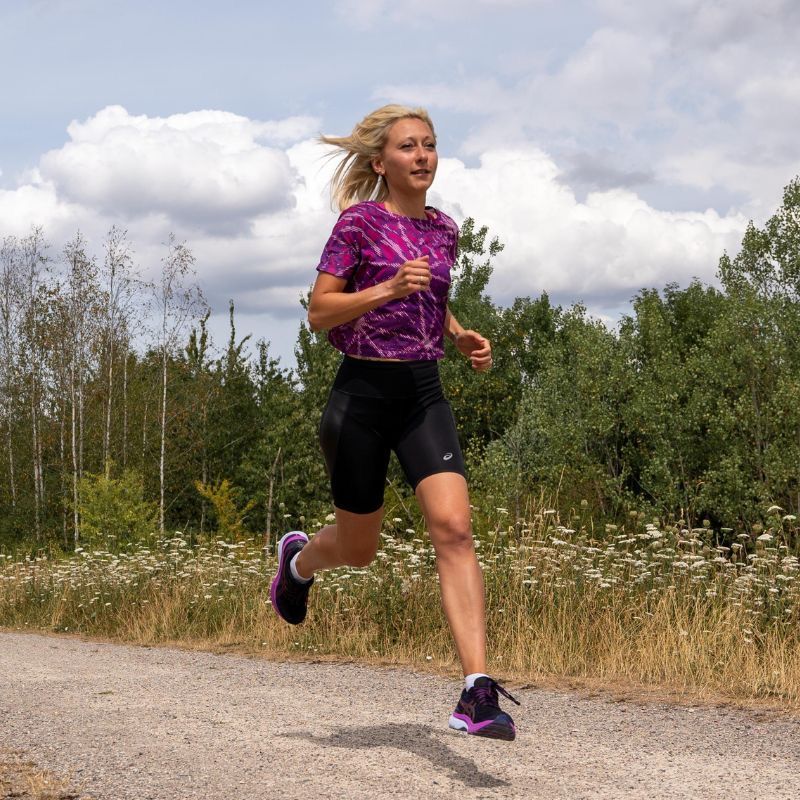 Ok first up, lets talk easy, long miles on the road - it has to be ASICS GEL-KAYANO 29
As I mentioned above, I am an endurance runner and so when I'm looking for a training shoe I want trust and stability as well as little bounce so I don't feel like i'm being really heavy footed with every stride. For me, the GEL-KAYANO 29 does this. Ive ran in excess of 500 miles with some single runs being around 22 miles with these and can say they hold up really well. The sole of the shoe grips the road well even when its raining and can take me from the road to more trail like terrain. This is where the stability of the shoe plays an important part, I often run on uneven terrain so I want to feel that my ankles are supported but also that the shoe can grip the gravel. I also pronate and the GEL-KAYANO 29 is aimed towards runners who over pronate with the medial support. I don't run speed/interval sessions in these or race in them because for that i'm looking for a much bouncier responsive shoe, the GEL-KAYANO 29 is more of a trusted friend whereas i'm looking for a bit more of a party animal for those speedier sessions but for easy long miles you can't go wrong.

Now for the GEL-KAYANO 29 tech...
Engineered knit upper improves breathability. 
Redesigned external heel counter helps keep the foot stable and provide a more comfortable stride. 
LITETRUSS™ technology improves medial support and midfoot integrity. 
3D SPACE CONSTRUCTION™ feature improves compression at footstrike. Rearfoot GEL™ technology cushioning provides good shock absorption. 
FF BLAST™ PLUS cushioning provides lightweight impact absorption and a responsive rebound. 
OrthoLite™ X-55 sockliner improves comfort. 
AHARPLUS™ heel plug improves the outsole durability. 
At least 50% of the shoe's main upper material is made with recycled materials to reduce waste and carbon emissions. 
The sockliner is produced with the solution dyeing process that reduces water usage by approximately 33% and carbon emissions by approximately 45% compared to the conventional dyeing technology
Still keeping it easy but heading out on an adventure to the trails - its the ASICS GEL-TRABUCO™ 10

Just like the GEL-KAYANO is the old faithful on the road, the GEL-TRABUCO™ 10 is its counterpart on the trail. Again made for pronators, this shoe is stable and incredibly grippy. I've ran around the Peaks, the Breacon Beacons and Black Mountains in the GEL-TRABUCO™ 10 and they really work for me. I don't know about you but when I descend I can get quite nervous for fear of falling face first and rolling down the hill but to date I've stayed upright and found a little confidence to get a bit speedy on the hills (not that my legs thank me for it the next day) and thats because I feel like the GEL-TRABUCO™ 10 grips well on all terrain. I've even been wearing them on the snowy/icy days to help grip the surface. Again, personally, I don't think these shoes are built for speed but if you want adventure without anticipating breaking your ankles then I'm a fan.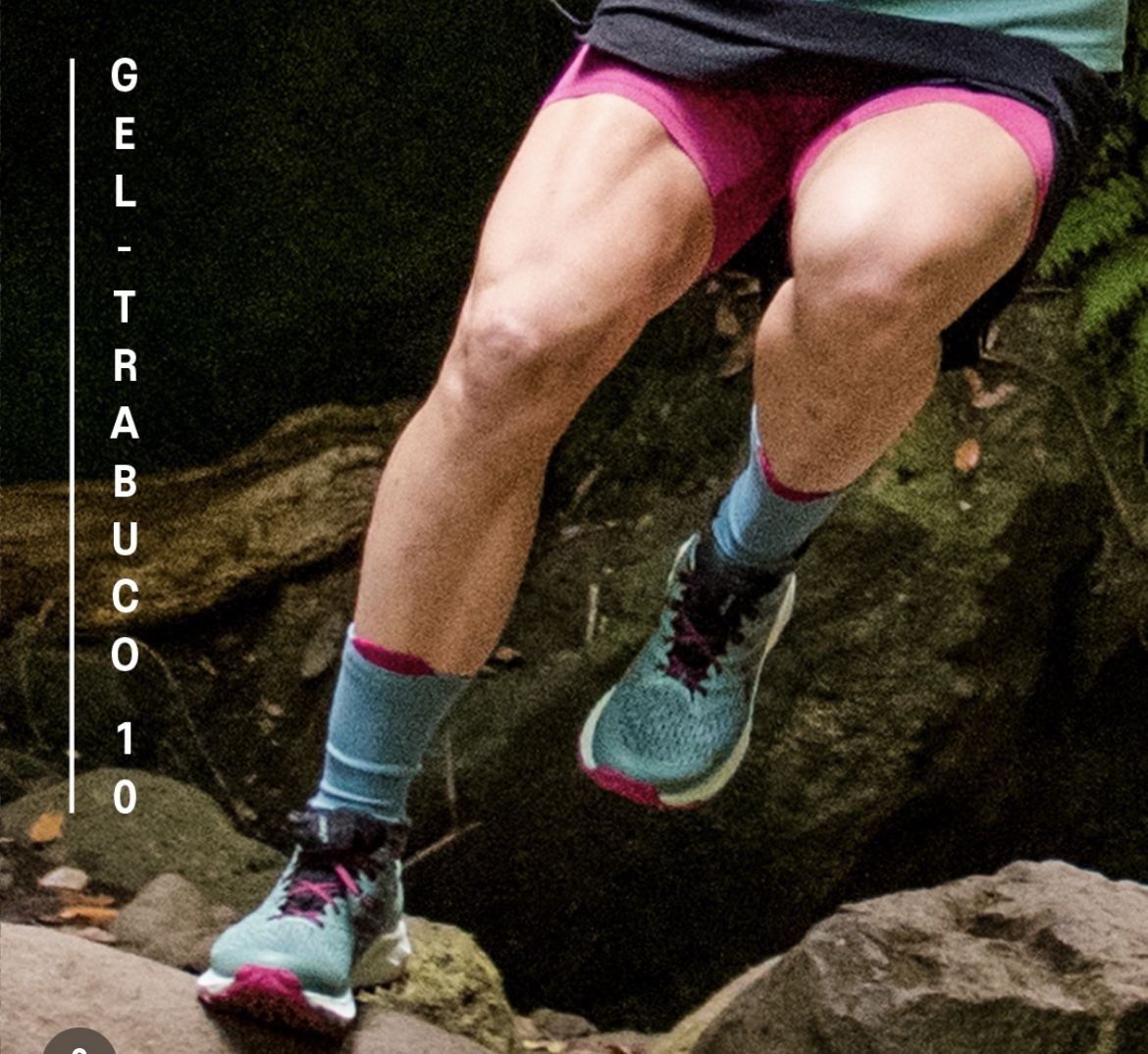 The GEL-TRABUCO™ 10
tech..
The GEL-TRABUCO™ 10 shoe is a versatile trail design that offers advanced durability for  runs and long hikes. Functional for keeping out trail debris, these shoes feature a closed engineered mesh and 3D print details on the upper.
Its rock protection plate features a flexible construction that shields your feet from sharp rocks and rugged terrain.
The outsole is formed with ASICSGRIP™ technology and a technical tread pattern. It's functional for helping you experience better traction on varying off-road surfaces

Ok, lets move from the easy miles and get to the party -  it's the ASICS NOVABLAST™ 3

I recently reviewed these trainers for ASICS so check out the review here. When I first put these shoes on, I could instantly feel just how bouncy they were which makes them a key player in my interval/speed work. The shoe is really responsive to those faster miles which makes going fast much more comfortable on the legs.  The shoe is really light compared to the GEL KAYANO and has a wide base which I feel gives me a support when I land. However due to the wide base you may want to consider a smaller size than you are used to if you are looking for more of a snug fit. I've also noticed that shoe doesn't have too much grip so if the ground is wet then it can feel quite slippy, ASICS has just released the NOVABLAST TR as part of their road to trail range which is a similar shoe to this but with more grip. I think next time I would opt for the NOVABLAST TR and use them as road shoe. The NOVABLAST™ 3 is a neutral shoe so I do wear my orthotics in these to support the foot arch more which is something to consider if you pronate to. I think the great thing about this shoe is the versatility, if you want to run some easy miles in these they would cope just fine but are also amazing at being responsive to speed and you could possibly get away with these at races depending on what you are aiming for. Personally I use a purpose race show (see below) but I do think they could give you that flying feeling you want when racing. All in all a great all rounder and I will continue to wear these on interval days.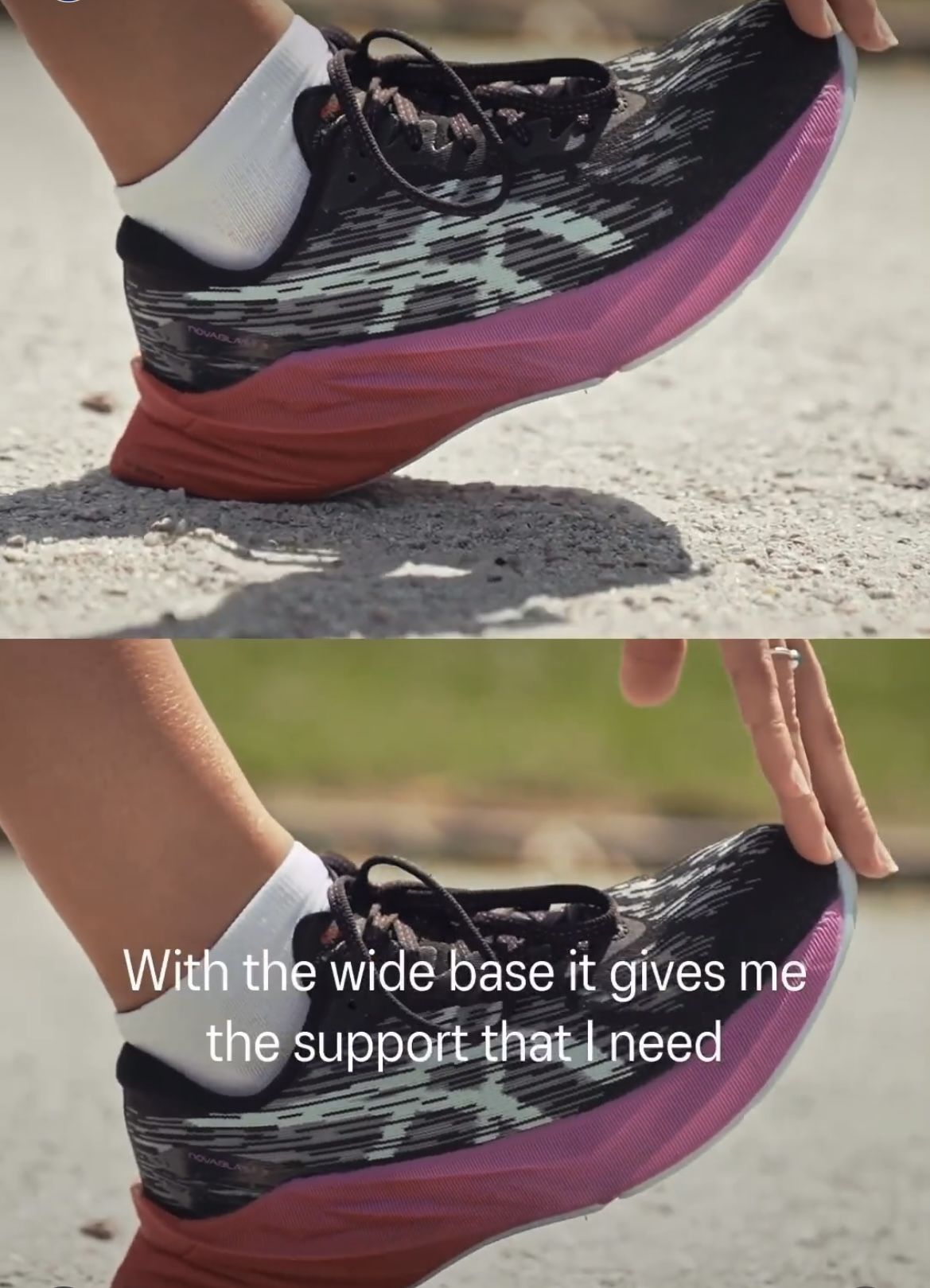 The NOVABLAST™ 3 Tech..
Jacquard mesh upper provides good comfort and support while keeping feet cool
The heel stabilizer helps support the foot and create a more balanced stride
Gusseted tongue wing fit system improves the midfoot fit and reduces tongue sliding
FF BLAST™ PLUS cushioning provides lightweight impact absorption and a responsive rebound
Trampoline-inspired outsole design provides a more responsive bounce back
AHAR™ outsole improves durability
At least 75% of the shoe's main upper material is made with recycled materials to reduce waste and carbon emissions
The sockliner is produced with the solution dyeing process that reduces water usage by approximately 33% and carbon emissions by approximately 45% compared to the conventional dyeing technology
Reflective details help improve visibility in low-light settings
The animal of the ASICS shoe party that I have seem to have created throughout this blog is the ASICS METASPEED SKY + - these are my race day shoe so if I want to replicate race day then these often come on speedy training runs with me.
Ok so first off, I originally bought the first Metaspeed Sky, mainly because I was done with other brands selling racing trainers which felt so uncomfortable when racing. For the last few years I was racing in trainers where my ankles were so unsupported I am surprised I haven't rolled over on them when going around a corner so when I looked at ASICS new super shoe and saw that there was cushioning around the ankle - I just had to buy them and I loved them. Therefore when the ASICS METASPEED SKY + came out is was a no brainer for me to buy these as well and I'm pleased to say they still support around the ankle!  I don't just use these shoes for racing, I also use them for mammoth speed sessions as I think its good to practice in your race shoe and I also feel that my legs recover a little quicker if I have worn them. I think this is mainly due to the FF BLAST TURBO cushioning and the carbon plate which helps conserve a little energy as well as providing a smooth bouncy stride propelling you forward.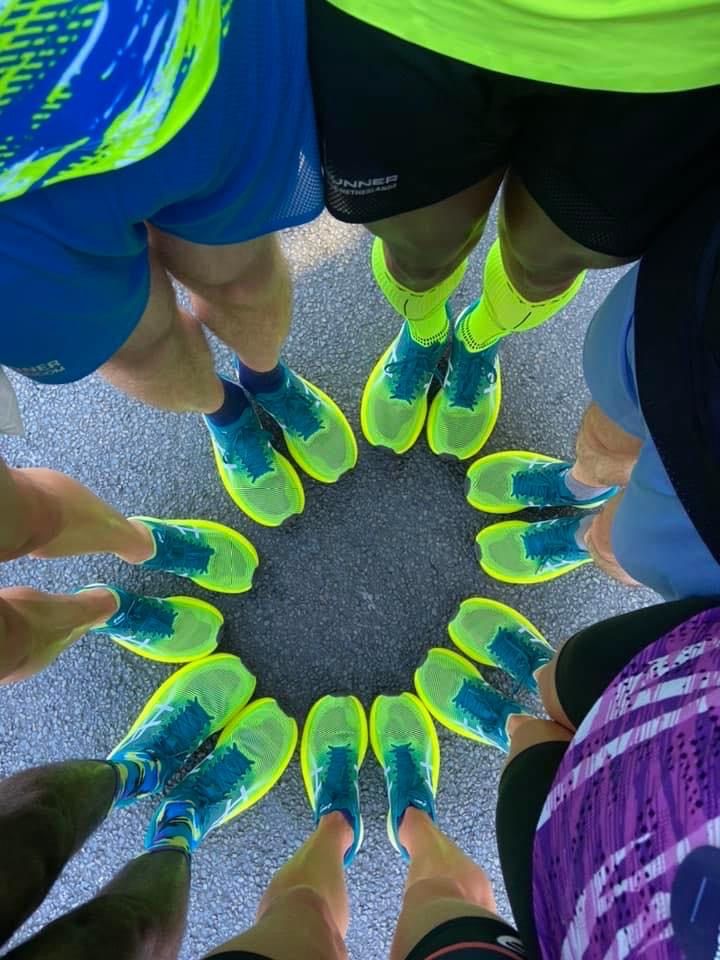 The shoe is incredibly light which you would expect from a racing shoe but as i've mentioned this doesn't compromise stability unlike other race shoes I've worn in the past. Again these shoes are neutral so I do put my orthotics in; without them I do find I pronate a fair bit and I think its because there are really cushioned so the medial support isn't quite there - not an issue if I put the orthos in the trainers. They aren't the grippiest of trainer but again race trainers don't tend to be as that will gain weight in the shoe however because they feel supportive this doesn't prevent me from really pushing the speed. Having ran London Marathon, Madrid Half, The Big Half and many 10ks, they really have proven their worth and when I am in the zone I really feel like I'm flying in them.
The ASICS METASPEED SKY + tech...
METASPEED SKY+ racing shoes are designed for stride-style runners who are looking to start fast and finish faster. 
Runners wearing these shoes will be able to take longer strides while conserving energy with each 
Jacquard mesh upperImproves breathability.
FF BLAST TURBO cushioning improves compression and creates a responsive feel underfoot.
Curved sole design helps runners conserve more energy in each step.
Carbon plate guides your foot throughout your step and propels your foot forward.
ASICSGRIP outsole rubber improves durability and grip.
At least 20% of the upper's material is made with recycled polyester
The sockliner is produced with the solution dyeing process that reduces water usage by approximately
So there you have it my favourite ASICS running trainers of 2022, I hope I've covered trainers for all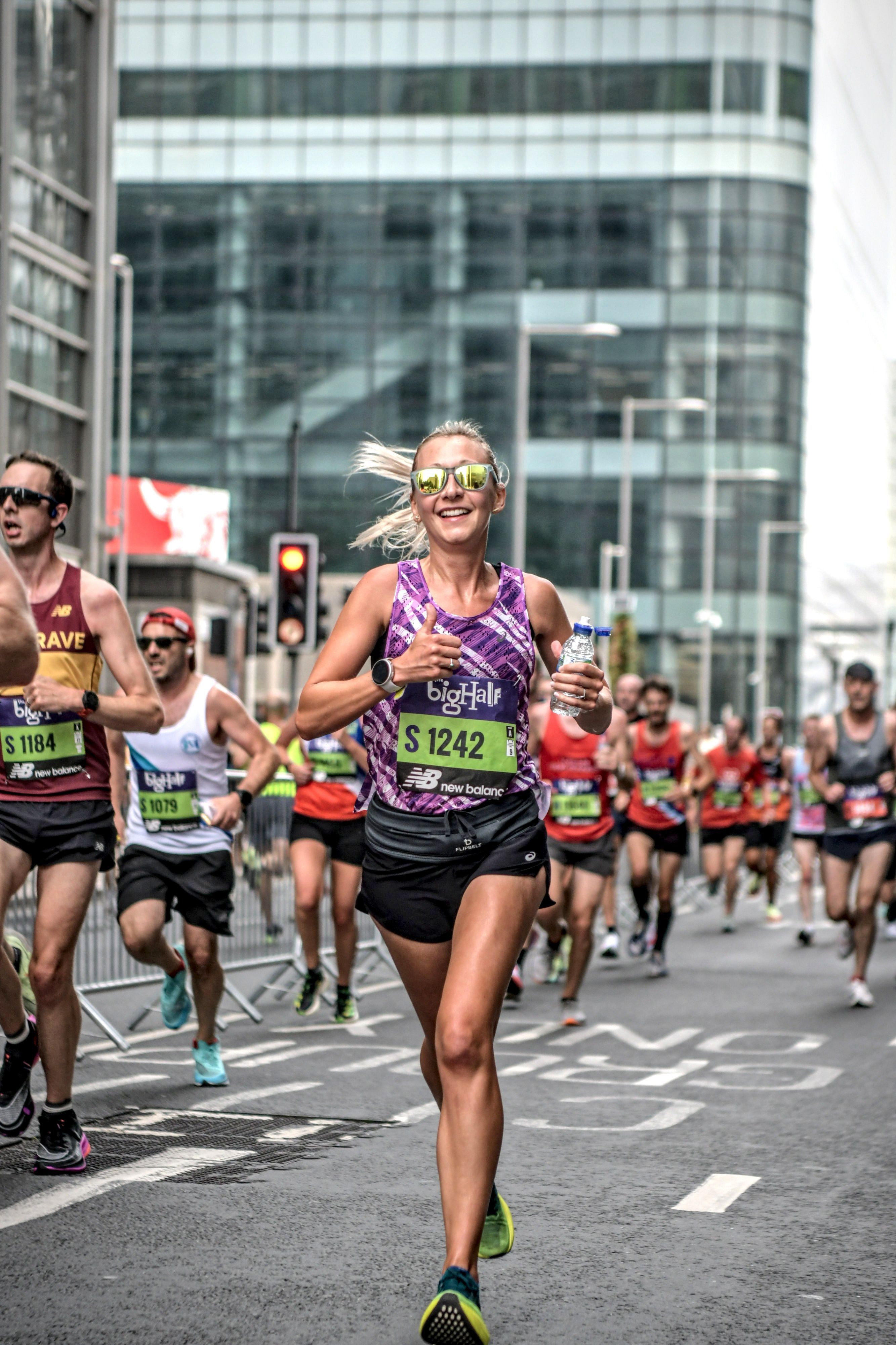 runners of different levels from the road to trail to easy miles to racing there's a shoe for you!
Go on treat yourself and see where your trainers will take you.

Happy Running and see you in 2023 to do it all again!

Natalie 

written by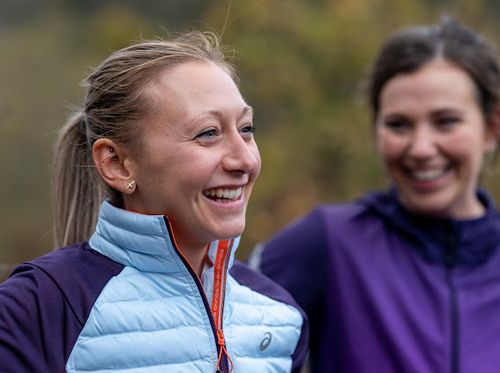 Natalie Bunce
Personal Trainer/LiRF/ Run Coach from Nottingham


Club: Best Athletics

MY DISCIPLINES