I know what you're thinking… 'What is a metric marathon?'
Many runners might be unaware what a metric marathon actually is and I'll be honest, initially I was a bit clueless. Its 26.2 kilometres or 16.3 miles depending on what you work in. 
It was my first time running this distance and I couldn't wait to try a new challenge
I might be wrong but I think that Chester metric marathon is one of the few races of its type in the country. The race is billed as the ideal stepping stone from a half marathon to a full marathon.
Due to changing work commitments it's likely that I'm going to have very few free weekends in the immediate future so I'm determined to fit races in while I can.
Because it was a spur of the moment decision the race had already sold out. I wasn't to be deterred though, que a hectic search on Facebook to find someone who was looking to offload a place. As luck would have it there were a few people unable to run so my place in the race was secured.
My late decision to run meant that I hadn't trained properly for it. In actual fact my build up had been pretty poor, I manged just over 20 miles in the two preceding weeks. But this has never stopped me before; sometimes I think a race is a good indicator to let you know where your fitness is and help to motivate you to train more.
While my training mileage had been poor I'd actually been doing regular HIIT sessions with Becks so I was keen to see what effect these would have on my running. 
As I lined up on the start line in my ASICS Road Hawks I felt pretty optimistic, 'regardless of the lack of training I can do this' I told myself.
At this point I realised that I'd left my training top on, not wanting to leave one of my favourite tops behind I opted to carry it for the first few km and throw it to Becks, whom I knew was waiting out on the course. When I ran past Becks I was leading the race, it was at one of the best supported points on the course, right in the city centre. 
She told me afterwards that the women next to her had asked if Becks knew me, or whether my shirt throwing was some sort of football-esque gesture, throwing my top into my waiting crowd of supporters! 
The Race...
It was an undulating, out and back course with the majority of the route along quiet country lanes outside of the city. The lack of crowd support certainly didn't help to boost your morale or motivation, something which I have found a real help in previous races.
However the HIIT sessions felt like they were having a good impact and I cruised up the first few hills. 
At the half way point we doubled back and joined the marathon route which also taking place but had started 75 minutes earlier. Some of the marathon runners had already covered an extra 10 miles and I can imagine it must be quite demoralising to have runners striding past you on relatively fresh legs. 
I quite enjoyed being able to pick off runner after runner, it gave me some to concentrate on and forget about the pain I was experiencing.
Around mile 10 my legs were on fire and my lack of training started to show. I was in 3rd place at this point, with a sizeable gap between 4th. I just had to hold on! With under half a mile to go I heard footsteps coming up quick behind me, I looked over my shoulder to see another metric runner as he cruised past me looking strong and fresh. I tried to rally and push on but my quads were in bits. I watched as 3rd disappeared into the distance. 
As I crossed the line I felt huge wave of disappointment wash over me.
I'd gone into the race with a strong belief that I could actually win it but I finished feeling deflated.
However Becks was quick to remind that I couldn't have expected to win based on the amount of training I'd be doing and that I should be extremely happy with my run. I can't expect to do well if I don't put the effort in.
Post-race I did my usual thing of analysing Strava repeatedly. To my pleasant surprise I discovered that I had cover the first 10k and half marathon part of the race in my fastest time for a long while (35.10 and 76.10 respectively). I think this is largely due to HIIT sessions which have really helped to strengthen my core and upper legs.
I also had the comfort of knowing that I had set a new PB, yes it was my first time running the distance but as I keep reminding people it still counts.
Any further feelings of dejection were soon diminished when I opened the goodie bag, and what a goodie bag it was. 
Wait for it;
An energy bar
A mars bar
A flumps… yes a flumps!! (Marshmallow)
A big bag of Haribo
Lucozade jelly beans 
And energy gel and some energy drink tablets 
A Chester marathon button bin 
And an air freshener 
Safe to say the goodie bag was demolished with a much faster pace than I could ever hope to run at.
And the air freshener has taken pride of place in my car, I don't know about anyone else but I have an annoying habit of leaving sweaty running gear in my car far longer than it should be.
So… how do I sum Chester metric marathon and my race up?
Well, if you're looking for a new challenge but aren't quite ready for a marathon then this could be the perfect distance for you. If you enjoy a brilliant goodie bag and a well organised event then what are you waiting for. 
However this isn't a PB course and you may find the quiet country lanes and lack of support quite daunting. That said everyone enjoys different aspects of a race so don't take my word for it. Get out and try it for yourself. 
As for my own run, I know I am capable of better performances. I just need a kick up the bum and to find the right motivation.  
But for now at least I can call myself a Metric Marathon Runner!!
written by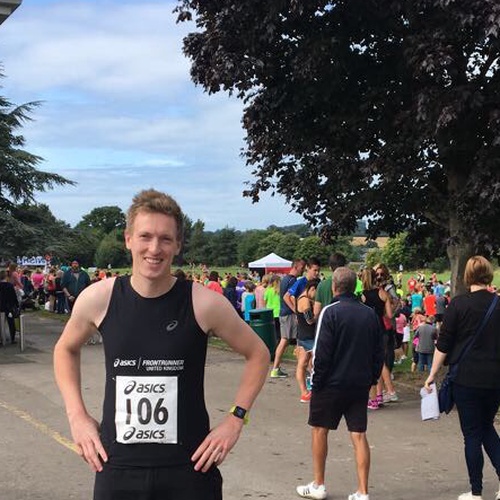 Peter Butler-Jones
Senior Product manager from Oswestry
Age group: 32
Club: Oswestry Olympians
MY DISCIPLINES
MY DISCIPLINES