to (mis)quote my favourite A A Milne tiger... ''They're bouncy, bouncy, bouncy, bouncy, fun, fun, fun, fun, fun!'
I've taken a few weeks to write this review; firstly because my running has been somewhat reduced given the current situation, and secondly because as on over-pronator trying out a fast, neutral shoe, I wanted to make sure I gave the them (and my ankles) a thorough test drive!
First impressions
I absolutely LOVE the look of these shoes. The women's colourway in black, with its bright neon colour details is fab and as a designer, there is something really aesthetically pleasing about the sculpted, geometric forms of the shoe. 
The second thing I noticed was the weight - these are really light, in fact, they're the lightest shoes I've run in apart from the (now discontinued) Gel 451s.
They've a similar sole to the Glideride, with a very good grip, but the special addition is the new 'Flyte-foam-blast' midsole foam, which is what is said to give the shoes their bounce.
I also love the reflective detailing at the back of the shoe which has a gorgeous iridescent glow in darker conditions.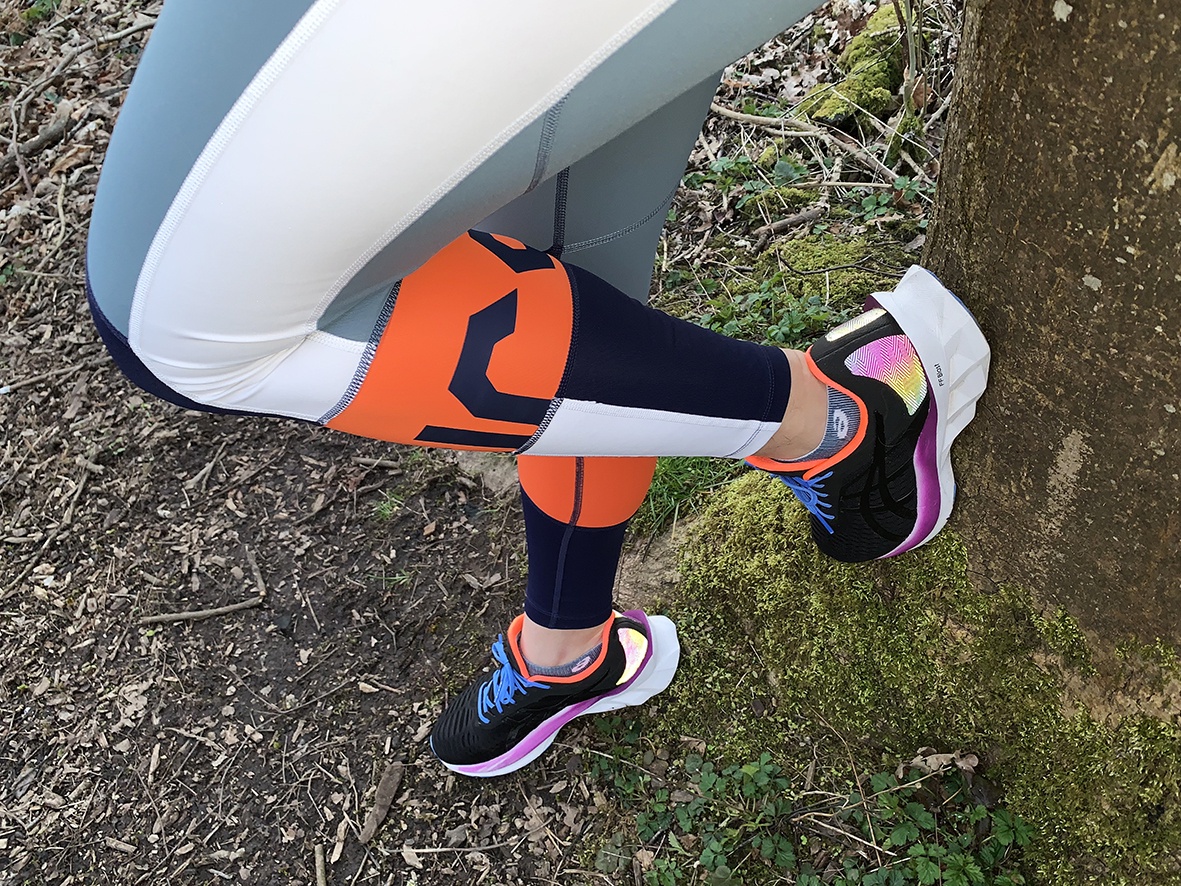 Fit and feel
Once you've laced up the shoes it becomes immediately apparent just how light they are. I usually train in the Kayano or Gliderides - these feel completely different.
The shoe is pretty comfy. The toe box is fairly similar to my other shoes, and it has the really nice Jacquard mesh breathable upper, which is a feature that I really like about ASICS trainers.
The one thing I did notice which was quite different to what I'm used to, was the fit around the heal and ankle. Whilst the sock liner fabric is still really good quality and feels great on the skin, there is a lot less padding around the ankle than many of the other ASICS running shoes I've worn. The shoes also felt looser around this area, and I did get some rubbling on my first run out, but a bit of adjustment to the laces, using the top holes, helped with this.
The back of the shoe (technical term 'heel counter') is not as firm as my other shoes. Now I do usually run in support shoes, so I'm not sure how this compares to neutral shoes, but you can certainly squeeze the back or the shoe more than my other shoes. There is also quite a lot of twist, so you can tell these shoes won't provide great stability.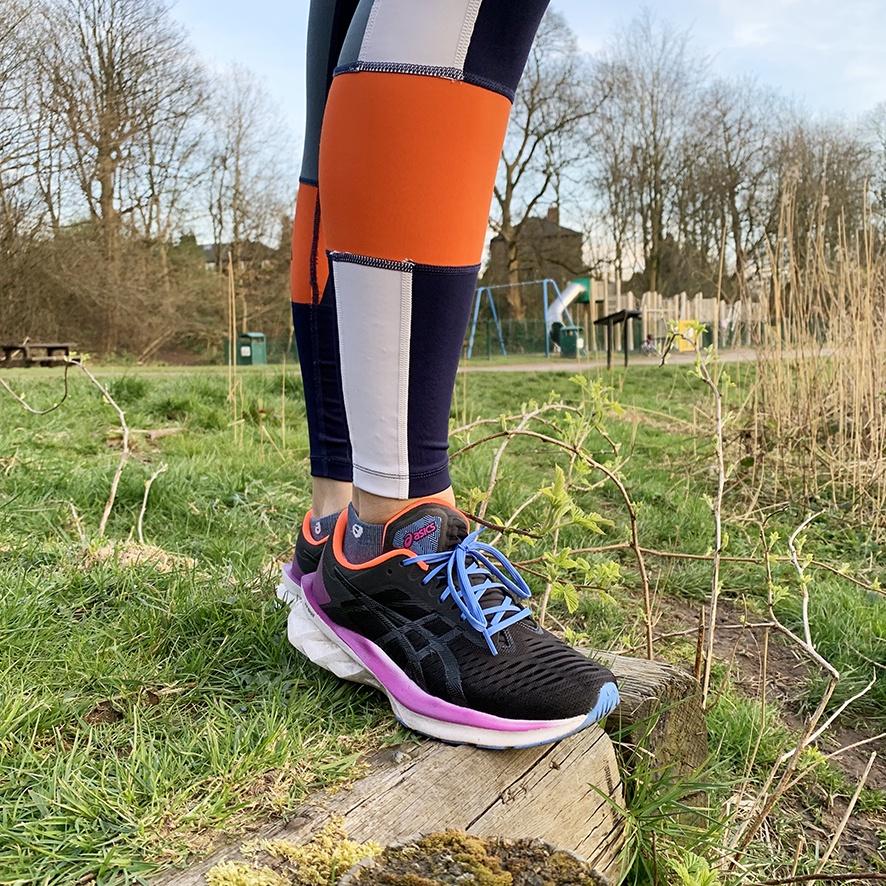 First Run
I'm used to a 10m heel drop so this was fine for me, but I'll be honest as an over pronator, I was nervous about running in these. I'd suffered Achilles issues after running in the Gel-451's and so I made sure my first outing was a steady one.
The shoe is certainly responsive and the midsole does give a great springy feeling, with a nice landing which almost pushes you forward, but without the rocker feel that the Glideride has.
Whilst being a fun shoe to run in, I did feel unsteady at times and had moments where I could feel my ankles going. My advice for over pronators or those with weak ankles wanting to try out these shoes, is to give them time to get used to and also make sure you have a good warm up before any faster running.
Final thoughts
These shoes have been designed to help you run faster and given that I'm not as fit or fast as I'd like to be at the moment, I did find that I was running some pleasing speeds without having to put in much effort, so I do think these shoes do naturally give you speed.
It's taken me a few runs to get used to these shoes, but despite my initial concerns I am really enjoying running in them. As someone who over pronates and has weaknesses in my ankles, I do notice the instabilities and it is something I need to be conscious of, however, alongside my running I am also doing work to strengthen my ankles and as I find with fell running, there is also something to be said for some controlled movement to help strengthen the legs and ankles.
I'm yet to attempt any speed work in these shoes and might save that for the track, where I know I'll have a more consistent surface but given the lack of stability for me, at the moment I'll probably stick to racing in the Gel DS's, however given that I thought I'd not be able to run in them at all, I'm really enjoying running in them.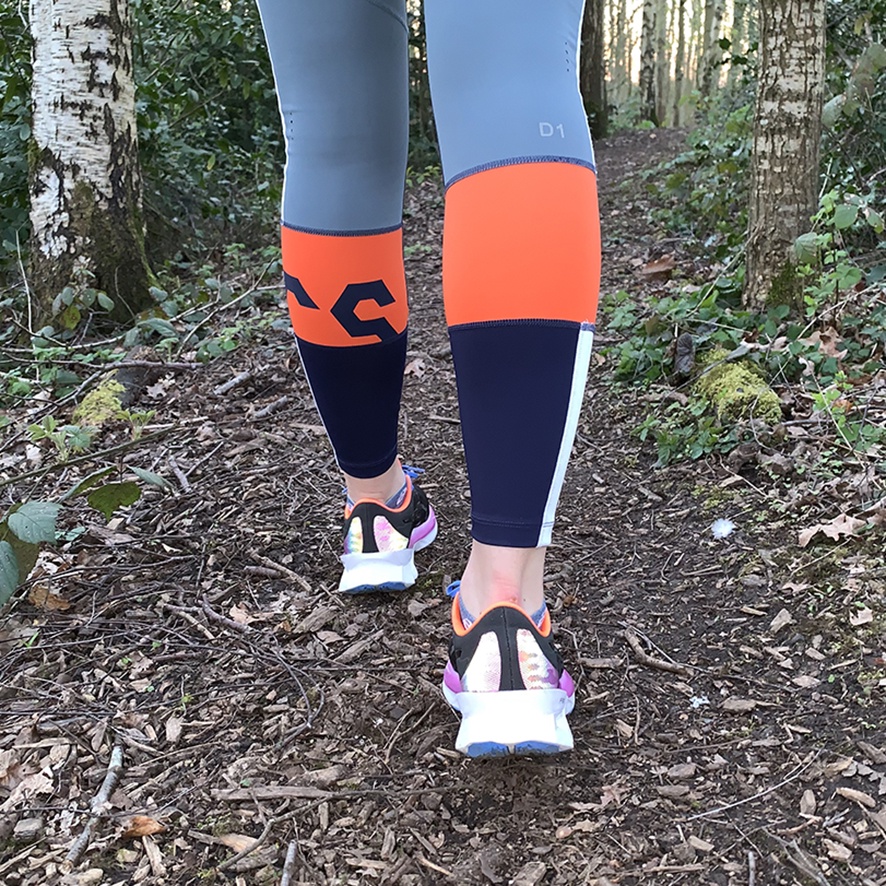 Pro's
Light, fast, responsive shoe
Fun to run in, with noticeable added bounce
ASICS lightweight mesh upper for breathability and comfort during running
Awesome reflective details for extra visibility in low-light conditions
It's a pretty cool looking shoe!
Con's
Lack of stability, so as a pronator, I have to be careful, I've noticed movement in my ankles whilst running in these, so at the moment I'm only using these for shorter, steady runs
Less comfort around the ankle, again probably noticed more as a pronator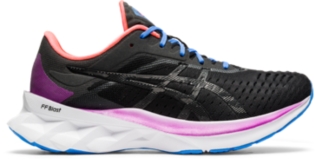 NOVABLAST™
The NOVABLAST™ shoe by ASICS is for neutral runners seeking a responsive running experience. This lightweight design includes our new FLYTEFOAM BLAST™ midsole foam for an energetic bounce with each stride.The outsole and mid...
SHOP NOW
written by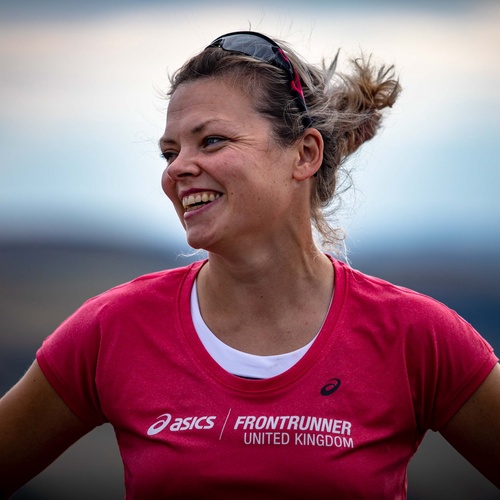 MY DISCIPLINES
MY DISCIPLINES