Let's get to know father of two ASICS UK FrontRunner for June - Tommy T
How and when did you get into running?
I ran the hurdles at school but never ran outside of school growing up. I started running around the age of 17 to get fit to join the Royal Marines commandos.
What's the best bit of running advice you have ever been given?
Race your own race.
Whats been your greatest running moment/achievement and why?
I don't really have one, so I asked my wife what she thinks it is and her answer was, coming second at Europe's toughest Mudder, an 8-hour obstacle course race that starts at midnight. You have 8 hours to run as many 5-mile laps as possible. Before the race I had never ran more than 3 hours and didn't really know what I was letting myself in for. I was like a zombie at the end and just kept putting one foot in front of the other until the time was up. The race was out of my comfort zone and I had to dig deeper than I ever had in a race before. That is the reason she picked this achievement/race.
What motivates you to get out of bed in the morning and pull on your trainers?
To become the best version of me I can be and to be the competitor I'd hate to compete against…the one that shows up every day no matter what.
Running also gives me a sense of pace and calm, time to clear my head and be with my own thoughts. Without it I never feel as relaxed.
What gadget or piece of kit can you not run without and why?
Shoes because I would get sore feet.
Run us through a typical weekend in your household?
Saturday morning starts with a coffee and then taking my two children and one of my dogs on a run with me, both children in the buggy and the dog running alongside. We go looking for tractors on the run as my son is obsessed with farming. The rest of the day is spent doing a fun activity with my children, this could be anything from playing in the woods, going swimming or to a farm. Saturday night tends to be pizza night (I love pizza!!) getting the fuel in for Sunday's long run. I make my own pizzas and like to experiment with different styles.
Like most runners Sunday is long run day for me, this will be done first thing in the morning before anyone else is awake in my house. The rest of the day is spent walking the dogs and spending time with my family. I tend to like a more relaxed afternoon and evening before starting another week.
Where do you see your self in 10 years time?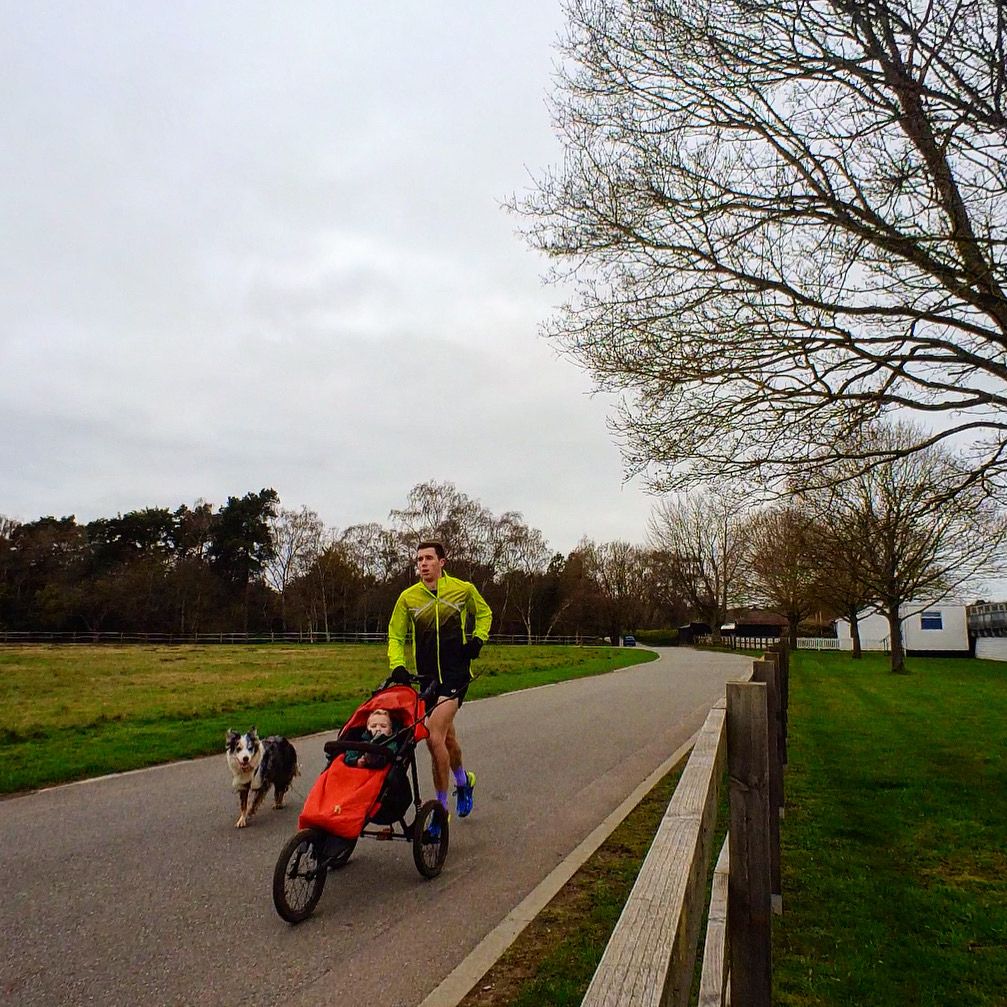 Being the best Dad I can be, living life to the fullest and hopefully having my children join me with my running adventures, but if not ill happily do whatever makes them smile. I would like to get a camper can and travel around the UK and Europe as much as possible seeing new places.
Quick Fire Questions:
Tea of coffee? Coffee in the morning, tea in the evening with a packet of biscuits.
Pizza or Pasta? Pizza
Dog or cat? Dog
10,000m race or 5k? 10,000M
Hills or flat? Hills
Night owl or morning lark? Morning lark, I'm out the door by 5am most days.
Favourite dessert? Apple crumble
Favourite film? Don't have one, I'm a documentary man.

You can follow Tommy here: https://www.instagram.com/tomm...