Each month we get to know one of the team members. This month we get know parkrun addict Sadia Haq
How and when did you get into running?
I did the couch to 5k on the treadmill at the gym just to get healthy. Then a few colleagues were running the Manchester 10k and one of them dropped out. I took the place (it was the first time I had run outside) and I was hooked. I then discovered parkrun and haven't looked back since.
What's the best bit of running advice you have ever been given?
What works for someone else might not work for you. Running is trial and error, it's easy to get drawn in and start copying what other people do but only you know your body, so listen to it.
What motivates you to get out of bed in the morning and pull on your trainers?
Just that feeling I get afterwards. Its my time to just clear my head and it always sets me up for the day. I know I will feel worse if I don't run, which is why I force myself out.
What gadget or piece of kit can you not run without and why?
My watch. Though believe it or not I NEVER look at my watch when I'm running, not even when I'm racing (apart from the last 400m). I just like to have my runs recorded so that I can look back at all the runs I've done. It's also a good way to look at how far you've come.
Run us through a typical weekend in your household?
Obviously, my weekend starts with parkrun! I always do the course inspection at my home one to make sure it's safe for the runners. At the moment I'm doing different locations, which means having to drive a bit earlier. The best part of parkrun tourism is meeting new people and trying new places for Breakfast. On Sundays its usually a long run with my friends and then chilling out with the family.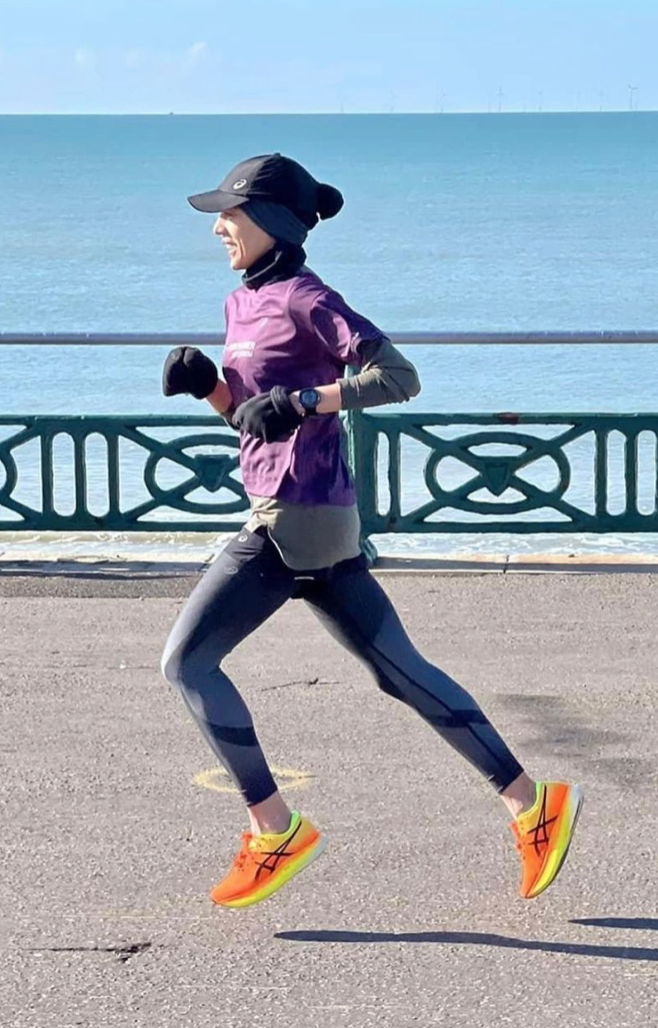 Where do you see your self in 10 years time?
Hopefully still running, happy and injury free and inspiring more Muslims (especially women) to start running. I'm nearly on 400 parkruns (yes, I love parkrun) so by then I'm hoping to be nearing 900 parkuns. Running is part of my identity now, I can't see myself without it.
Quick Fire Questions:
Tea or coffee?
Coffee in the morning and tea at night
Pizza or Pasta?
Pizza, it has to be a Magherita or Vegetarian. I don't like meat on my pizza.
Dog or cat?
Cats. I have a pet tuxedo cat called Rafa, named after my favourite tennis player Rafa Nadal.
10,000m race or 5k?
5K, I love my parkruns
Hills or flat?
Flat, all day every day! who even likes hills??
Night owl or morning lark?
Morning, I can't keep my eyes open after 10pm!
Favourite film?
Anything with Melissa McCarthy! The Heat, Identity Theft, Bridesmaids…..she makes me laugh out loud.
You can follow Sadia her: https://www.instagram.com/sadi...