Each month we introduce a different team member and ask them a series of questions about themselves. This month we meet the future winner of 'The Great British Bake Off" Fei Wang
Why did you start running? 
I started running in 2017 because I wanted to be more active and in particular more productive on weekends! Some of my friends had just started going to Parkrun and introduced me to it - and I was immediately hooked on the idea of Parkrun tourism. It really gave me the motivation to get out of bed early on a Saturday and explore new areas and towns. I wanted to run my first 50 Parkruns in 50 different locations and reached 36 before lockdown, in 6 countries. I still want to complete this challenge when events return. 
What's been your most memorable race and why?
Without a doubt, the Manchester Marathon in 2019! I just loved the entire experience - training as part of the ASICS marathon project with Alechia, everything I learnt about running along the way and a lot about my own limits. It wasn't an easy training block but I felt like everything just came together on race day and as tough as a marathon is, I really thoroughly enjoyed it. The course is great, with a lot of crowd support along the route and the elation of finishing your first marathon is definitely a unique feeling!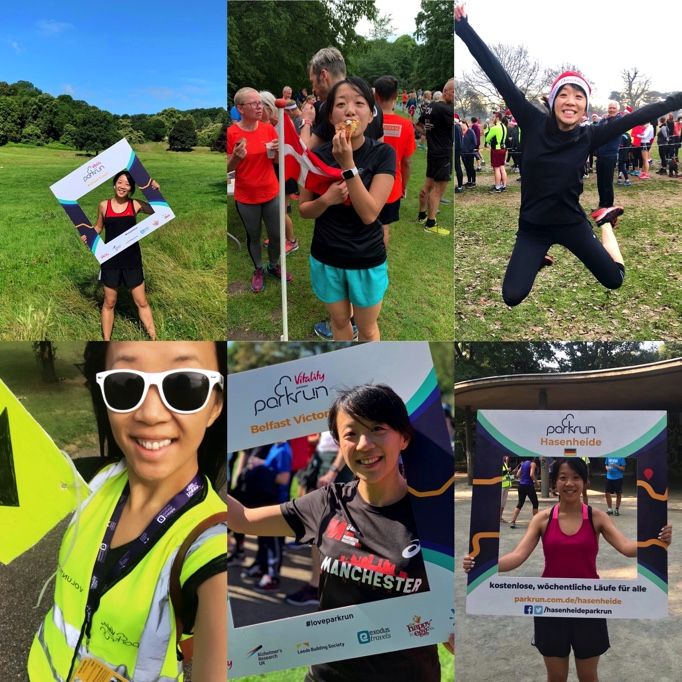 What's the best piece of running advice someone has ever given you?
Don't expect a linear progression in running. You can't be expected to run further, fast, 'better' in every session. There are the right times to push yourself and the right times to take it easy in order for your body to adapt and recuperate. 
What are your running goals for 2021? 
Argh! I want to keep my running goals quite realistic this year. First of all, I need to shake off this achilles injury (properly), and then I want to work on building up my speed in training for the 5k distance, which I've never specifically trained for before. And then build up my endurance again in time for the London Marathon in October. It'll be the first time running London for me and a bucket list race to run!
Run us through a typical weekend in your household?
Currently the UK is still in a national lockdown so this is quite limited. I live with my boyfriend who is also a keen runner, we don't have much of a fixed routine but typically weekends will involve 1 busier day, catching up with friends and family (on zoom), a long run around London, and 1 very lazy day catching up on box-sets and cooking up a big feed! 
Fav post run snack? Something sweet next to something caffeinated. Pastry + coffee, or cake +tea. 
You can follow Fei here:  www.instagram.com/hungryhungry...