Each month we introduce a different team member and ask them a series of questions about themselves. This month we meet Sarah Booker
How did you get into running?
I got into running initially as a way to maintain a large weight loss of about 5 stone ... but my running was about 10 mins on the treadmill and horrific! But ... what REALLY got me into running was my daughter. I used to take her to Rhyme Time in her pushchair at the library but was ALWAYS running late. The library was 2 miles away uphill and I'd always end up running to try and get there in time. Then one day I went out without the pushchair and it was SO MUCH EASIER! And that was where it all started really!
What has been your most memorable race and do you have a bucket list race you would like to do?
I've had so many amazing races ... how do I choose one? One of my favourites though is the Bacchus Marathon. It's a marathon around a vineyard in Surrey and there's a wine stop every 5km. It's a gorgeous trail route and every year we dress up in fancy dress and go for a run and get sloshed! We've been ghostbusters, pirates, lifeguards and police and robbers! One year we did it and we met a girl (hi Anita!) who got lost in the half marathon and persuaded her to join us in the marathon. She did and we all did her first marathon with her! (While dressed as Ghostbusters!)
Bucket list event is probably UTMB or Marathon Des Sables for the adventure element of them! :) Love a big adventure to train for!
Run us through a typical week day?
I work 10 hour shifts 5 or 6 days a week and then have 3 or 4 days off so my weeks are very varied :)
Today I'm on a rest day from work so I've done a 3hr zone 2 bike ride (to a cake shop of course!) and I have a run to do which is 2km race pace and 2km easy. I'll also look to do something fun with my family so maybe a spot of geocaching on a new trail and a film later on! Also the cakes were so good at the cafe I've promised to take them there tomorrow after my swim set!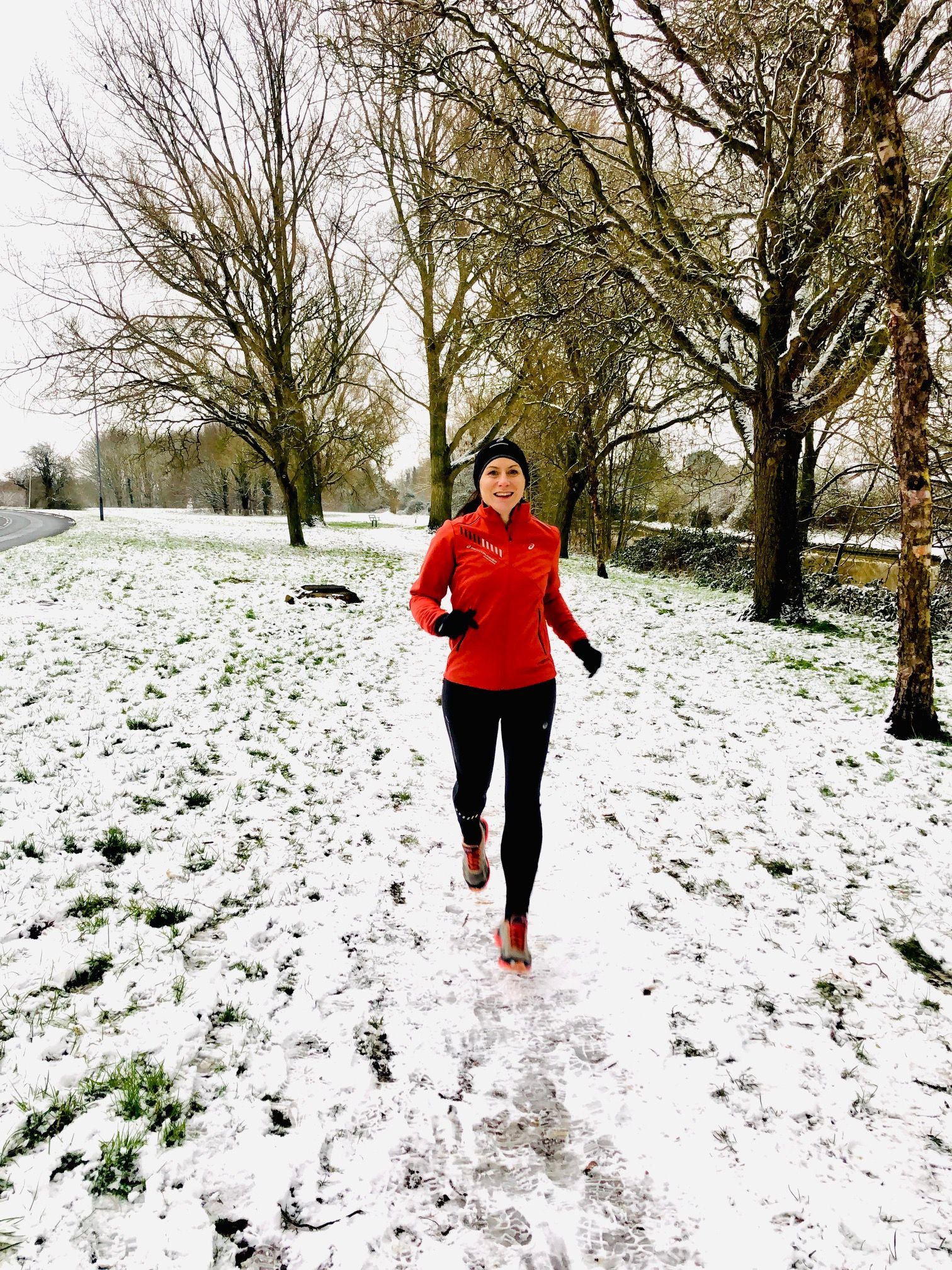 Whats the best piece of running advice someone has given you?
This was something a run buddy and I made up during a marathon and it's been brilliant for ultramarathons:
"if a marble would roll down it, I'm not running up it!" Basically during a long ultra take your walk and snack breaks during the uphills and enjoy the mini break! Your legs will appreciate the change of pace and the mini breaks will keep you going stronger for longer!
Fav post and pre race dinner?
I always visualise a nice cold pint to get me through hot marathons ... but I can rarely stomach one after a fast race!
However my favourite pre race dinner is something light probably a salad with some chips (I can't stomach much the night before a big event - too nervous!) but post-race dinner - anything is fair game! I'd probably go for a curry and something sweet to follow - I LOVE rhubarb crumble and ice cream so maybe that :) And a cream egg too of course.
Where do you see yourself in 10 years time?
Hopefully I'll finally have done an Ironman by then. I've had one planned the last 3 years but they've all been either deferred or cancelled .. I'm beginning to think I'm a bit of a jinx! I'm also planning to qualify for GB in middle distance triathlon again so I'd be ecstatic to get a medal in that ... I'll need to put some solid hours in though!! I'll hopefully also have ticked off my bucket list races of UTMB and Marathon Des Sables by then too! Terrifyingly my daughter will be 21 then ... so looking forward to seeing what she's achieved and what she's doing too!
You can follow Sarah here: https://www.instagram.com/mia7...